Eats
The full line-up for the Manchester Food and Drink Festival 2020 is finally here
MFDF is the city's first major COVID-safe outdoor event to take place since lockdown.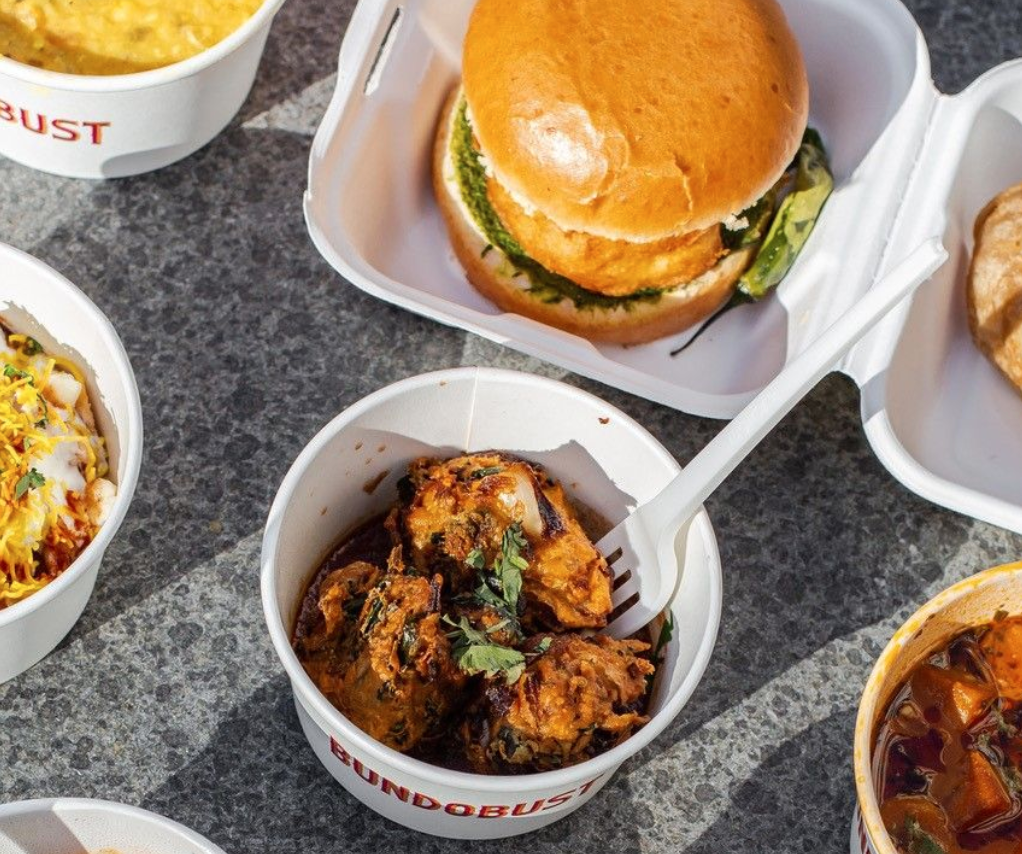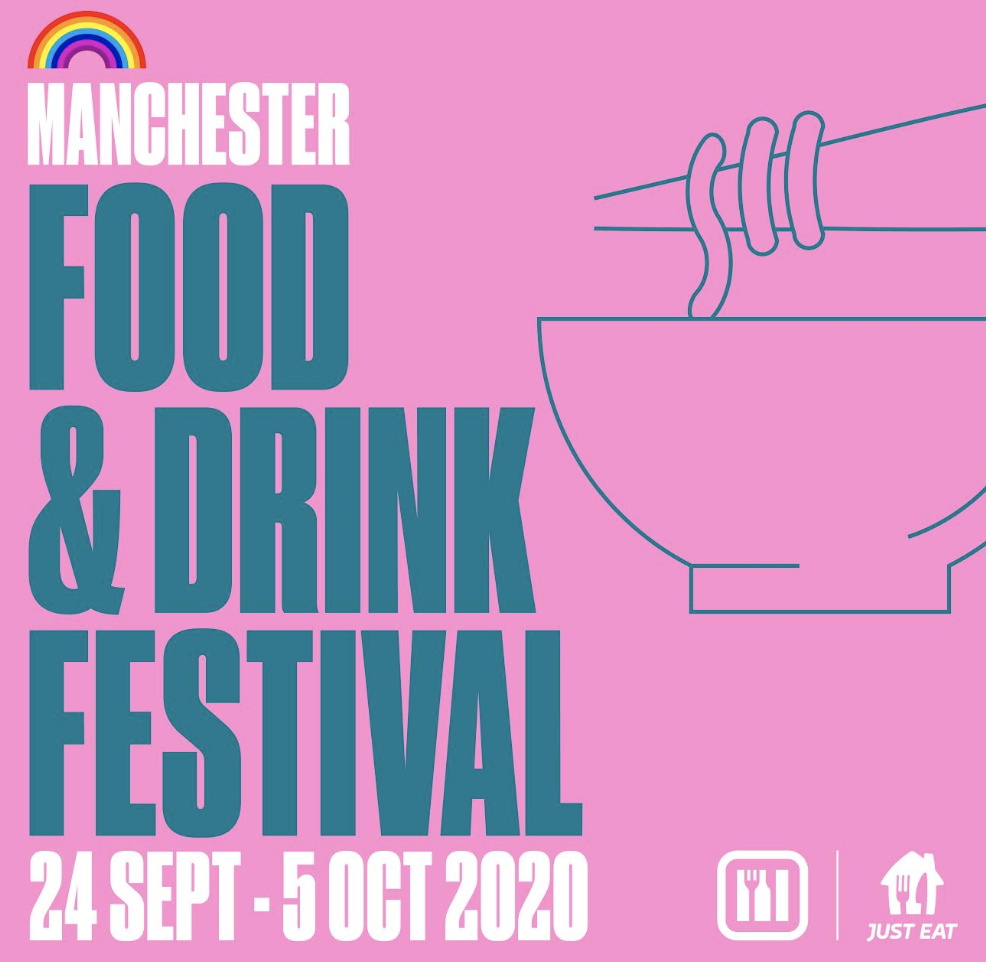 Manchester Food and Drink Festival (MFDF) is the city's first major COVID-safe outdoor event to take place since lockdown and the full programme has now been revealed.
It was confirmed last month that MFDF would be going ahead this year after the famous event was given the green light to return for its 23rd edition for a partnership held with some of the city's top restaurants, bars, cafes and chefs across 12 days.
It is scheduled to take place from 24th September – 5th October 2020.
The free-to-enter Festival Hub will be at the heart of the MFDF action as usual, with a new layout and operational systems designed to ensure the event is COVID-safe and secure, and for the very first time, the full programme is available via a brand new MFDF App, which aims to "bring the festival to your fingertips like never before".
The app is a new digital on-the-go festival programme created especially for the 2020 event and with ease of use, convenience, and safety in mind. MFDF is urging all festival-goers to download the free app ahead of the festival in order to participate in this year's event, and app users will not only be able to browse the full festival programme, but they can also order food to their table at the Festival Hub and vote in the MFDF awards too.
The app can be downloaded in the Apple and Android app stores by searching 'MCR Food and Drink Festival'.
Festival organisers have said that his year's line-up is all designed to celebrate Manchester's "wonderful, diverse and resilient hospitality industry" after what has been a challenging year in 2020 due to the coronavirus (COVID-19) pandemic.
Are you ready to see the full line-up then?
___
The Festival Hub
The Festival Hub on Cathedral Gardens will be the foodie destination of the Autumn this year with incredible street food, markets, live music and more. It will operate with a limited capacity in place to ensure that visitors can enjoy the festival and maintain an appropriate physical distance from others, and his will be carefully managed by the festival team.
The site will be made up of two key areas – the Feasting Quarter and the Festival Market.
The Feasting Quarter is the space that is all about coming together with friends safely to eat, drink and be dazzled by a huge range of street food, beers, cocktails and music. It will be undercover this year – with enough seating for guests to eat and drink at tables – and there'll be no more queuing for your favourite food experience either as the festival will be operating table service across the site to reduce contact.
It's a "food lover's paradise" and you can ensure you are at the centre of the action by reserving a table here.
The Eat Well MCR Street Kitchen Takeover
Eat Well MCR – the inspiring new charity, born out of the COVID-19 crisis – provides good food to
vulnerable people through the pandemic and beyond. Founded by food and drink star Mary-Ellen McTague, Eat Well MCR will be taking over their very own street food kitchen at the Festival Hub across both weekends to raise money for the charity.
A different Eat Well MCR restaurant partner will be taking over the kitchen daily to serving up their own special menu for festival goers, with all of the profits raised from the stall going to the charity, including a £1 voluntary fee added to orders.
Special guest restaurants taking over the Eat Well MCR kitchen include:
Beehive Food
Little Window
Blackbird Pantry
Elite Bistros
ARMR Store
Tampopo
Erst
The Creameries
Street Food Stars at the Feasting Quarter
___
Session 1: 24th – 27th September
___
What's Your Beef – Meat maestros What's Your Beef have been serving up locally and ethically sourced grass-fed beef burgers to the masses for six years. Often tagged as 'Manchester's best burger', MFDF festival-
goers can make their minds up for themselves by tucking in at the Hub. The menu includes huge,
unforgettable burgers including the Con Carne-Vore, the Fiery Bull or the Don't Have a Cow veggie
burger.
Grandad's Sausages – Bury-based sausage connoisseurs Grandad's Sausages have been bringing artisan bangers to the people for over 50 years. They'll be serving up their gourmet British hotdogs, including all the super snags that helped them bag the MFDF Award for Street Food Trader of the Year in 2019.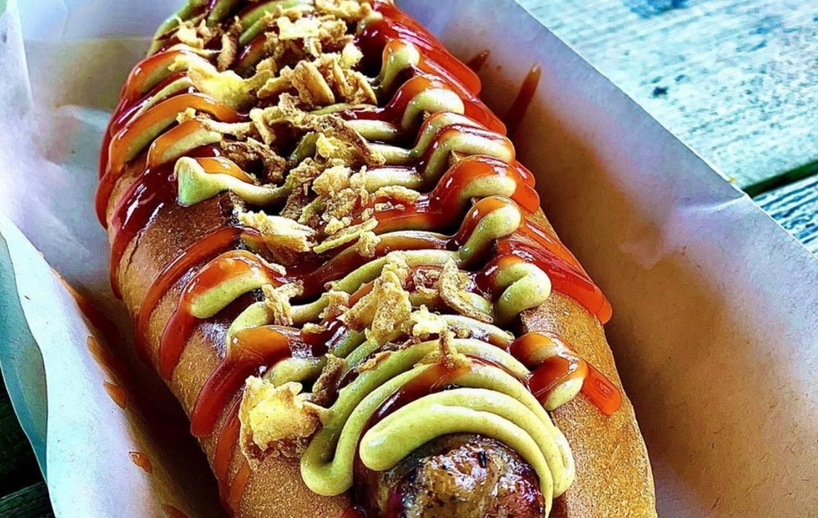 Wallace and Sons – Wallace and Sons serve up some of the best handmade Asian bao and gyoza in the city and they'll be banging out brilliant bao buns throughout the first weekend of MFDF.
The Spinn – For "wraps, wings and delicious things", the street food- inspired Stockport bar and restaurant owned by Oh My Glaze street food hero Scott Graham, and Emmerdale star Adam Thomas will be bringing the likes of halloumi fries and jackfruit wraps to the Hub.
Maison BREiZH – Briezh is Breton for Brittany – the gastro-rich north west of France – and Maison BReiZH will be bringing an authentic taste of this incredible region to the festival. Think classic savoury galettes using the best Breton buckwheat and butter, and dessert crêpes with the finest French chocolate, alongside quality Lancashire & Cheshire produce.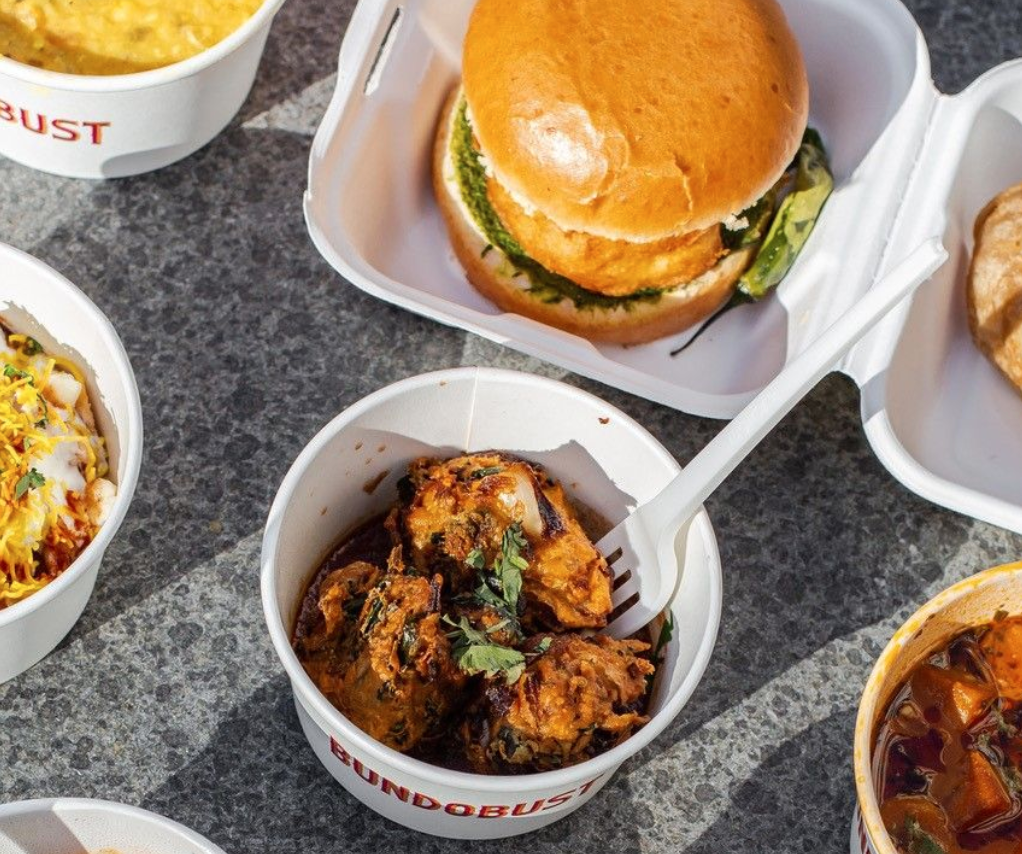 Bundobust – The award-winning and beloved Bundobust will be popping up at MFDF for the first session and bringing their incredible combination of vegetarian Indian street food and craft beer to the Hub. You can expect some of their finest festival signature dishes like Vada Pav and Bundo Chaat.
___
Session 2: 1st – 4th October
___
Parmogeddon – Anyone who hasn't tried the wonders of Parmogeddon yet should book a place at the Festival Hub right now. This surprising Middlesbrough delicacy is fried chicken goodness, covered in a rich, creamy béchamel, topped with a serious helping of cheese and shoved under the grill until melted and gooey – incredible with chips and garlic sauce
Halloumination – Halloumination have been serving up their halloumi fries and halloumi burgers for the past three years. Their indulgent fries are topped with all sorts of deliciousness, including salt and pepper, hoi sin and peri peri mayonnaise.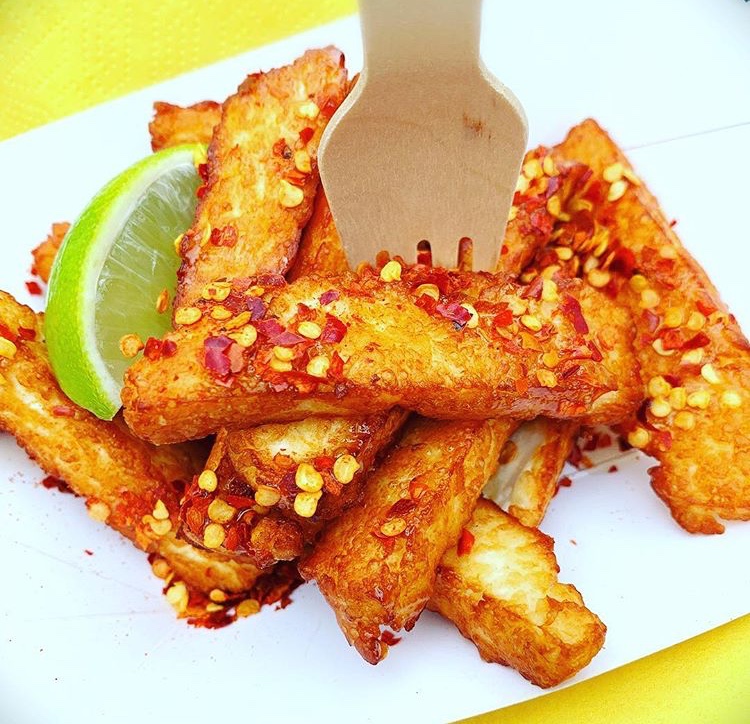 Patty and Press – This burger joint brings "Made in Manchester" vibes to the USA-style dirty burger scene with brilliant, locally-sourced produce and Mancunian innovation… it's "Simple Done Right".
I Knead Pizza – Stockport's I Knead Pizza are passionate about producing fresh Neapolitan-style pizza with artisan-imported meat and locally-grown produce (plus vegan and veggie options). Wood fired and ready to
go, it's the festival pizza moment you've been waiting for.
Hanoi 75 – Inspired by Hanoi and brought to you from Manchester, Hanoi 75 will be serving up street food inspired by Vietnam's capital and you can expect incredible banh mi and bao buns.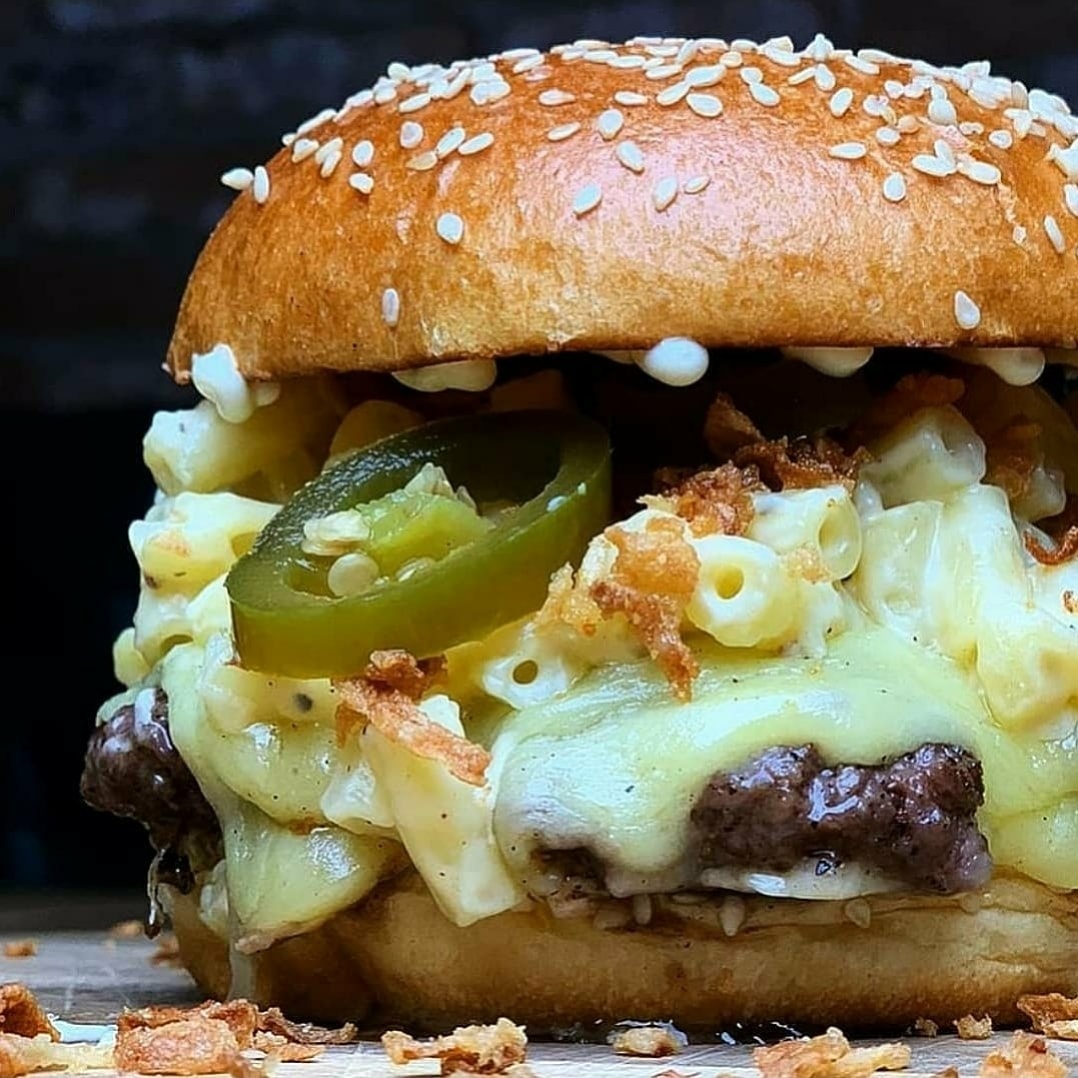 Gupshup – The spirit of sharing and being with people you love is at the heart of this family owned Indian
restaurant in Hale. Gupshup aims to bring a slice of Indian flavours and culture the Hub via their pop-up street food hut serving up Chana Masala, Butter Chicken and their festival special the 'naanwich'.
Spoons Desserts – Crepes, waffles and all manner of sweet treats await at Spoons Desserts. As festival newbies, they'll be serving up hot desserts and a couple of savoury options too.
___
Both Weekends: 24th – 27th September & 1st – 4th October
___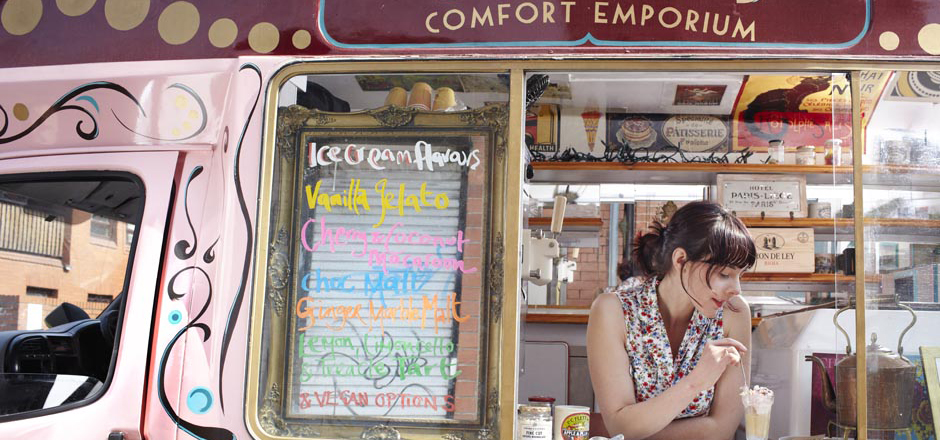 Ginger's Comfort Emporium – Manchester legends Ginger's Comfort Emporium will be serving up their famous small batch dairy ice cream, sorbet and vegan ice cream. It's 10 years since Ginger's Claire Kelsey pulled up her van to one of their first events at MFDF – bringing with her flavours like 'Raspberry & Rose meringue', 'Orange tarragon & watercress', and 'Chorlton Crack' (salted caramel peanut butter) – and these creative and delicious flavours are still amongst her best sellers found at the Hub across both weekends, as well as a special festival ice cream called "Manchester Skies".
Drink at the Feasting Quarter
The Manchester Beer Bar – A banquet of brews await at the famous MFDF beer bar. Taking in beers from Greater Manchester's breath-taking range of incredible breweries, ale fans can expect the best celebration of regional beers yet at this year's special 2020 celebration. A special cider showcase bar will be part of the Manchester Beer Bar offering too.
Salvi's Aperitif Bar – Brand new for the festival (and an extra special treat for all those who sorely missed the cancelled Festa Italiana this year), authentic, Neapolitan restaurant group Salvi's will be hosting a traditional
Italian aperitif bar.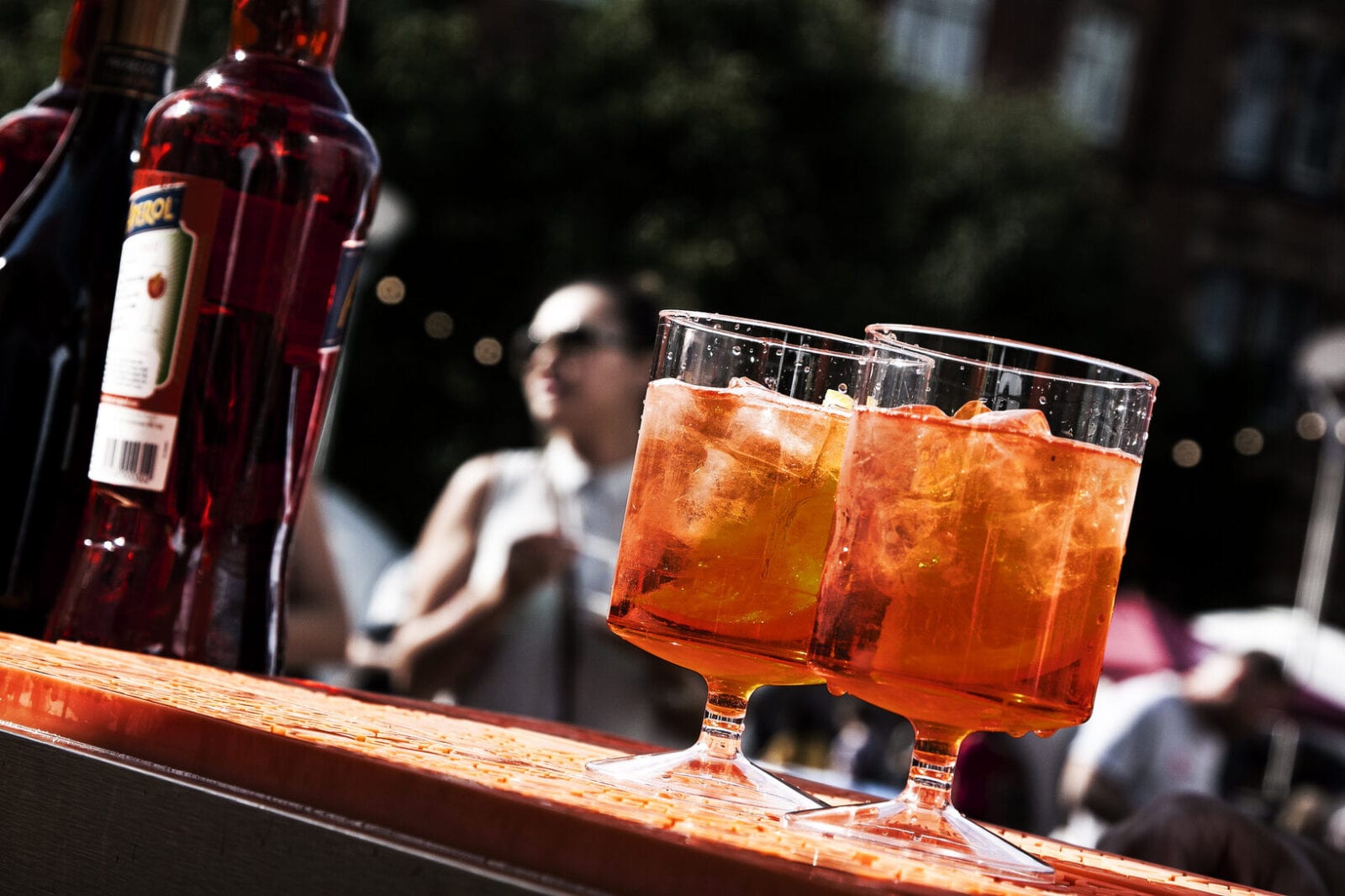 Customers can expect a special, authentic slice of Italian life at the Hub as the team serve up a menu of fabulous Italian drinks including Aperol Spritz, Limoncello Spritz, Meloncello spritz, Negronis, Espresso Martinis, fine Italian wine and Prosecco. It'll all be served alongside Salvi's famous, authentic deli sharing boards too, featuring their incredible Bufalo Mozzarella and artisan charcuterie.
Franklin & Sons Gin & Tonic Garden – Official Premium Tonic Partner Franklin and Sons will be serving up G&T's at the Hub. Discover some creative new fusions as they team up with some of our local Manchester gins for a wide range of delicious flavoured tonic. Never compromising on quality, as a Great Taste producer Franklin & Sons uses 100% natural ingredients, with British sugar and high levels of carbonation across the range, to bring out the best in spirits and lift the most delicate botanicals.
Music at the Feasting Quarter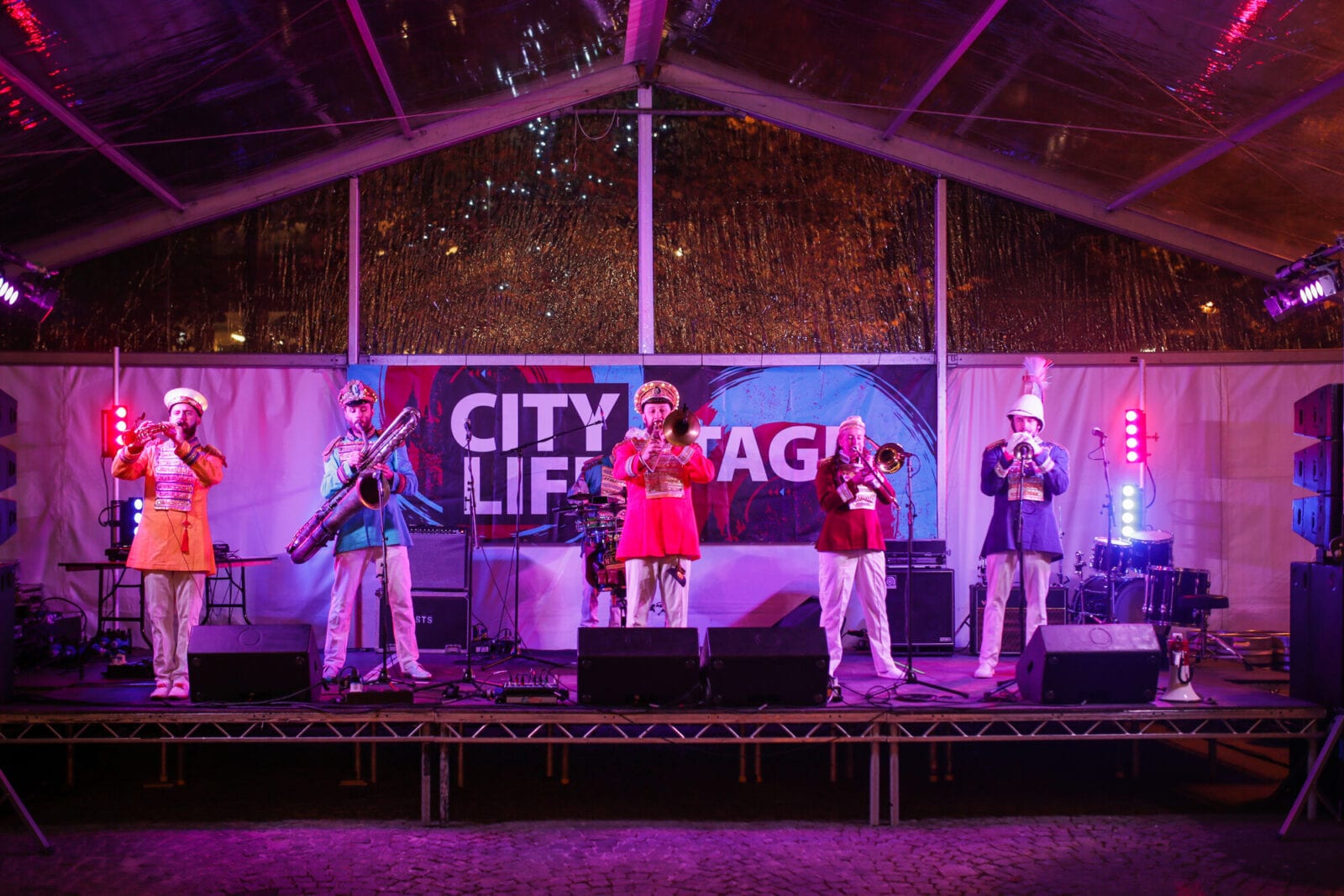 The CityLife Stage – The CityLife Stage will be the location for a laid-back music experience to provide the perfect soundtrack to your festival. Starting on Thursday 24th September, the festival will kick off with live music from Mr Wilson's Second Liners and a DJ set from Manchester legend Clint Boon.
Other names taking to the stage confirmed include:
Mike Joyce (playing a DJ set)
Freya Beer
Dave Fidler
Lily-Jo
The full music line-up can be found via the MFDF website here.
___
The Market Place
Complementing the Feasting Quarter, the other half of the Festival Hub will be home to The Market
Place – a free-to-attend fine food and drink shopping experience. This bountiful food and drink market will feature some of Manchester's best independent food and drink producers, makers and businesses.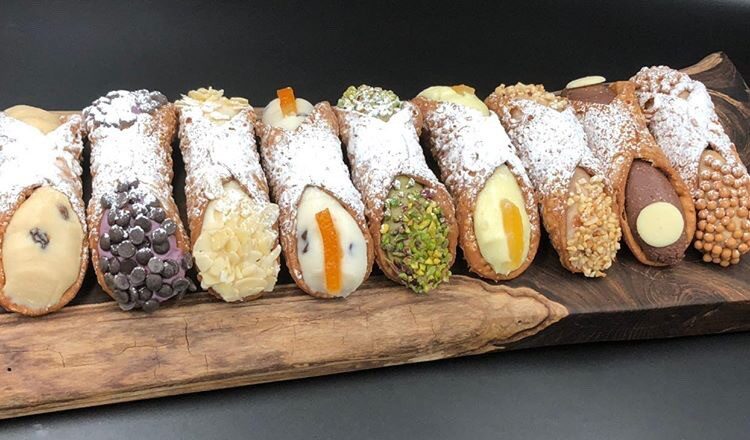 There will be two separate line-ups across the two weekends, which will include:
Chorlton Cheese Mongers
Companio Bakery
Great North Pie Co
Manchester Cheesecake Company
HM Pasties
Samosa Shack
Café Cannoli
The Gourmet Brownie Company
DevilDog Sauces
The Sunrise Patisserie
Eat Well MCR Market Place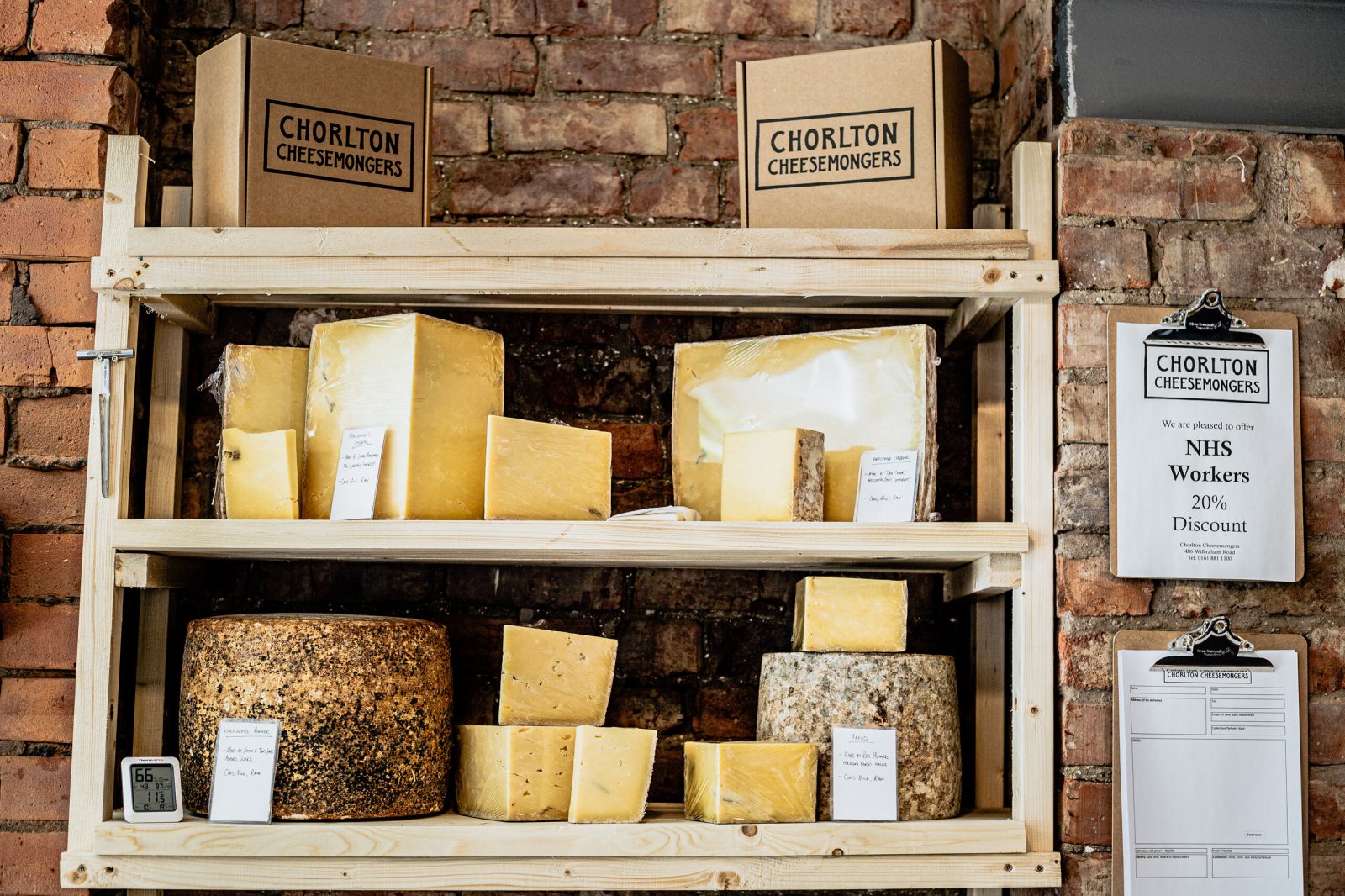 The Just Eat Kitchen at The Market Place
To give a bit back, 10% of the money spent at the Just Eat Kitchen will be donated to charity FoodCycle to help feed the vulnerable.
___
Session 1: 24th – 27th September
___
Yard & Coop – Buttermilk-fried, and seasoned to perfection make these succulent wings unmissable.
PLY – Pizzas the Napoli way, saucy and on sourdough – plus great pasta dishes too.
___
Session 2: 1st – 4th October
___
Zouk Tea Bar & Grill – A feast from the east, tantalising your taste buds with authentic Indian and Pakistani dishes.
Vertio Plant Based Eatery – Money doesn't grow on trees, but delicious food does and amazing flavours everyone will love can be found at Vertigo.
___
Both Weekends: 24th – 27th September & 1st – 4th October
___
The Meatless Farm Company – Plant-based meat alternative makers of the moment Meatless Farm will be serving up samples of their excellent vegan cooking products as well as a full, eat-on-site street food menu of Meatless Farm Burgers.
___
MFDF Across the City
In addition to all the fun of the Hub, MFDF has collaborated with some of the city's amazing restaurants, bars and cafes to curate a programme showcasing our amazing dining community. The festival is a perfect time to venture out and support our local hospitality industry with deals, special menus and offers all designed to showcase the best talent in the city.
The programme includes:
Moda + Higher Ground: Manchester's Highest Dining Venue – For a limited time only on 25th & 26th September, the penthouse apartments at the newly opened Moda Angel Gardenswill play host to a very special series of supper clubs, as Higher Ground take residency especially for the festival. At 100m high, the pop up will be Manchester's highest dining venue with stunning views across the city and beyond. With just four dates available, the pop-up gives guests a one-off chance to dine in this stunning setting and capture one of the most iconic shots of Manchester. Guests will enjoy welcome drinks with a view, as the sun sets over the city, before sitting down for a four-course meal served using fresh north west produce, with paired wines to accompany.
Tickets for the Moda + Higher Ground Penthouse suppers are priced at £100 per person – which includes
a welcome drink, four courses and paired wines – and you can buy them here.
The MFDF Experience By Adam Reid At The French – Join one of Manchester's most talented and best-loved chefs as Adam Reid – star of Great British Menu, Exec Chef at The French, and huge supporter of independent, Manchester talent (and the MFDF) – brings a very special food experience to the festival programme.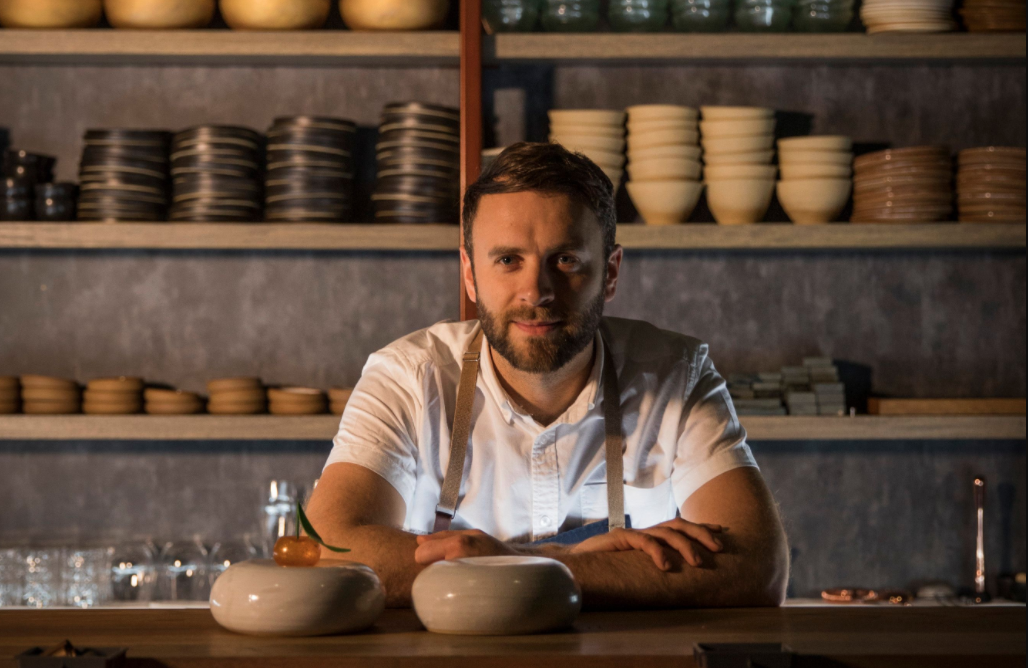 The evening will include:
Glass of English Sparkling wine on arrival
Selection of snacks
Multi course menu with matched wines
Tea/Coffee with chocolates
Thursday 1st October – £140 – 6.30pm – 8.30pm.
Friday 2nd & Saturday 3rd October – £180 – 5.30pm – 8.30pm, Friday 12pm – 1pm & 5.30pm – 9.30pm Saturday.
Love Urmston Events – New for this year's festival is a partnership with some of the best food and drink independents in Urmston who have come together under the Love Urmston banner to showcase the town's diverse eating and drinking scene. Throughout the entire festival, look out for festival offers, special menus, a mini food and drink pop-up market on the M41 site on Railway Road on Saturday 26th September, and an artisan market on Saturday 3rd October.
Enjoy a taste of Urmston's award winning independent restaurants, traditional pubs, cocktail bars, coffee shops, wine bars and craft beer retailers by booking your place on one of a limited number of food tours taking place between 1st – 4th October.
Manchester Food and Drink Festival Awards: 5th October – Venue TBA – The MFDF Awards 2020 will be live streamed at a venue to be announced by hosts BBC Radio Manchester's Becky Want and BBC Radio 6 Music/Fodder's Matt White.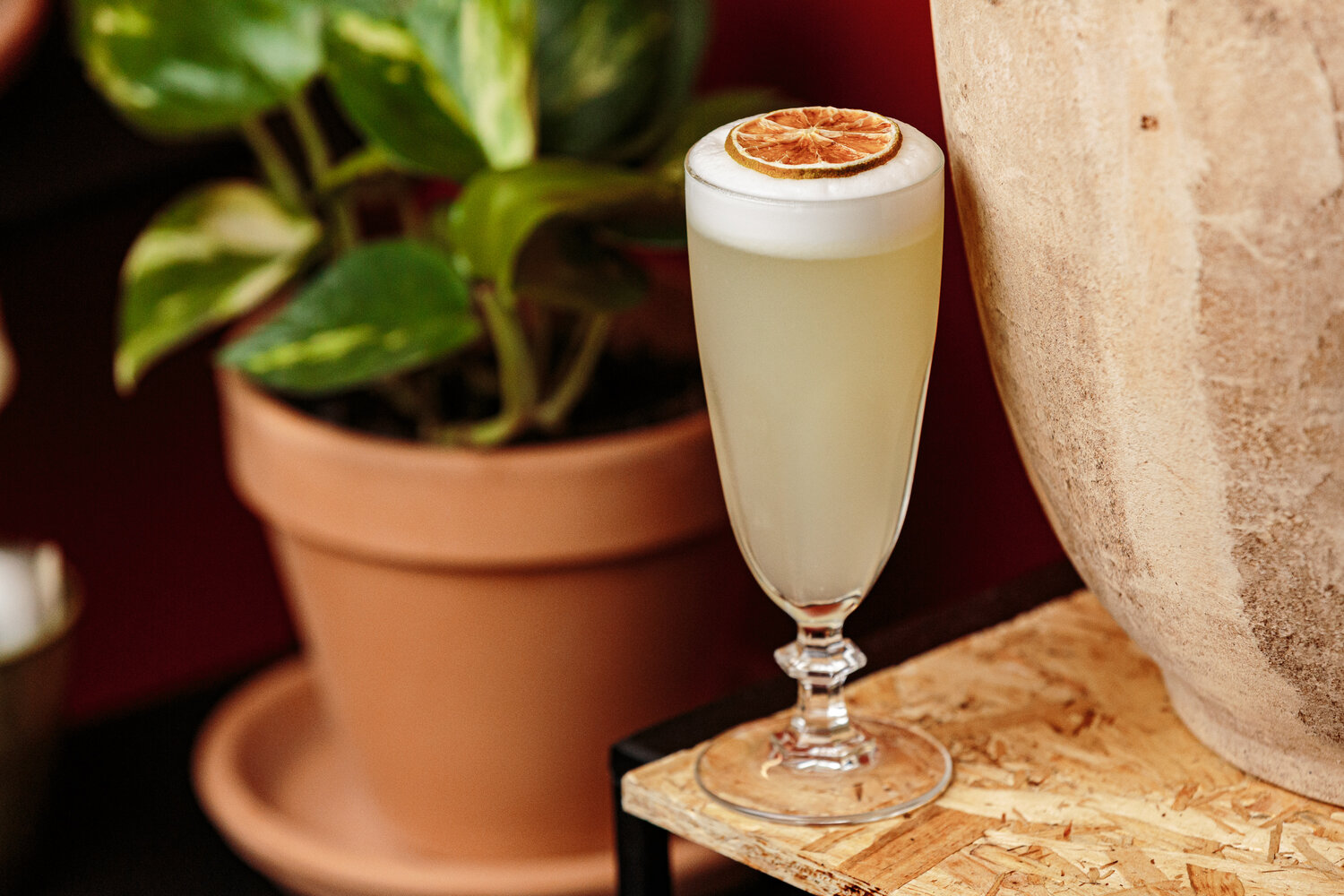 Ceviche Masterclass and Feast at Peru Perdu: 5th October – Manchester's colourful and vibrant Peruvian-inspired residency restaurant brings a special ceviche masterclass to the festival, offering the chance to gain a unique insight into the mechanics and flavourings of Peru's most famous dish – Ceviche (raw fish marinated in citrus). Start with a House Pisco Sours at the bar before moving on to the Ceviche station where the chef will talk guests through the history of the dish, preparation, flavouring and an authentic ceviche recipe that will be sure to impress your friends. After the masterclass, guests will then be seated for a full feasting menu including all the best of the Peruvian dishes + 1/2 bottle of wine per person.
___
Festival Offers
From Manchester's best bars and restaurants throughout the festival.
Fantastic festival menus and special offers have been created for MFDF by a host of the best restaurants, bars, cafes and even galleries around. These include:
20 Stories
Tampopo
Lily's Indian
Northern Quarter Gallery
The Corn Exchange
Yard & Coop
Herbivourous
Coffee B
La Bandera
Just Eat – Festival headline sponsors Just Eat will be offering a 20% off voucher running throughout the duration of the festival – starting from 24th September – October 4th – and remember, you don't have to wait until the festival to get your taste buds tingling, check out what Just Eat has to offer here.
Roomzzz Aparthotels – There's a special festival overnight offer at Roomzzz for those who want to make a night (or even weekend) of it as they offer 20% off stays during Manchester Food & Drink Festival. Anyone
looking for the ultimate home from home to explore Manchester's top-notch food and drink scene should head to Roomzzz Aparthotels for stylish and spacious suites and apartments, slap-bang in the centre of the city and a stone's throw from the MFDF Hub in Cathedral Gardens.
___
MFDF At Home
MFDF have teamed up with some of the best chefs around to create DIY Delivery Kits to enjoy at home to ensure festival fans can get involved whether they are ready to get out and about yet or not.
You can order your kits from the likes of:
Taste of Honey, Didsbury – 'Stay Safe R'Kid MCR Picnic Box
Yao Yao Noodles – Ramen Kit
Blue Caribou Canteen – Poutine Meal Kit
Grandad's Sausages – Hot dog kits
___
Manchester Food and Drink Festival 2020 (MFDF) is sponsored by Just Eat, Moda Living, Manchester Evening News, Meatless Farm, Franklin & Sons, and Roomzzz Aparthotels.
You can find more information via the MFDF website here.