Art & Culture
A Greater Manchester studio is doing 'bottomless tattoos' for seriously good prices
One for all you ink addicts.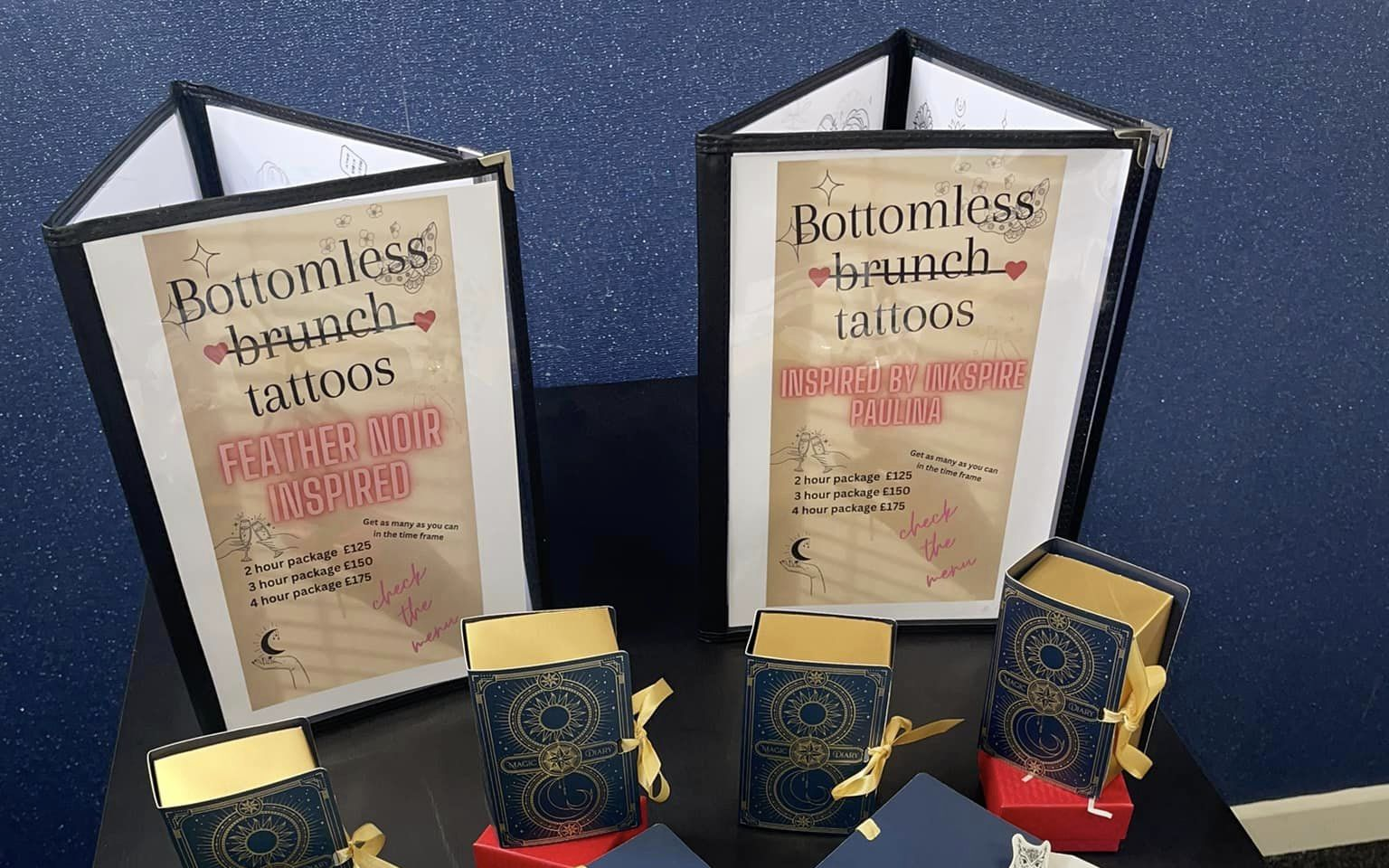 Going bottomless is one of our favourite things, be it when we're heading out for brunch or deciding how to spend a weekend at home, but it was only recently that we discovered that there is a place taking the format to the next level by offering bottomless tattoos.
One, yes we said 'bottomless tattoos' and two, no we don't mean that you have to get them on your backside lower half.
The brains behind bottomless tattoos are Paulina Piekutowska and Feather Noir, a pair of tattooists who head up the INKSpire studio in Atherton, Wigan, specialising not only in body art but piercings and, of course, their increasingly popular USP.
If you're wondering how it works, it is exactly as you'd expect: you pay a flat fee to sit in the artist's chair for a number of hours and after selecting a number of designs to your liking, you get as many tattoos as you can within that time.
Not only is it a really novel marketing idea that latches on perfectly to the bottomless trend which we don't is ever going to fall out of favour now it's such a well-known concept in the public consciousness, but given tattoo artists typically charge based on how much time they spend on a piece in the first place, we're surprised no one had thought of it before.
Establishing herself as one-half of the 'original bottomless tattoo creators', Paulina has been offering this service since around August time and the uptake in interested parties has been huge. You can even purchase gift boxes for friends and loved ones which are mocked up as fun little scratch cards.
We learned of this craze simply through word of mouth and after repeating the phrase 'bottomless tattoos?' back to our inked-up friend in a high-pitched tone (as we suspect everyone else does when they hear about it) our interest was immediately piqued and we found them on TikTok not long after.
So, how exactly does it work? Well, it's quite simple: you pay either £125 for a two-hour package, £150 for three hours, or £175 for four; and once you've selected what designs you'd like to get and where, you simply sit down, start the clock and let one of the two in-shop artists do their thing.
Read more:
With Feather Noir — who also boasts a Training Academy recognised as a finalist in the Education Excellence category at the 2023 UK Hair and Beauty Awards and an affiliate Killer Beauty training partner — bringing her own expertise on board, you can always be assured of a good product, with some clients even travelling all the way from London just to be honoured by their ink.
Although many of the bottomless designs on offer might be of a simpler nature which allows them to be completed swiftly, these guys still take great care in their work and there's always room to add a unique little twist or flourish so long as you ask.
Wigan might be best known for pie butties and the Latics but now the town of Atherton can say it was the first to bring bottomless tattoos to Greater Manchester.
If you're interested in giving it a try, you can get in touch with INKspire Studios via Instagram HERE.
For all the latest news, events and goings on in Greater Manchester, subscribe to The Manc newsletter HERE.
Featured Image — INKspire (via Instagram)