Art & Culture
Artist creates incredible embroidered snapshots of Manchester
The city you and know and love brought to life with a needle and thread.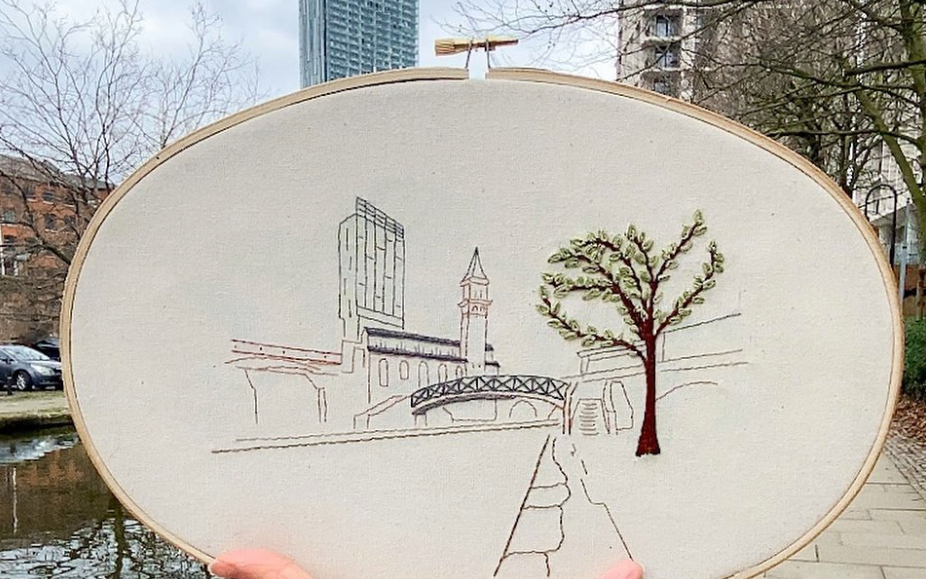 We love art and we love this Manchester, so naturally, when stumbled across a local artist creating embroidered pieces depicting scenes from around the city, we fell in love.
Stephie is the woman behind Hoop and Fred, an embroidery business that specialises in stitching all things Manchester, be it bees, recognisable buildings or even trams.
Starting back in lockdown after picking up an old starter set and getting back into the hobby she enjoyed as a young child, she has gone on to create a wonderful brand that celebrates stitching, the city and its rich textile heritage.
In true Manc fashion, we only have one word to sum these up: mint.
As you can see, she creates a wide variety of embroidered art capturing familiar spots around Manchester city centre, ranging from super-detailed and accurate to simpler, yet colourful designs, all done with a needle and thread.
Her signature pieces are embroidered hoops, hence the name, and while we've seen plenty of stuff like this in past, these are just brilliant.
Better still, not only can you buy these incredible bits of embroidery online but Stephie even holds her own workshops and stitching classes.
In between all that, travelling and doing up her first home with her fiancé, she also manages to work in theatre and other arts events.
Read more:
Perhaps one of our favourite aspects of Stephie's story is how she came to find this passion after years of exploring different creative outlets.
As she explained in a lengthy social media post, for the longest time she used to tell herself she was "no good at art… no good at crafty type activities".
But what is now clear is that she is more convinced than ever that she was wrong, going on to add: "I think 5-year-old me was probably pretty wise, and I should follow her lead more often."
"So consider this a reminder to you, that just because you have believed something about yourself for years, all of your adult life even, it might not necessarily be true. You can pick up a felt tip pen and play, you can give that craft a go, that thing you do that you don't consider to be an art, probably is. You might just surprise yourself."
Featured Image — Hoop and Fred (via Instagram)