Audio
LadBaby quash 'false stories' as they reveal they won't be going for a Christmas number one for the first time in six years
Their reign has come to an end.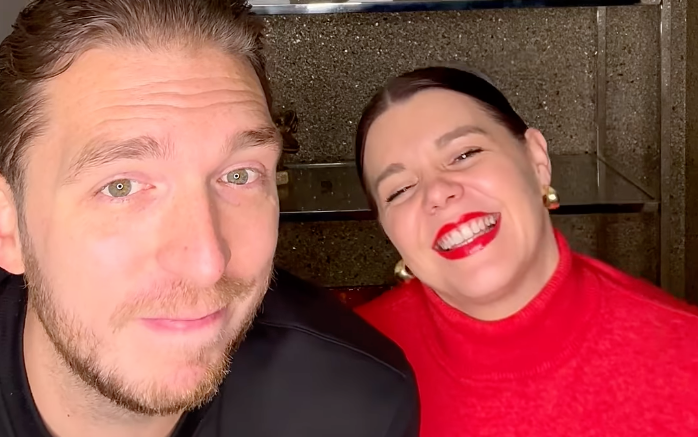 Comedy duo LadBaby have confirmed they won't be making a charity single and attempting to go for a Christmas number one for the first time in six years.
After notching five back-to-back number ones since 2018 and even going on to work with pop legends Ed Sheeran and Elton John for their 2021 entry, 'Sausage Rolls For Everyone', the brand which started out as Mark Ian Hoyle's YouTube channel and side-hustle has now raised over £1,305,000 for charity.
Acting on behalf of The Trussell Trust and food banks around the UK, LadBaby has dominated the UK's Official Charts for half a decade, so it would have been no surprise at all to see them go for a sixth consecutive year.
However, it's no longer the case as after sharing an update and heartfelt thank you to their fans for years of support, Hoyle and his wife Roxanne confirmed they will not be going for Christmas No.1 in 2023 but still hope to see the charts packed with charity songs.
As explained in the video, the couple said they've had "the most incredible, loving, life-changing five years" and couldn't be prouder to have helped "put The Trussel Trust on the map".
Insisting that they simply started out wanting nothing more than "to make people laugh for a good cause" and after the success of their sequel only felt compelled to keep going as a result of the pandemic.
After that, they admitted the opportunities were simply too big to turn down, especially because it would raise awareness surrounding the nationwide charity of a scale "they could never achieve on their own", but insisted that they now want to "pass the baton over" to others.
They also went on to rubbish the "fake news and false stories" that have been circulating around them in recent history, insisting that they "aren't going to be making any profit off that" and that all the money goes directly to charity and food banks across Britain.
Read more:
As the LadBaby YouTube channel generates its own earnings and ad revenue separate from their music, many outlets have questioned where exactly all the funds raised through the charity singles are going.
Nevertheless, Mark and Roxy have continued to insist that everything is all above board and while they won't be taking part in the Christmas number one race this year, LadBaby is "retiring" by any means.
Whatever you make of their music, the fact is they helped bring a really important cause to the forefront and we're sure you'll see them pop back up again one of these days.
You can donate to The Trussel Trust HERE.
For all the latest news, events and goings on in Greater Manchester, subscribe to The Manc newsletter HERE.
Featured Images — Official Charts/LadBaby (via Instagram)