Audio
The 1975 'At Their Very Best' in Manchester — they certainly were
Hopped up on Lemsip, wine and fags, the show spiralled into chaotic sausage roll-throwing, raw meat-eating and fourth-wall-breaking madness. It was wonderful.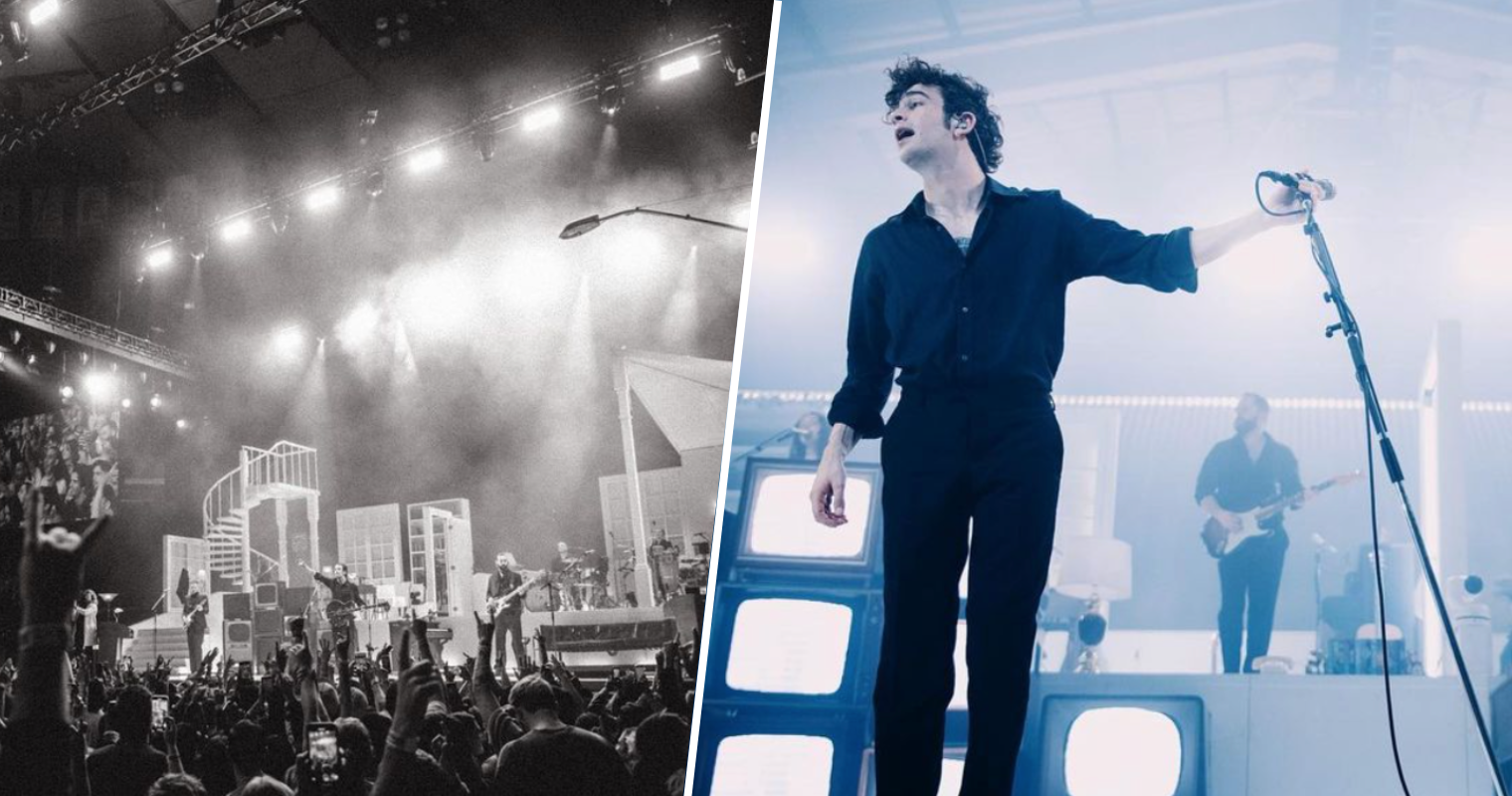 On Friday, The 1975 rocked their way back up to Manchester for the homecoming gig of their 'At Their Very Best' tour at the AO Arena and 'my, my, my' did they live up to the title of the show.
Returning for the first time since 2020, the band from Wilmslow were clearly committed to putting on a memorable show for the city they grew up in and which essentially put them on the map, with Matty Healy openly admitting: "I don't need to tell you how big this gig for us".
It certainly felt pretty momentous for the 20,000 or so of us watching.
The calm before the storm
While a mix of ambient and classic music played before they took the stage and opener Bonnie Kemplay delighted both her die-hards and won over plenty of new ears with her soft and soothing tones, it all felt like a calm before the storm as we knew the level of performance and pageantry that was in store.
We couldn't have been more right, as despite having fallen ill overnight and being hopped up on Lemsip — he literally spent the first few songs sipping on a cold and flu drink — you couldn't tell, as Healy's energy levels looked just as electric as in the now-famed London show, if not even more so.
Not only did he grow into the gig as it went on, as typified by various costume changes (mostly just taking off his shirt), the trademark shaky knees dancing, swapping Lemsip for wine and cigs, as well as his general David Bryne-like eccentricities, but the whole show felt more like an ensemble performance.
From the way his various bandmates were introduced with opening credits as they walked through the various doors on the stage and fans screamed as each of their favourites switched on a light around the beautifully set design, to how they all gathered around the mics to nail the harmonies — it felt like everyone had their moment. And there were quite a few, to say the least…
Chucking on special guests, chewing raw meat and climbing through a TV
With fans having already seen footage of them bringing out Taylor Swift on the first night in the capital, those watching The 1975 'At Their Very Best' in Manchester were understandably excited to see who might appear through the door towards the back of the stage. Oh, just Charli XCX, as you do.
Honestly, the noise that echoed around the AO Arena when she appeared was deafening and though perhaps not everyone in there would usually find themselves listening to her music, even with The 1975's own obvious and expertly attuned pop sensibilities, her energy was unparalleled and the crowd lapped it up.
It was a similar story when Carly Holt was brought on for 'About You' and they played old cult-favourite 'Menswear' from their self-titled debut album.
That being said, it was nothing compared to the slightly maniacal crescendo that closed out of the opening half of the show before she stepped out, as Matty punctuated the songs from Being Funny in a Foreign Language and the more easy-going tracks with a typically meta albeit bizarre interlude.
The frenetic frontman has always been self-referential but he was at self-indulgent best on Friday, as in one fell swoop he went from unbuttoning his shirt and sensually caressing his body whilst smoking on stage, to getting on his knees, eating a raw piece of steak and doing a bunch of press-ups. At one point you could literally see him mouth, "what the f*** am I doing!?"
We have absolutely no idea, Matty. We thought it was surreal enough when he started eating a sausage roll after a fan chucked it on stage, but that was nothing compared to him staring down a camera as he climbed through a TV and disappeared out the back of the set.
We assumed it had some kind of consumerist, fourth-wall-breaking message about being sucked in by media and whatnot, but who knows? It could just be the ever-artsy musician having a bit of mind-bending fun; it gave us trippy Trainspotting vibes and was unlike any other live gig we'd ever seen.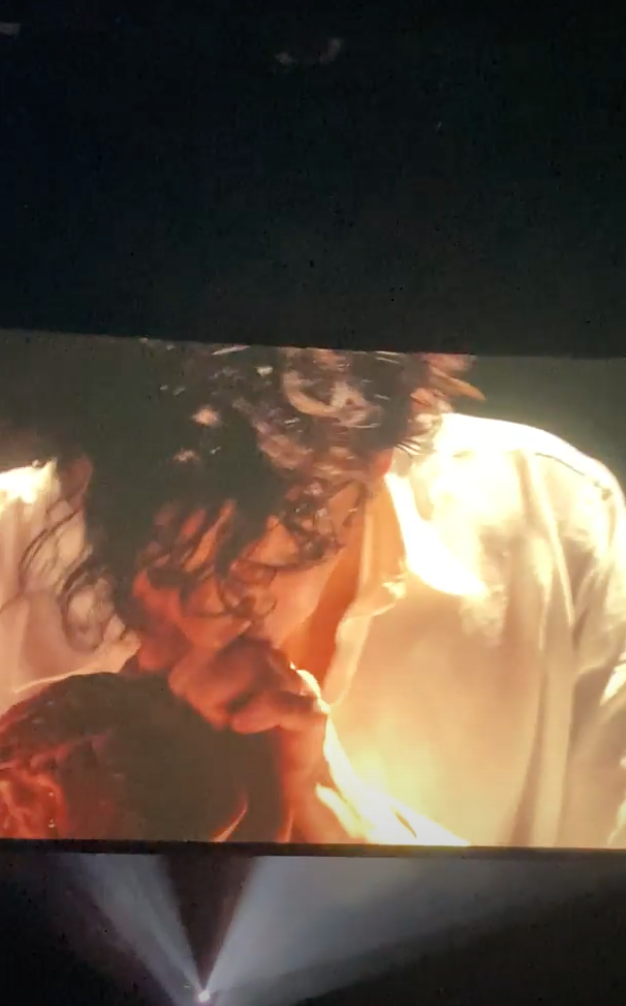 Doing what they do best: putting on a proper show
With the new album and the majority of surprises behind them, the band then kicked things into fifth gear and started playing countless bangers throughout their now more than decade-long studio discography as they steamed towards the final act of their 25-track epic.
Part of the reason this latest record has gone down so well with fans new and old is that it's much more succinct and simpler than the previous two; back to basics sounds reductive but it was about stripping away a lot of the frills and just writing good songs — the second half of the show very much embodied that ethos.
Matty's often unhinged, 'dancing with abandon' and intoxicated persona on stage is never going to go anywhere, but it didn't look like he needed anything other than the audience to fuel the performance. They fed off him and he fed off them, as was perfectly epitomised when they dropped 'The Sound'.
Absolutely magic.
Closing the door and looking towards a new chapter
More poignantly, after the now infamous antics earlier in the show that have now become part of the narrative for this tour, there wasn't any more self-indulgence. There were no speeches about politics or art, kissing people on stage or sucking thumbs. There was simply no need for it.
There was only pure crowd-pleasing, Matty showing his appreciation for his bandmates and celebrating everything that the band is about at this moment in time, even if that is partly playing the hits and things like doing the 'don't like methols' meme.
I mean, he couldn't not do it for us, could he?
Last but not least, the set dressing was typically creative from The 1975's production team as a whole and played a key role throughout, but it was until the end of the show that it hit home how important it was to the whole performance.
The doors dotted all over the stage weren't just a nice nod to the iconic box logo that the band is known for. After it was illuminated and Matty passed through it for the final time, shutting it behind him and the credits once again rolling for the band, the metaphor hit you like a train: it signified the end of an era.
By walking through it on his way off the stage, it symbolised the band closing the door on the Music For Cars era that has encapsulated their last five albums and more than 21 years of their life as a band, with the last action of Matty going to turn the stage lights as if to ram home that final moment of closure.
Who knows what the next chapter will hold for The 1975? All we know is that we have loved the journey so far and you can sign us up for as many of those gigs as they're willing to give us.
Read more:
For all the latest news, events and goings on in Greater Manchester, subscribe to The Manc newsletter HERE.
Featured Image — The Manc Group/Supplied