Audio
TikTok sensation Cian Ducrot stuns Mancs in city centre — their faces are priceless
Millions have seen him on TikTok in recent months, but few were expecting him to pop up in the Arndale.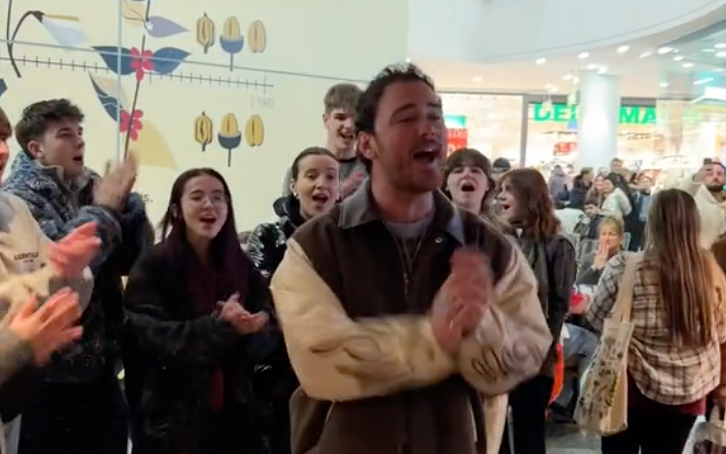 Musician and TikTok star Cian Ducrot caught many a Manc off-guard last week after he decided to rock up to the Arndale Centre for Christmas. With a choir.
The Irish singer-songwriter has shot to fame thanks to his social media videos over recent months, going from sharing first listens of his songs with loved ones to playing them for packed-out arenas.
Not long ago, the 25-year-old released a version of his viral track, 'All For You', with fellow artist and former X-Factor contestant Ella Henderson, sending the song even further across the UK.
But, most recently, he decided to pop up in and around Manchester along with his own choir to surprise locals going about their Christmas shopping. Here's how it went:
It's the woman who nearly has a heart attack for us, and the lady on the phone — ok, it's all of them.
As you can see in the video, unsuspecting Mancunians riding are left shocked as Cian and co. starting belting out his other big single this year, 'I'll Be Waiting", at full volume.
The acoustics in the Arndale sound pretty good, to be fair, so much so that he decides to stay and grab a coffee. Well, not really.
New Costa radio slaps.
But the shopping wasn't the only place Ducrot appeared in the city, as he also took his team into the middle of a busy Piccadilly Station, jumping on the piano for a quick rendition of the festive classic, 'Hallelujah'. I mean, the perfect song for a choir, isn't it?
Once again, the reactions were gold.
However, our favourite video and undoubtedly his best surprise gig wasn't his performance at all: it was that over a local busker playing on Market Street.
Singer JP Fretwell also happened to be playing Ducrot's track as wrapped up Mancs walking by suddenly stopped as the writer and his choir stumbled upon his set and decided to join in.
He looks absolutely buzzing, going on to thank the Irishman for the "surreal" and "crazy moment".
Read more:
Well in, Cian — spreading some much-needed festive cheer and giving us Mancs a song.
Don't let some of the faces fool you, we always appreciate live music around here.
He isn't the only musician to have surprised the people of Manchester recently either…
For all the latest news, events and goings on in Greater Manchester, subscribe to The Manc newsletter HERE.
Featured Image — Cian Ducrot (via TikTok)