Audio
Tim Healy surprises fans with performance at The 1975's Newcastle gig
Tim Healy > Lewis Capaldi. Nothing personal, it was just an iconic moment.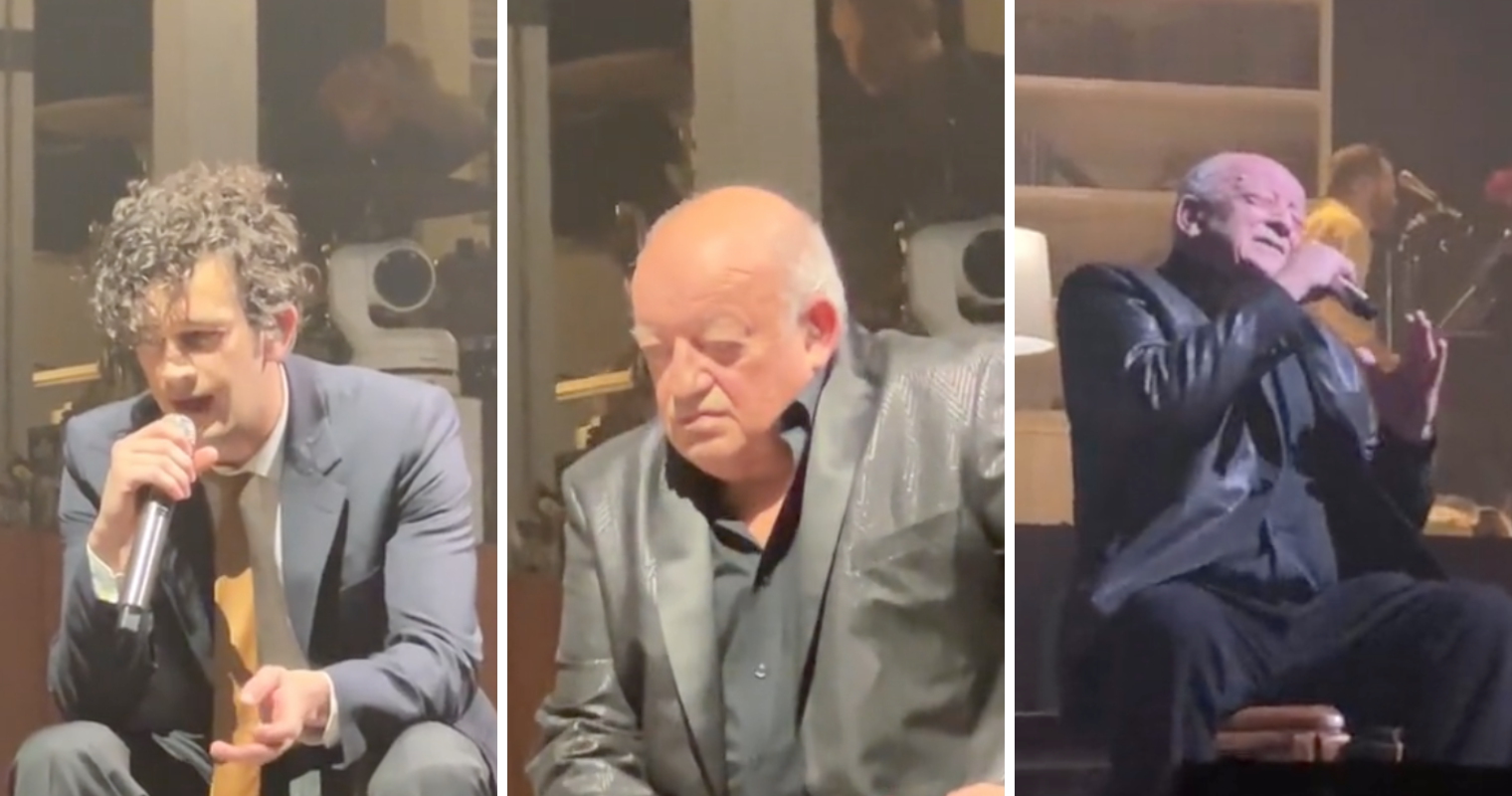 The 1975's tour has seen some seriously memorable moments so far, including several special guest appearances, but seeing Tim Healy give a surprise performance has to be the jewel in the crown.
While the band might have formed in the Wilmslow and plied their trade in Manchester on their way to success, several members of the current lineup — including frontman Matty Healy himself — were born in Newcastle, so the gig at the Utilita Arena on Wednesday was very much a homecoming show.
With that in mind, when British TV royalty, Geordie icon and Matty's old man, Tim Healy popped up on stage, the crowd understandably went wild.
There were no doubt plenty of confused faces when a trademark Matty monologue and sudden cut to black was followed by the bloke from Benidorm appearing up on stage, but there was also a scream bigger than any response Taylor Swift got.
Whipping out some significantly more dramatic thespian ability than the kind you'd associate with his Auf Wiedersehen, Pet days, albeit still fully aware of bizarre the entire spectacle was, he brought one of his son's trademark digressions about method acting to a close.
But better than that, the 70-year-old ended up staying on stage to perform his own low-key 'All I Need to Hear' cover as the band played in the background. Surreal.
To be honest, it might just be the wholesomeness of it all, but we think we might prefer the older Healy's version.
Sing it, Tim!
Imagine bringing your dad onto the stage only for him to absolutely steal the show. Brilliant stuff.
Both he and Matty's celebrity mum Denise Welch have been spotted at various shows as the band continue to perform their 'At Their Very Best' tour around the country, with various fans interacting with them in the crowd, but very few would have been expecting an impromptu song from one of them.
Both are obviously more closely associated with TV, with Welch known for appearing on the likes of Coronation Street, Hollyoaks, Loose Women and many more, but if we don't up end up getting both of them on stage before this tour is over we'll be genuinely fuming.
It also looks like the reaction meant a lot to him:
Read more:
Elsewhere in the show, The 1975's Newcastle fans were treated to an equally ridiculous surprise appearance from Harry Styles. Well, not really…
In case you haven't seen it already, the band conspired to prank the crowd by putting the former One Direction star's name up on the screen, only to bring out Scottish singer Lewis Capaldi instead.
He obviously got just as lovely a reaction and fully leaned into bantering with the crowd — joking, "I know what you're thinking: 'Harry Styles' looks a bit different.'" — before performing a cover of 'Antichrist'.
He's always good value, isn't he?
You can read our full review of The 1975's Manchester show HERE.
Or, if you fancy it, you can watch us having a belting time:
For all the latest news, events and goings on in Greater Manchester, subscribe to The Manc newsletter HERE.
Featured Image — @.millr (via TikTok)/@evie_ire (via Twitter)