Audio
Watch as The 1975 bring on Taylor Swift in London and the crowd absolutely lose their minds
This tour just keeps getting more bonkers by the minute.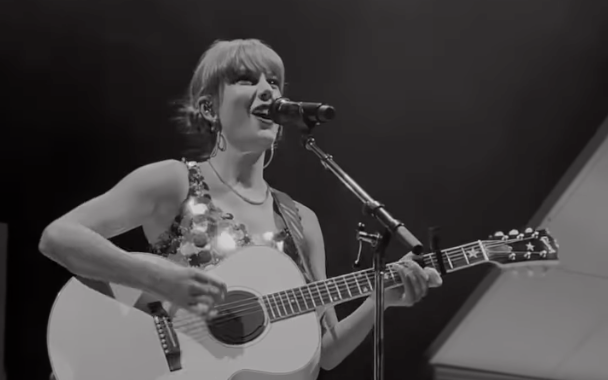 As The 1975 slowly work their way back towards Manchester on their massive world tour, they played the first of two stunning sold-out shows in the capital on Thursday night.
However, those lucky enough to get a ticket to the gig at London's O2 weren't just treated to The 1975 'At Their Very Best', as the band also had a very special surprise in store as well.
Yes, not only did the audience fans get to see Matty Healy and co., but they also had their minds blown as the band just casually dropped a Taylor Swift guest appearance in their laps.
As you can imagine, the reaction was utterly ridiculous. Here is the moment The 1975 bring on Taylor Swift to thousands of unsuspecting fans, just because they can. Headphone users beware…
This one is by far the best. A pure meltdown.
Rumours of both Swift and Harry Styles being spotted in and around the venue, but no one could have prepared themselves for this.
Set to embark on a fresh tour herself in March following the release of her new album Midnights back in October, she decided to pop up with a little acoustic set as The 1975 lads watched on from the wings.
As well as doing her own cover of 'The City' from Wilmslow's outfit Facedown EP and self-titled debut album, Taylor also played her latest hit single 'Anti-Hero' live for the first time.
Again, the reaction was as ecstatic as you expect:
The surprises didn't just stop there either. Guitarist Adam Hann's wife Carly Holt finally got her moment in the spotlight too, as she joined the band on stage for only the second time to perform 'About You'.
Holt sings the bridge on the penultimate song on the group's latest album, Being Funny in a Foreign Language, with the track and her section, in particular, becoming a bit of a cult favourite among their fan base.
The clamour on social media for her to become part of the permanent setlist has been massive and it seems the band have been listening. This is rather sweet, isn't it?
Read more:
American fans attending during the American leg of the tour were also treated to a surprise appearance by Phoebe Bridgers back in November and whilst it hasn't been a staple of their shows, historically, fans are starting to wonder who else might step out on stage before the full run of shows is done.
With their homecoming gig at the AO Arena just around the corner (20 January) and a certain ex-One Direction star already having been spotted at that gig, some are starting to wonder whether they'll be seeing some extra Style for Manchester date.
Either way, the pandemonium, controversy and unlimited supply of memes this tour has sprung really is quite something. We don't see there being a future 1975 gig without "don't like menthols" hanging over it for some time.
For all the latest news, events and goings on in Greater Manchester, subscribe to The Manc newsletter HERE.
Featured Image — @mewlancholia (via Twitter)/ben37as (via TikTok)/The 1975 (via IG)