City Centre
The Manchester Arndale Food Court escalators now go both ways
Absolutely massive news just in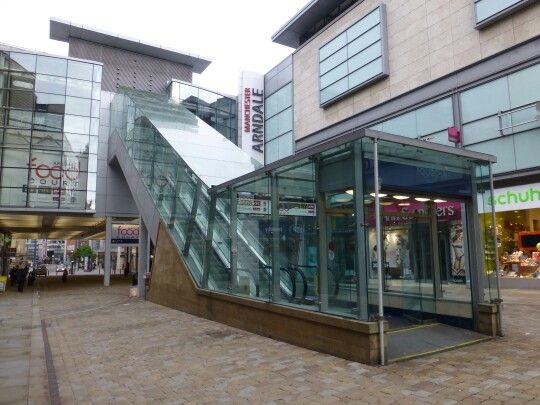 We've all been there at some point in our lives.
You've got a 15-minute break from work, you're absolutely Hank Marvin and in desperate need of something to quickly consume and give you indigestion… Arndale Food Court.
You're Christmas shopping on 24th December, starving, sweaty, have become single due to high stress levels, and need something quick to eat before you keel over… Arndale Food Court.
You're Nipping to Argos for a new Roomba, the scent of KFC wafts down the steps of the Arndale Food Court and into your general direction. Off you go for a quick, unplanned scran.
The place is iconic, and you've needed it more than you'd like to admit over the years.
We've been traversing steps, squeezing into lifts, and taking both sides of Market Street's one-way escalators into the busiest, unorganised Food Court in Manchester for as long as we can remember. But now, things have changed, forever.
That's because some absolute genius has figured out how to make one side of those famous, double, one-way escalators go both ways – meaning you can both enter AND exit Manchester's best and worst place to eat for the first time EVER (or at least a decade).
Since before time began, the route into, and out of, the Food Court was either from the Market Street escalators (as previously mentioned multiple times), a lift located next to Boots, or the steps by Argos and Luvyababes.
You'd then be forced to either walk through the shopping centre (a marketing ploy no doubt), or take a lift back down to the wet cobbles of Market Street below, in order to leave and crack on with your day.
Now, when you step on those escalators, changing your mind on whether to eat in one of the most packed places on the planet is now an option – as you can simply hop back on it at the top and scale back down. Result.
We're aware that this might not be the biggest news on the planet, but if you're a Mancunian, it's at least going to slightly satisfy those civic pride taste buds that you pretend not to have. We're just sorry that you had to sit through 300 words on it.
We're off to be completely underwhelmed by a set of escalators.