Eats
Insomnia Cookies – the cult cookie bakery that's open in Manchester until 3am
Fresh-out-the-oven cookies for everyone.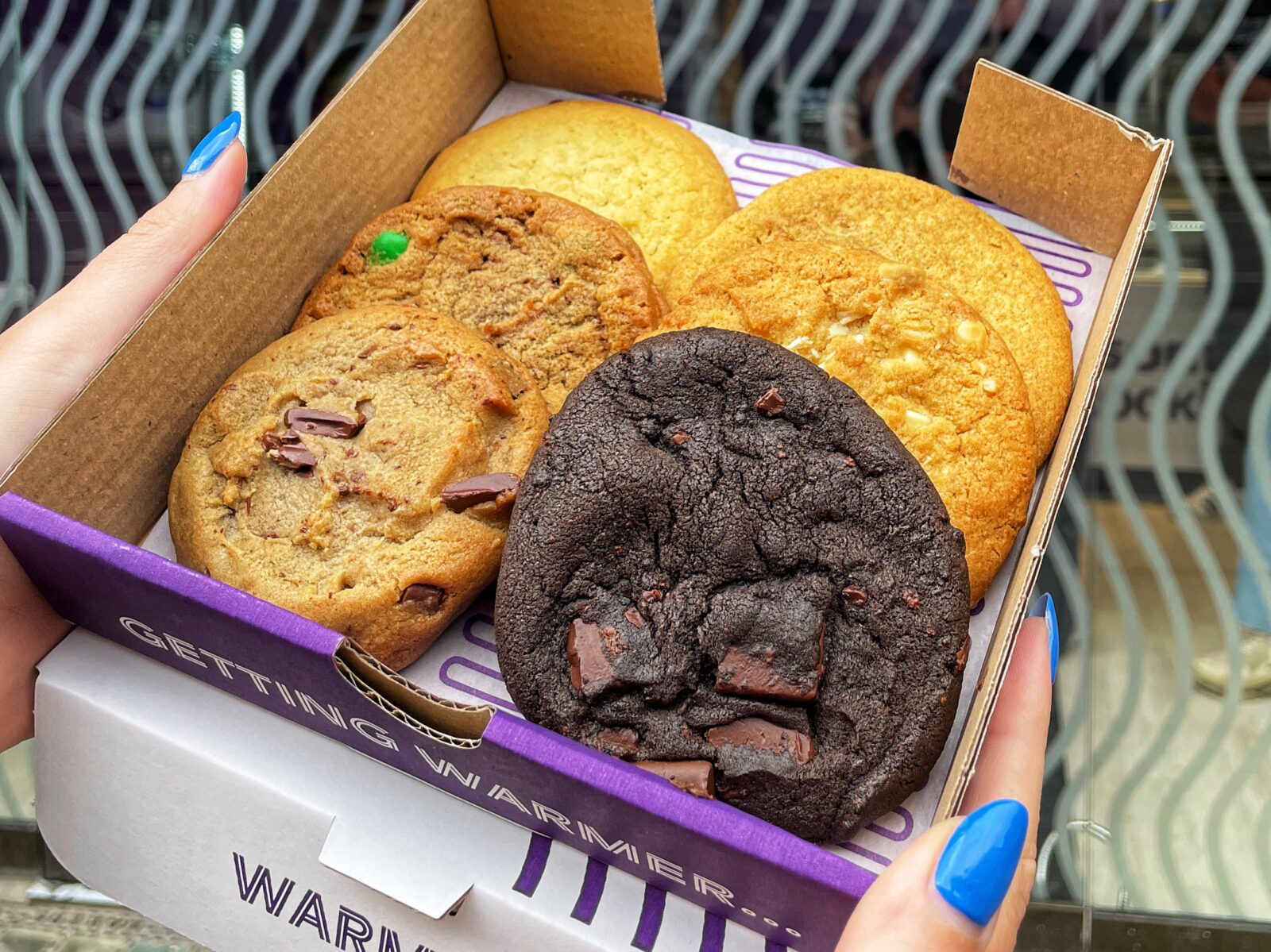 A new bakery that serves fresh-out-the-oven cookies until 3am is ready to open in Manchester city centre.
Insomnia Cookies is opening its first ever UK site (and its second too, actually) here in our city, taking over a unit at the Royal Exchange on Cross Street.
Due to open early next week, you'll find warm, chewy cookies, delicious freshly-made milkshakes, and ice cream sandwiches.
And to celebrate its launch, Insomnia Cookies will throw a grand opening party on Saturday 2 September, with free cookies handed out alongside merch.
The first person in the queue on the day will be given a year's supply of cookies, too… race you.
The cookie company already has 240 sites across the USA but until now hasn't ventured to this side of the pond.
You can order warm cookies alongside ice-cold milk or even a pot of frosting for dunking in, with deliveries running until 3am with Deliveroo.
Insomnia Cookies is the brainchild of founder Seth Berkowitz, who dreamt up the idea while he was a college student looking for late-night snacks.
The Insomnia Cookies menu
Classic Chocolate Chunk: the signature Insomnia flavour – classic dough loaded with thick, melty chunks of chocolate.
Double Chocolate Chunk: even more indulgent, the Double Chocolate Chunk also boasts a chocolate-flavoured dough.
White Chocolate & Macadamia: sweet and nutty with thick chunks of white chocolate and whole macadamia nuts folded through the dough.
Cinnamon: the UK's take on a US staple, the Snickerdoodle. Contrary to popular belief, Snickerdoodles have nothing to do with Snickers and are in fact just… cinnamon flavoured.
Sugar Cookie: another US classic, the humble Sugar Cookie is for the purists. Think of it as a palate cleanser between cookies.
Vegan Hazelnut Deluxe: filled to the brim with smooth, vegan-friendly hazelnut spread, this chunkier cookie means that vegans don't have to be left out of a late-night indulge.
Triple Chocolate Chunk Deluxe: this big, buttery cookie has a triple helping of gooey chocolate chunks.
Classic With M&Ms: the iconic M&M meets the iconic Insomnia crispy-on-the-edges-but-soft-in-the-centre cookie dough. A match made in sugary heaven.
Ben Lacey, managing director at Insomnia Cookies UK, said: "It's a massive milestone for us to be opening our first bakeries in the UK. Manchester is a city that knows what it means to be up all night, so it was a no-brainer for us as our first location.
"We're excited to be bringing the authentic, cult-favourite taste of Insomnia Cookies to the UK – including all the classics, plus some delicious limited edition flavours to boot.
"Late-night dessert shops are big here, but there's long been a gap in the market for warm, fresh cookies hand-delivered to your doorstep all day and late into the night.
"Whatever the reason you're up late at night – whether you're hosting a house party, headed out to see someone special, or even editing episodes of your grindset podcast – we're on hand to satisfy your sweet tooth."
Insomnia Cookies opens two Manchester sites – on Cross Street in the city centre and at University Green of Oxford Road – on 29 August, with deliveries available through Deliveroo.
You can read more on food and drink in Manchester here.
Read more
Featured image – Insomnia Cookies