Eats
McDonald's releases Happy Meal box template you can download and print
[siteorigin_widget class="SiteOrigin_Widget_PanelImage_Widget"][/siteorigin_widget]
[siteorigin_widget class="SiteOrigin_Widget_PanelText_Widget"][/siteorigin_widget]
[siteorigin_widget class="SiteOrigin_Widget_PanelImage_Widget"][/siteorigin_widget]
[siteorigin_widget class="SiteOrigin_Widget_PanelText_Widget"][/siteorigin_widget]
Eats
Five great date day ideas around Manchester for Valentine's Day inspiration

Daisy Jackson
Valentine's Day is fast approaching, and if you like to celebrate with your loved ones then you're probably scrambling around for ideas in Manchester.
You might be getting ready for a night out with friends, to shower your other half with affection, or even marking the occasion with family.
Whatever your situation, and whoever you're spending 14 February with, we've got a perfect day out in mind for you – whatever you're in to.
And even if you're really not arsed about Valentine's Day, you can bookmark this for future date inspiration.
Keep reading for five perfect date days around Greater Manchester, from where to go for food to where to hotel inspiration if you want to make a night of it.
For those who love an activity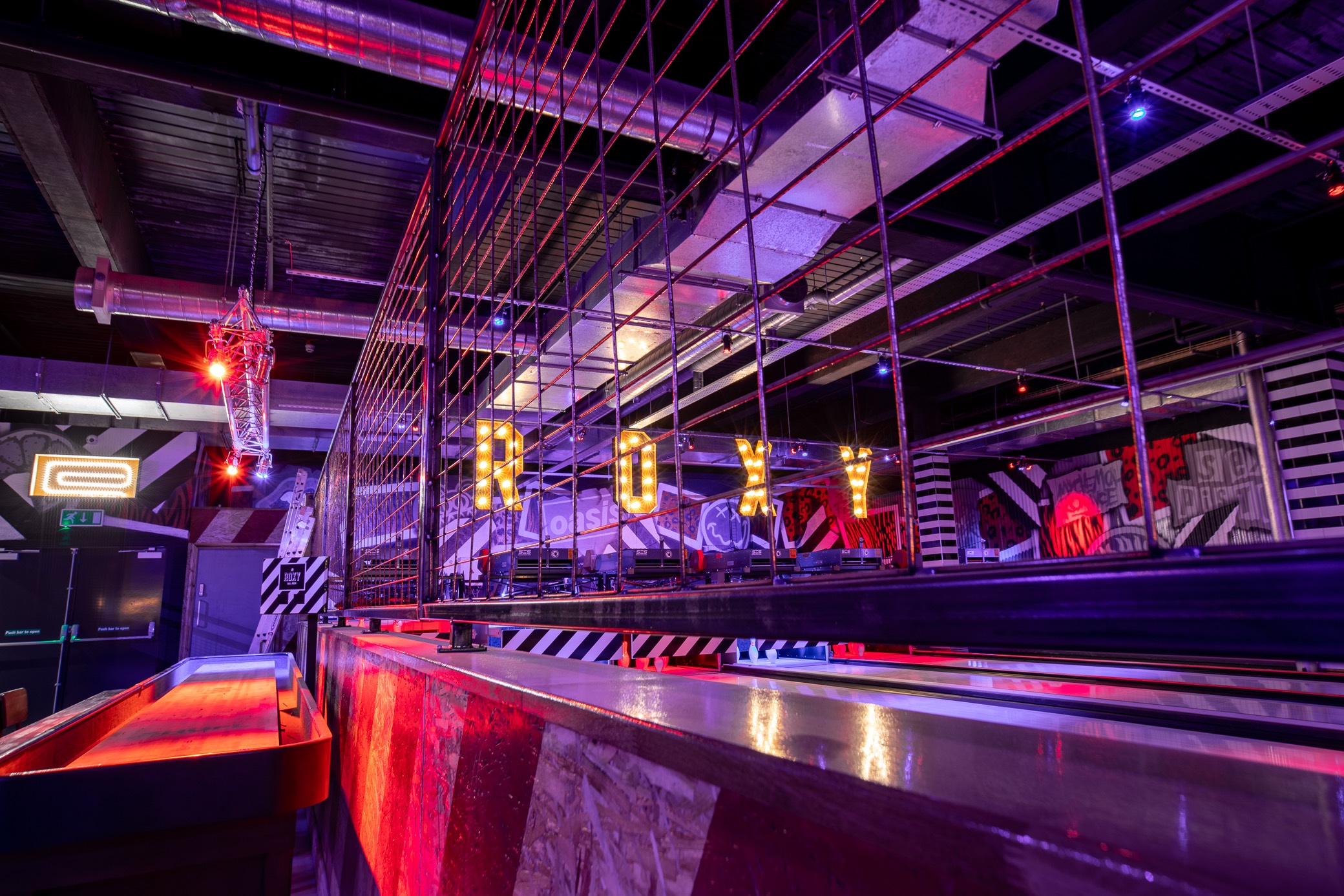 It's not all about being wined and dined – some of us would rather get stuck in, get a bit competitive, and have a laugh.
There are competitive gaming experiences popping up all over Manchester (you can see a full list here) that are perfect for Valentine's Day.
What to do: Head to Roxy Ball Room (there's one on Deansgate, but the site at the Arndale is our favourite) for an afternoon of bowling, ping-pong, shuffleboard, arcade games and even Crazy Pool. It's rock and roll vibes with a healthy dose of competitive spirit.
Where to drink: Open through until the early hours, NQ64 is a graffiti-splattered, late-night Northern Quarter bar with retro arcade games, old-school consoles, and gaming-inspired cocktails.
Where to eat: There's a newcomer in town that should fit the bill – Calcio has opened (also in the Northern Quarter, so minimal walking), bringing retro games and live sport to town. The kitchen is run by What's Your Beef, so expect glorious burgers, hot dogs, wings and loaded fries.
Where to sleep: Seeing as your entire date has been based in and around the Northern Quarter, you might as well kip there too – head over to Native, the stunning aparthotel in Ducie Street Warehouse. The bonus is that you have your own little apartment for the night, so you can whip out the playing cards and keep fuelling your activity obsession.
For those who love to get dressed up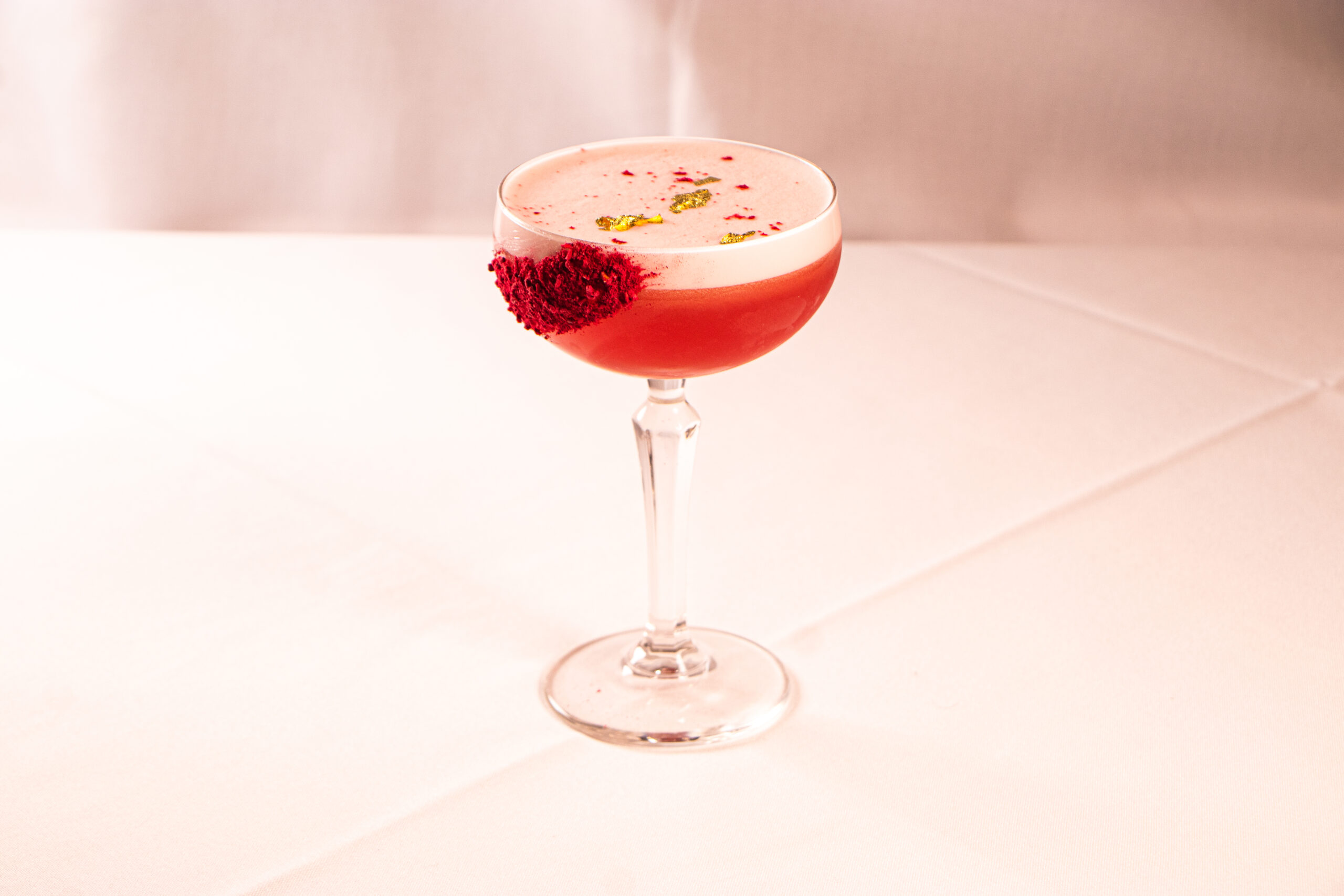 Valentine's Day is a special occasion, so it's a lovely excuse to whip out the glad rags, slap on a face of make-up and play princess for the day.
Despite its sometimes-rough and ready appearance, Manchester has got plenty of glamour going on.
What to do: We'd love to suggest a day spent at Soho House, but it's not open yet – so you can while away a few hours in the shopping hotspots around town. There are the lovely boutiques around King Street, or you can hibernate inside Harvey Nichols and Selfridges in the heart of Manchester – which both helpfully have champagne bars inside, serving a special San Valentino cocktail for Valentine's Day.
Where to drink: For the best views in town, it's got to be the beautiful 20 Stories. Have a cocktail or a glass of fizz on the roof terrace (it's heated) and take in the Manchester skyline.
Where to eat: You don't want to waste all the effort you spent getting ready, and one of the places to be seen is The Ivy, which has one of the most decadent interiors in town – though you'll be spoilt for choice in Spinningfields. Other front-runners include Australasia, Rosso, and Tattu.
Where to sleep: King Street Townhouse, obviously – it has a rooftop pool that is always all over Instagram, a pretty special place to visit even with its view of Manchester Town Hall currently slightly marred by scaffolding.
For those who love live music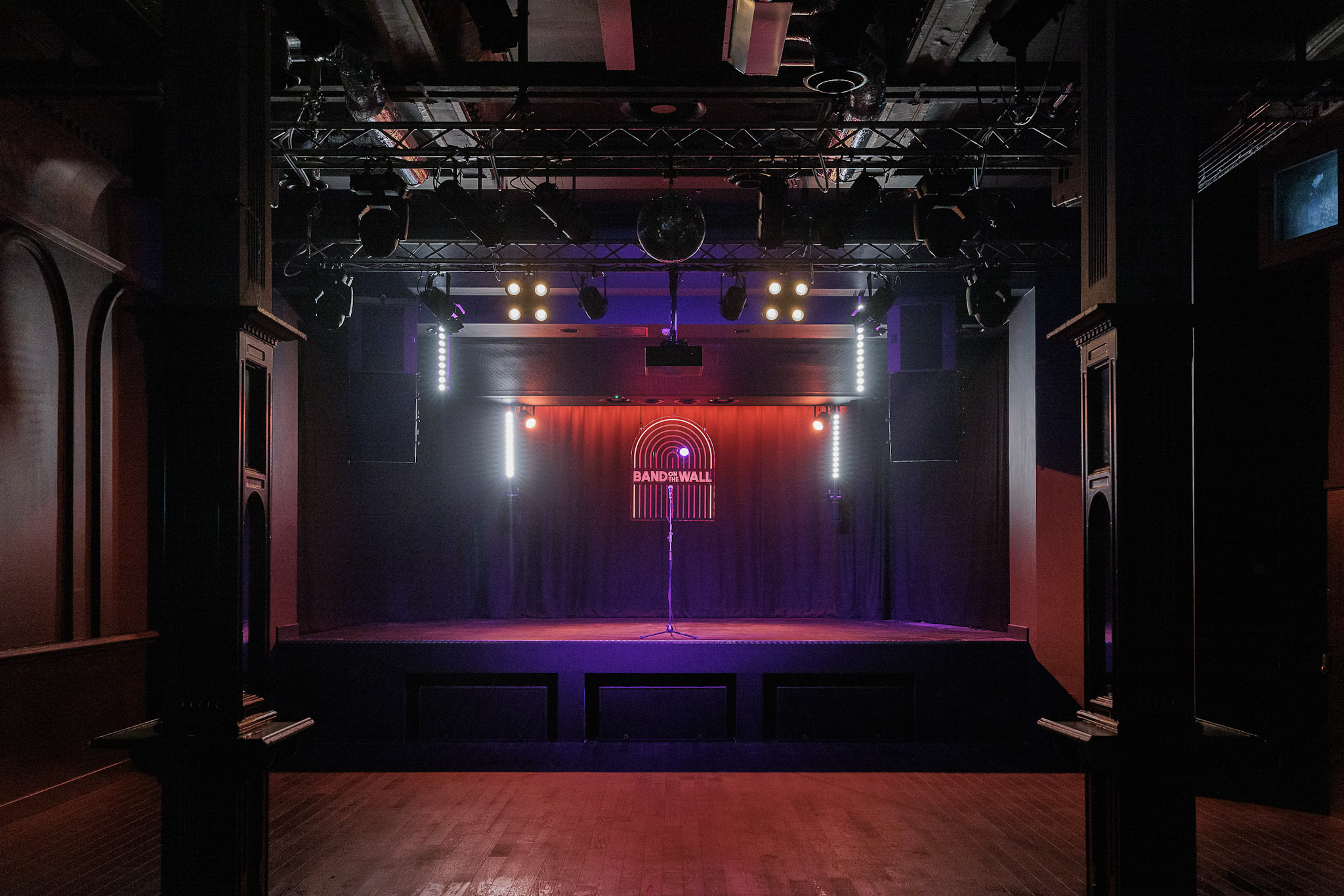 This is really what Manchester does best, and a lot of us would find a night of live music the perfect Valentine's Day – or date at any time of year.
This is how to nail a day out if you're with a music lover.
What to do: There are loads of grassroots music venues around town – look for gig tickets for Band on the Wall, which recently underwent a huge upgrade. Nearby, you'll also find Night & Day Cafe, Gullivers, and Matt & Phreds Jazz Cafe.
Where to drink: Ramona and The Firehouse is famous for its margaritas, and for its free late-night entertainment. Grab a drink and prepare to watch their talented artists dance it out on the runway.
Where to eat: Assuming you opt for Band on the Wall, Mackie Mayor is an ideal pre-gig dinner spot – it's right next door. There are dozens of brilliant food and drink operators crammed under one roof, and it's a properly stunning location to dine in too.
Where to sleep: Music runs through the heart of the new-ish Brewdog Hotel in the city centre. Each room comes with a record player and an acoustic guitar, and they'll even hand you a pint at the check-in desk. Ideal.
For those who are absolutely skint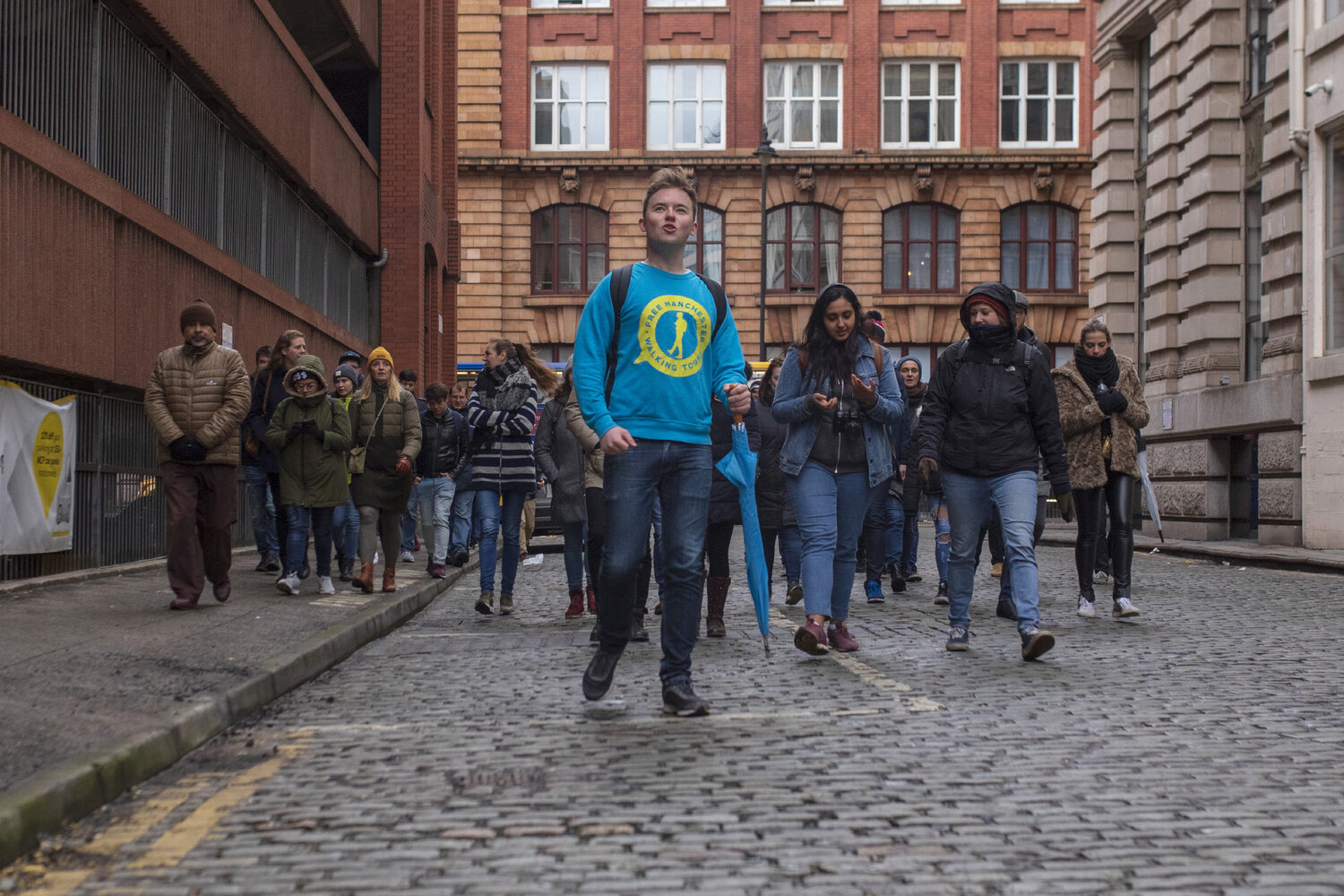 This time of year is brutal for our finances at the best of time, but the cost of living crisis is making it even worse.
Thankfully, there's loads you can do around Manchester without spending a fortune this Valentine's Day.
What to do: Even if you live here, we can't recommend taking a walking tour of the city enough – there'll be so much you don't know about Manchester. This company – Free Manchester Walking Tours – are some of the best, and you just pay what you can at the end. There are also loads of galleries and museums that are free to visit.
Where to drink: For the cheapest pint in town, it still has to be Sinclairs Oyster Bar in Exchange Square. Phones and swearing are totally barred (don't even try it) – just grab a pint for a couple of quid and get cosy in this incredibly old-school boozer.
Where to eat: Here's a right gem for you – the underground wine cavern that is Corbieres does free pizza with any drink purchased, Tuesday-Friday 4.30pm to 7.30pm. Or you can check out our list of restaurant deals rolling into February here.
Where to sleep: Probably at home, in your own bed, if you're on that much of a budger – but there are usually fairly affordable deals to be found around town, like at the new Wilde Aparthotel. Just avoid The Britannia, whatever you do.
For those who love to escape the city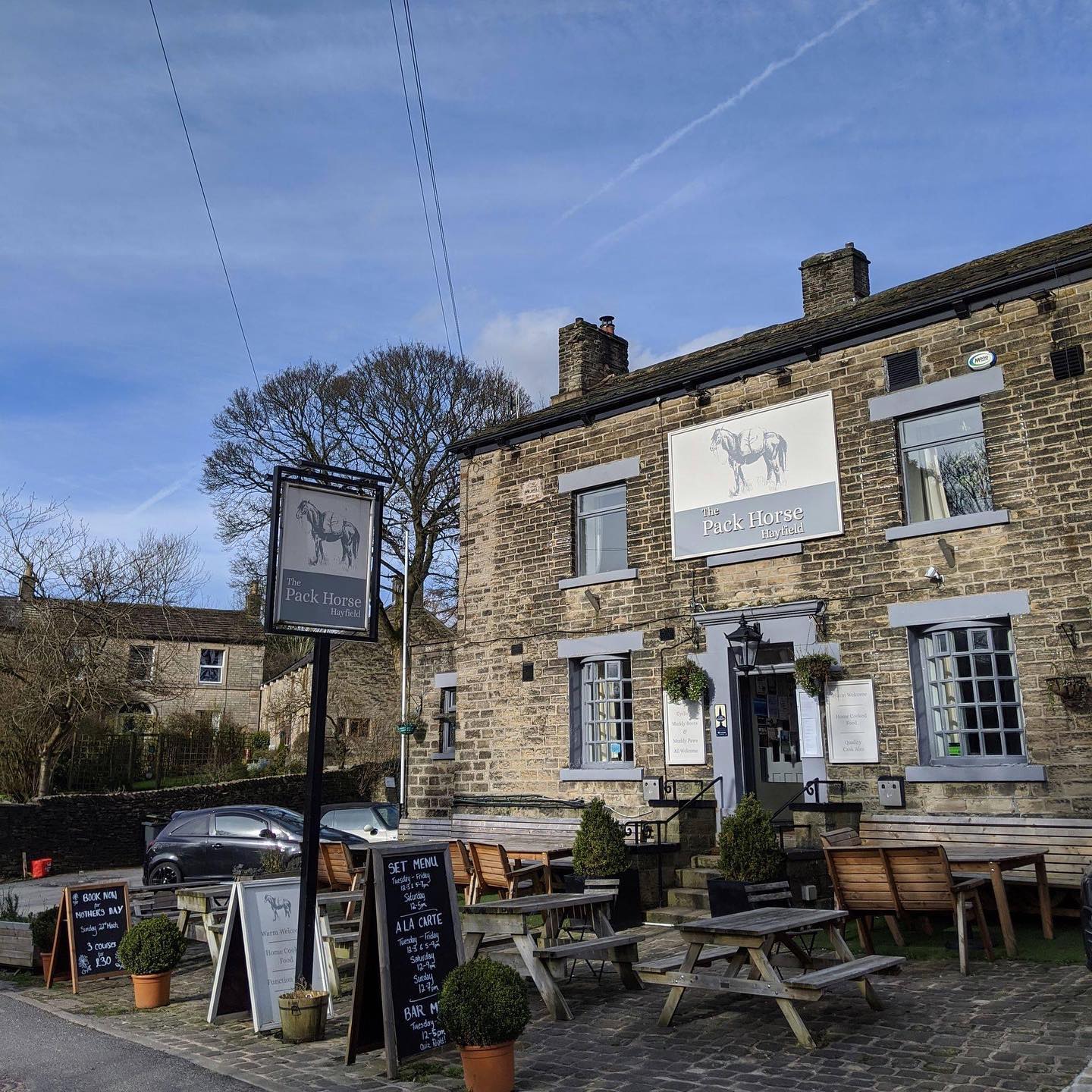 Had enough of Manchester? Weirdo.
But no, on a serious note, one of the best things about living in the north west is all the countryside that surrounds us, from the Saddleworth Moors to the Peak District to the Lake District. So let's hit the road.
What to do: Put on your hiking gear and get the train out to Glossop. It's only a quick journey but you'll find yourself right on the edge of the Peak District, where loads of walks will unfold in front of you.
Where to drink: Pubs, obviously. The highlights in Old Glossop include the lovely pub The Bull's Head, and brewery taproom Distant Hills. Or you can head into Glossop a bit further and take a trip to Harvey Leonard's, a wine and ale bar in the old Conservative Club.
Where to eat: There's modern pub grub at The Oak Wood, but if you can face the trip across to Hayfield, The Pack Horse is easily one of the best gastropubs in the country. Don't just take our word for it…
Where to sleep: The Pack Horse sadly doesn't have room, but they have rounded up some brilliant Airbnbs in the area – what could be more romantic than a cosy fireside night in a riverside cottage, or a converted barn? Sold.
Featured image: Unsplash
Eats
This Manchester restaurant is serving a Sunday roast with bottomless drinks

Georgina Pellant
When it comes to Sunday roasts, by and large they're pretty damn hard to beat. A catch-all plate loaded with your favourite meat and vegetables, drenched in gravy and topped with a fluffy Yorkshire pudding, what's not to love?
Hands down this would be our death row meal every time. There's simply no competition. So when we heard that a restaurant in Manchester has just launched a Sunday roast with bottomless drinks we felt the news was way too good not to share. After all, hot foodies don't gatekeep.
Let's be honest, we all love a good drink with our roast anyway – and now The Oast House has gone and made it that much more affordable.
Starting from 12pm on a Sunday, you can get 90 minutes of unlimited prosecco, a range of different spritzes and pints of lager here with your roast dinner for an extra £15.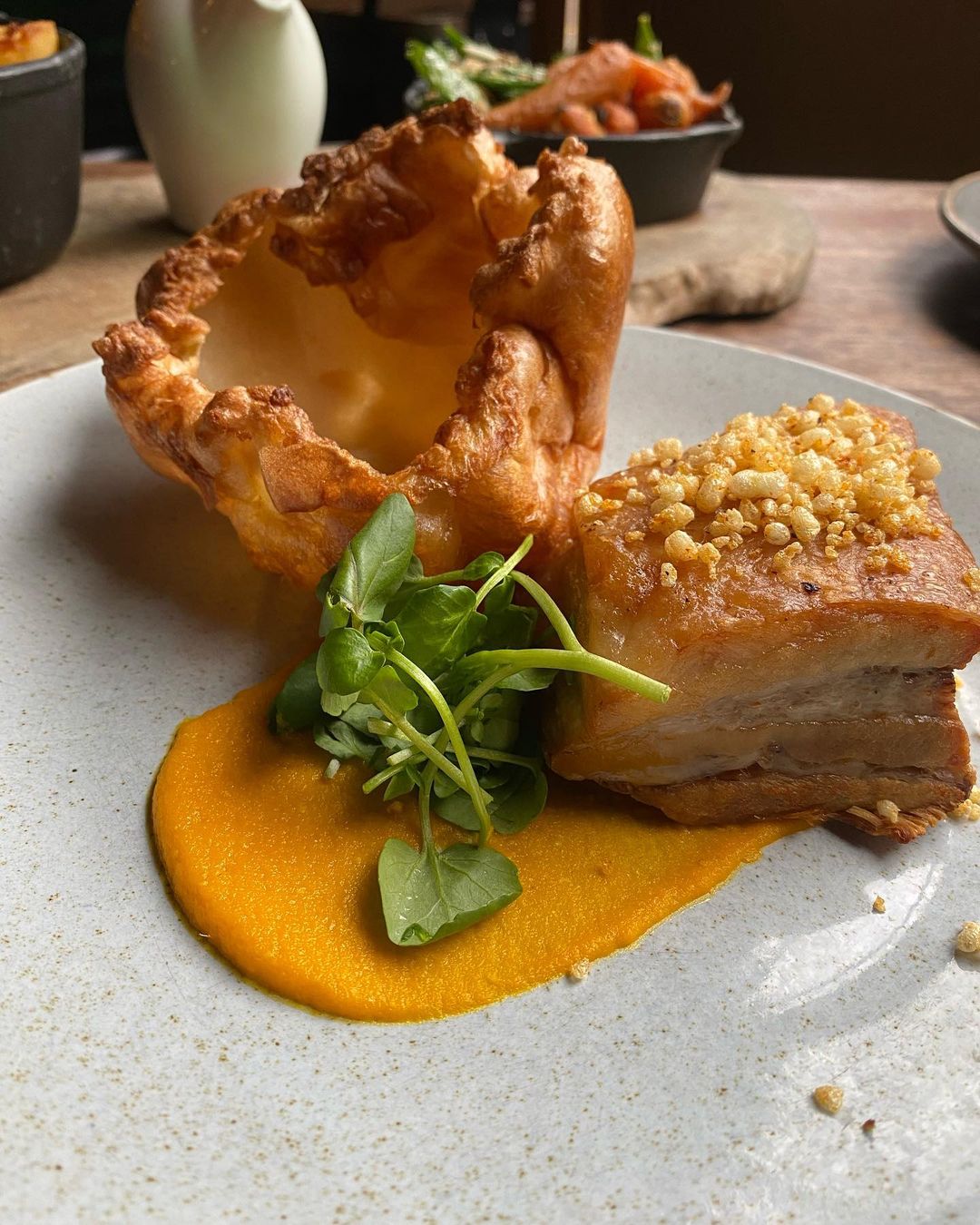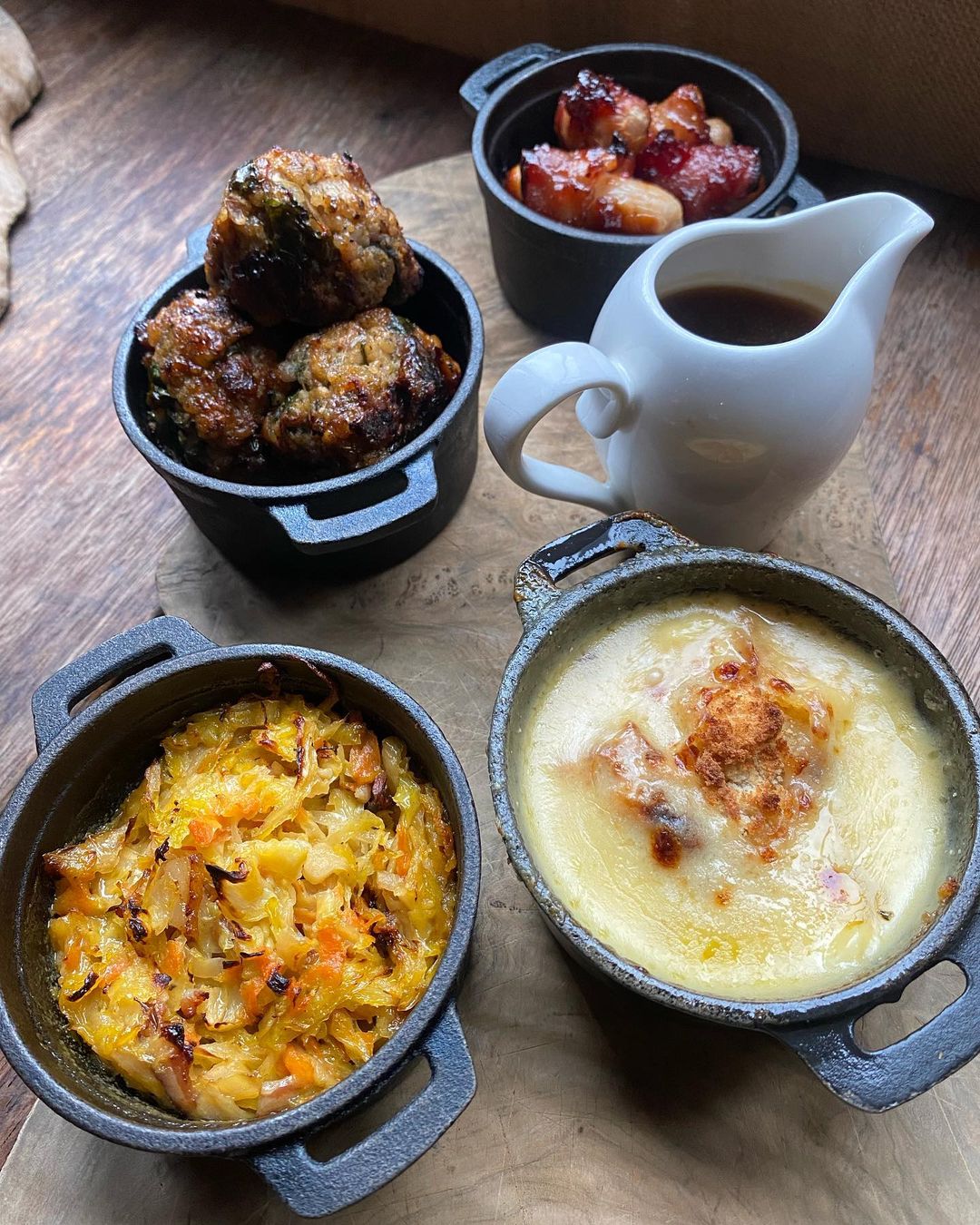 The roast itself is priced at two courses for £18.50 or three for £22.50, with main choices including gorgeously pink-looking roast beef and lamb, plus chicken, crispy pork belly and a chestnut, mushroom and red lentil roast.
All come served with mustard glazed carrots, red cabbage, Tenderstem broccoli, roast potatoes, a Yorkshire pudding and gravy – plus the option to add on crispy onion-topped Shorrocks Lancashire cauliflower cheese for an extra £2.50.
Read more: All the February Manchester restaurant deals, discounts and offers you need in 2023
Elsewhere on the menu, you'll find the likes of scotch eggs with picalilli, pea hummus, wings and calamari to whet your appetite as starters.
In the pudding section, meanwhile, there is a host of tempting options: ranging from a rose and hibiscus poached peach and pistachio cheesecake, to cookie dough loaded with Oreos and vanilla icecream.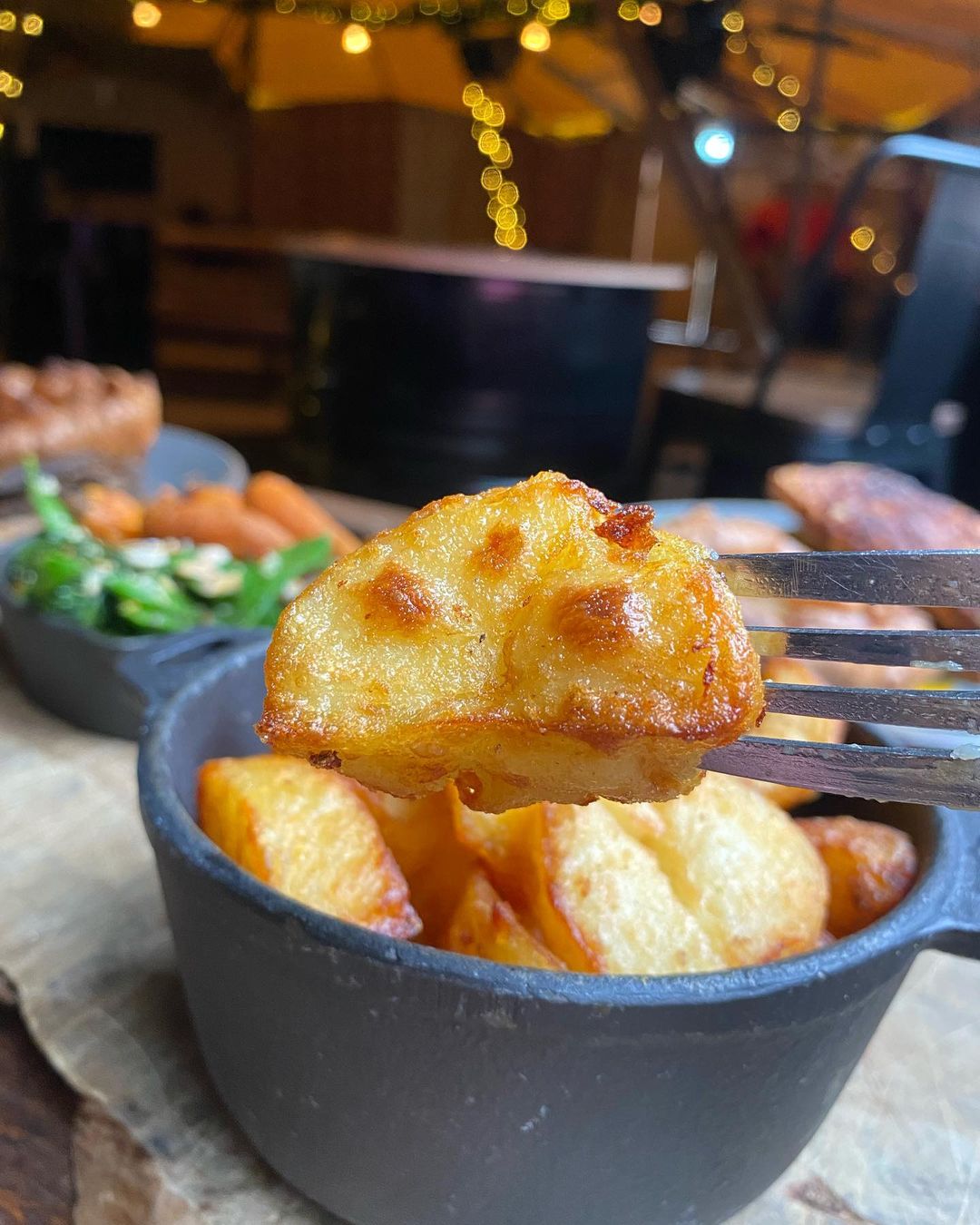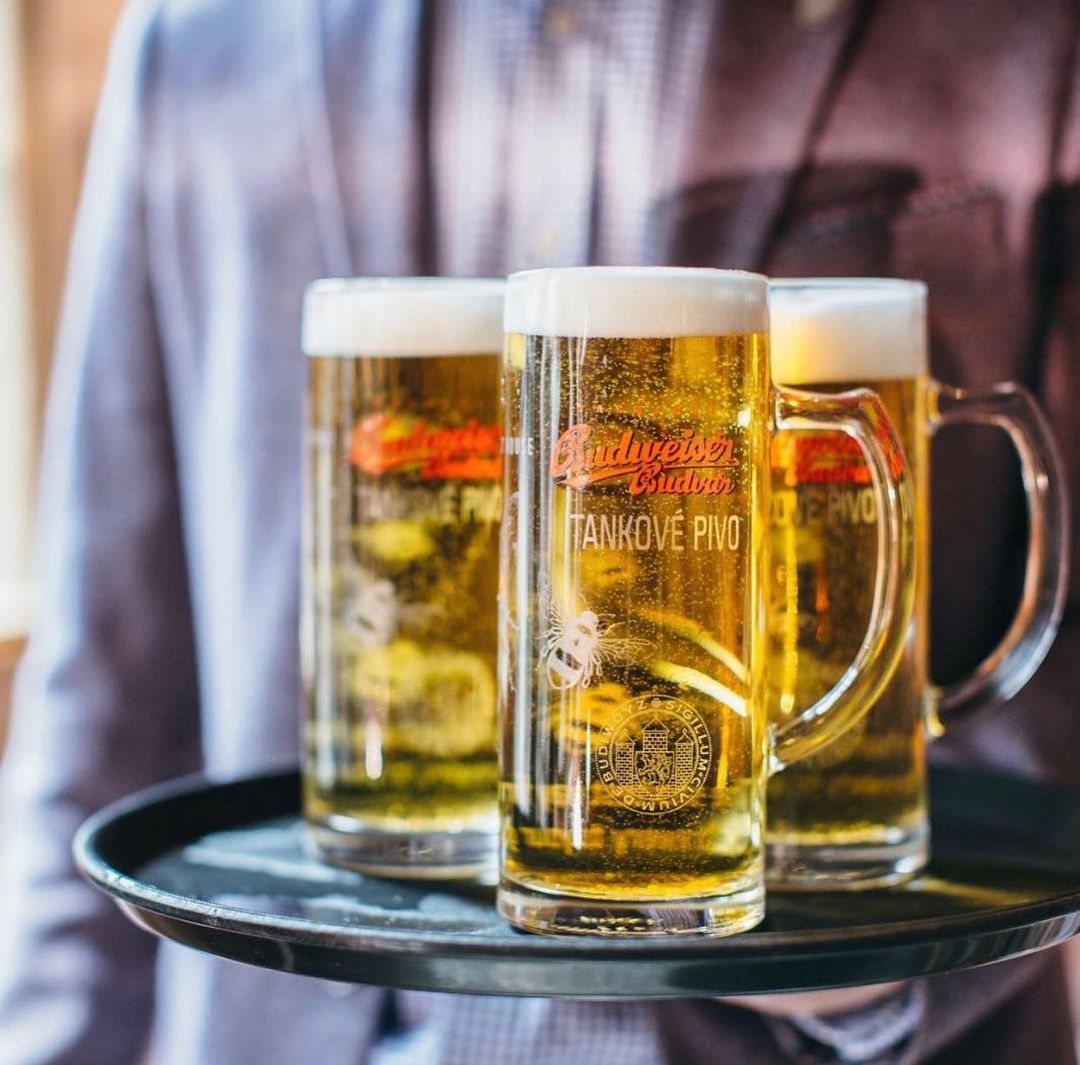 Further pudding choices include a mouthwatering lemon tart served with raspberry sorbet and crushed honeycomb, a vegan-friendly dark chocolate and peanut butter pot with Biscoff crumb and caramelised banana, and everyone's favourite: a sticky toffee pudding with rich toffee sauce and icecream on the side.
Bottomless drinks options will set you back £15 per person and can be enjoyed by the whole table up to a maximum of six, with spritz choices spanning Aperol, raspberry, blood orange or elderflower.
Read more: Manchester's Animaid cafe claps back after local councillor brands it 'disgusting'
However, if you're not feeling that there's also a Bloody Mary menu promising the 'perfect pick me up' for hungover heads with three different styles to choose from.
If you fancy getting stuck into a big roast and making a boozy one of it, then we think this will be right up your street.
Read more: The new bars and restaurants opening in Manchester this month | February 2023
To find out more, view the fulll menu and book, head over to The Oast House's website here.
Feature image – The Oast House