Eats
20 of the very best burgers in Greater Manchester
The very best of the burger bunch in the city centre and beyond.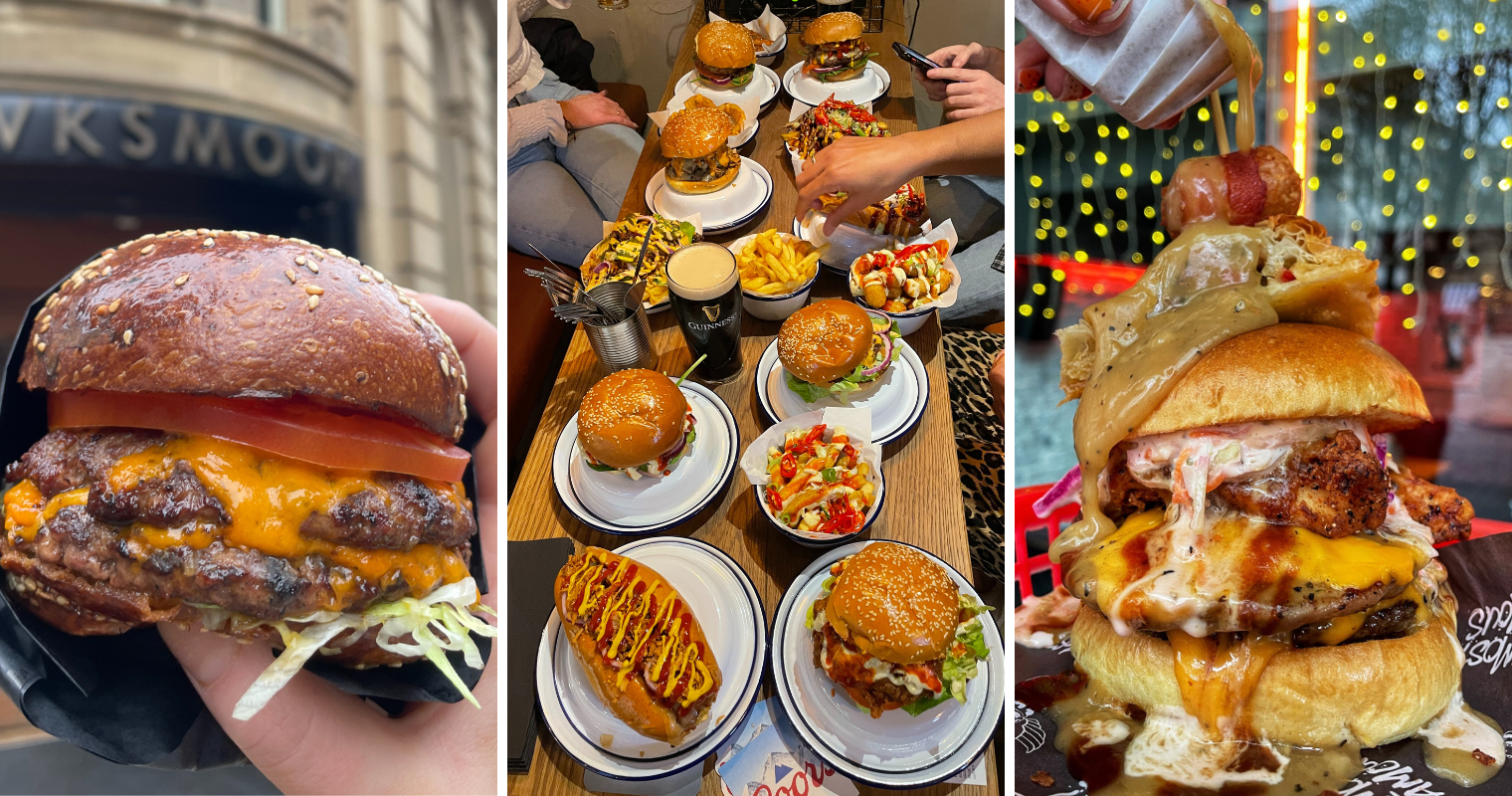 Like any normal human being, us Mancs love a good burger and, luckily for you, Greater Manchester has some of the best burgers you'll find anywhere in the country — even if we do say so ourselves.
With tonnes of brilliant burger spots dotted all over Manchester city centre and the surrounding region, whether if you're into the high-end offerings at Hawksmoor or the outrageous towers at Almost Famous and Yard and Coop, 0161 has you covered.
There's even room for some solid chains on this list as well and while the likes of Maccies and Burger King might not have me the cut, we're not going to pretend we don't indulge in the odd big-name brand from time to time and we still consider some to be among the best burgers in and around Manchester.
Manchester is chocked full of an endless list of eateries serving up some of the most impressive patties you'll quite possibly ever see in your life, and we're really not exaggerating, so no matter if you're a meat lover, chicken fanatic, veggie or vegan, there truly is something for everyone to tuck into in our city.
The best burger places Greater Manchester has to offer
1. Almost Famous – Northern Quarter, Great Northern Warehouse and Withington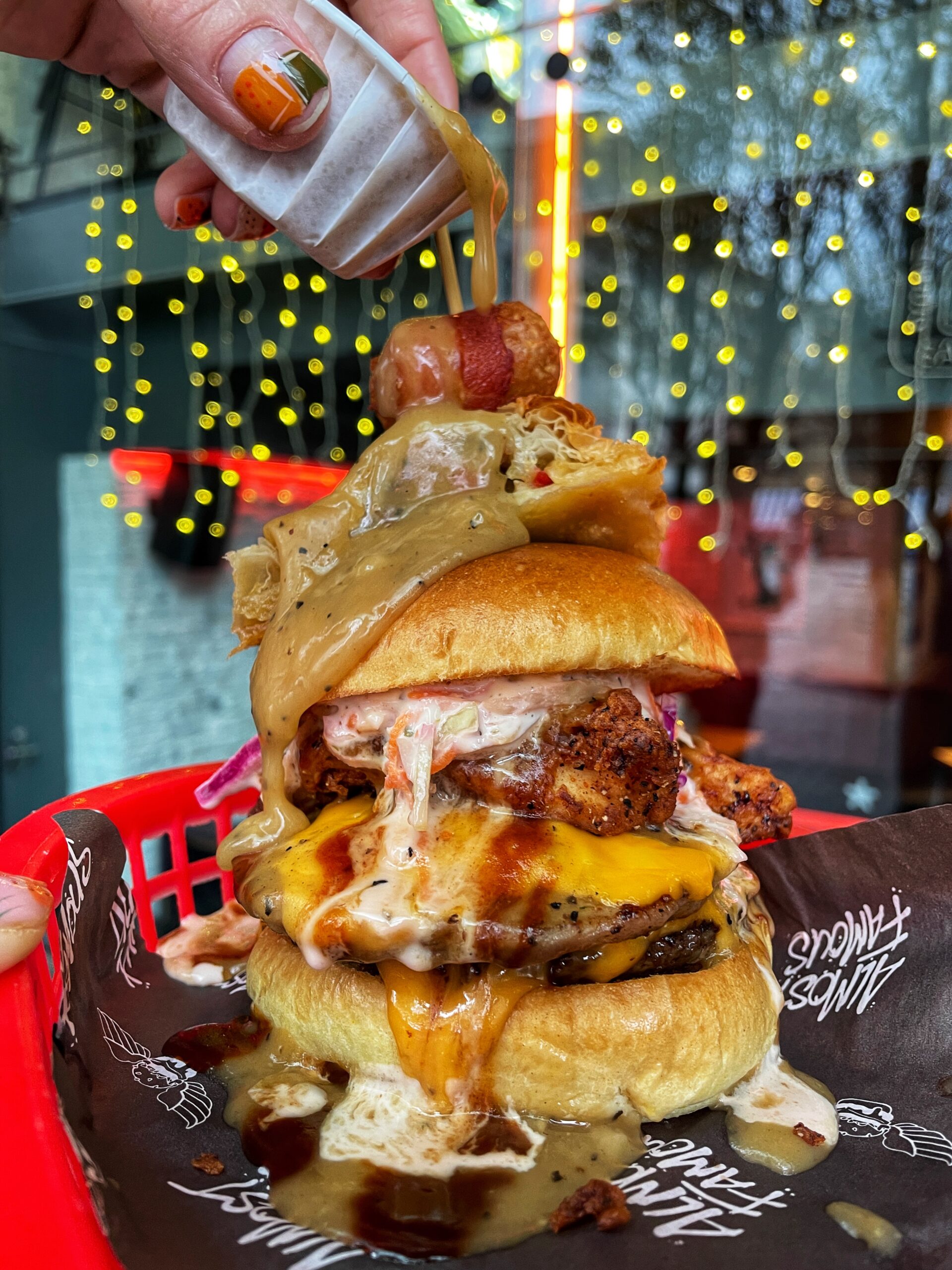 Almost Famous is a name that's pretty much synonymous with burgers here in Manchester and, as the name would suggest, it's now so well-known not only here but across five sites across the UK, it would be daft not to start off this list with one of the first burger spots that comes to mind.
With three of those locations right here in GM — Great Northern, Withington and their original venue in Northern Quarter — you'll be hard-pressed to find someone who doesn't rave about the stuff these guys push out of the kitchen and they're one of the most popular restaurants of any kind in the city centre.
Their fan-favourite burgers include the 'Unabomber' double cheeseburger with chorizo (served exclusively at the NQ site), the 'Awesome HQ' which has two beef and two chicken patties, as well as our personal favourite: the 'Butter, Blood and Blue' with 'wonderbuttered' steak and peppercorn sauce.
2. Slap and Pickle – Society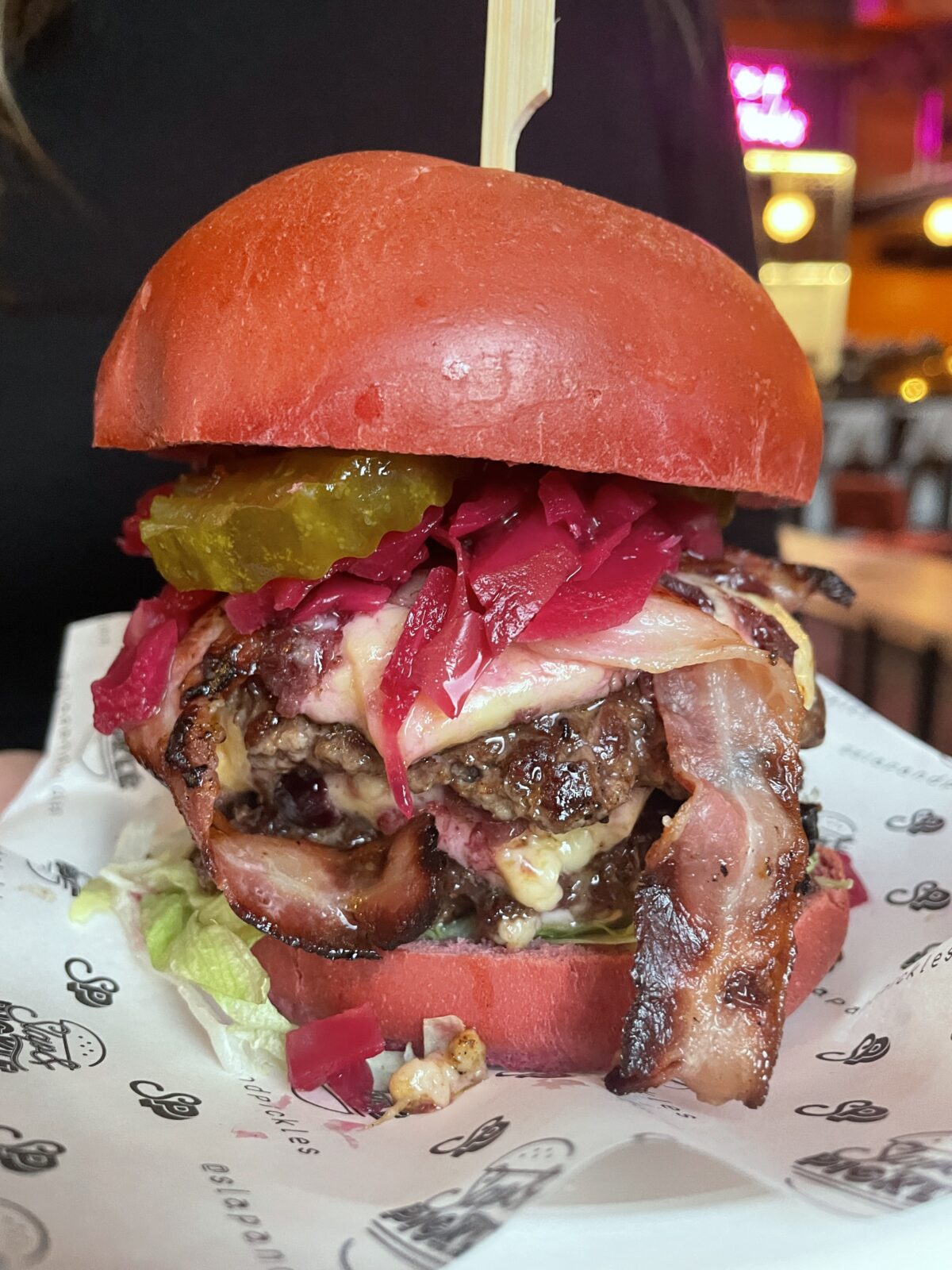 Not just one of the best-named burger places ever but genuinely one of our favourite arrivals in Manchester city centre of late, Slap and Pickle is a very solid entry on this list.
Serving up their burgers from Manc favourite food hall Society, S&P don't just offer great choices for the carnivores but some pretty bloody good plant-based options as well.
From classics like the 'Personal Cheesus' and 'Baconator' to the 'Double Double Trouble' (yes, four patties) and the sweet but fiery 'Smokin' Bun', we haven't tried a single one we didn't like yet.
3. Honest Burgers – Spinningfields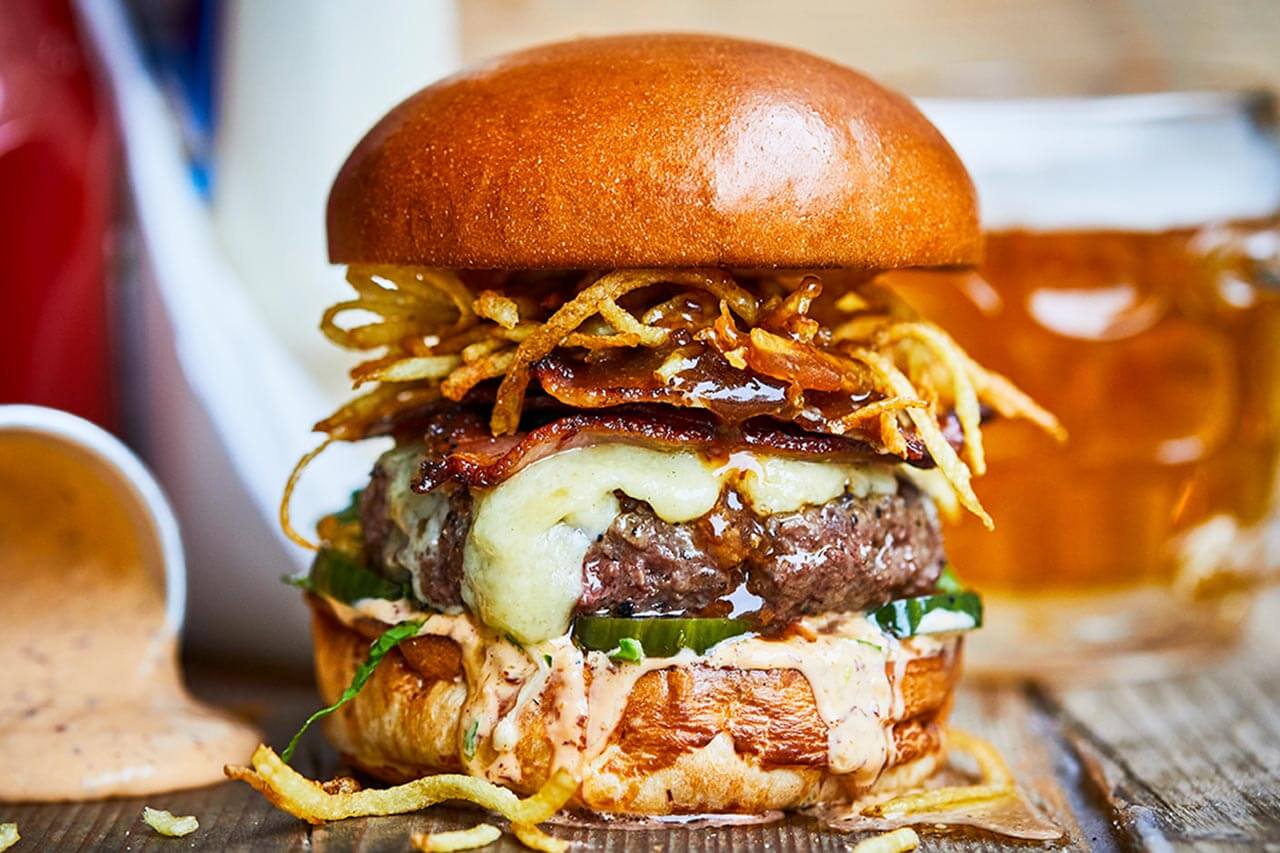 While this rapidly growing chain may be a very quick answer whenever someone asks you to think of somewhere to grab a good burger, it's for a very good reason: franchise or not, they're still very, very good and anyone pretending otherwise is just lying.
Honest Burgers have found a real home here among the people of Manchester, so much so that they even created their own Mancunian special: a beef burger with smoked bacon, cheddar, Honey Rum BBQ Sauce, oh-so-crispy shoestring fries' yellow pepper mayo, tomato, lettuce and onion.
That's a bit of us, alright, and it isn't just the fresh patties made by their own in-house butchery, those DAMN rosemary fries have us smacking our lips and crawling back every single time.
4. Cane & Grain – NQ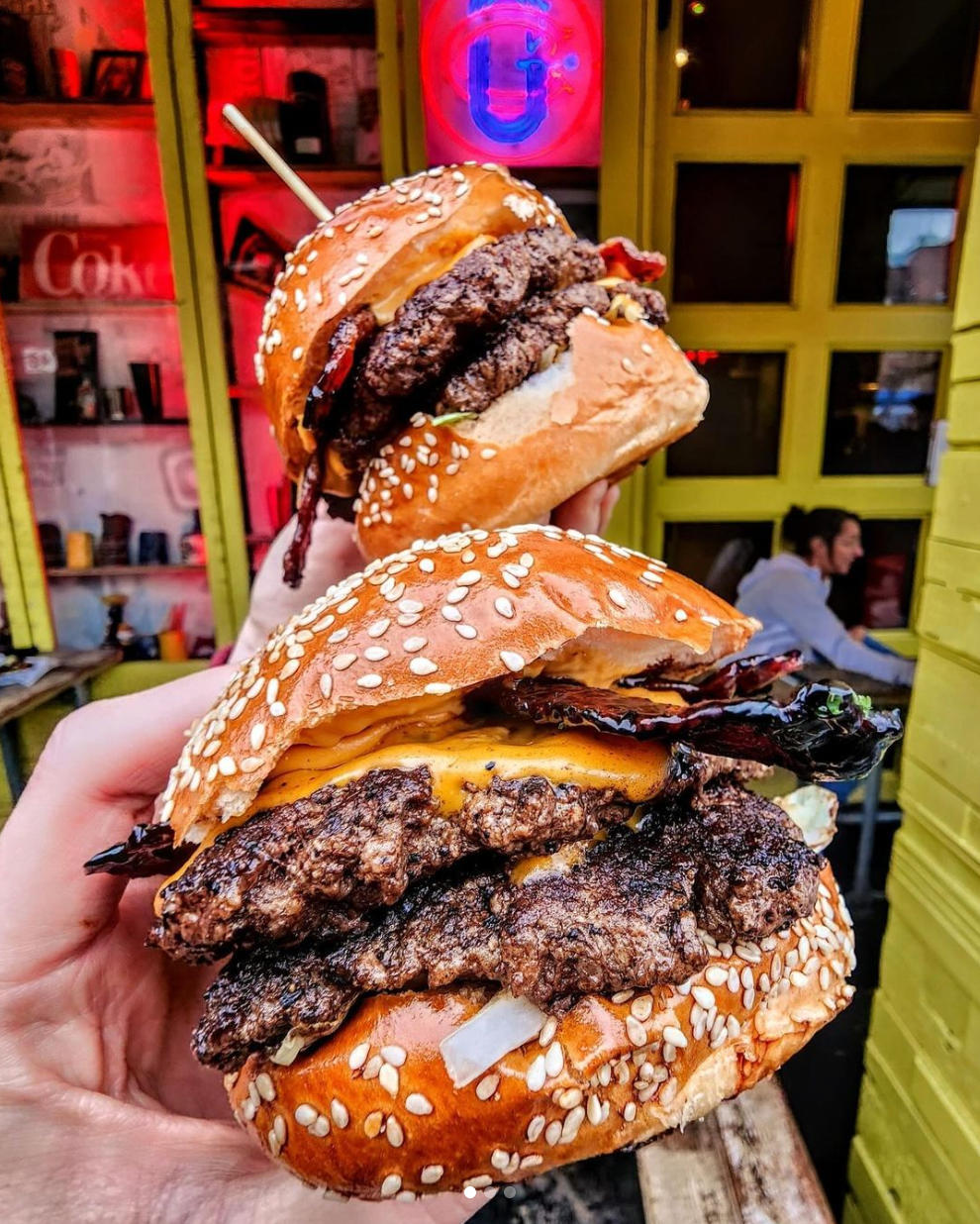 In at number four is Cane and Grain, not only because they really know what they're doing when it comes to burgers but because they are one of the best value offerings you'll find in Manchester city centre.
The classic 'Stuff in Bread' section of the menu boasts the likes of mouthwatering bacon cheeseburgers, and chicken burgers as well vegan options and regular rotating specials to keep everyone happy.
But what sets this place apart from others in the current cost of living crisis is that you can grab most of these and more, along with fries and a drink for a tenner come dinner (ugh, 'lunch') time. Ridiculous good food for the price you're paying and a great night out if you end up staying there for hours on end.
5. Yard & Coop – NQ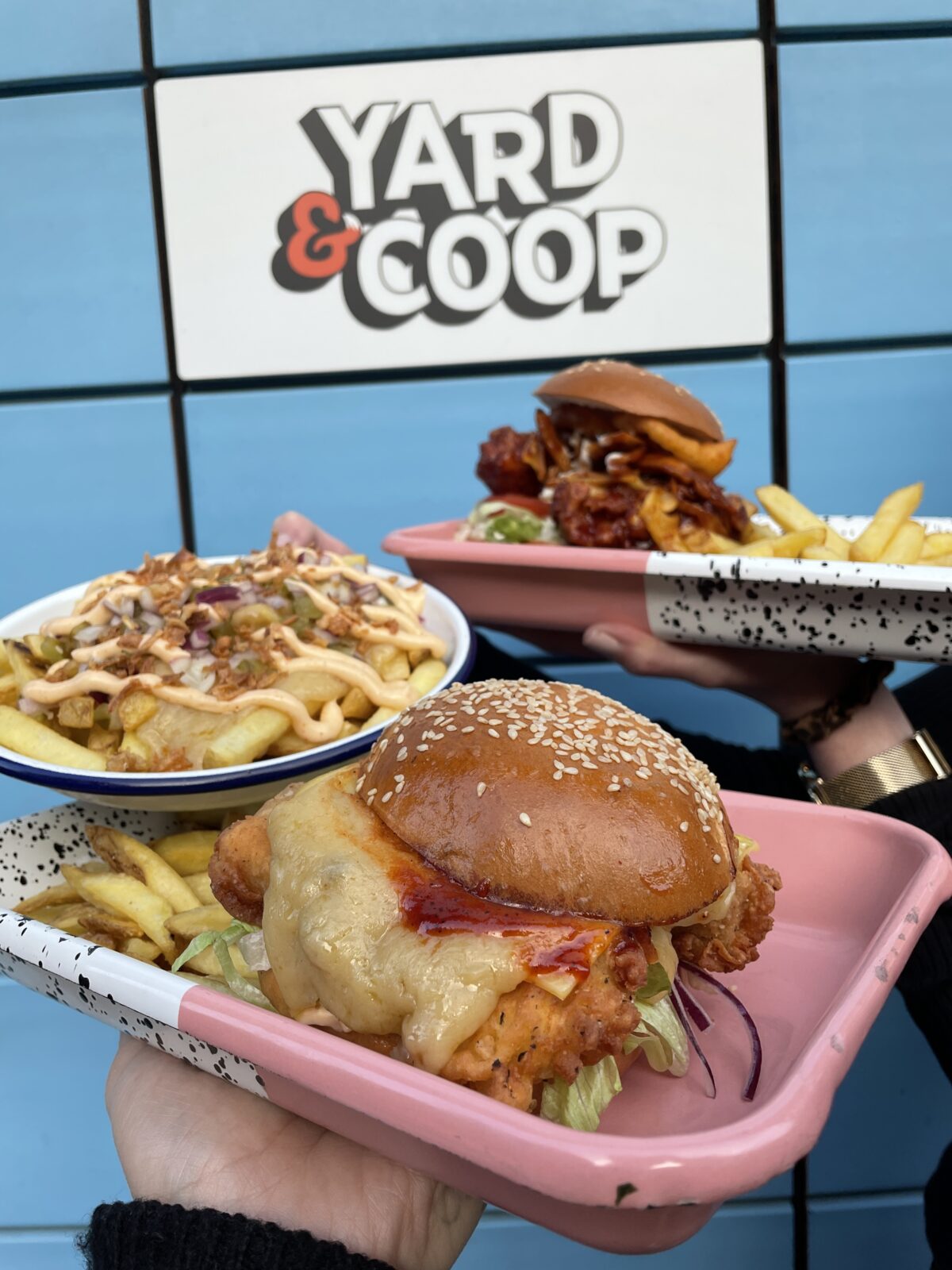 If it's a chicken burger you're after, then you can't beat another NQ staple in Yard and Coop. A local institution for many years now, this absolute mecca of all things chicken, unsurprisingly, is just as good at sandwiching said chicken between bread as well.
Home to cult classics like the 'I Don't Like Spam' (we do) and, of course, the aptly named and even more ridiculously-sized 'Massive Cock' — which has now been reworked as a spicy offering — we have never left this place without feeling like we haven't been absolutely stuffed. Why are you laughing?…
Never mind, just shut up and get your mouth around a load of cock and tasty buns.
6. Brewski – Chorlton
We will literally NEVER get tired of eating at Brewski, and while we'll scran everything from their burritos and deep dish pizza to their succulent ribs and devilish desserts, their burgers are the stuff of legend too.
Name another place that does Korean fried chicken burgers with salt and pepper chips and an extra tub of katsu curry sauce for you to drizzle all over the gaff, or giant smash burgers with garlic parmesan fries and lashings of peppercorn sauce — we'll wait.
Better still, this place's menu is always changing, which means two things: you'll never get bored of the food and, regardless of whether it's new or not, we can guarantee it'll be banging.
7. Archie's – Oxford Road, Arndale, Piccadilly Station and The Trafford Centre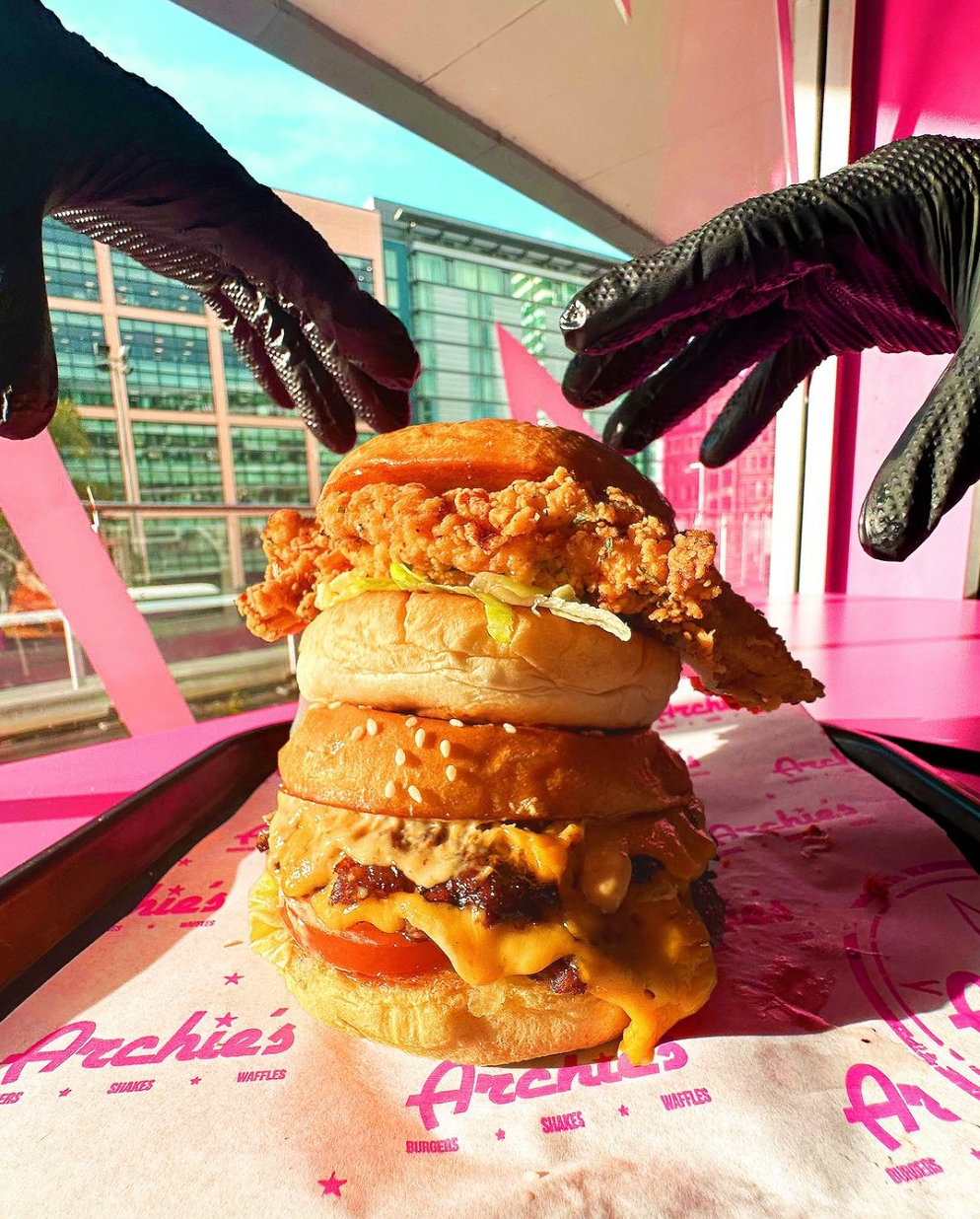 We're dipping our toes back into burger chains and comfortably one of Manchester's most famous: the pretty pink neon-tinted cholesterol party that is Archie's.
Started here in 0161 back in 2010, Archie's has gone on to be one of the biggest takeaway names in the UK and, despite how big they've gotten, they still cook up some of the best burgers you'll find in Manchester — and plenty of them, too, now boasting several sites including an underground subway-style venue.
Be it their very strong breakfast menu, classic burgers like 'The Superstar' and 'The Daddy', or their take on the Nashville hot chicken sandwich, there's a reason people keep coming back to their ever-expanding menu: it's absolutely mint.
8. Burgerism – Salford, Freight Island and Gatley
From a burger joint that has already been fully franchised to one so good it is well and truly on its way, Burgerism genuinely might be one of the very best all-around burger places in Manchester and Britain, for our money.
Starting out in Salford, it's now got an outpost at Freight Island in Mayfield, a site over in Gatley, Stockport and even offers a special delivery service around Manchester city centre from their purpose-built delivery-only kitchen over in Ardwick.
We could bang on and on about how much we love this place but we'd be here all day; we reckon being officially voted one of the best in the country will do for now.
9. MLK Burgers – Old Trafford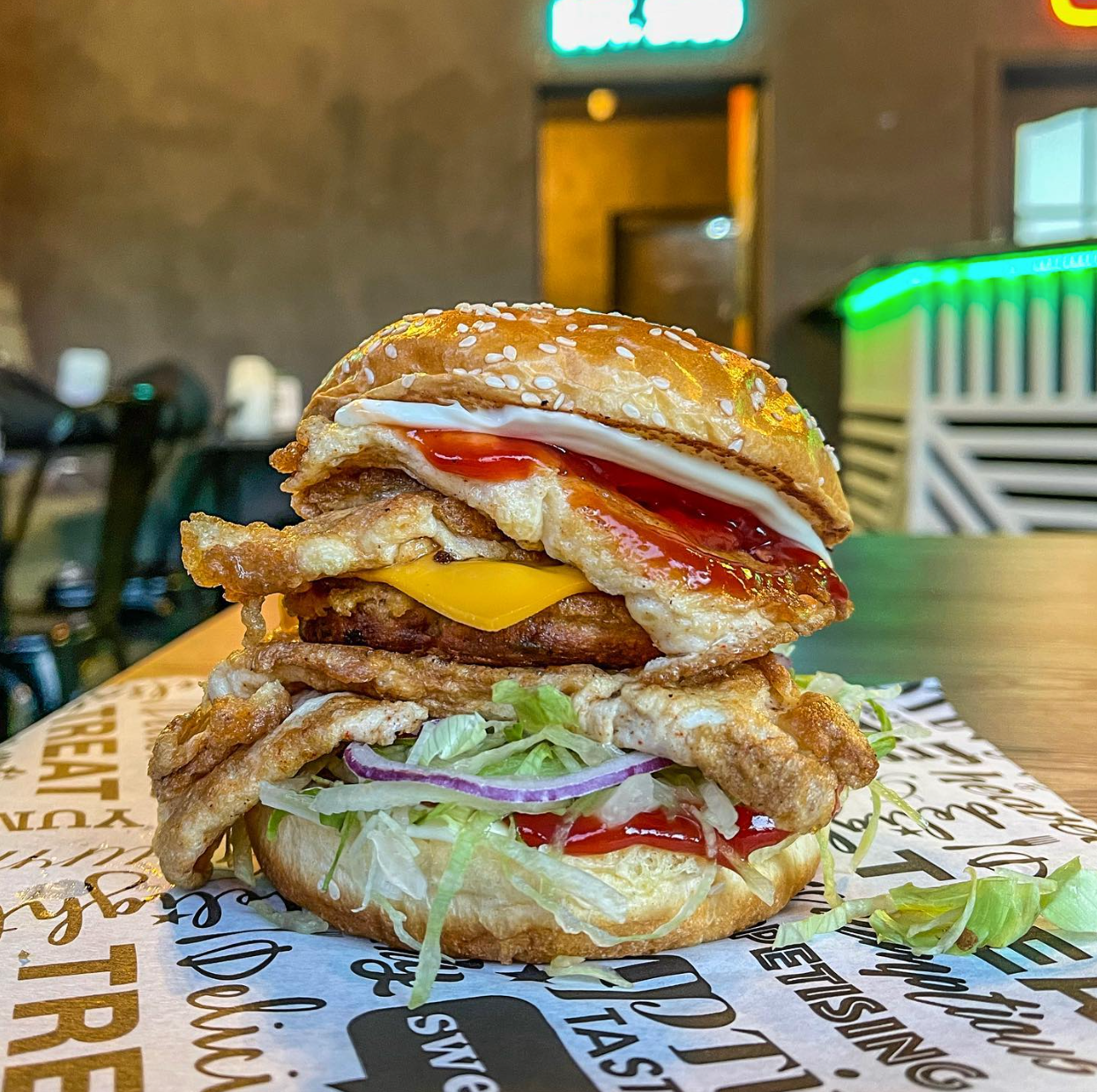 Next up is one that we're always baffled that more people don't know about it. We ordered one time on a drunken night in with mates and thought it was amazing but had to go back to sober to confirm it was as good as we remembered: it was.
Situated not far from the Trafford Bar tram stop, MLK Burgers' frontage alone stands out from most of the stuff around it as a place that puts thought into its food and its presentation — a first impression that is quickly confirmed the second you take a bite.
From their no-nonsense 'Classic Angus' and popular 'Anday Wala' with a juicy shami kebab and omelette filling, to their signature MLK Burger with Black Angus beef, turkey bacon, a Nashville chicken fillet, hash browns and cheese, these lot push the boundary on burger combos and always deliver a good product.
10. The Bun and Bones Club – Stockport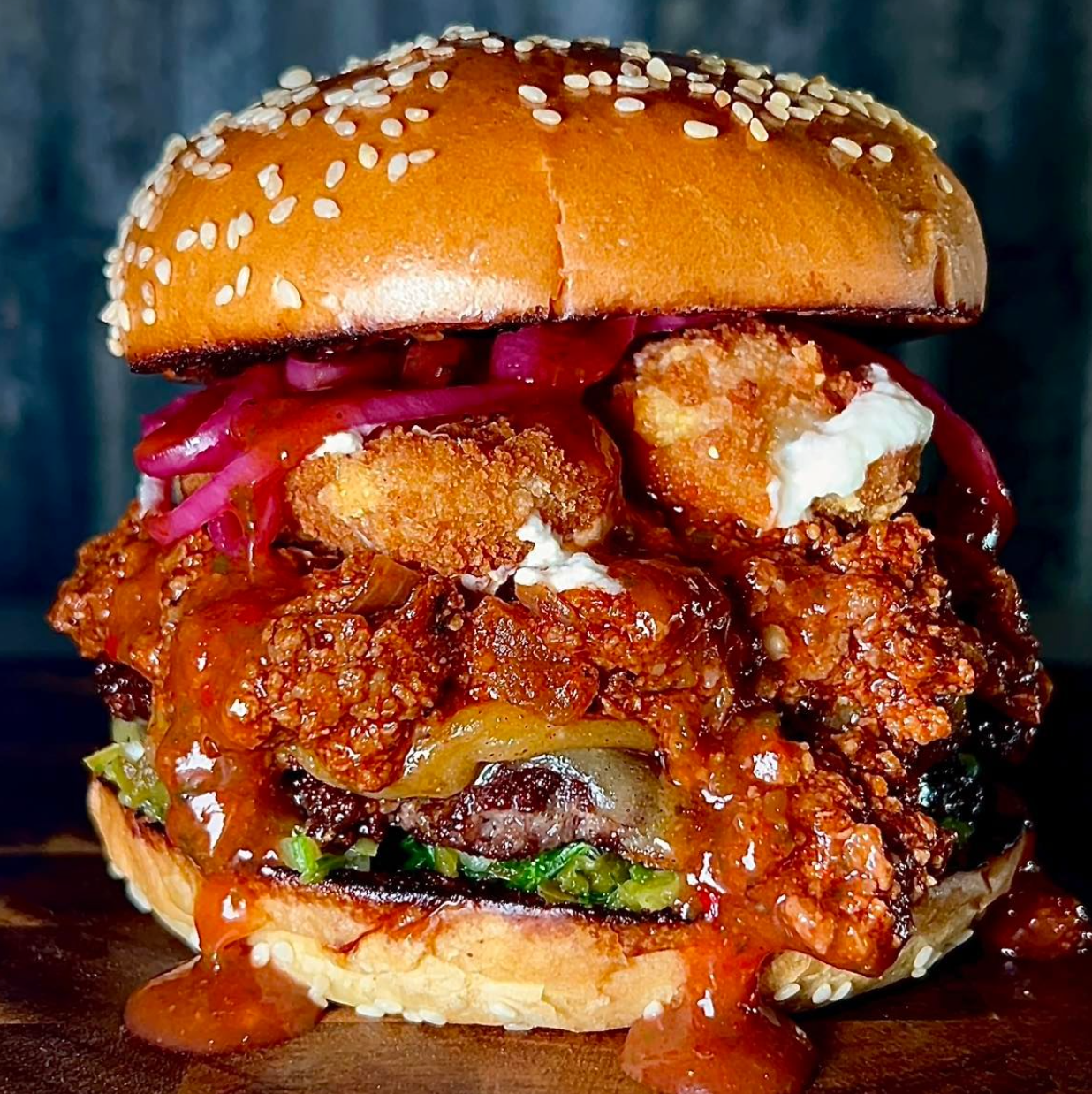 This is another spot that doesn't get talked about enough but, thankfully, we have a couple of people in the office who know a thing or two about Stockport and can gladly vouch for Bun and Bones being not only some of the best burgers in the town but one of the best burger places in Greater Manchester.
Known for ever-changing and highly experimental weekly specials, B&B over in Hazel Grove isn't just a staple in the SK fast food scene but they even won Best Takeaway in the North West back in 2021 — which came as anything but a shock at the time.
Since then, their success has even helped them spawn sister restaurant Pickle Rick's Pizza, but they will forever and always be known as the kings of unique and clever burger creations. They've put everything from steak and ale pie filling and crispy potato cakes, to pulled treacle ham, toffee apple chutney, Asian roast pork belly, homemade schnitzel and more on their burgers — and that's just in the past month!
11. Smashville Burger Co – Oldham and Bolton
Venturing even further out into Greater Manchester in search of the best burger places, we'll confess that we hadn't tried much loved local eatery Smashville Burger Co until very recently but it's safe to say we've been sleeping far too long on this one.
Having recently opened a second site in Bolton following the rave reviews from their original Oldham venue, the name is getting bigger and bigger but the unique selling point of this brand is that it started out… in a petrol station.
That's right, building on the gas station food culture that is so commonplace in America, Smashville made its name by serving as somewhat of a drive-thru whilst still slinging some of the most authentic smash burgers you'll find anywhere in the region. They do more than that too, but we say start simple.
12. Hawksmoor – Deansgate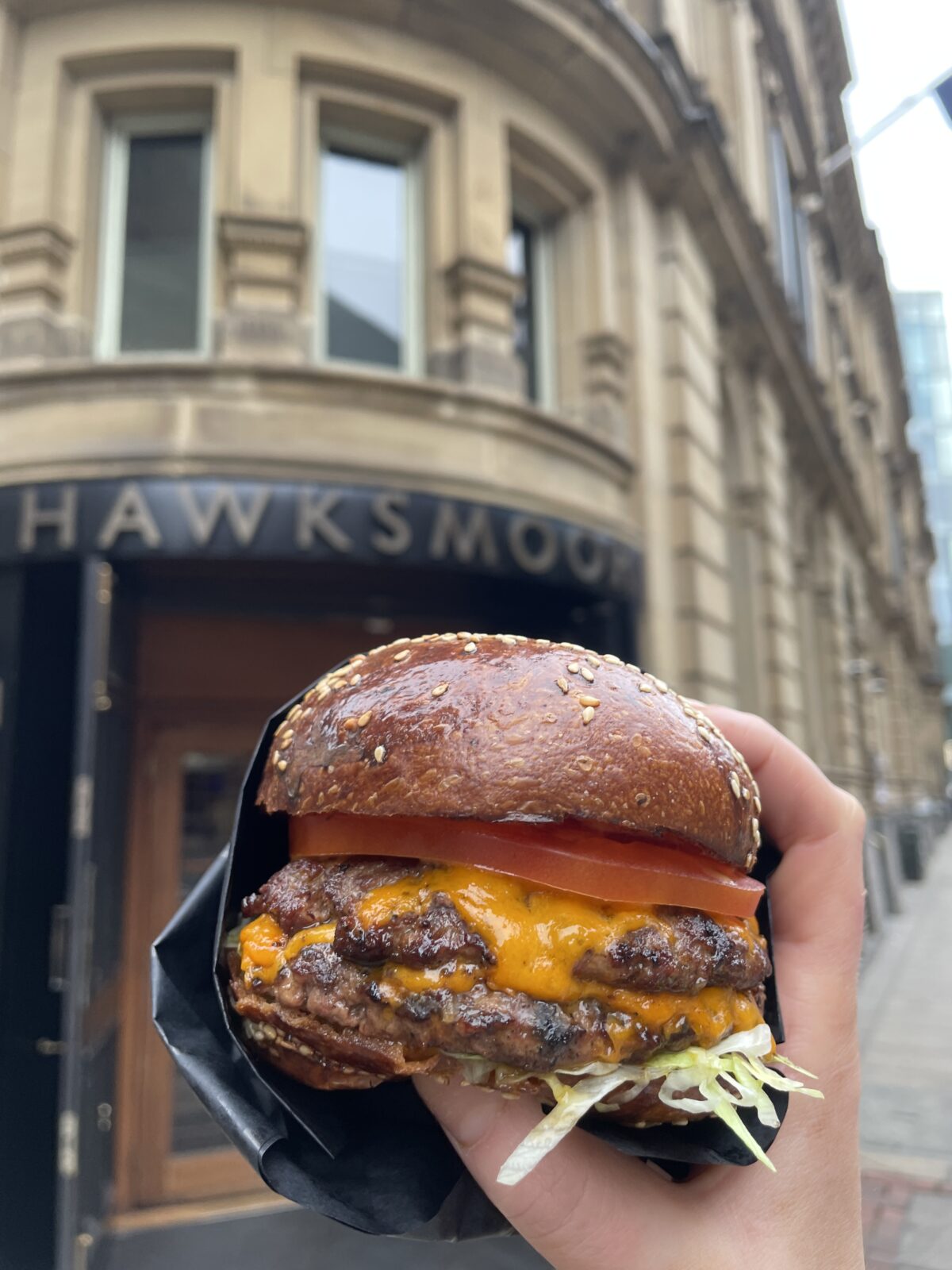 A burger's dozen! That's the right phrase, right? But on a serious note, there aren't many places that take lifting the humble cheeseburger into a gourmet dining experience as the Hawksmoor.
Literally world famous for their meat-crafting expertise, it's no surprise that Deansgate's culinary cornerstone is really, really good at crafting the highest quality beef into perfect little patties and slapping them between perfectly baked brioche buns.
Having collaborated with everyone from Burgerism here in Manchester to the very best food brands all throughout the nation, the Hawksmoor burger is a perfect example of it taking great skill to not just do the classics really well but to master them.
13. Bird of Prey – Circle Square
This list is feeling very red meat-heavy at the minute, so let's take a look at one of the very best places to get a chicken burger anywhere in Greater Manchester: Bird of Prey.
When this place first opened, we remember how mad the queues were and it didn't take long for us to figure out why. BoP, as it's affectionately known to us these days, are self-confessed 'chicken freaks' and we're happy to say we share their foodie affliction.
Tucked just off the Oxford Road Corridor on one of Manchester's newest city squares, the 'PFK', 'smokestack' and 'the halloumi one' are still some of our go-to choices when we fancy a cheeky treat for lunch or a treat on the way home from the pub.
14. Public – NQ
Back over in the Northern Quarter and another square known as Stevenson (we don't know why we're talking like Lord of the Rings), we were taken aback to find that new addition Public wasn't just one of our favourite new bars but does an absolutely class smash burger.
While they have a great little selection of perfectly portioned bites to go with your reasonably priced cocktails and happy hour beers, if you include the chicken sando in the list of 'burgers', you've got two very good entries on this list — and perfectly packaged in a handy little sleeve, might we add.
As mentioned, they do lots of other stuff well too but we distinctly remember sitting around a table on opening day and marvelling at how simple and satisfying those burgers were. Give it a try.
15. What's Your Beef – Salford Quays, Sale and Stretford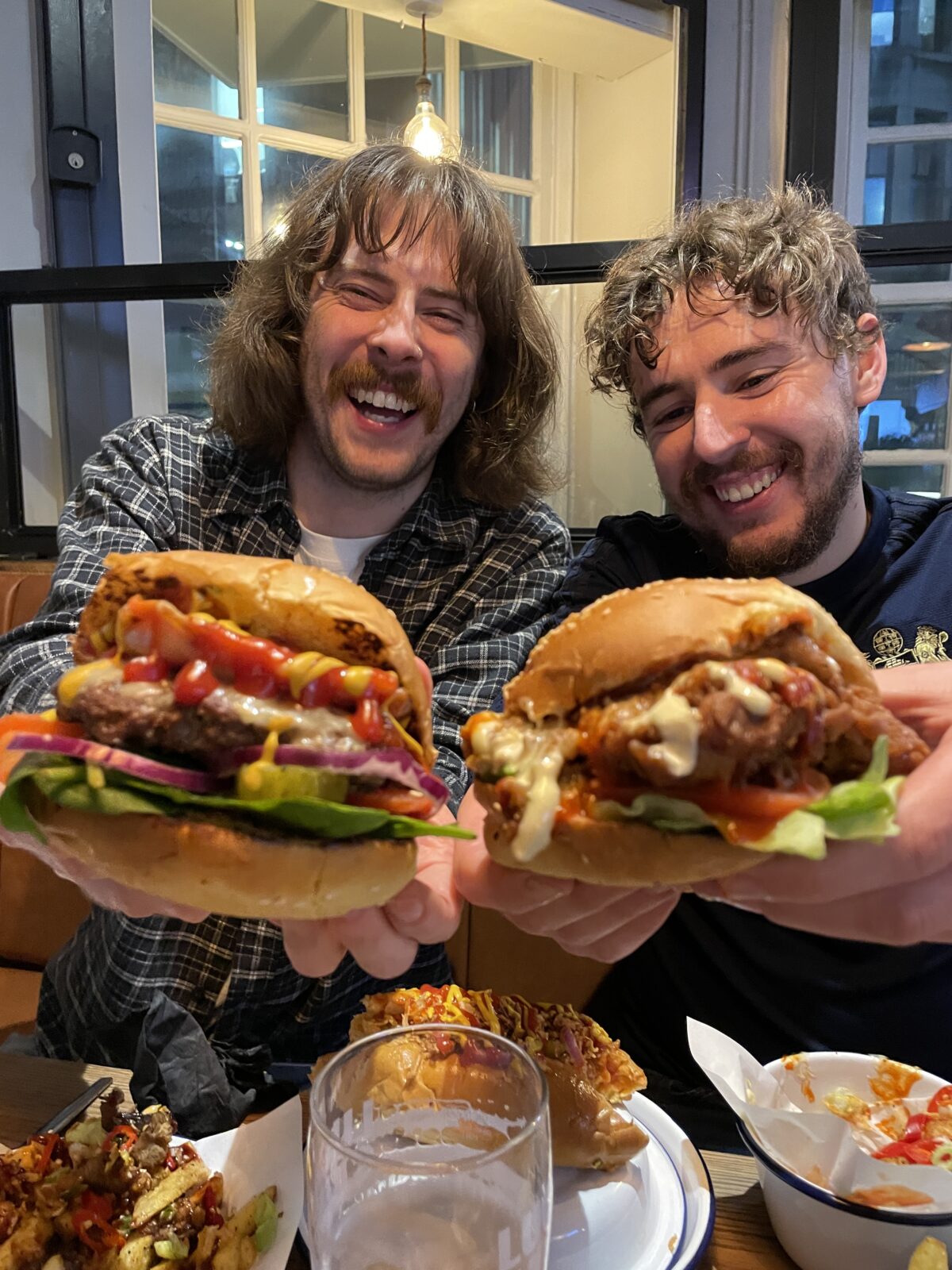 We can't keep prattling on about the simple pleasures of a proper good beef burger without talking about one of the GOATs and What's Your Beef is certainly up there.
After enjoying a spell at Calcio! on Dale Street, WYB has now truly hit its stride at Kargo MKT inside Salford Quay's newest trader venue, Central Bay, and the often-overlooked Sale and Stretford Foodhalls.
In case you need an idea of just how good these guys are at what they do, their 'Stateside Deluxe' made it into the top five best burgers at The National Burger Awards back in 2019 and they've been building a stellar reputation ever since. Our favourite has always been the spicy 'Freebird' with a side of those ridiculously good duck fries, but that's just us.
16. Dunkin' Burgers – Arndale
Whilst we're on the subject of food markets, any local knows that the Arndale Market has some of the best food spots you'll find anywhere in the city and, as it just so happens, one of those spots serves up some seriously good burgers.
It's easy to find Dunkin' Burgers: all you need to do is follow the massive queue that wraps around the indoor market — funnily enough, it's right next door to the other massive queue for Viet Shack.
We've tried this menu from start to finish multiple times over now but we've found anything quite as delicious as 'The Manc' burger (for obvious reasons): a breakfast butty-style burger with two beef patties, bacon, sausage, a fried egg, cheese and sauce to be dunked in a pot of gravy. Perfection.
17. Shakedown – Withington, Wythenshawe and Cheadle Hulme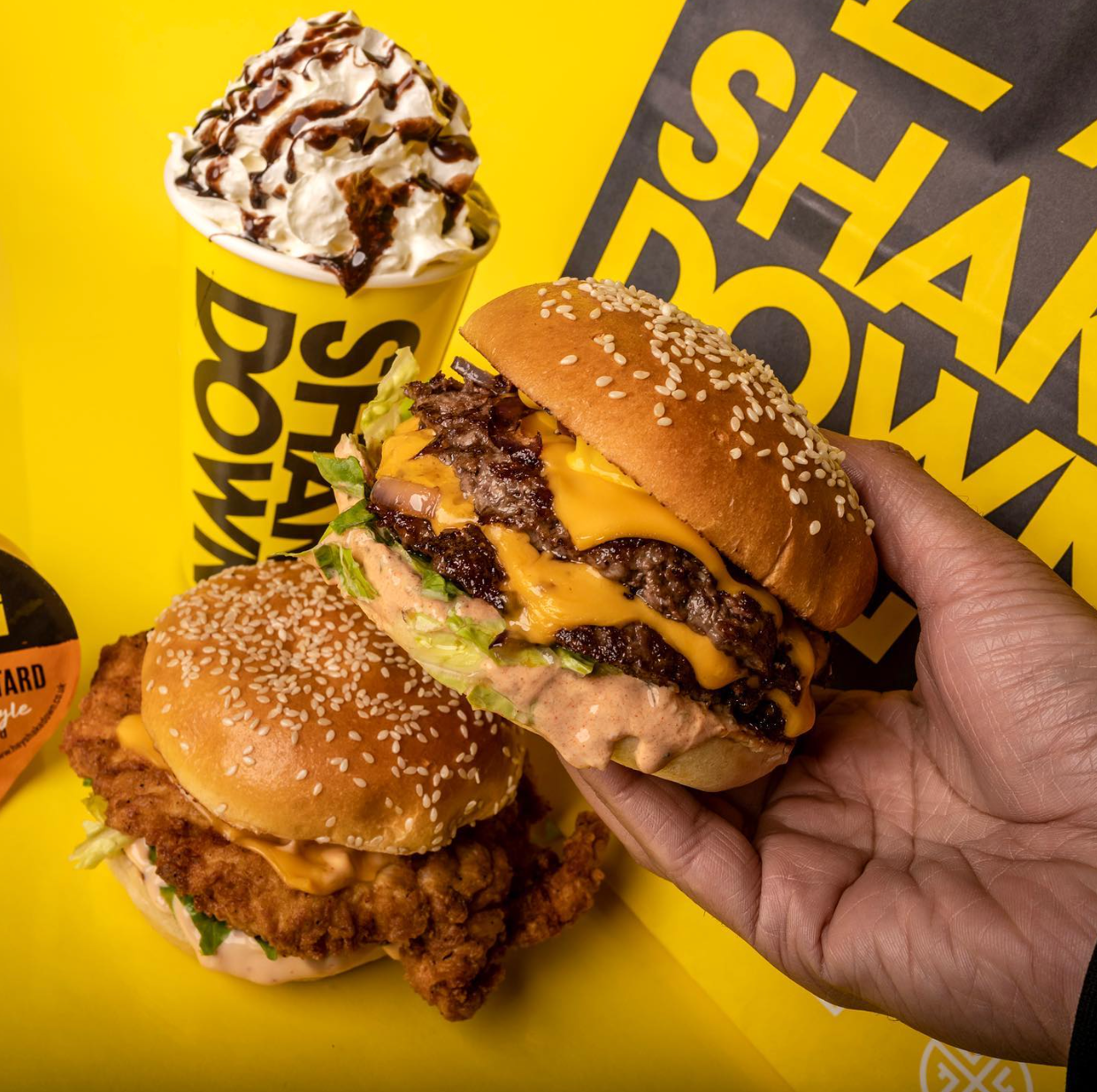 We're getting towards the business end now and once again branching further out into various parts of the region: three, to be specific, and the one thing they all have in common is the almighty Shakedown.
Discovered during a takeaway night while at a mate's house, we'll admit we've never heard of this place up until that point, but since then we've ordered from here a few times and it's come to feel like a bit of underdog on the Manc burger scene; a cult favourite to those who know it but no way near as reputed as it should be.
Known for sumptuous shakes, sides, crispy quesadillas and some fat ol' burgers, be it 'The Super Beefed Up!', 'The Zesty Chicken Burger' or even the grilled cheese toastie, they're all solid options and turn up just as paper and foil and they do there in the brick-and-mortar — which isn't always the case.
18. That Burger Place – Swinton and Walkden
Number 18 is another one that perhaps because of its location(s) doesn't get anywhere near enough respect as it deserves, That Burger Place is the California-inspired burger and while we've never known exactly what that means beyond having lettuce, tomato and onion, we've not been disappointed yet.
Undergoing a bit of a rebrand back in March following their years of success, TBP has also opened up a 'dark kitchen'/delivery outpost over in Ardwick which helps them keep up with the increasing demand for their 'Golden State Smash', 'Miami Heat' and 'California Dreaming' (a National Burger Awards finalist, by the way). They even do loyalty cards where you can grab a free burger after eight visits.
They're also pretty good at a special or two, including a very enticing 'Bad Santa' burger with rosemary chicken, stuffing, cranberry BBQ sauce and 'bacon rain' — again, we don't know what that is but it has bacon in it, so it can only be good. Either way, you should do yourself a favour and try this place
19. Burger Box – Fallowfield and Longsight
For the penultimate stop on our burger-based tour of Greater Manchester, we thought we'd pick out an affordable, uni-friendly friendly pair of accessible eateries which do exactly what they say on the tin: deliver solid burgers, often in a box. There's a place for those stumbling home fast food takeaway vibes and we can definitely make room for this one.
Sky-rocketing in popularity thanks to putting in the graft as a late-night favourite in Fallowfield, a.k.a. student central, Burger Box recently opened up a second store down the road in Longsight and never more Mancs are getting to taste — it helps that they also serve from two entrances as well.
Located on Stockport and Wilbraham Road, respectively, this place might be the relatively new boy on the block but staying open until 3am is a huge perk and the regular footfall alone should assure you of the quality. Also, the loaded boxes with your burger of choice, four wings, fries and a drink are a real value-for-money option in a cost-of-living crisis.
20. The Vurger Co. – NQ
Last but not least, it'd be rude of us not to include not only one of the best vegan burgers you'll find in the city centre but one of Greater Manchester's best vegan restaurants full stop.
Sat just on the corner of Tib Street, The Vurger Co. has become a beloved plant-based option for local veggies and vegans both because of its handy central location and due to the fact it serves up some seriously flavourful meat-free alternatives.
Although the meatless patties are also very good in their own right, we can't speak highly enough of their fake chicken, to the point that the first time we ate one we were genuinely blown away about how much the real thing wouldn't have improved it. 'The Mushroom Patty' is good as well but trust us, if it's your first time, get the buffalo 'chicken' burger — it's a solid scran every day of the week.
Read more:
As always with these lists, please don't ask us to put them in order, it's simply too hard and there's enough room for all of them in this big burger-loving corner of the world we call Greater Manchester.
It goes without saying that there are dozens of other burger places that could rightly be considered among the best — Shack, Grand Daddy's Diner, Fat Hippo, Big Lick's and now even Popeye's, just to name an unfairly small few (it was a real Sophie's Choice this) — but you'll have to forgive us if your favourite isn't on the list.
Or, you know, you can always just argue with us in the comments.
Nevertheless, if you're looking for something city-centre-based or a lesser-known burger spot further out into the reaches of our 10 beautiful boroughs, we promise it won't be hard for you to find your favourite burger.
For all the latest news, events and goings on in Greater Manchester, subscribe to The Manc newsletter HERE.
Featured Images — The Manc Group