Eats
Musu, Manchester – The sushi dinner that's well worth its £150 price tag 
Words by Jack Wood.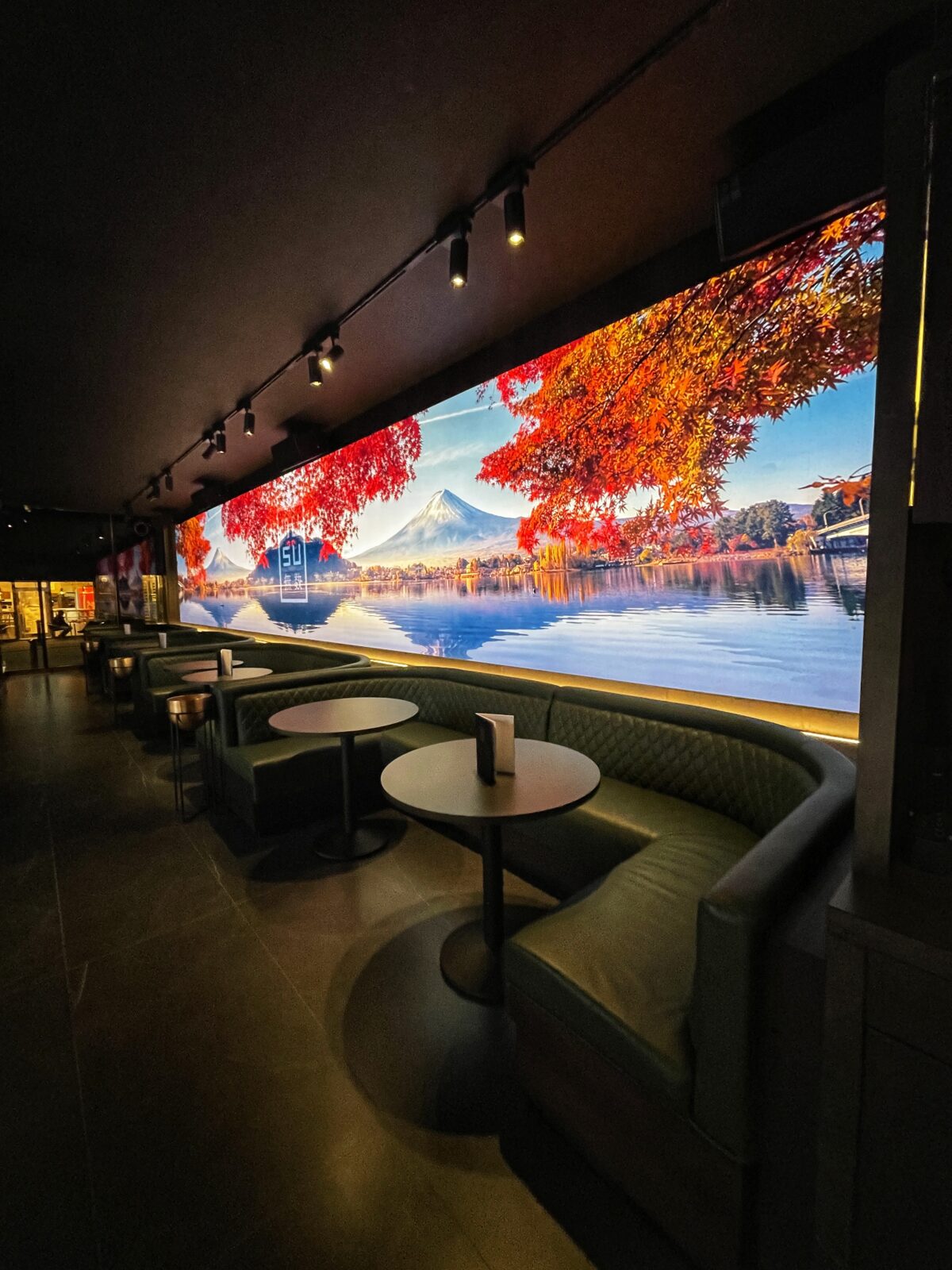 Sushi is now EVERYWHERE in Manchester. From grab-and-go takeaway offerings to cool street food-style spots in shipping containers to high-end restaurants that stand their ground on a global scale.
There's so much sushi around I'm actually surprised Greggs don't have a range yet.
So why should you go big, with a 14 course, £150 tasting menu? I'll tell you why – because it really is the treat of a lifetime for any fresh fish fanatic.
Musu, despite its price tag, sits modestly on Bridge Street, just off Deansgate, its regal interior hidden from street view behind tasteful black drapes and a wooden panelled reception.
Once inside the body of the luxurious Manchester restaurant, the pristine wooden aesthetic continues, but whilst most of the restaurant (and incredibly well stocked bar) is dimly lit, the exposed open kitchen and sushi station shine like spotlights, showcasing the true star of the establishment – its chefs.
I was lucky enough to take a seat for Musu's Omakase menu.
Omakase translates to 'I'll leave it up to you', demonstrating how the chef, who you'll be sat in front of for two-three hours, is entirely in control of your dining experience. They've selected and constructed a menu based on which fish are in season, fresh, and their own refined preference. And if this meal is anything to go by, I'll leave all my food choices to someone else forever.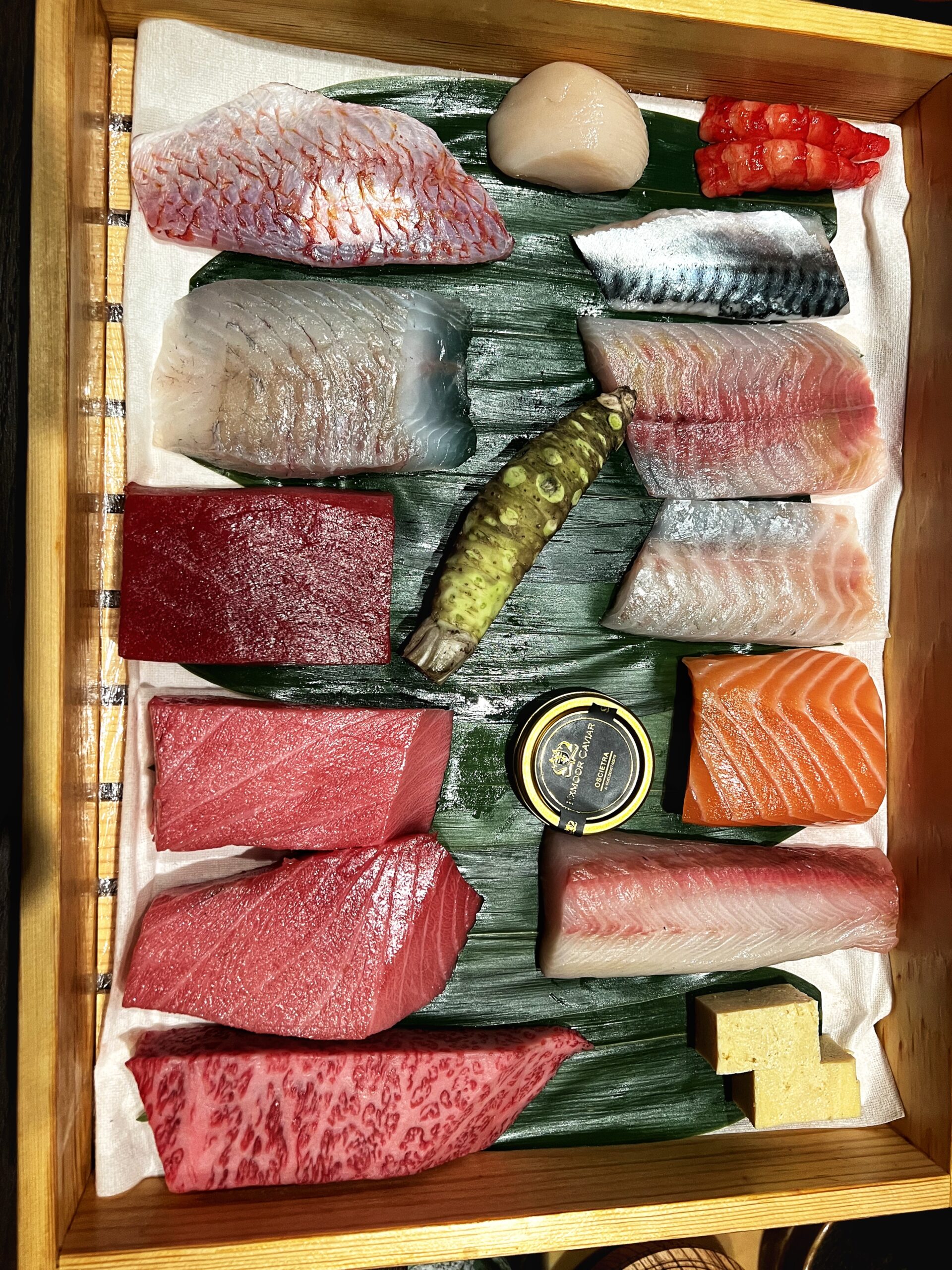 First you're shown all the produce that is going to make your meal, and how they were sourced and prepared. The tray of fish gleam like the jewels they are, in both taste and cost.
The 14 plates began with the only hot dish, Miso Soup. This of course is pimped out, with wagyu beef and shiitake mushroom adding to the rich saltiness. The wagyu is so tender it nearly melts into the soup and creates a rich sweet peppery flavour. It's a strong start.
Next up begins a selection of sashimi. Sashimi is raw fish/shellfish, served only with fresh wasabi and a beautiful five-year-aged soy sauce containing rich sake.
There isn't anywhere to hide with sashimi and chef John doesn't need to. Every dish looks like art, prepared in front of you – it's amazing to see how expert cuts create exquisite plates. It's like watching an artfully shot Netflix documentary, only for the TV to reach over and hand you the food after the credits.
Each of the six sashimi tastes so individual. The scallop from the Isle of Sky melts on the tongue, with a subtle salt taste. The four-day-aged Cornish seabass, paired perfectly with the rich soy, brings a sweetness to the fish. The Scottish salmon nearly swims down my throat, it's so elegant and rich, whereas the Akami (bluefin tuna loin) packs a powerful and delicious fish flavour that you feel in the nose.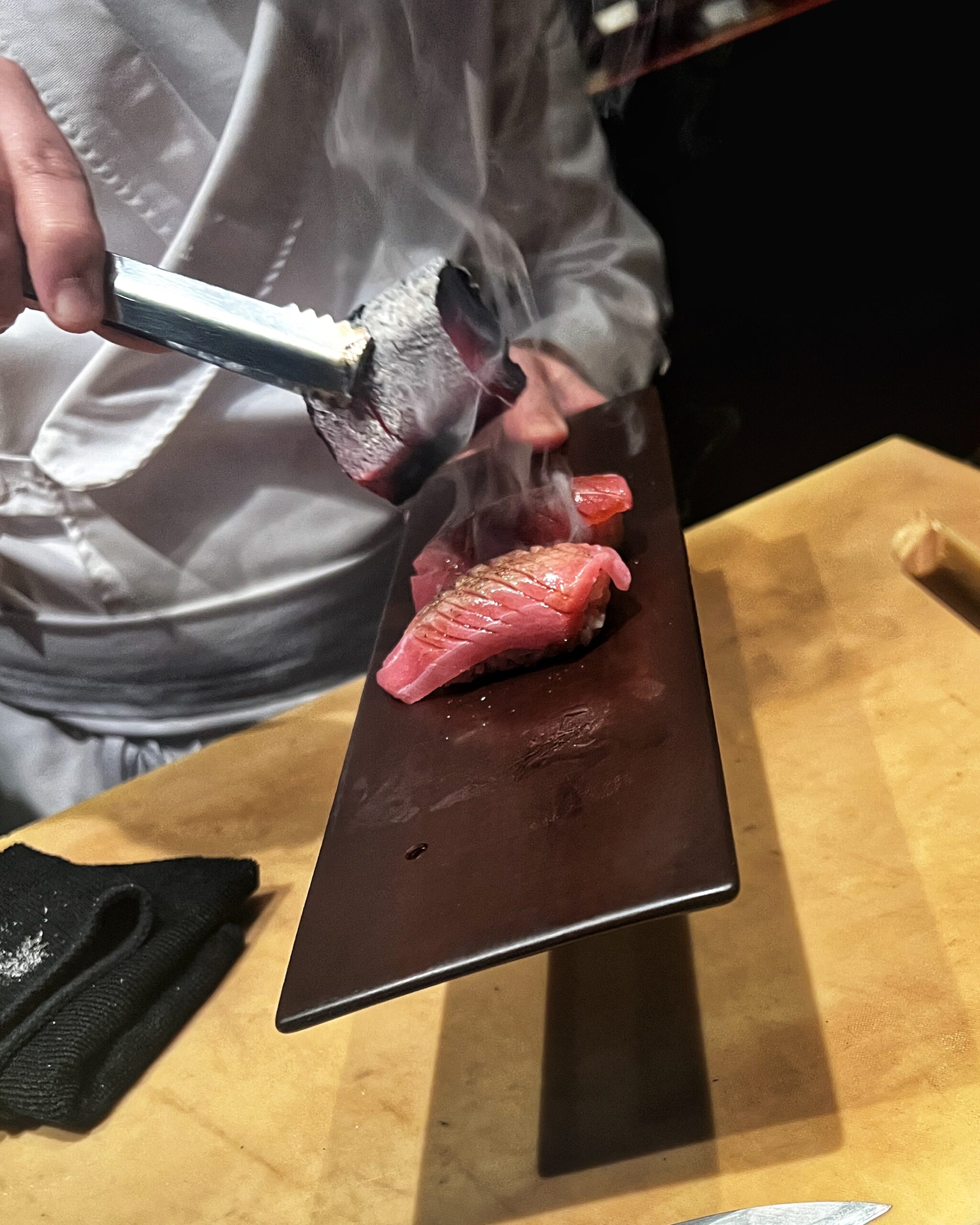 Next came the 10 nigiri, fish served on a bed of rice. The craftsmanship and precision here is spectacular, with chef John pairing Hamchi with green chillies, allowing spice to burst out with a bite. Red Mullet is seared with a blowtorch and served with Yuzu zest to create tangy treat for the eyes and palette. The spectacle reaches its peak with the charcoal seared Chu-toro, the wooden burnt fish enriched by piney-smoky flavour. Finally the last nigiri is an A5 Wagyu beef, with autumnal truffle, a wild, earthy end to the nigiri.
I actually think ending on the Wagyu would be a perfect circle, meeting back to the start with the Miso Soup, but there's one more fish dish before a sweet treat. It's the Temaki, seaweed wrapped Tuna with Chu-toro, spring onion and sesame. It's a big end to the fish dishes, the strong meaty tuna taste a perfect contrast to the fresh raw veg.
Finally the dessert, simple small and elegant salted white chocolate, served perfectly cold, with soya milk crisp, and almond dust providing a rough change in texture, and helping to stagger the sweetness. It's a triumphant ending.
The Omakase menu is not just a treat, it's an education in how sushi can be masterfully executed, right here in the heart of landlocked Manchester.
You can find out more and book a table for sushi at Musu in Manchester here.
Read more
Featured image: The Manc Group