Eats
Neighbourhood favourite Sale Foodhall announces shock closure with 'heavy heart'
It's part of the General Store family.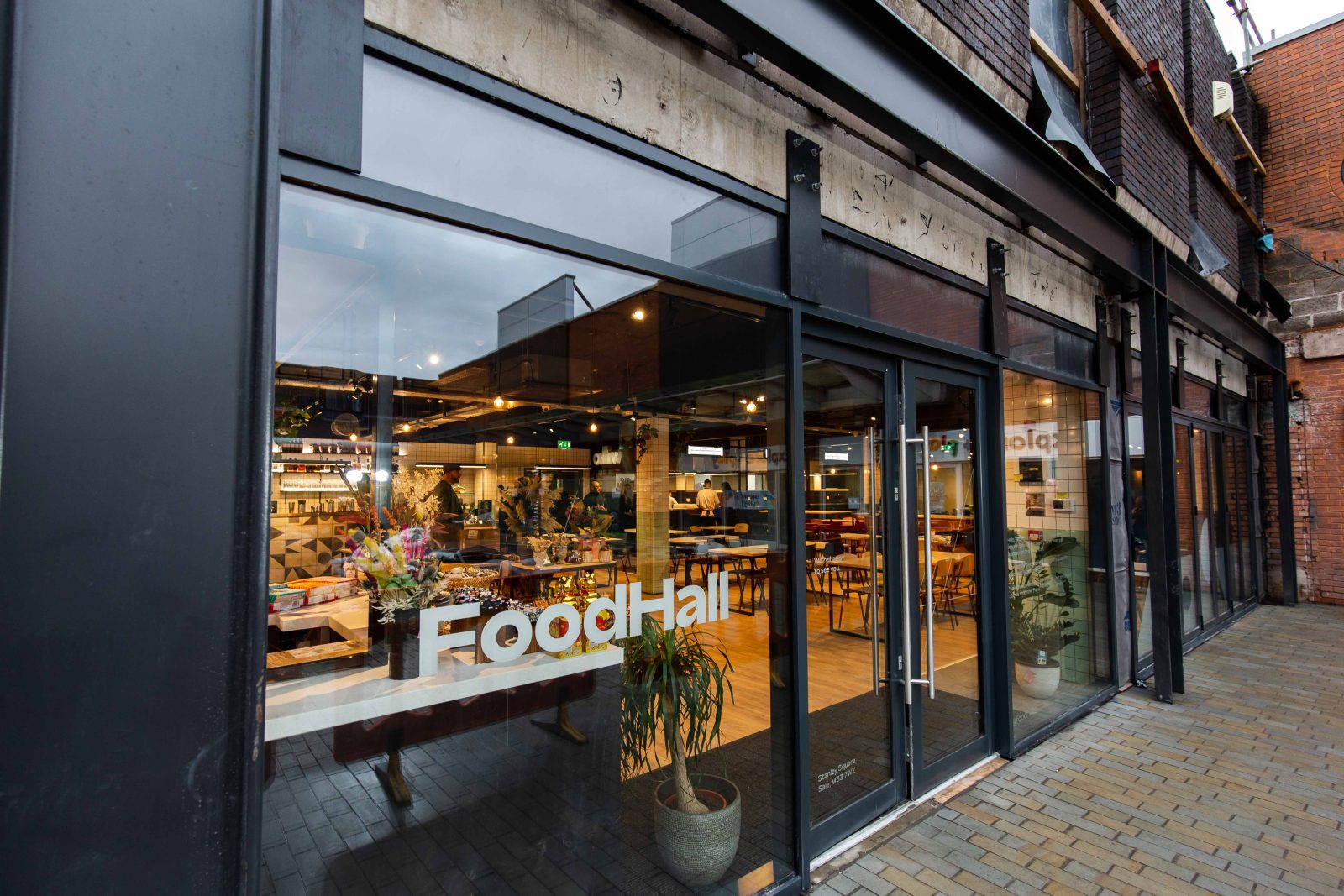 Sale Foodhall, one of the first independent businesses to open in the redeveloped Stanley Square, has announced its shock closure.
The Trafford business blended a convenience store, where shoppers could pick up their basic groceries as well as items produced by local suppliers, with a food hall space hosting a rotation of street food operators.
Sale Foodhall is part of the Store Group, which also operates Ancoats General Store, Stretford Food Hall, and Deansgate Square General Store.
The group quickly earned themselves the title of 'Manchester's coolest corner shops' and have been praised for revitalising town centres around the region.
But in a statement shared today, Sale Foodhall said that the 'unprecedented cost increases' over the last year have pushed it to closure, with its last day of trading named as 2 April 2023.
The statement wrote that it had been 'tough to let it go' and is now focused on 'keeping our colleagues in jobs'.
Sale Foodhall first opened as a Groceries and Beer site in 2019, before expanding and relaunching as a food hall concept in 2021.
In its statement, the business shared: "Dear all – An update to share regarding our wonderful Sale Foodhall…
"After facing unprecedented cost increases over the last 12 months, we are unable to keep the business moving forward sustainably. Sadly, we have made the decision that Sale Foodhall will close. We will be trading up to and including the 2nd April 2023.
"We share this news with a heavy heart. It is really tough at the moment for hospitality businesses, independent businesses, retailers, makers – everyone really! We know that you, our guests and followers, are feeling it too and we're sorry that we couldn't keep serving you in Sale.
Read more
"As one of the first independent businesses to arrive in Stanley Square, it's been wonderful to be a part of the journey of the town so far. We have become so invested – it's tough to let it go but we have not been able to find a way forward. Rising costs, especially in terms of power, have proved insurmountable for us here in Sale. We take with us warm memories of Groceries & Beer and witnessing the transformation of the mall!
"Our priority is to keep our colleagues in jobs and so we're focussed on that right now. Our Stretford Foodhall remains open.
"We'd like to thank all the talented traders, makers, creators and everyone else who has been part of our story in Sale. And especially our customers who have welcomed us into the community from day one. Warm thanks to all the team at Stanley Square who have supported our journey since we met in 2019.
"Wishing all our neighbours and fellow businesses the best – Onwards and upwards – to everyone."
Featured image: Sale Foodhall