Eats
The best food and drink at the Manchester Christmas Markets 2023
The best food stalls, and where to find them.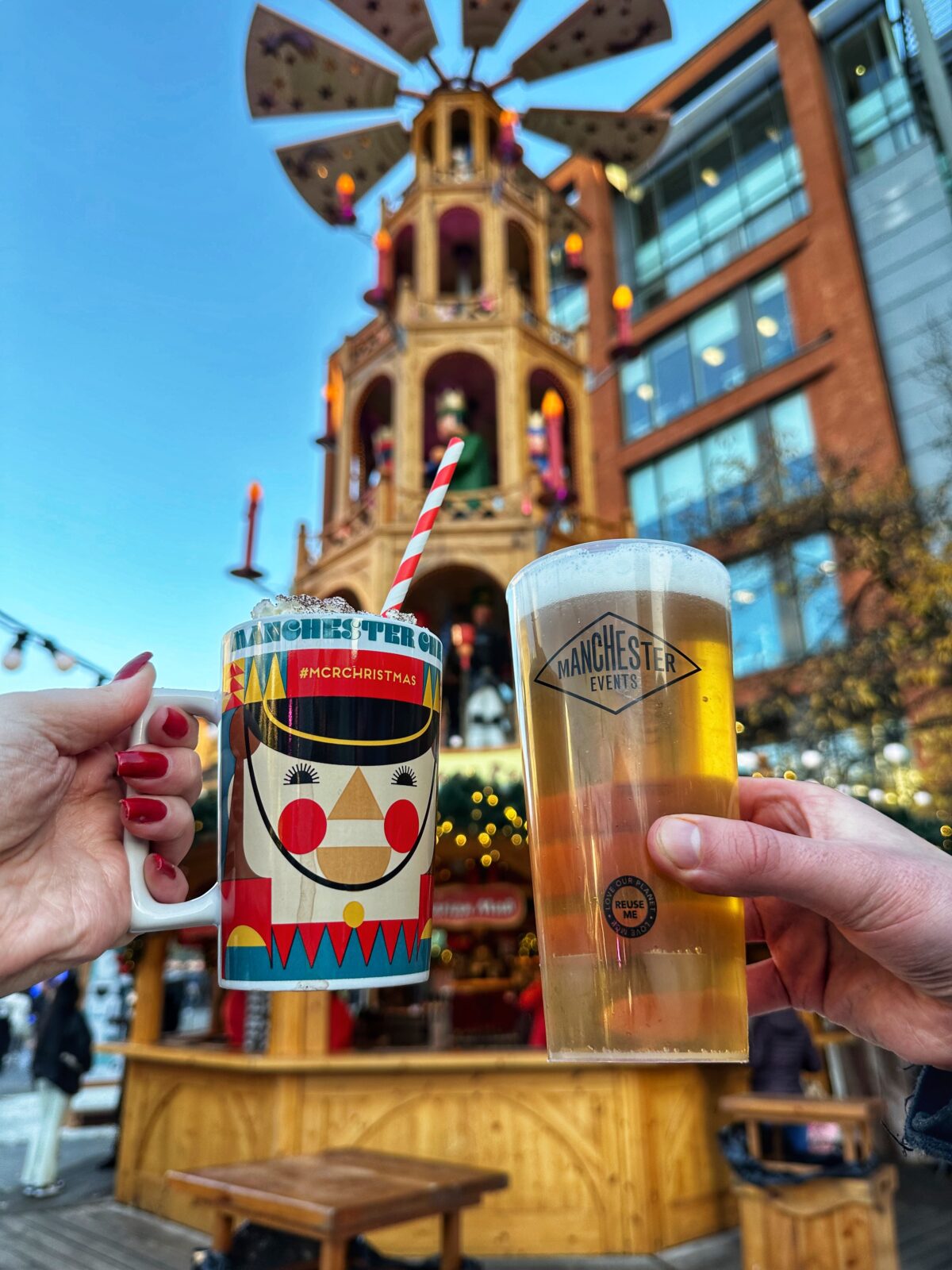 While many people visit the Manchester Christmas Markets to stock up on gifts and trinkets, for most of us, it's all about seeking out the best food and drink.
Just a few years ago you could barely move around the markets for giant pans of paella and swing grills holding three dozen sizzling sausages.
But these days, the markets have a much more local flavour, with plenty of well-loved local names springing up across the city's festive huts.
It's apparently not to everyone's tastes (the Manchester Christmas Markets were slammed with negative reviews last year for not feeling very 'Christmassy'), despite years of people calling for more Manchester businesses to be stationed at the markets.
As the markets have officially kicked off today, you'll find some incredible street food at sites including Piccadilly Gardens, St Ann's Square, Exchange Square, and King Street.
And if you're a staunch believer in the more traditional foods, like German bratwurst and French garlic mushrooms, don't you worry – we've got more on that to come.
We've rounded up some of the best food and drink you'll find at the Manchester Christmas Markets.
If you want to find out more about this huge seasonal celebration, check out the below articles too:
The best food and drink at the Manchester Christmas Markets
Yard & Coop, St Ann's Square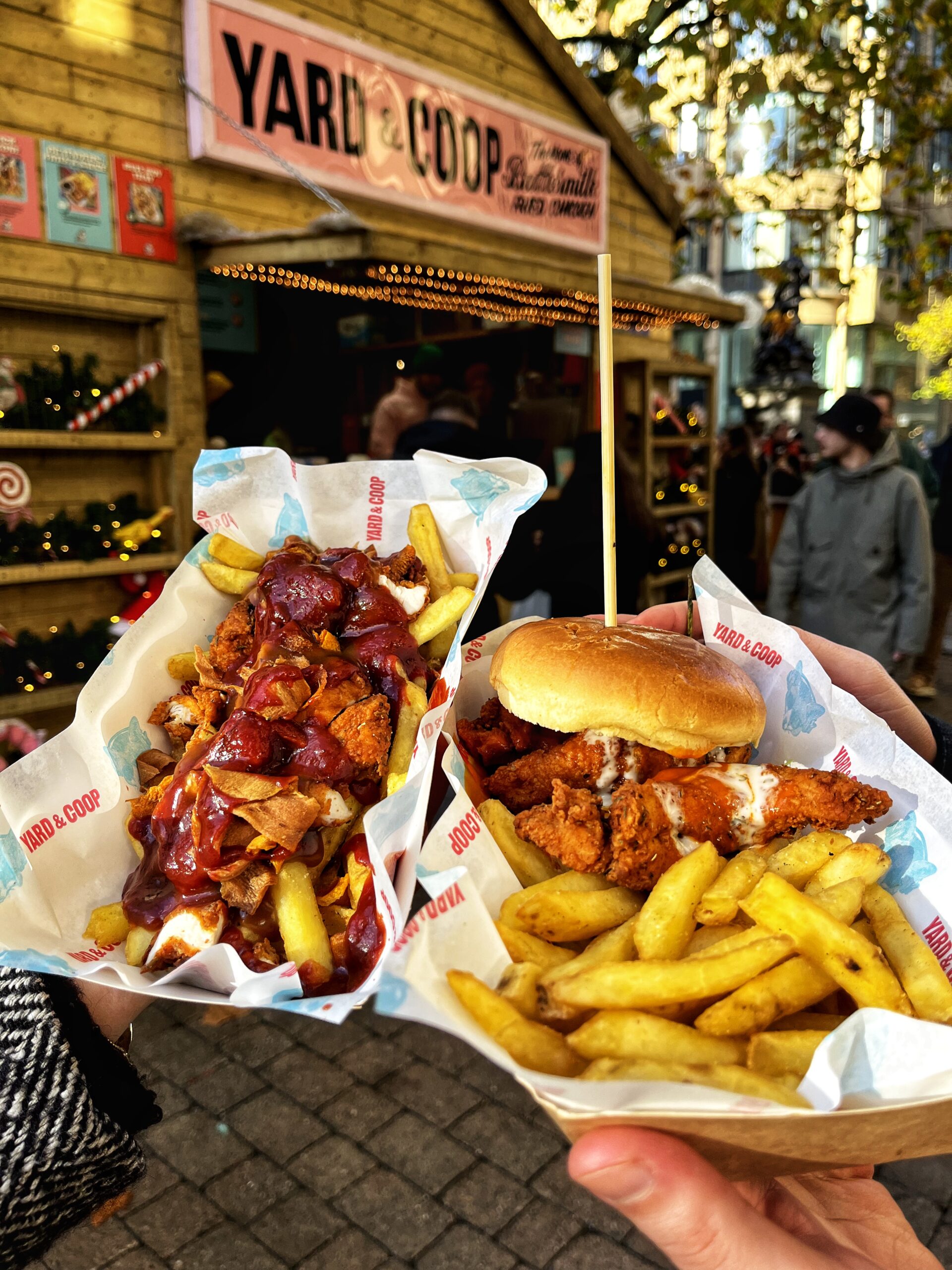 If you don't yet know of Yard & Coop – where the hell have you been loca?
This Northern Quarter institution is back at the Manchester Christmas Markets with a menu full of its usual comfort food with a festive twist.
There are huge trays of loaded fries, like the salt n pepper tray or the Dirty Santa, plus chicken in a waffle cone and the Buff Daddy burger.
The Flat Baker, Winter Gardens at Piccadilly Gardens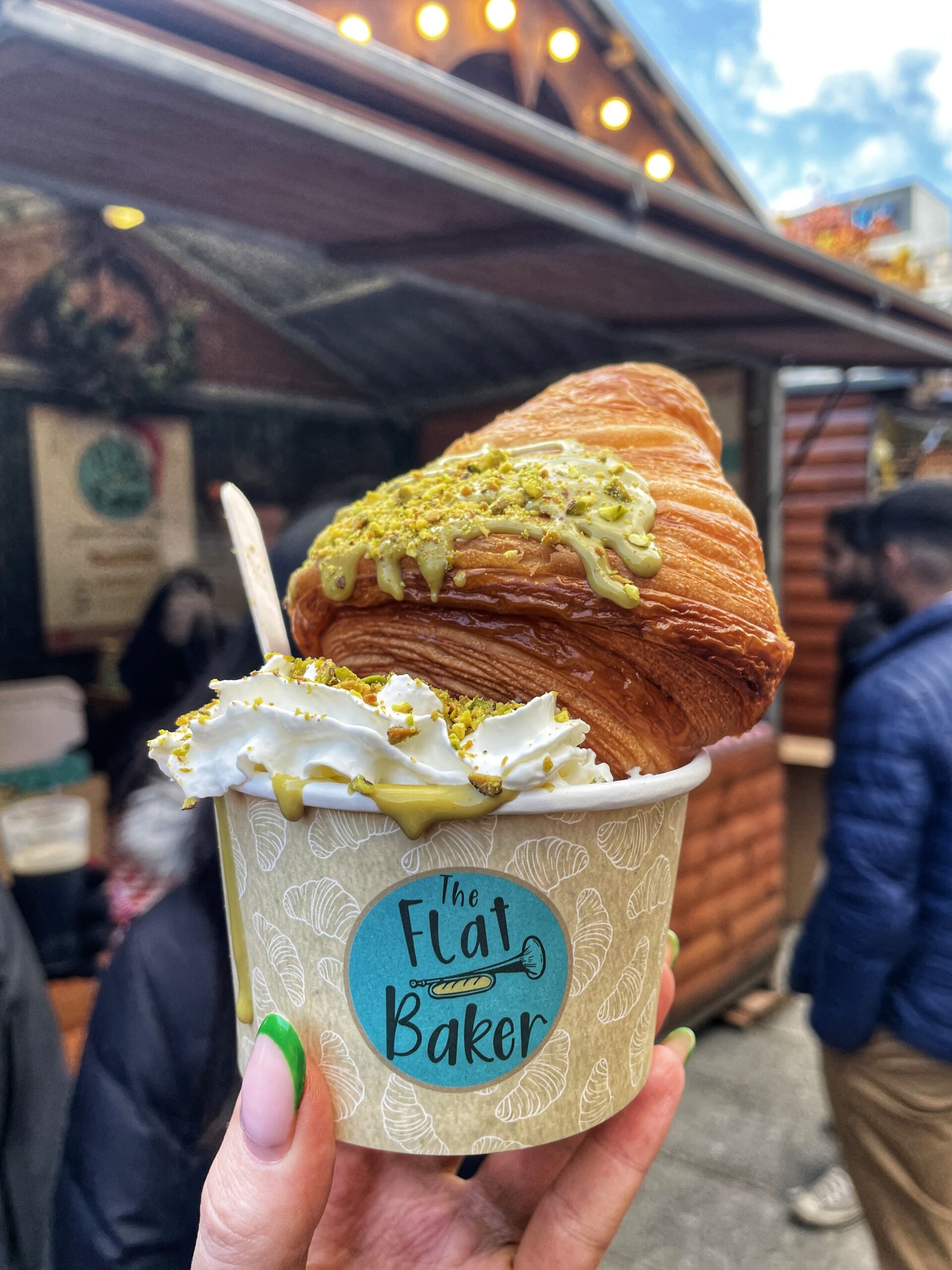 Usually served out of a tiny hole-in-the-wall site in Ancoats, The Flat Baker is making its debut at the Christmas Markets this year.
Their pistachio-laden pastries are already the stuff of legend, and you'll find plenty of that – along with more Brazilian-influenced bakes – at their Winter Gardens stall.
From warm cinnamon rolls topped with dulce de leche, Brazilian mince pies with tropical fruit, and their incredible croissants with dipping sauces, if you've got a sweet tooth this place has to be the best food stall at the Manchester Christmas Markets.
Parmogeddon, New Cathedral Street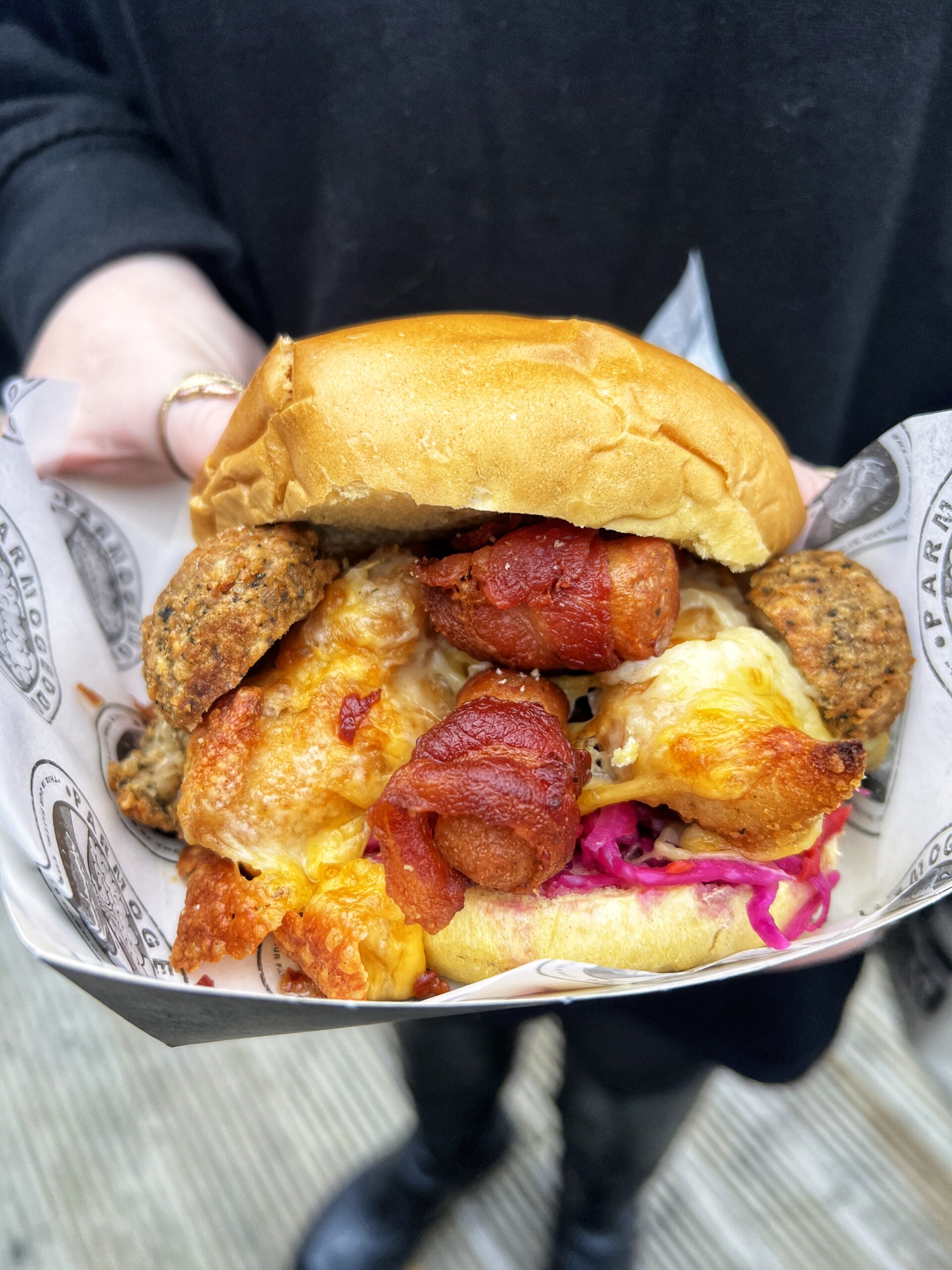 Are you drunk? Hungover? Hungry? Whatever you answered to that question, don't let Parmogeddon's run at the Manchester Christmas Markets pass you by.
Inspired by the late-night parmos served up in the north east, they're piling Béchamel sauce, melted cheese and gravy onto chips and into burgers like there's no tomorrow.
This year's menu includes a Christmas parmo topped with pigs in blankets, stuffing and gravy, a parmo butty with pickled slaw and garlic sauce, and loaded roasties.
El Gato Negro, King Street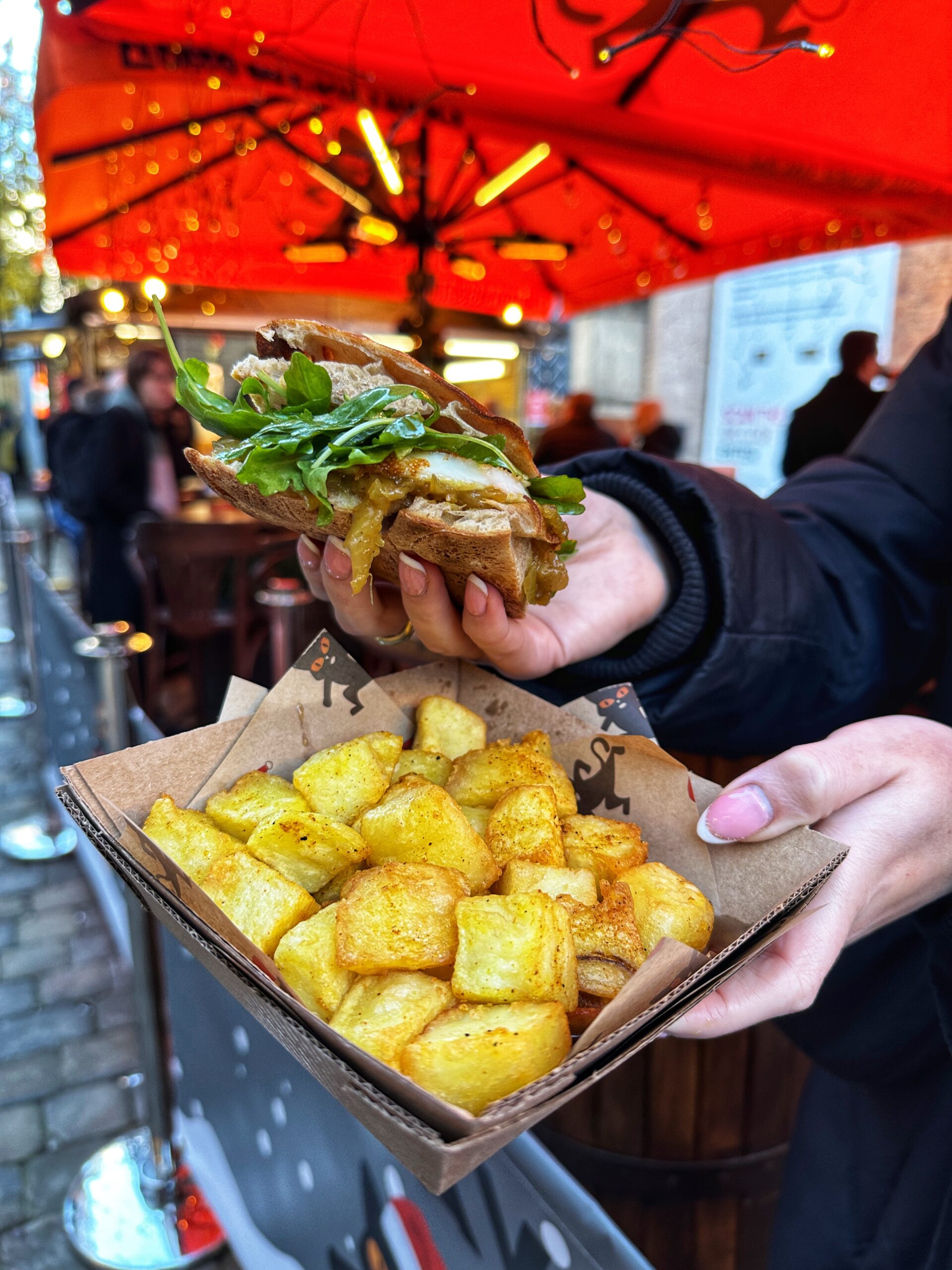 Christmas patatas bravas, guys. Christmas patatas bravas.
El Gato Negro has always found itself in the midst of the Manchester Christmas Markets, thanks to the fact its award-winning restaurant is slap-bang in the middle of King Street. So it was only a matter of time before they joined in with their own stall.
On the menu here there's classic patatas bravas, or you can build your own with toppings including turkey gravy (obviously yes) and manchego cheese. There are also incredible sandwiches, with freshly-cooked chorizo or goats cheese fillings.
It even has a fancy meal deal, where you can get a sandwich, patatas bravas, and either a pint of beer or a mulled wine for £16.50. 10/10, no amends.
Waffle Kart, King Street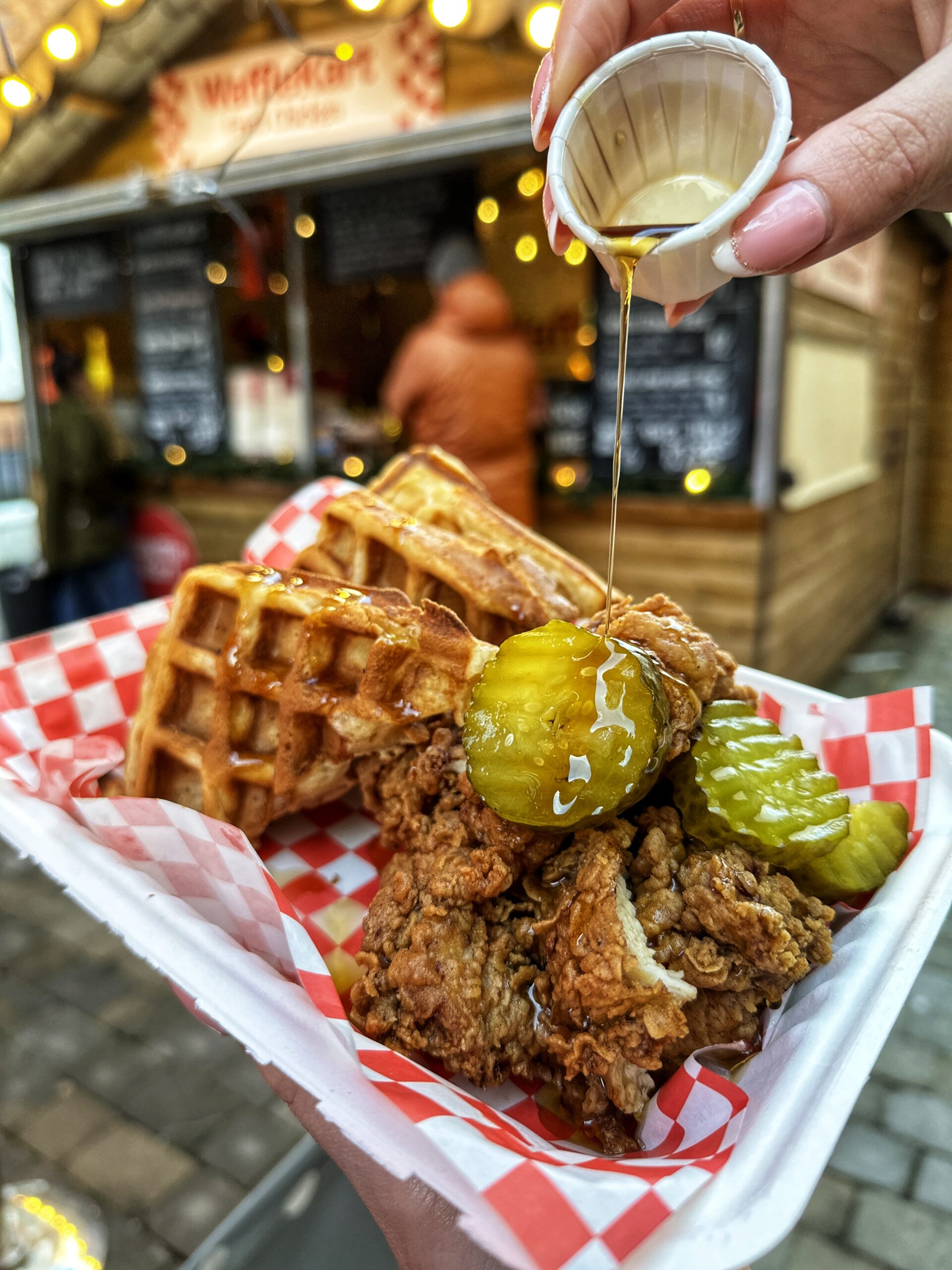 Stop what you're doing right now and look at the above food p*rn. Just look at it.
'What if KFC and a Chinese restaurant made a baby?', they ask on their blackboard above the door – if this is the result, we're all for it.
Tender buttermilk chicken with an outrageously crunchy batter is served alongside fluffy waffles, with pickles and maple syrup for drizzling; or you could get the prawn toast waffles, an unconventional twist on a family recipe. It's all great.
Triple B, Dock 53 at Piccadilly Gardens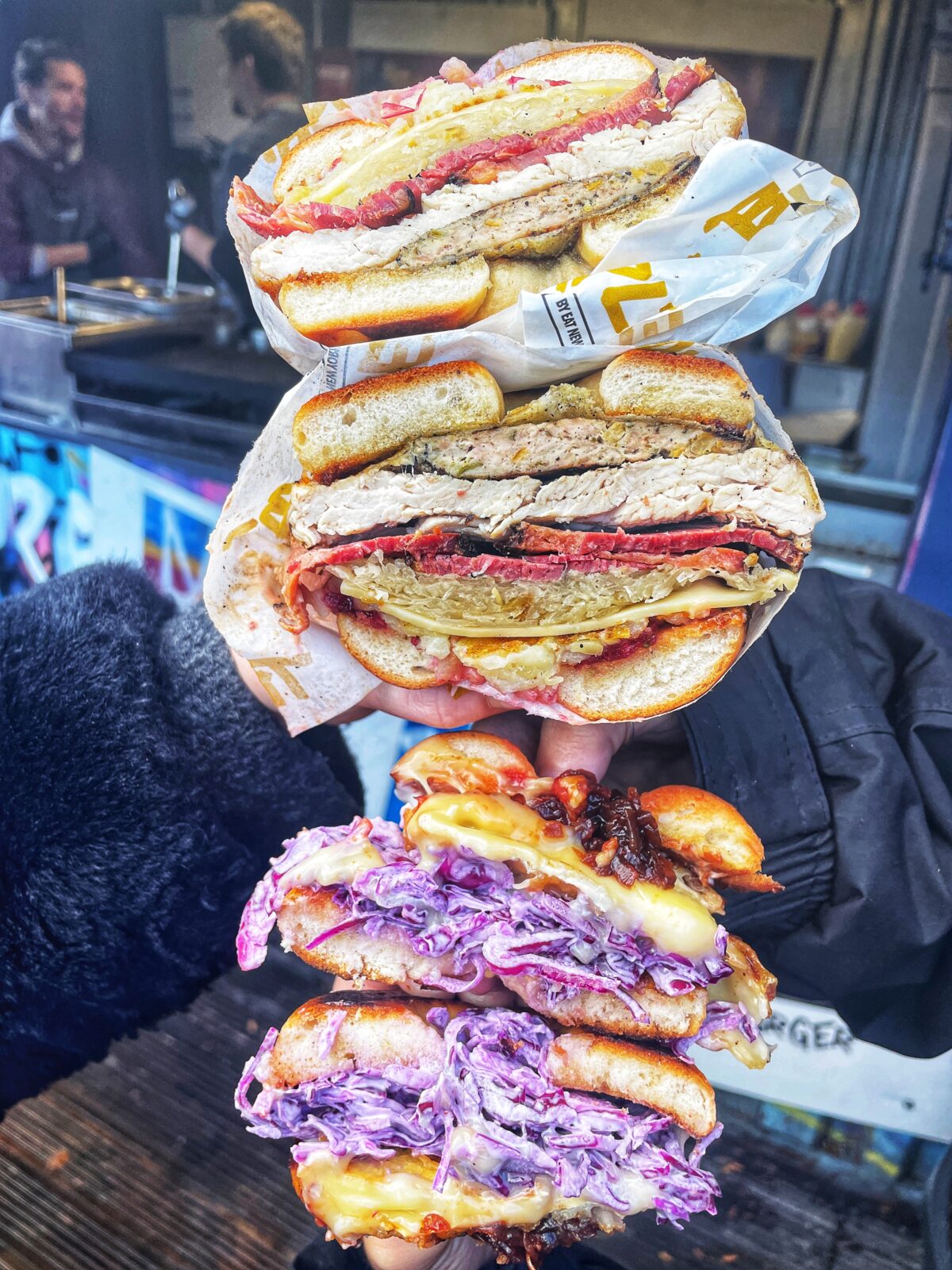 If you haven't yet put a Triple B Christmas sandwich in your mouth, you haven't lived.
These guys are becoming a firm favourite thanks to their New York-style bagels stuffed with an extra bit of festive cheer, like the fried camembert bagel with winter slaw and stilton mayo, and the Christmas Reuben bagel with an extra stuffing patty wedged in.
That's alongside their usual enormous butties like the pastrami burger, the grill melt bagel, and the Triple B cheeseburger.
Little Piece of Bahia, Winter Gardens at Piccadilly Gardens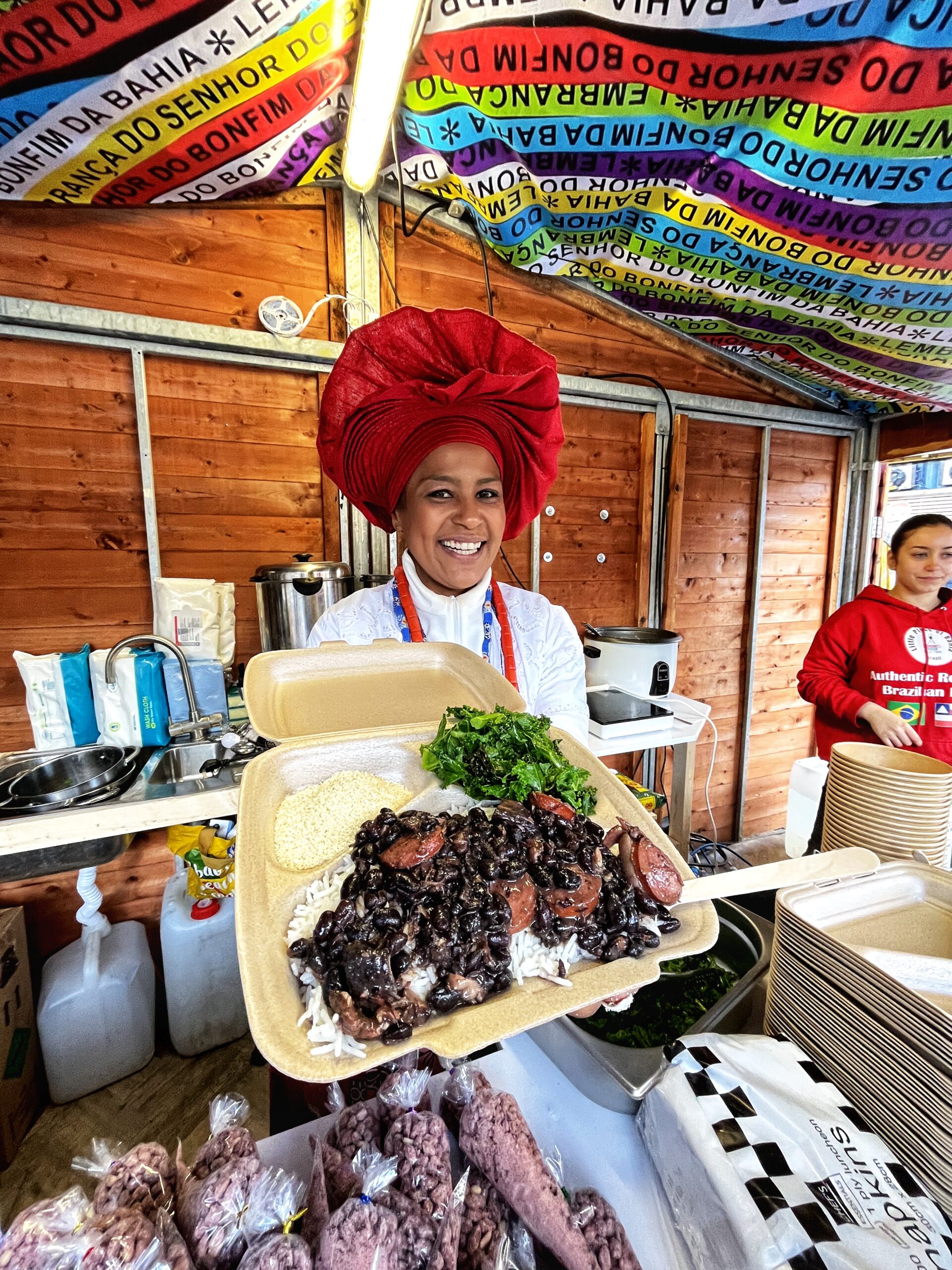 Little Piece of Bahia might be one of Manchester's best-kept secrets – expect it's not: this city centre cult favourite has been serving up authentic Brazilian cuisine in the Arndale since March and has already garnered a loyal following.
Serving up regional home-style soul food from South America since 1989, when the family business first arrived in the UK, this is their first-ever stall at the Christmas Markets, where you'll always be greeted by the ever-charming and always smiling Camila.
Deeply knowledgeable and passionate about her country's food, as well as her Portuguese and Nigerian ancestry, she's serving up national dishes like feijoada, hearty stews with sprinklings of cassava, chicken and beef croquettes, cheese breads, Brazilian-style sausage rolls and much more.
Oi Dumplings, Winter Gardens at Piccadilly Gardens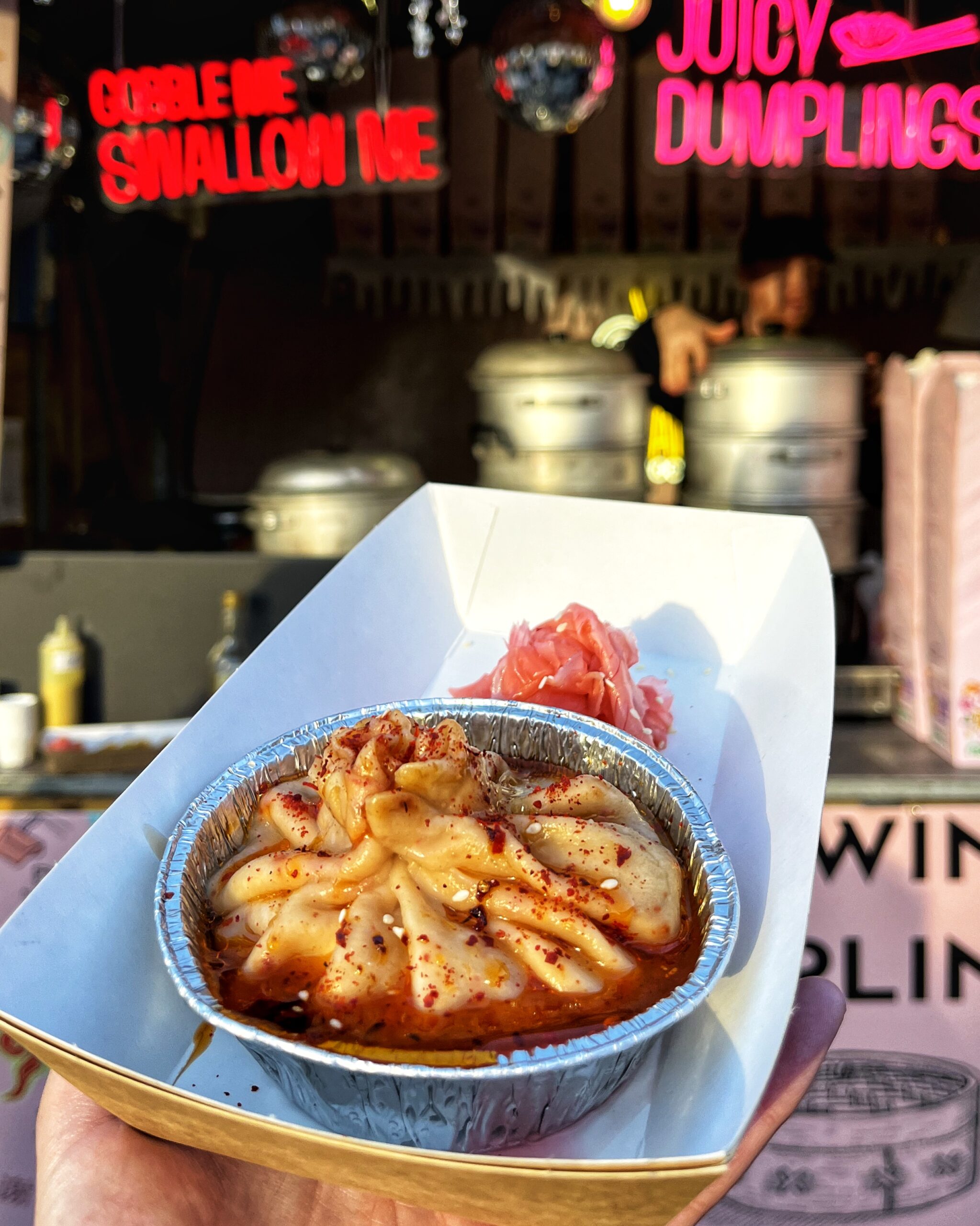 Oi Dumplings has been a The Manc fave ever since we stumbled upon their tiny dumpling cabin in Marsden, so to have them on our doorstep in Manchester is downright dangerous.
Their beautiful pink neon-clad Christmas Markets hut is serving authentic dumplings, loaded fries, and celebration rice, with dumpling fillings including pork, Chinese chicken curry, and Kimchi and cheese.
They also have giant XXL steamed dumplings on the menu, and chocolate lava moon dumplings.
Korean Crunch Gansig, Piccadilly Gardens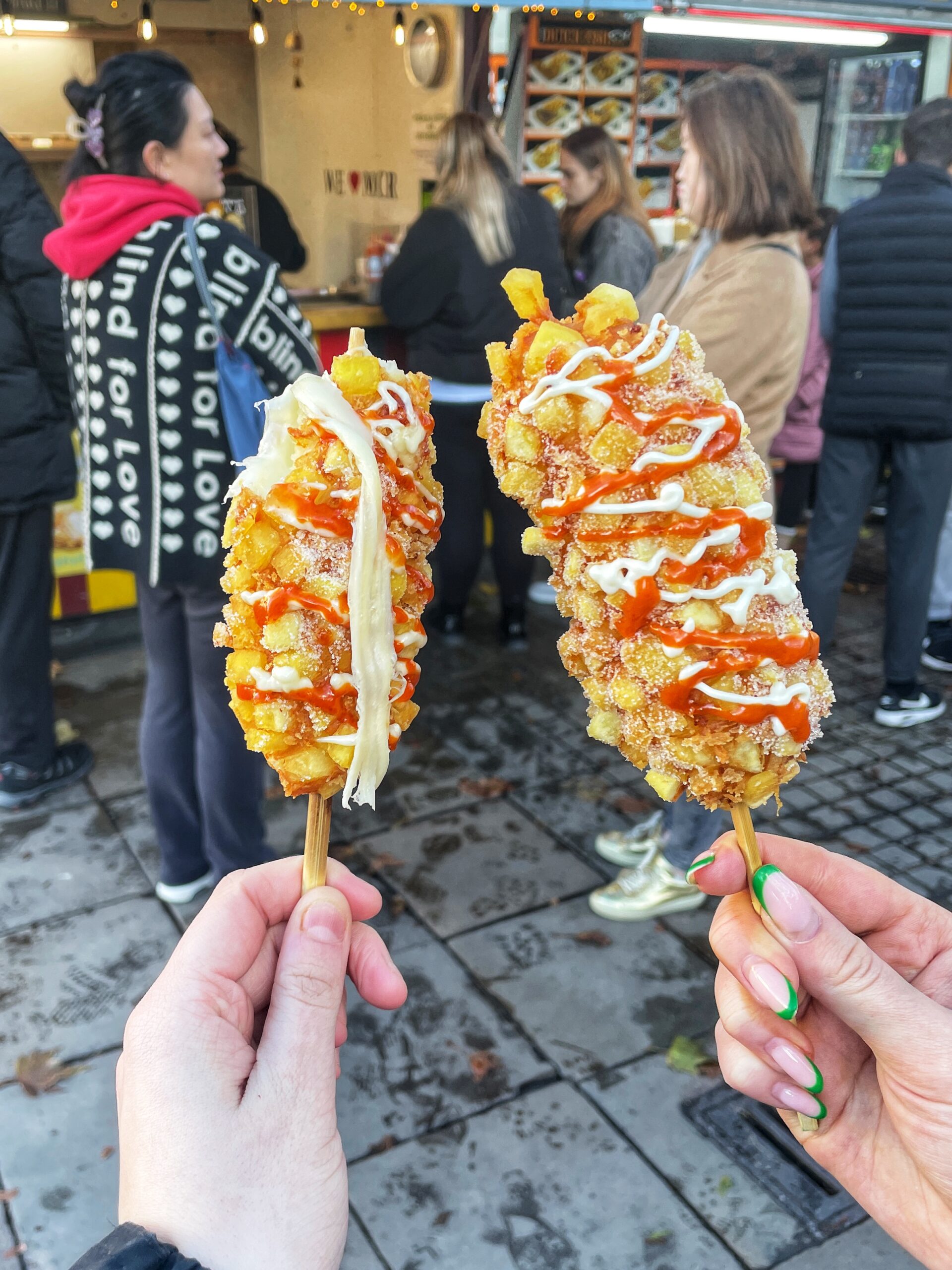 These guys were the viral breakout star of 2022, with huge queues forming for their cheese pull-heavy Korean hotdogs, with fillings including cheese, potato and meat.
Deep-fried in a crispy waffle coating and then lightly rolled in sugar, these sausages on a stick come drizzled in sweet ketchup and mustard.
They've been so popular since joining the markets that they actually stay put all year round – but you can guarantee we'll be making a beeline for them anyway.
Featured image: The Manc Group