Eats
There's an apple crumble stall with unlimited custard under the Mancunian Way
You'll also find butter chicken burgers, loaded masala fries, and incredible 'Rio Mex' tacos from Great British Menu chef Caroline Martins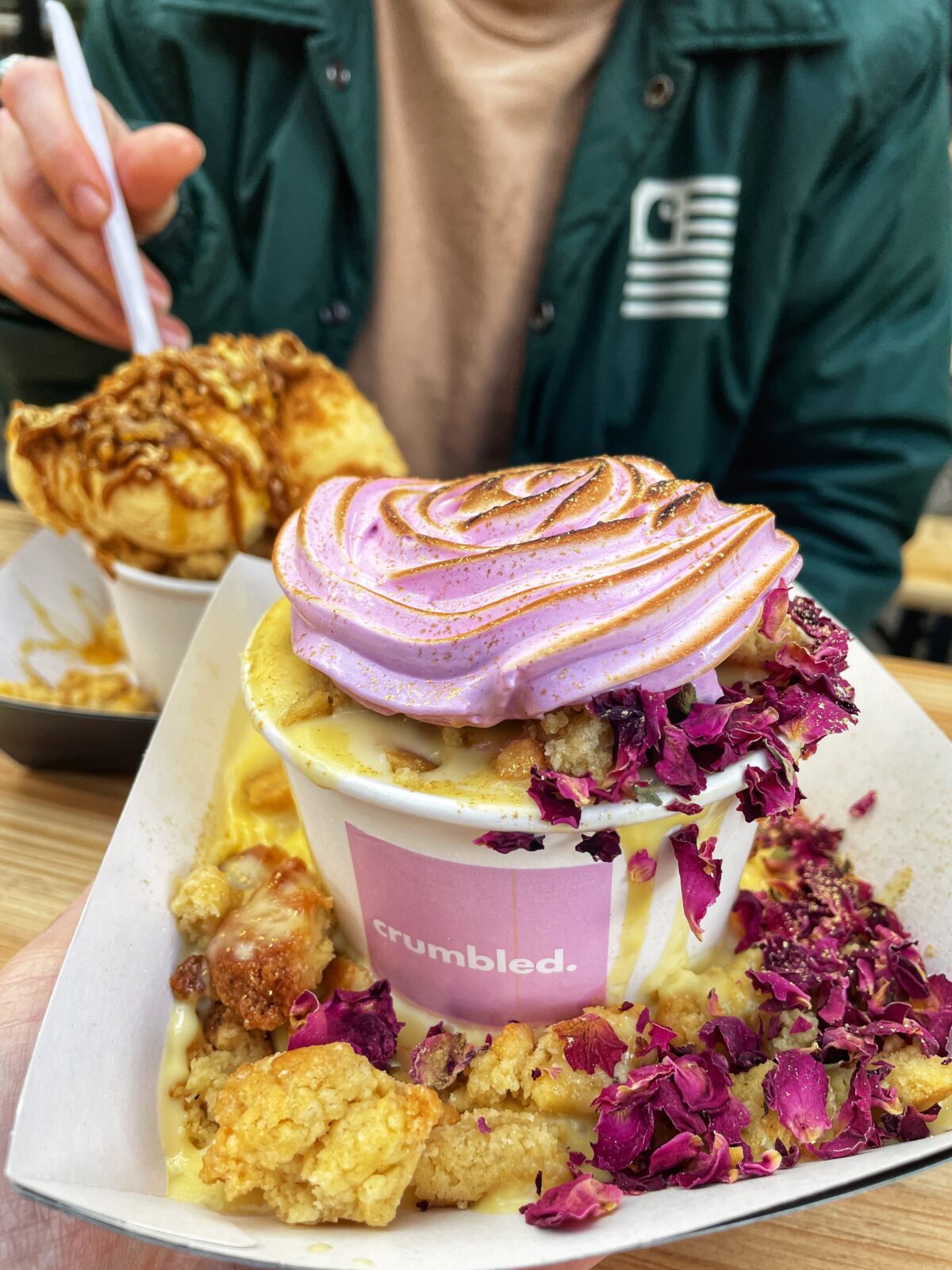 A new food stall has opened underneath the Mancunian Way selling pots of apple and rhubarb crumble with unlimited custard.
Called Crumbled, it is one of three new food traders to have moved into Hatch street food village on Oxford Road – joined by Caroline Martin's new Rio Mex taco joint, and Pakistani and Indian fusion spot Phukt.
Opened by Manchester-born fashion model Chloe Peers, the new crumble stall at Hatch offers two different types of crumbles with some eye-popping toppings including edible glitter, rose petals, Biscoff crumb and huge scoops of ice cream.
Customers can also opt to pay an additional £1 to enjoy unlimited custard refills, something that is well worth it when you find yourself halfway down the pot.
One of the newest additions to the street food lineup at the shipping container village, Crumbled neighbours a mouthwatering new Rio Mex taco joint from Michelin-trained chef Caroline Martins.
Having previously wowed Mancs with her fine-dining Sao Paulo Project menus at Blossom Street Social, not to mention starring in the north west heat of the BBC show Great British Menu, Martins is now also dabbling – eloquently, might we add – in the world of street food.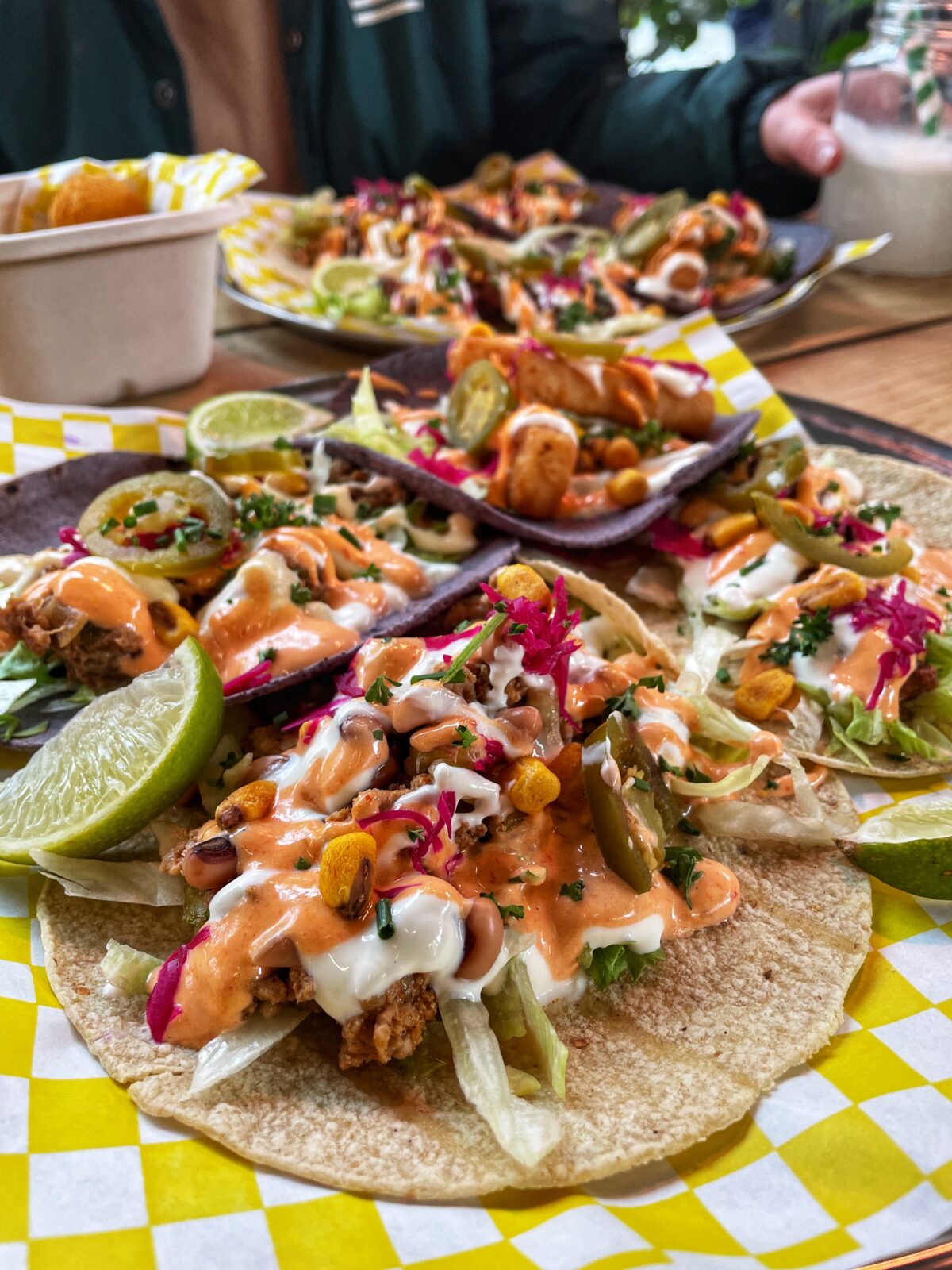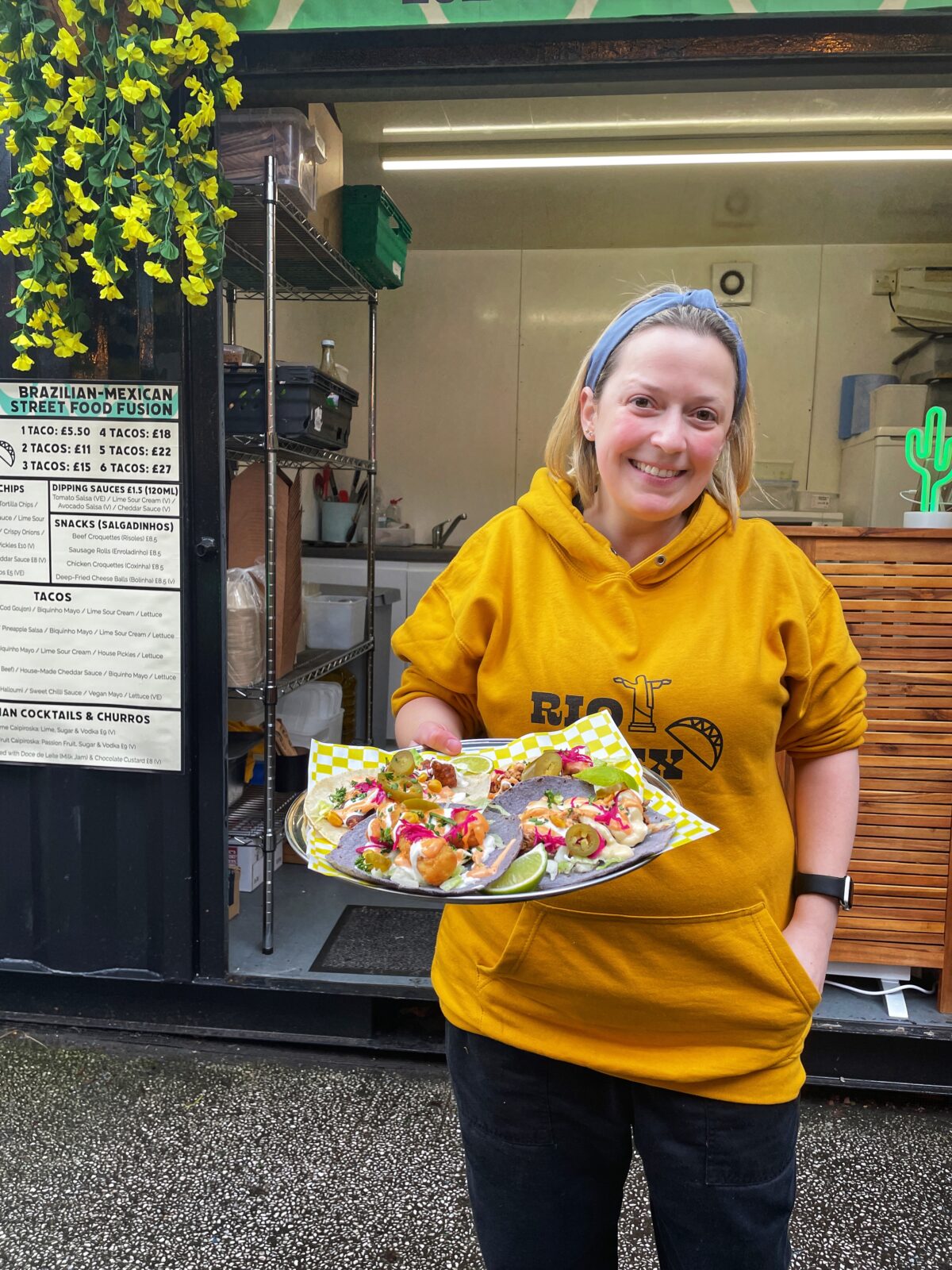 Inspired by her passion for the food of her home country of Brazil, combined with the time she spent living in Texas, Rio Mex sees one of Manchester's most exciting chefs reflecting two of her favourite cuisines.
Must-try taco fillings include baja fish with biquinho pepper mayo and lime sour cream, ground pork al pastor with pineapple salsa, a five-hour chilli con carne with beef and black beans, and a melt-in-the-mouth barbacoa with cheddar sauce and house pickles.
Read more: Rochdale chef becomes the youngest ever to win a Michelin star in Scotland

Speaking on her new opening at hatch Caroline Martins, owner of RIO-MEX, said: "I fell in love with Hatch back in 2022 when I visited for the first time – the whole vibe was awesome! It's the home of diversity in Manchester and a place where you can get everything done in one place.
"You can pop in, get your nails done, buy a cool vintage vest, get a cocktail at Miami Ice and have some incredible street food for dinner. And now RIO-MEX is joining; we can't wait for everyone to try our beautiful Brazilian-Mexican fusion menu."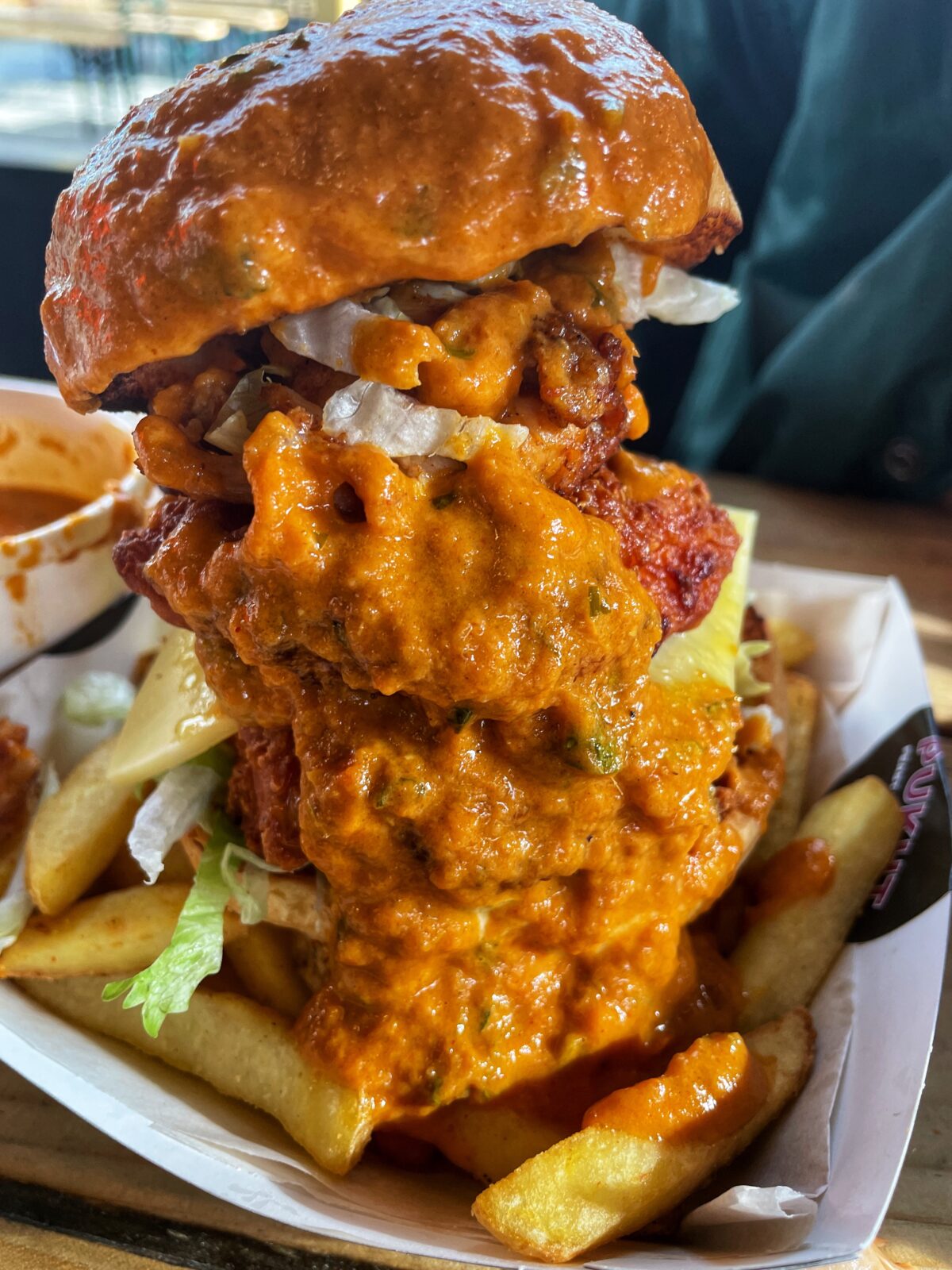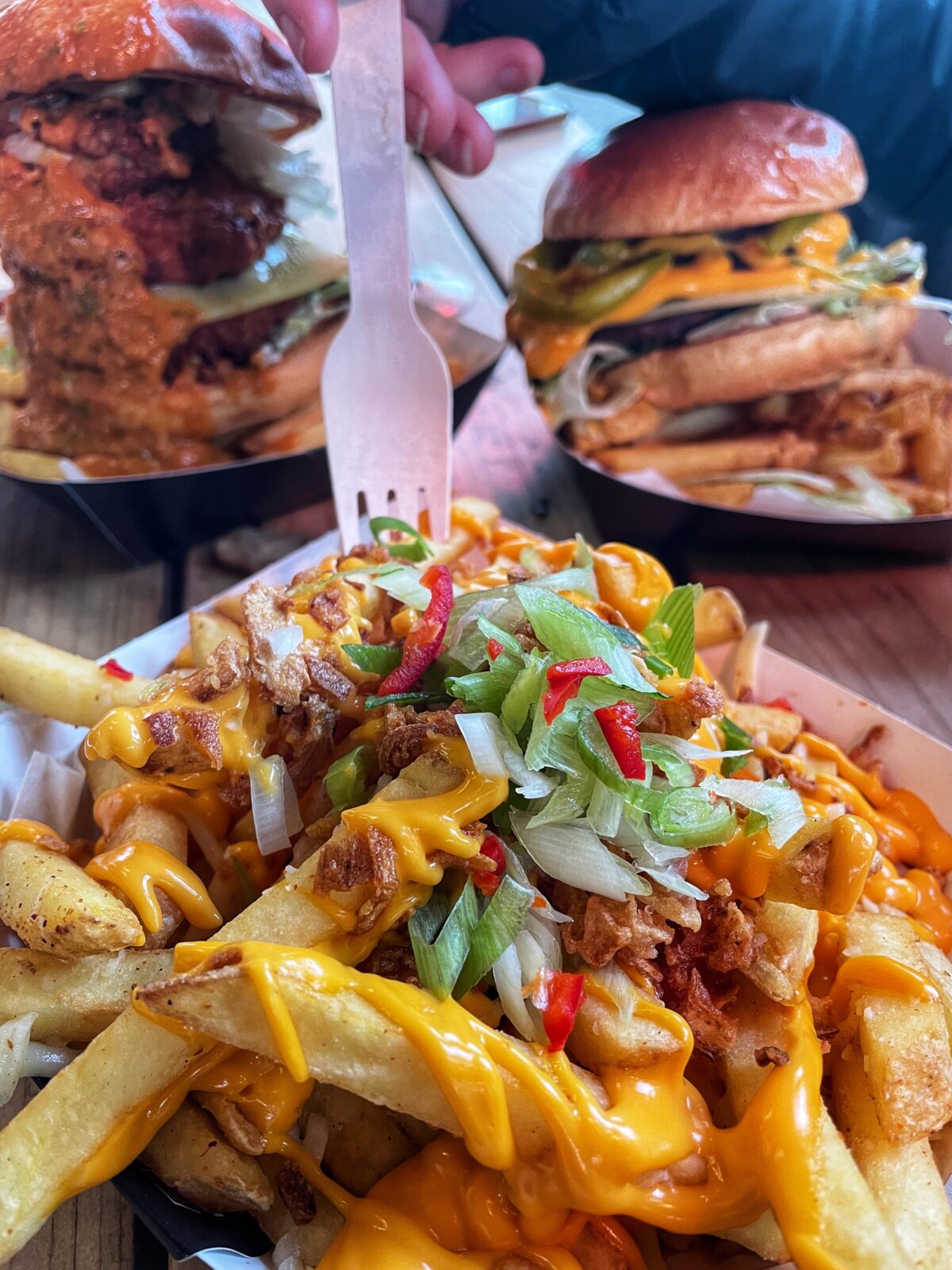 Read more: Heinz has released a new hot cross bun-flavoured mayonnaise and it's meant to be 'seriously good'
You'll also find butter chicken burgers and loaded masala fries over at newcomer Phukt, which is serving up Pakistani and Indian fusion dishes.
Promising a 'feast from the East', think tandoori gyros and biryani burritos, plus chaats, salads, dirty burgers and more.
Feature image – The Manc Eats
Hatch, Manchester's award-winning food, drink, and retail destination, has welcomed a number of fabulous new traders with a Brazilian-Mexican eatery from one of Manchester's most acclaimed chefs and there's also a brand new vintage retailer making a new home for itself within the Hatch community.
Great British Menu's Caroline Martins, who has worked in some of the world's most highly-esteemed restaurants and was responsible for Manchester pop-up success story Sao Paulo Project, is bringing her brand new concept RIO-MEX to Hatch. RIO-MEX is a Brazilian-Mexican fusion street food project, and will be serving tacos, loaded nachos, churros and salgadinhos, which translates to 'savoury nibbles' and are often served at Brazilian pubs. Menu highlights include the Chilli Con Carne Taco, which takes five hours and the perfect blend of herbs and spices to prepare.
The inspiration for RIO-MEX came from Caroline's passion for the food of her home country of Brazil, combined with the time she spent living in Texas. Whilst there, Caroline developed a passion for fusion cooking and RIO-MEX was born – a brand new concept for one of Manchester's most exciting chefs reflecting two of her favourite cuisines.
Caroline Martins, owner of RIO-MEX commented:
"I fell in love with Hatch back in 2022 when I visited for the first time – the whole vibe was awesome! It's the home of diversity in Manchester and a place where you can get everything done in one place. You can pop in, get your nails done, buy a cool vintage vest, get a cocktail at Miami Ice and have some incredible street food for dinner. And now RIO-MEX is joining; we can't wait for everyone to try our beautiful Brazilian-Mexican fusion menu."