Eats
There's still time to sign up for the UK's hottest wing eating contest in Manchester this month
No milk is allowed for two minutes after finishing the wings.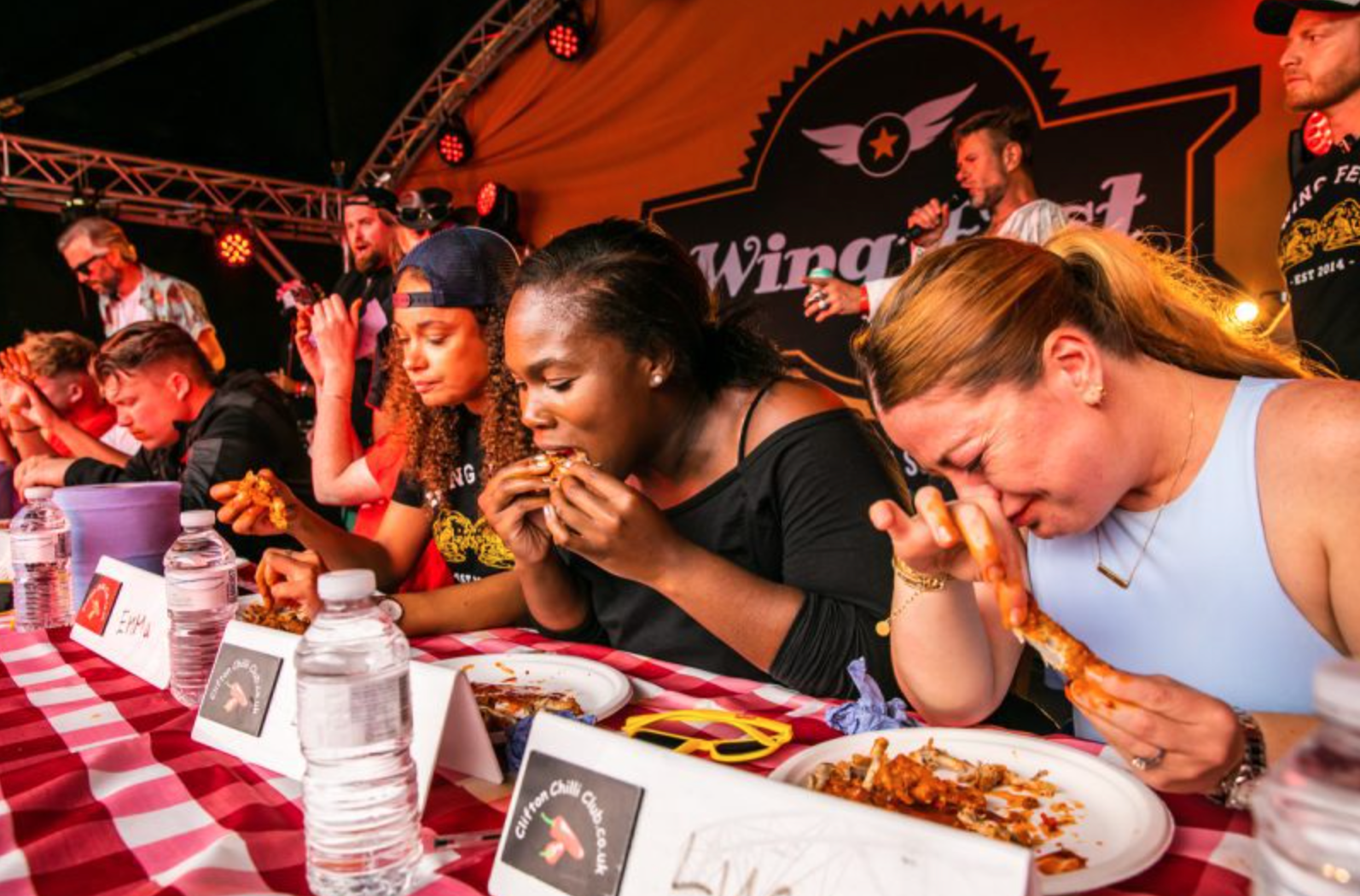 There's still time to stick your name down to take part in a super spicy wing eating contest that's returning to our city by popular demand this month.
And you can even sign-up on the day too, if you're feeling spontaneous – and brave – enough.
Big fan of wings? Consider yourself somewhat of a chicken wing connoisseur? Fancy uniting with thousands of other wing lovers at the world's biggest chicken wing festival in just a couple of months? Well, you're in luck – Wing Fest is returning to a popular Greater Manchester location in just a few weeks time, and we couldn't be more excited about it.
Wing Fest 2022 is set to bring together the UK's very-best to serve up a whopping 200,000 wings over a two-day period.
In what is always one of the biggest events in the calendar for the region's foodies, Wing Fest 2022 will this year taking place at The Trafford Centre on Saturday 24 – Sunday 25 September, and here you'll find 20 different street food traders, restaurants, BBQ teams, and pop-ups from across the country serving up their signature bites, as well as the UK's finest chicken experts showcasing their culinary skills in a bid to be crowned the 'Wing King or Queen'.
There'll also be bars selling different bourbons and beers, axe-throwing stations, fairground rides, and live music and DJs to set the party atmosphere across the weekend.
But the festival itself is not the only thing making a comeback – what is Wing Fest without an eating challenge?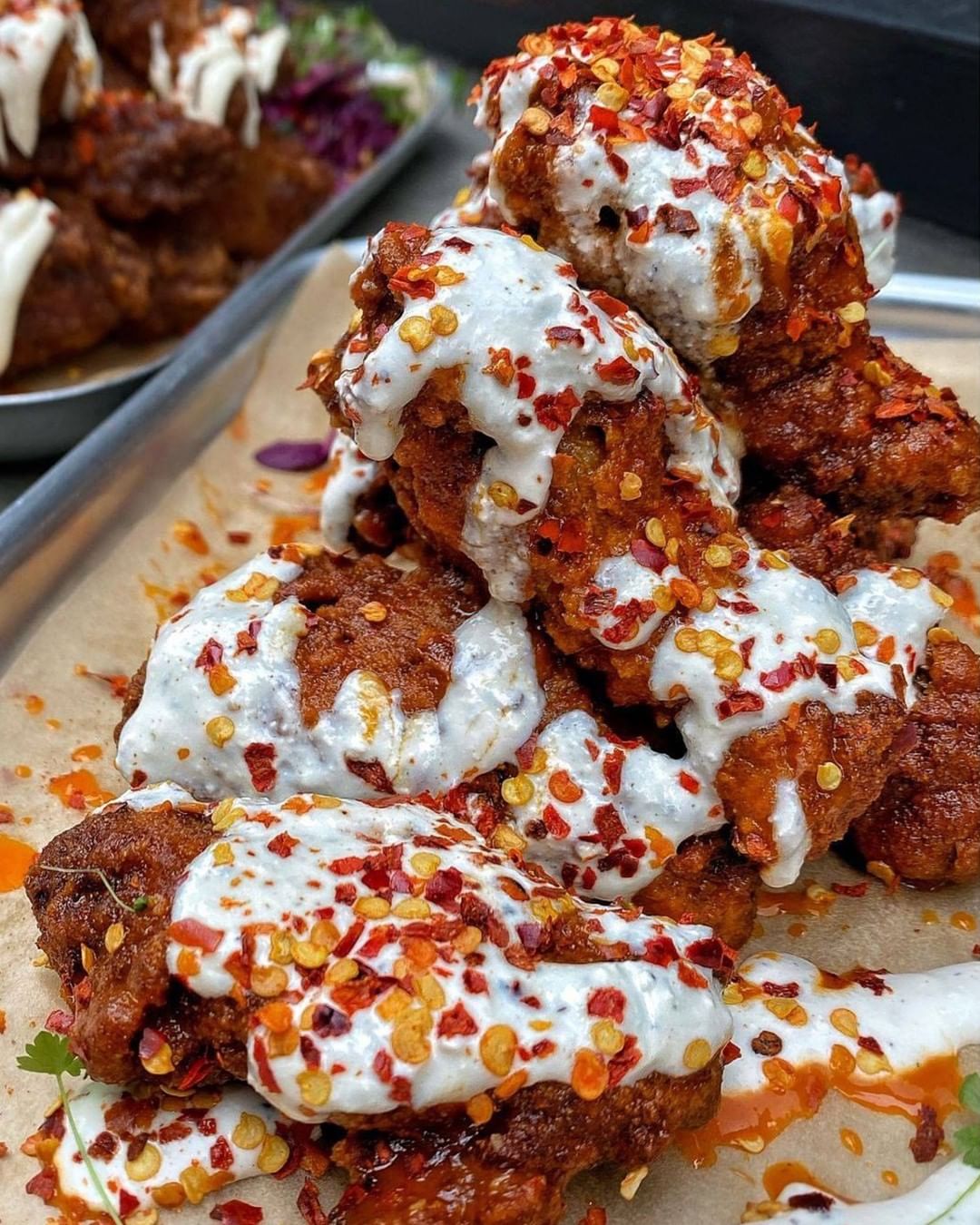 If you really claim to be a true wing aficionado, and reckon you can handle the heat, then you'll probably want to consider taking part in the event's popular wing eating competitions, which take place on both days of the festival.
The Lava Wing Challenge – which is this year hosted by Food Review Club and hot sauce legends Clifton Chili Club – sees brave and hungry individuals compete against one another on the main stage to see who can eat the most, and festival organisers proudly say it "causes carnage every year".
It's also considered to be "the hottest wing eating challenge in the UK".
Read more: The world's biggest chicken wing festival is coming back to Manchester
But just how hot are the Lava Wings then? Well, Clifton Chilli Club brews and strengthens the infamous Lava Sauce over a 12-month period and use 15 years of chilli-growing experience to deliver this world-beating, and apparently quite tasty, liquid of fire.
The rules for the eating challenges are simple.
All you'll need to do is eat eight Lava Wings as quickly as possible, with the bones sufficiently cleaned, and then you have to wait and feel the burn of the spicy sauce for two minutes, with the first person to complete the two minutes being crowned the winner.
While you can't drink any milk or water during the challenge, and will need to wait until after, all participants will be provided with safety equipment.
And remember – do not touch your eyes.
Those taking part in the challenge this year will be up against the two-time champion of the Manchester Wing Fest Lava Wing Competition, Andrew McJimpsey aka The Dizzy Scot, who has confirmed he will be back for more in 2022, and he's already calling the event the "highlight of [his] year".
Offering some tips for those looking to take him on, Andrew said: "I think that goes without saying that you have to love wings – but in addition, you have to love the burn. The wings themselves are unbelievably hot.
"Think of the hottest thing you have ever tried and times it by 100 and you're still not even close to how hot they are.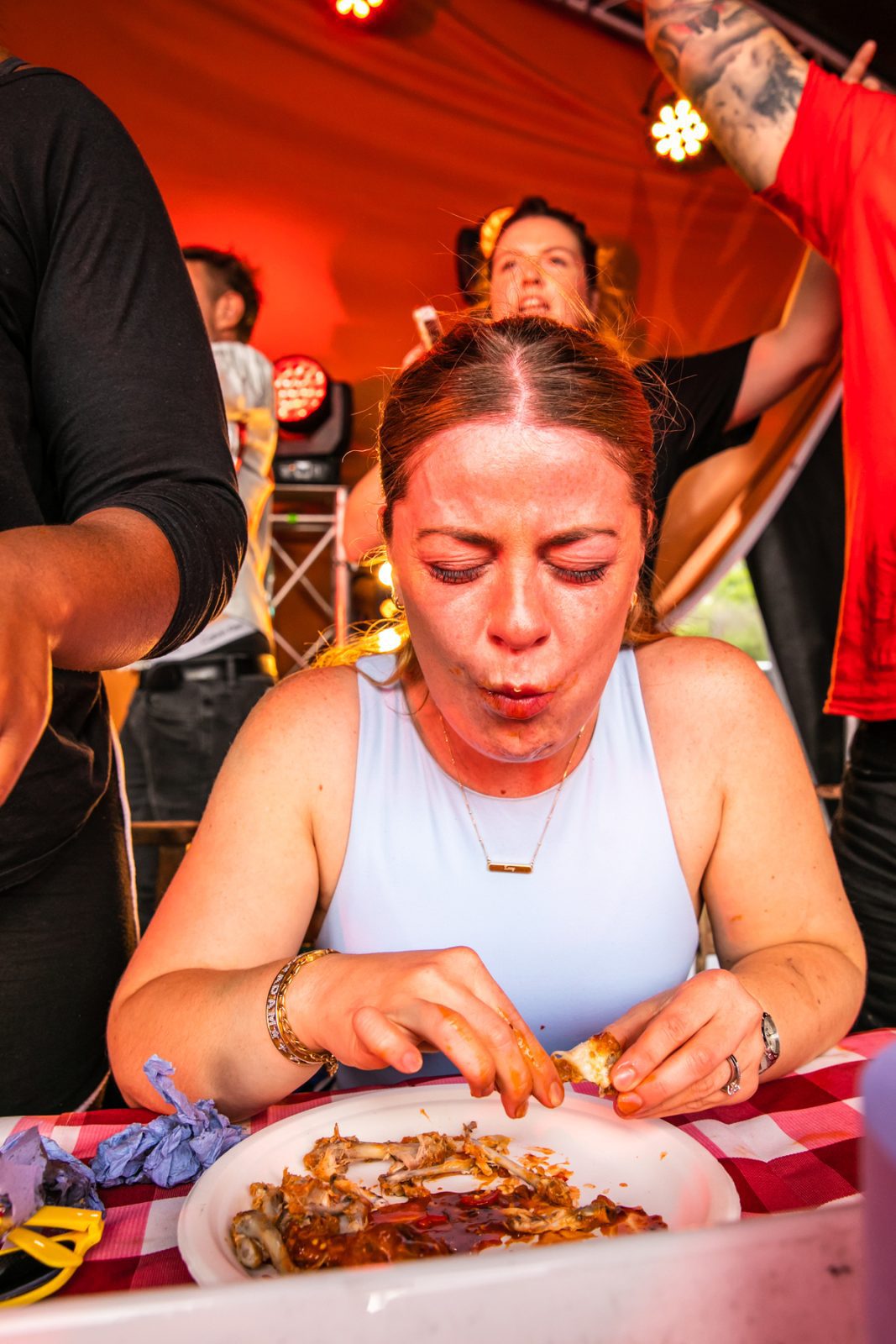 "My secret is something you can't teach.
"When my body says "give up" my mind says, "this is where winners are made" and when the mind says, "give up", my heart says "this is where champions are made."
"As I always say, "you may take my tastebuds, but you will never take my freedom."
Keen to give it a go then? To get involved in the Wing Fest 2022 Manchester Lava Wings Challenge, you'll just need to grab a ticket for the festival and then sign up on the day at the event to enter the challenge.
You can grab tickets here.
Featured Image – Wing Fest UK