Manchester
Chorlton community rallies around local family in need after heartwarming appeal
The family was inundated with offers of support after mum Lisa Cerven explained they had nothing in the cupboard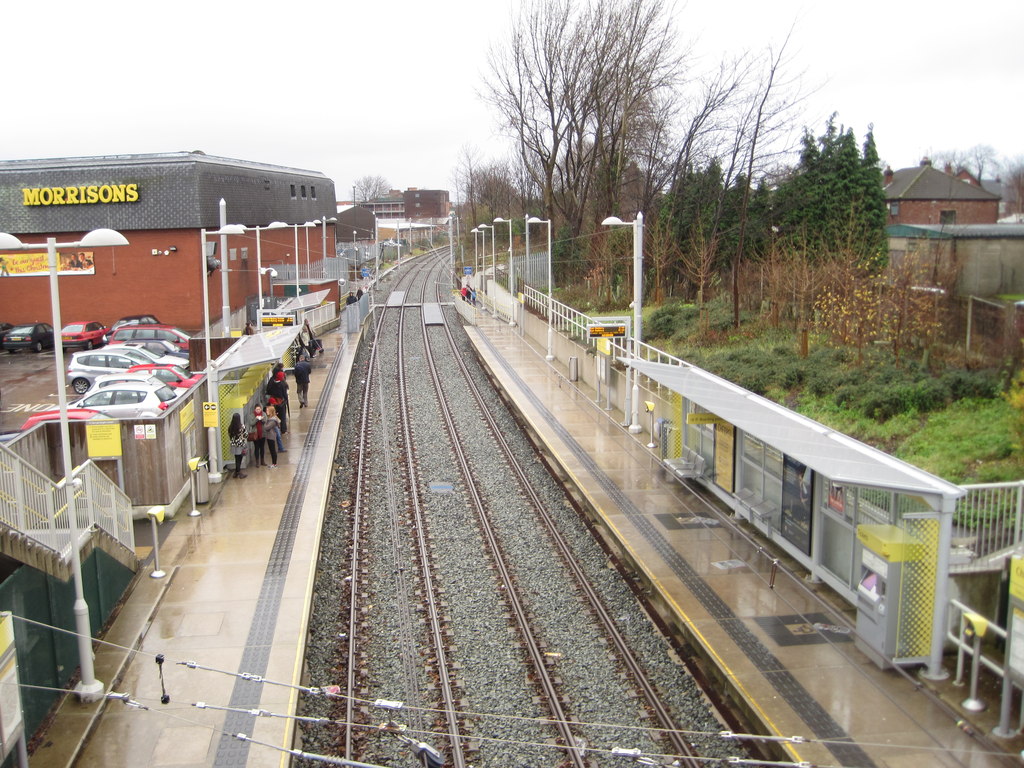 A Manchester mum has been blown away by her local community's kindness after posting an appeal on Facebook asking for help feeding her kids.
After her son's Disability Living Allowance was changed, leaving the family waiting for a payment with nothing in the cupboards, Lisa Cerven took to the Chorlton M21 Facebook group to ask if anyone could donate some food to tide them over.
Starting by saying that she felt "very ashamed to be asking", she continued to explain that her son's DLA had been changed until next week – even though she was originally meant to be getting it this Tuesday.
She continued to say that she was planning to get "a nice big shop in" as both of her kids "eat a lot", but as the result of her son being moved onto a new benefits system, they would now have to go without for another week.
Elaborating further, she said that "it has really really messed me up" and explained that she had "literally got nothing in", adding: "if anyone has anything food wise spare I was hoping maybe you could help".
The post continued: "My electric will be fine until Tuesday when I get £20 and we can cope with no gas for a while with blankets and stuff (please no hate).
"I have tried a few things and we got by until now but even if it's just for my kids I don't care about myself, anything will help.
"Again I'm terribly sorry for being cheeky, even any food banks that can deliver or are close to me that are open now, thank you."
The post, first shared on Sunday, quickly saw locals pile into the comments section with offers of help.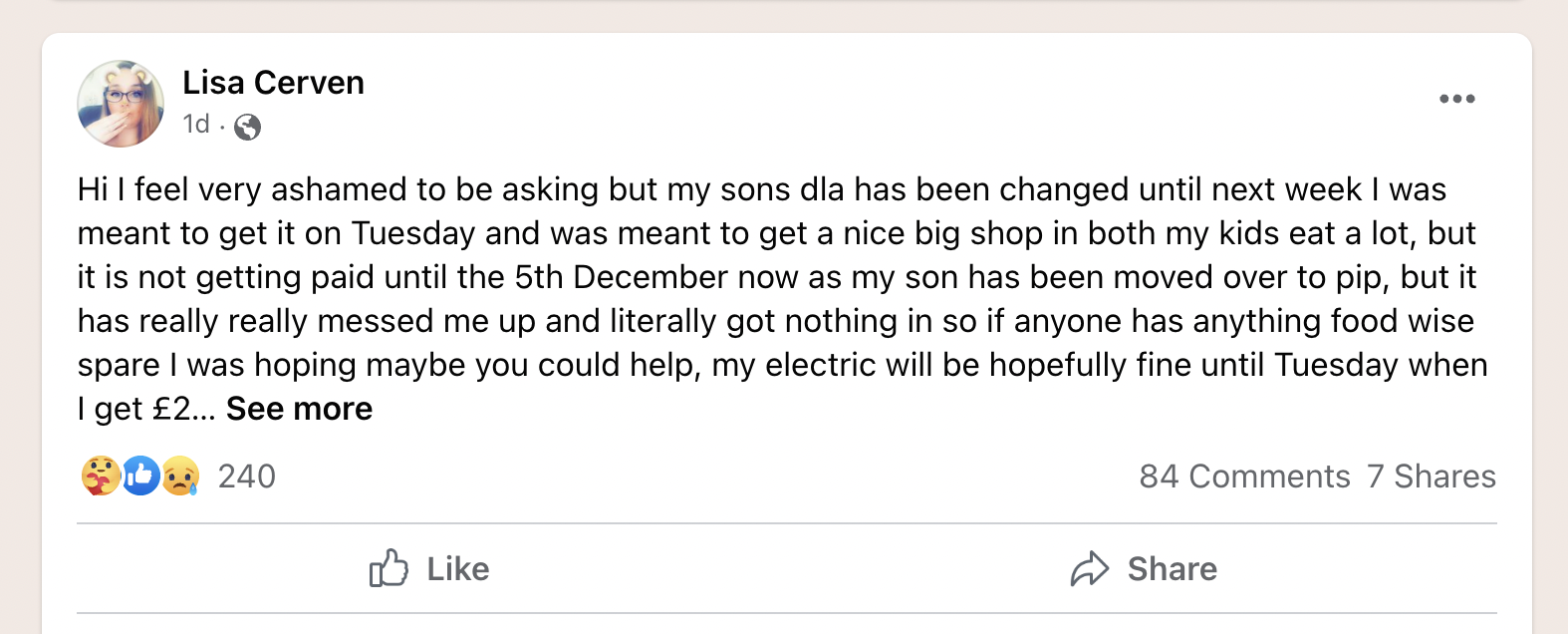 From people running food banks offering to "send out whatever food you need", to offers from locals to send a takeaway to the house and come by and drop off money for gas, Lisa has been inundated with support from all angles.
One person said: "Where about you are I will drop you some money for gas"
Another person said: "If you need anything I'm happy to help. Send a bit of money or take you do a little shop. xx"
A third added: "I can drop some fruit and veg off now if you message me"
A fourth said: "If it is any help I can transfer you some funds, it won't be anything big but something enough for you to get yourself some warmth in the house as I don't want you and your kids keeping cold in these difficult cold days to come."
Within a few hours of the post being, Lisa commented underneath to say: "Turning the comments off! Had the most amazing replies! This community really is the best!!! THANK YOU to everyone xxx"
Speaking to The Manc about the donations she's received, she added: "This community has been absolutely amazing."
Read more: Shoppers report getting stuck for FIVE HOURS in Manchester Arndale car park
As well as a large number of people commenting on Facebook with offers of help, others sent messages of solidarity and support for her situation.
One person wrote: "You've got nothing to be ashamed of it's the Government that should be ashamed. Bless you I hope you get what you need and even more to help you along a bit."
Another said: "Lisa Cerven please please don't feel ashamed for asking for help! I admire you for reaching out. Times are so hard at the moment, it shouldn't be happening but it is.
"It looks like you've had lots of offers of help from the community since you've posted this but if you don't manage to get what you need please don't hesitate to contact me and I'll help where I can. Sending you my love xxxx"
Read more: Marcus Rashford finally responds to 'idol' Cristiano Ronaldo's United departure
A third added: "Pls never feel ashamed to ask Lisa, if you can't rely on your community then we are in a dire state. x"
A fourth said: "I have spoken with this lady tonight and I must say I'm so proud of our local community who have helped her. It means so much to her and her kids and it's took a lot for her to ask."
Feature image – Commons Wikimedia
She wrote: "Hi I feel very ashamed to be asking but my sons dla has been changed until next week.
"I was meant to get it on Tuesday and was meant to get a nice big shop in both