Manchester
Manchester cafe Idle Hands mobbed by huge swarm of bees who took over outdoor tables
'Fun day at the shop today'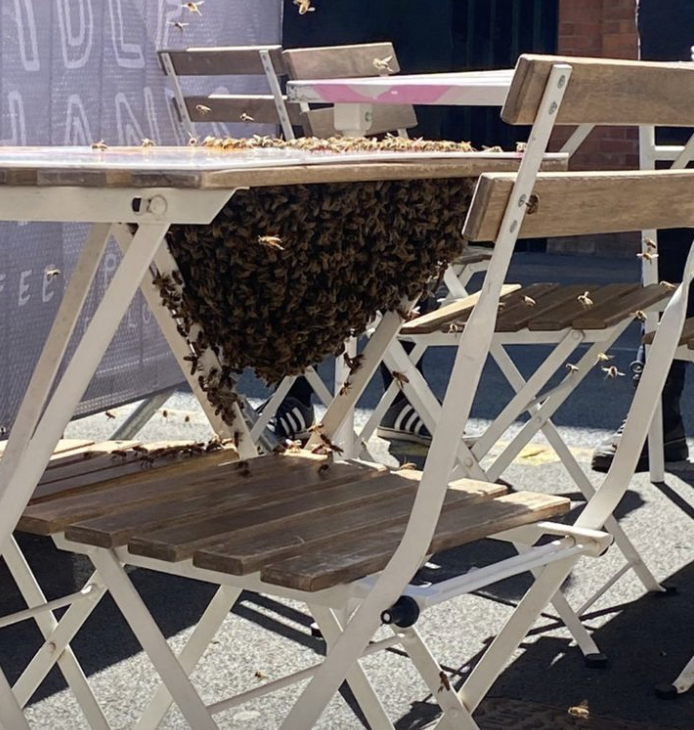 One of the Northern Quarter's most popular cafes had an unusual issue on Saturday afternoon, when tens of thousands of bees paid a visit.
It seems the swarm of bees had got wind of Idle Hands' legendary pies and took over one of the venue's outdoor tables.
The cafe had to call in a local beekeeper after the busy insects rendered their outside space too risky for customers to use.
Incredible photos captured by local photographer Andrew Stuart and shared by the cafe show a jaw-dropping mass of the insects congregating beneath a table.
The cafe, on the corner of Dale Street and Tariff Street, was saved by the Manchester Honey Company, who humanely scooped them away to safety.
Idle Hands wrote on Instagram: "So, fun day at the shop today, with thousands of bees moving home and deciding to drop in on our shop and cluster under one of our tables (now forever to be known as the bee table) whilst on their journey.
"Massive thanks to @manchesterhoneycompany for coming and safely taking them away to a far more suitable home. And to @andrewstuart1 for capturing the event so well!"
They had previously posted on their stories: "Erm, anyone know what we do about this??? Swarm of thousands out of nowhere."
Manchester Honey Company said: "This swarm landed @idlehandscoffee in Manchester and was collected by @manchesterhoneycompany. The bees were so friendly and calm and we were so well looked after by the friendly staff.
"The bees were collected from under a table and put in the hive. The queen was in the hive so the rest of the bees followed her in."
The incident with Idle Hands is far from the first time that swarms of bees have caused disruption in the city centre.
Just last week, a massive swarm was spotted on a lamp post outside a popular pub near the Cathedral.
And in previous years, the creatures have taken over everything from people's cars to posters advertising festivals.
Read more
Featured image: Instagram, Idle Hands