Manchester
Extraordinary Mancs celebrated at star-studded Pride of Manchester Awards – all the winners
All the amazing winners right here.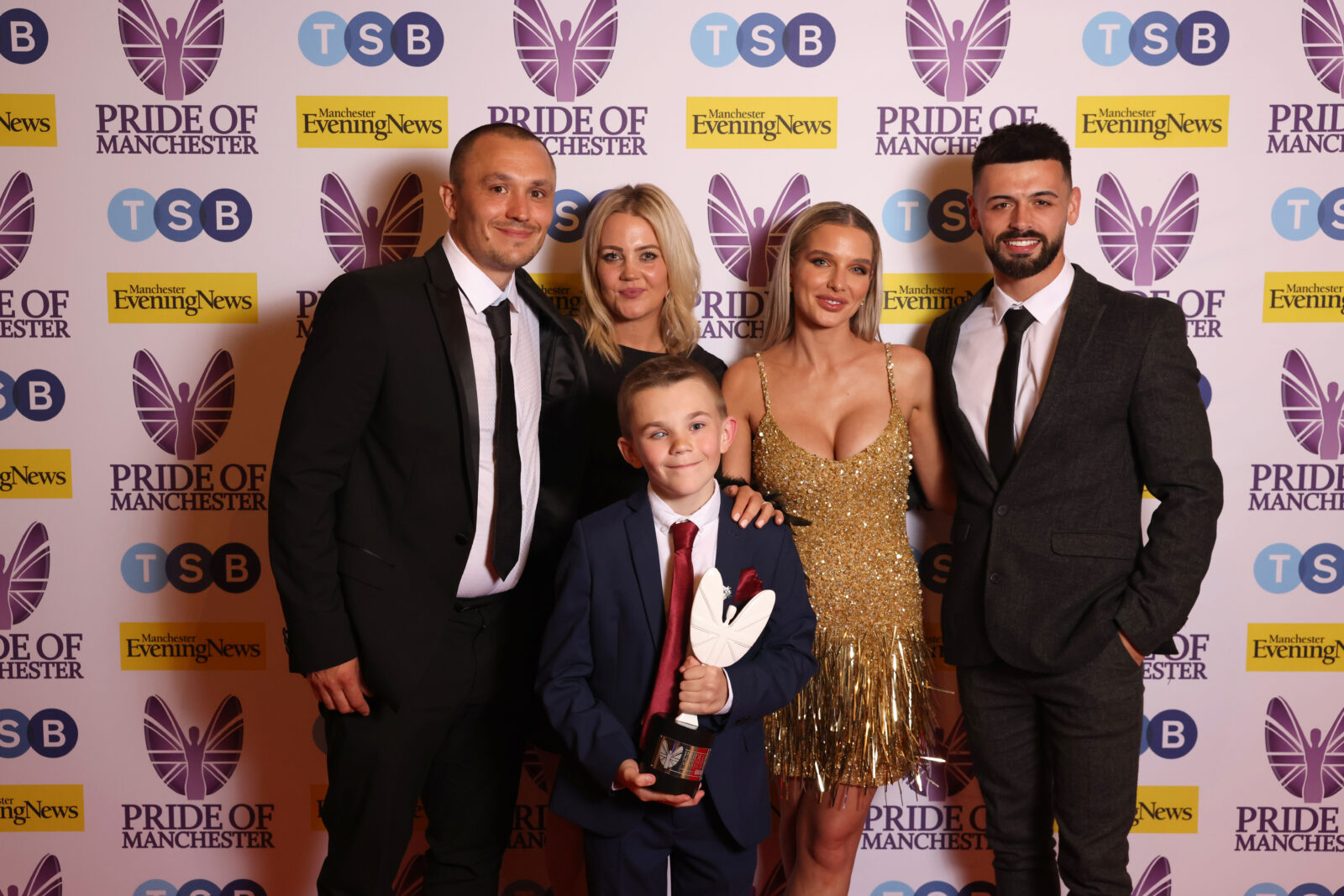 The M.E.N Pride of Manchester Awards last night honoured the unsung heroes and extraordinary Mancunians from our communities, in a star-studded and emotional ceremony.
Winners came from all walks of life and have been celebrated for everything from raising money for great causes to acts of fearless bravery.
The glamorous event last night at the Kimpton Clocktower saw famous faces walking the red carpet, including Harry Maguire, Helen Flanagan, Christine McGuinness, Lana Jenkins and Ron Hall, Claudia Fogerty, Jorgie Porter, Janette Manrara and Aljaz Skrojanec, Sue Johnston, Shaun Ryder, Olivia Hawkins, Sair Khan, Laura Anderson and Rebecca Adlington.
Kym Marsh presented the annual awards, recognising incredible local people aged between 11 and 80 years old.
The deserving winners included an 11-year-old who has been bullied at school for a rare health condition, who chose to raise money for the hospitals who look after him.
An emergency service award was handed to an off-duty police officer who tackled a machete-armed man near a school, while a pensioner who has raised hundreds of thousands of pounds for hospice charities by playing his accordion was named fundraiser of the year.
Emma Springham, Chief Marketing Officer at TSB, headline sponsors of Pride of Manchester commented:
"At TSB, we're delighted to support the Pride of Manchester Awards, and it's been a real pleasure for me to be part of this year's judging panel.
"There were so many inspirational stories from all over Manchester, it was incredibly tough to choose between them. The communities we serve are at the heart of what we do at TSB, so we're particularly proud to support the TSB Community Hero Award, and this year recognise Florence Coke's outstanding efforts to improve the lives of those around her."
Host Kym Marsh added: "It's always a very special night, I love hosting these awards and feel very honoured to have been asked again.You meet so many inspirational people, and getting to listen to their stories, and be inspired by them, is a wonderful and special privilege."
The M.E.N Pride of Manchester Award-winners in full
Child of Courage – Taylor Dignan, 11
Bullied youngster with a rare health condition is raising awareness and money for the hospitals that look after him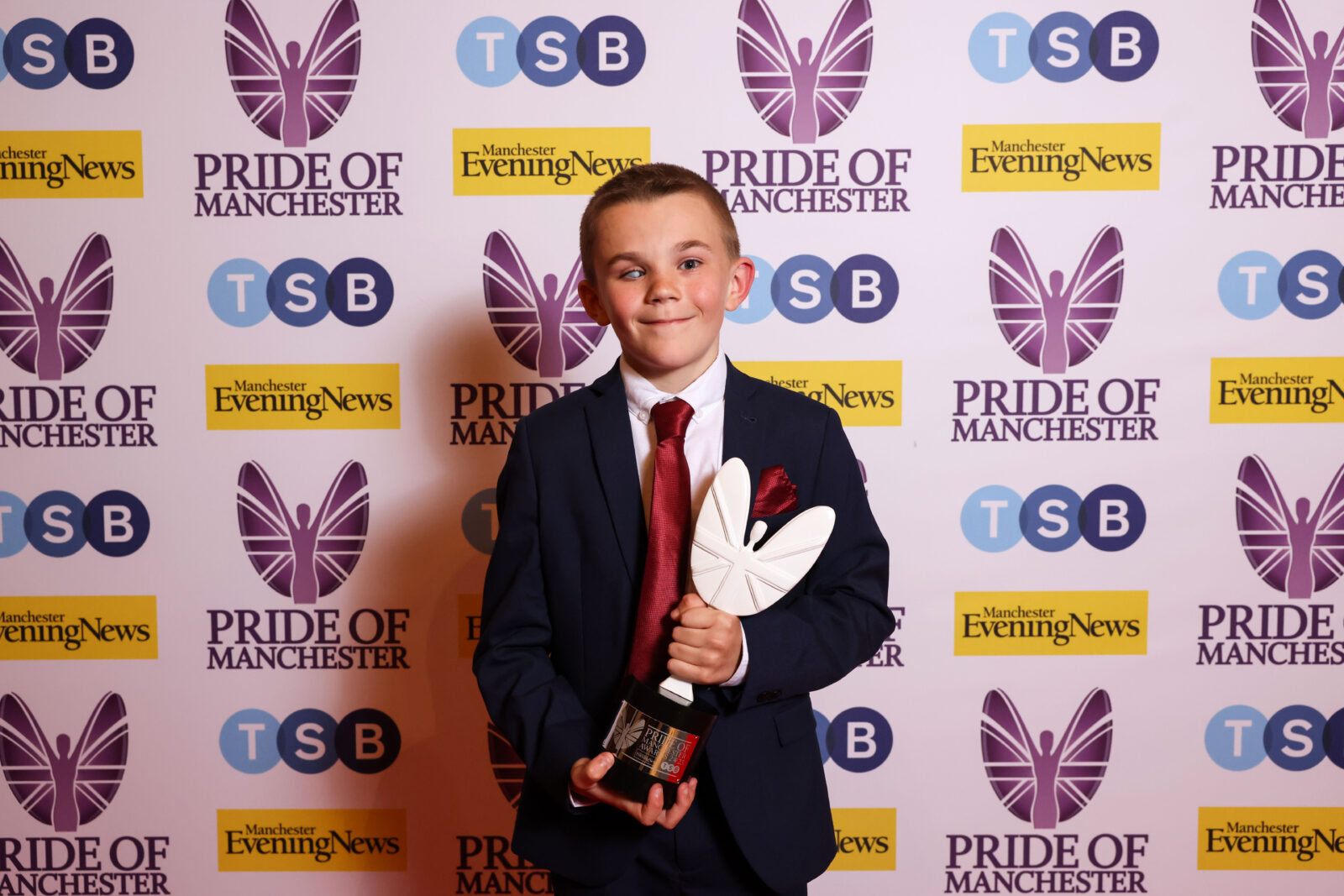 Taylor was diagnosed with Anterior Segment Dysgenesis shortly after he was born, and had the first of many operations when he was just two days old. ASD is a spectrum of disorders, and in Taylor's case, he is blind in one eye, has "shell-like" teeth and has to inject growth hormones every day.
Taylor, from Stockport, was bullied at school for looking different, which affected his confidence, but rather than feeling sorry for himself, at the age of 10 he decided to raise money for the hospitals that continue to treat him and also help other children with disabilities celebrate their differences.
For his first challenge he completed 11 one-mile runs cheered on by mum Sam, dad Dan, and younger brothers Harrison, eight, and Bobby, six. He ended up at his beloved Stockport County football ground and managed to raise more than £2,500 for Royal Manchester Children's Hospital and Manchester Royal Eye Hospital.
He says: "I know how it feels to be in and out of hospital – I've been going there all my life. I also know what it feels like to be bullied. I don't want other children to experience what I did, which is why I'm telling people about my condition."
For his next challenge, Taylor is running 20 miles in 20 days with 20 people – and so far he has already raised £1,700 towards his £5,000 target.
Jo Thomas, Community Fundraising Officer at Manchester Foundation Trust, said: "Taylor is such an inspiring young man and his family must be so proud of everything he has done."
Young Fundraiser – Hannah Miah, 11
Schoolgirl has raised more than £24,000 to help underprivileged youngsters in honour of her late grandfather's memory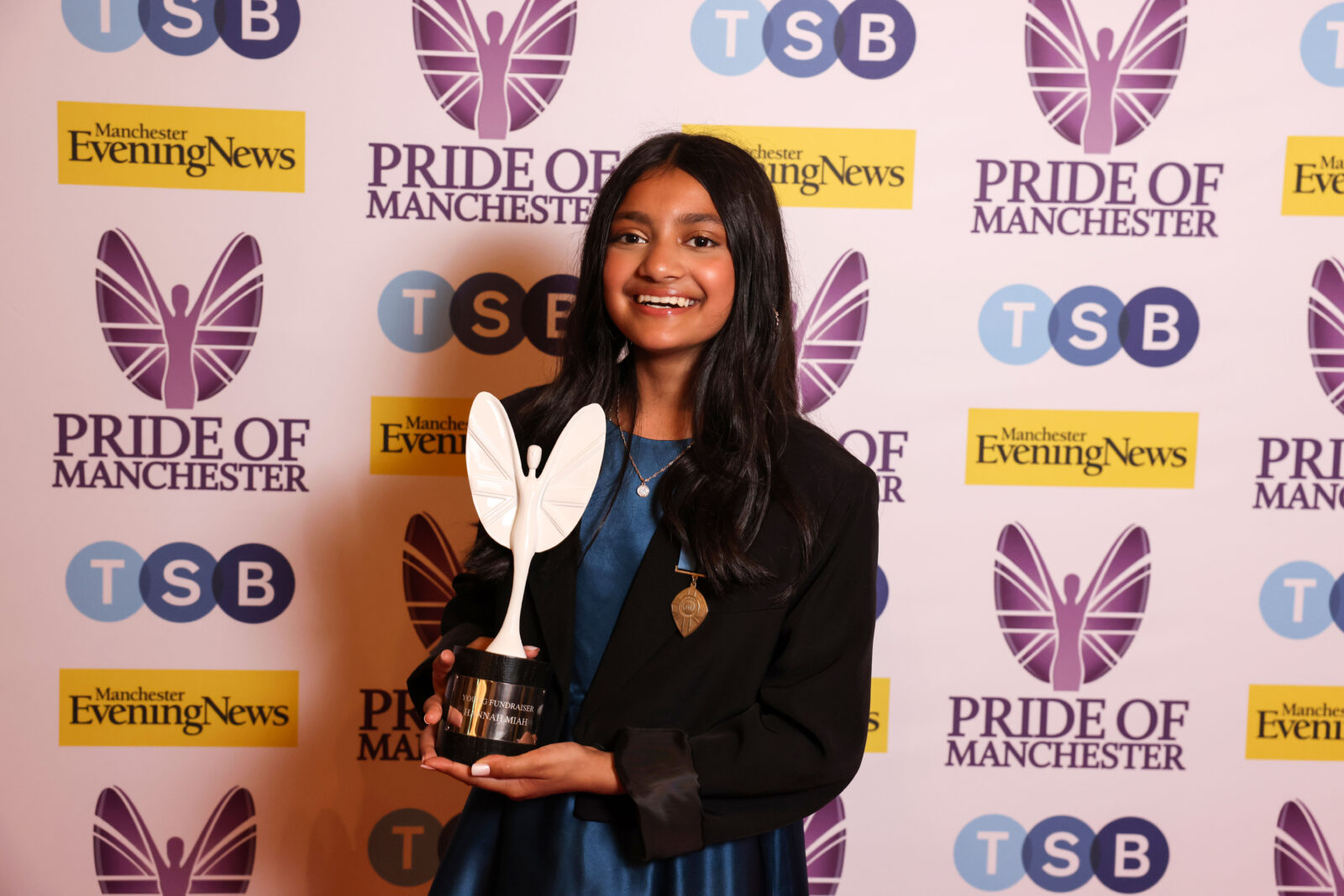 Hannah grew up inspired by her community activist grandfather Mohammed, who taught her about the importance of charity. After watching a video about street children in Bangladesh, where Mohammed supported a school, the 10-year-old from Oldham decided she wanted to help.
She pledged to walk 40km during Ramadan and initially set herself a £1,000 fundraising target. By the time she finished, her total had reached £15,620 for the Muslim Charity which went towards building two shelters for street children.
Sadly, just after Hannah's first charity campaign, her grandad passed away. She was determined to keep on fundraising in his memory during Ramadan last May, she walked 50km and climbed Snowdon in Wales, raising a further £8,500.
Dad Jewel says: "Hannah was very close to her grandad and he was an inspiration and mentor to her.
"He always talked to my daughters about the importance of charity work and was really, really proud of her. He was passionate about raising funds for schools in Bangladesh and had wanted to join Hannah's next charity campaign. It's a shame he isn't around now because he would be even more proud."
Emergency Services – PC Paul Spinks
Off-duty officer tackled a man waving a machete near a school with parents and children gathered outside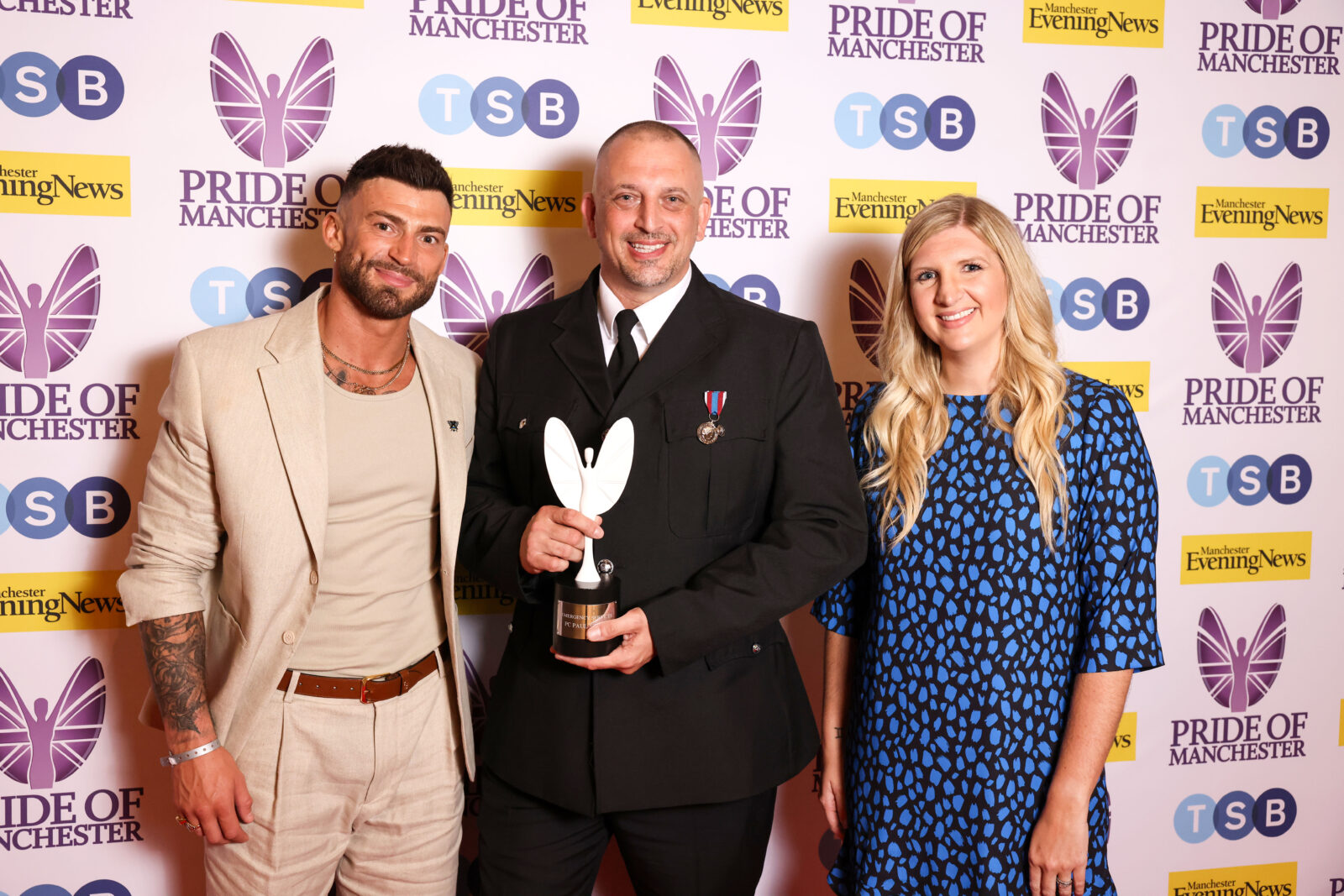 Police officer Paul Spinks was off duty last May when he spotted a man wielding a machete and making threats to members of the public near a school in Salford. With parents and children arriving on the morning school run, PC Spinks felt he had to act.
After calling in the incident, despite wearing civilian clothes and without any protective equipment, he approached the man with the machete directly.
The man was agitated and not responding positively so PC Spinks realised he needed to detain him. After making sure members of the public were at a safe distance, and at great risk to himself, he tackled the man. A struggle ensued and PC Spinks was eventually able to disarm and restrain him. The man was later convicted and jailed. A spokesperson for Greater Manchester Police said: "Paul put himself in harm's way to ensure that the public were protected. This was without PPE or immediate back up.
"I can only imagine the moments leading up to disarming the man, detaining him and awaiting backup must have been extremely stressful and his actions should be applauded.
"Had Paul not have acted the way he did then a member of the public could have been seriously injured."
Fundraiser of the Year – John Jones
Accordion-playing pensioner has raised £320,000 for his local hospice and £100,000 for the hospital that cared for his wife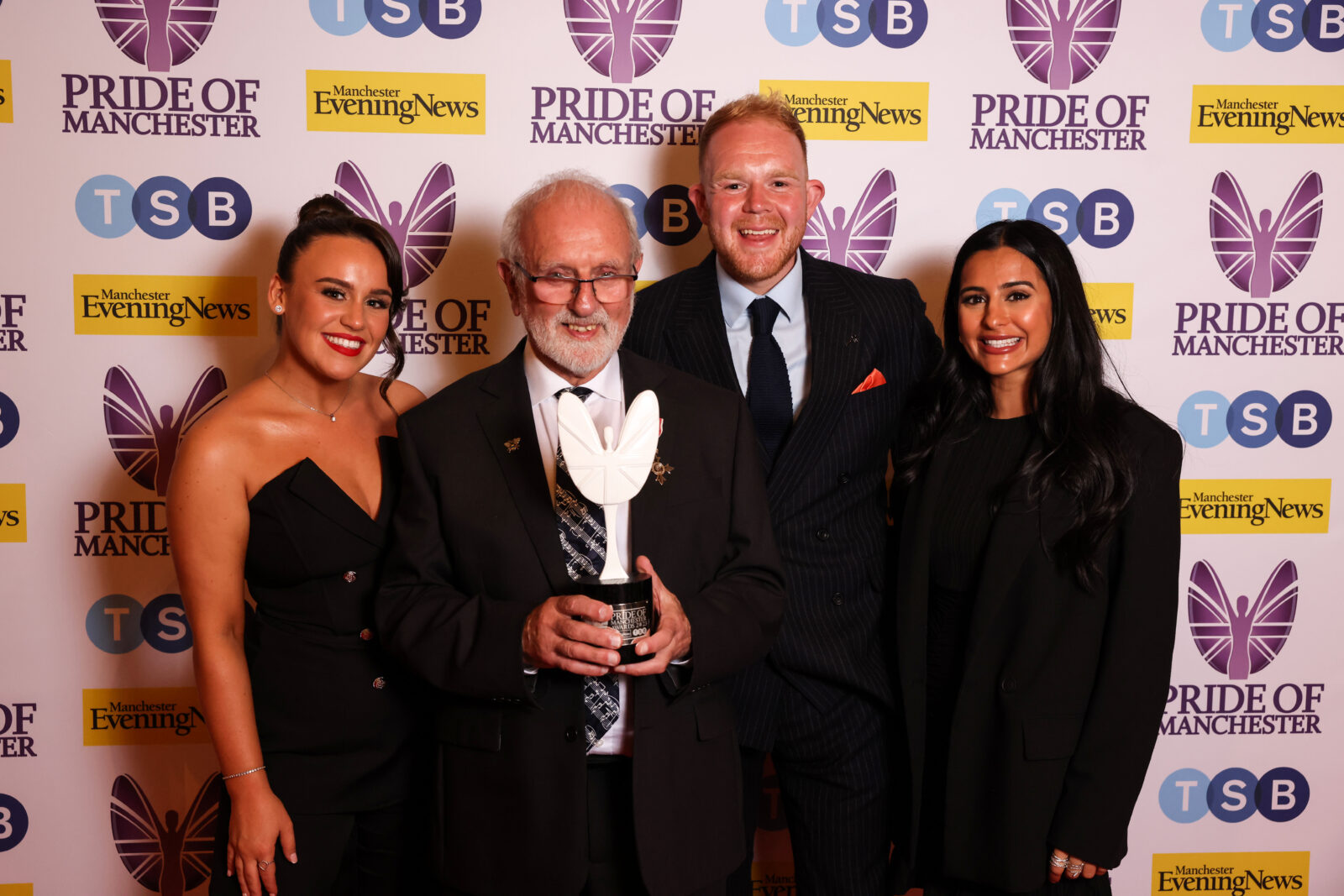 He's spent three decades keeping people entertained, and raising £420,000 for local charities. At the age of 80 John Jones is still giving up his time for others.
The retired engineer from Macclesfield has generated £320,000 in donations for East Cheshire Hospice and £100,000 for Macclesfield Hospital, where he was touched by the care his wife Joan received before she passed away in 2020.
He says: "When I first bought a small accordion in Manchester, I went to a pub for a drink and put my accordion down. The guy says 'why aren't you playing it?', so I began to play and a crowd gathered. There was a fundraising bottle behind the bar for Tameside Hospital.
"About a year later, when I moved to Macclesfield, I saw a sign for the appeal for Macclesfield Hospital. And that's where I got the idea. I didn't think I'd still be doing it 31 years later, but it is just so enjoyable. I've made so many friends.
"I was playing in Buxton, and a woman came up to me who had been divorced, depressed and had cancer. She said me playing really cheered her up."
Macclesfield Hospital chair Lynn McGill said, "On behalf of everyone at the trust, I would like to offer my sincere thanks to John for his time and commitment over the last 30 years. It's always a pleasure to see John's familiar face and hear him play his accordion and I know our patients, past and present, are comforted by his presence when they come for appointments."
Special Recognition – Ehinor Otaigbe-Amedu
Charity and food bank founder who empowers and supports women in her community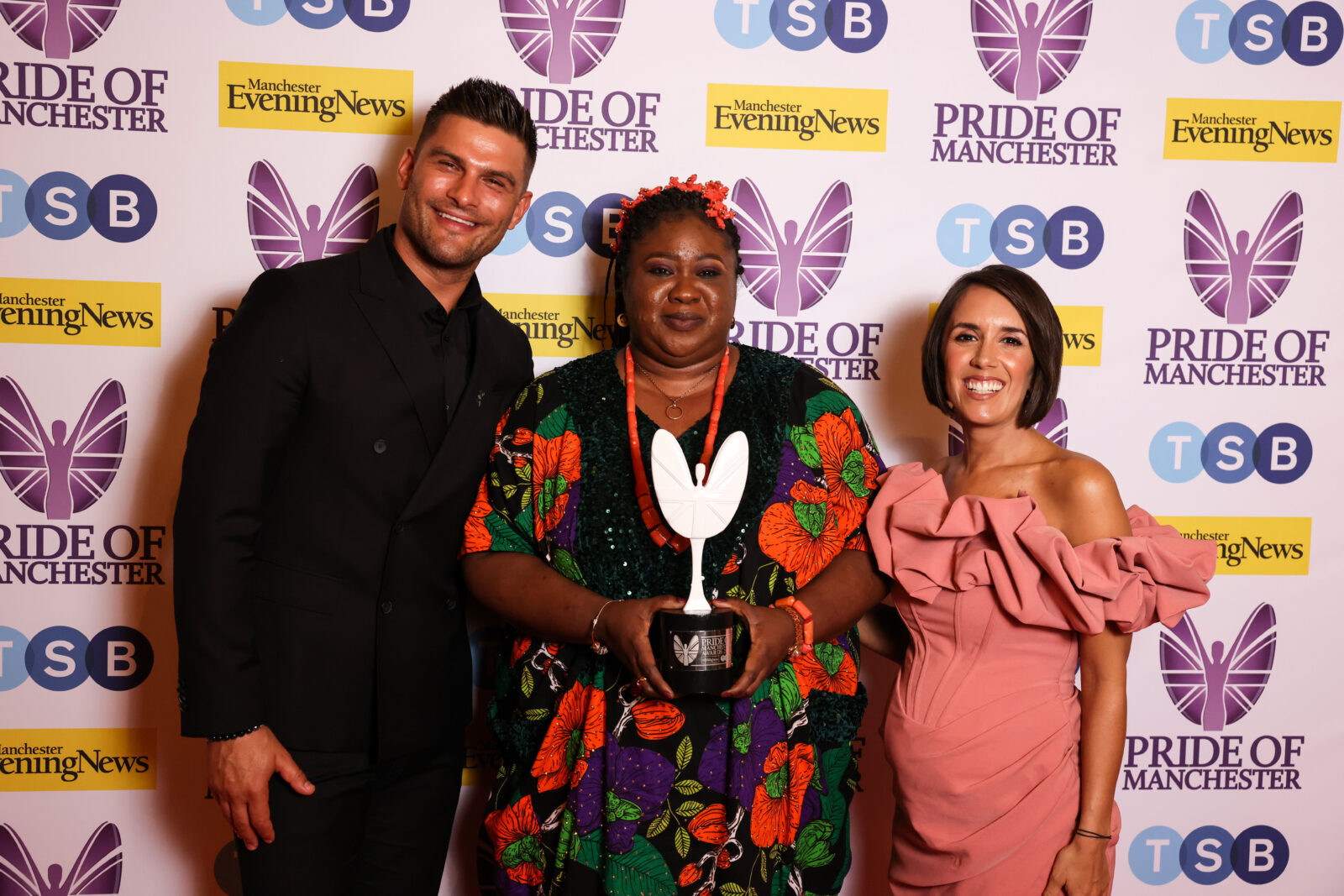 Ehinor is dedicated to helping women live their best lives – and access the support they need. She founded Wonderfully Made Woman, a dynamic charity that helps deal with challenges from isolation to domestic abuse.
Inspired by her own lack of confidence after her marriage ended, she wanted to share her experiences to help others find solidarity and fulfil their potential.
Ehinor, a lawyer, set up her charity ten years ago to provide a lifeline to women who have experienced domestic abuse or social isolation. The organisation holds confidence-building workshops to boost self-awareness, classes such as Crochet in Confidence to relieve stress and anxiety, digital skills training and employment support.
As a lone parent, she has also set about addressing the stigma women like her face, hosting befriending sessions for other mums and helping more than 500 women access housing benefits and childcare support and advice around finance advice and immigration issues. She also started the first African food bank in Greater Manchester, supporting almost 2,000 women and their families across the city.
Ehinor says they are a network of "talented women, thriving and making an impact in their community".
She says: "Being able to give back to the community and provide a service that I once needed and received to other women and girls is the most fulfilling experience and I will continue to support those in need."
Special Recognition – Figen Murray
Mother of murdered Martyn Hett is a powerful campaigner for peace and change in her son's name.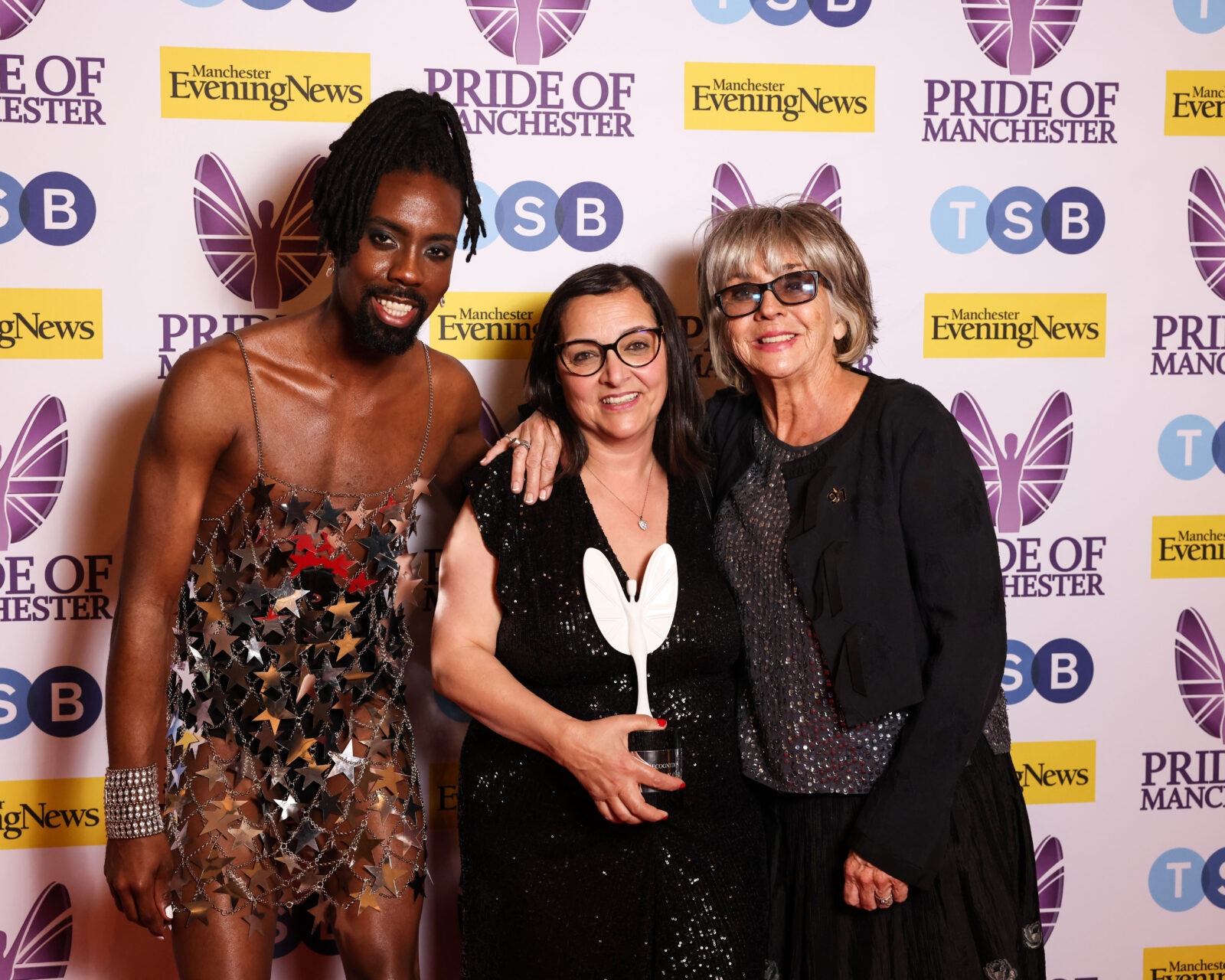 Figen's son Martyn was one of the 22 people murdered in the Manchester Arena bombing. She was determined to live positively in the wake of the 29-year-old's tragic death. A former counsellor and mother of five, who lives in south Manchester, Figen is now the force behind Martyn's Law and an important national voice on radicalisation and dialogue.
Since 2019 she has been working to bring about new legislation with the aim of boosting anti-terrorist security measures and preventing future atrocities. Martyn's Law requires venues with a capacity of more than 100 people to improve security against the threat of terrorism, have a clear plan in place and train staff to government guidelines.
"Had Martyn's Law been in place that night, we now know that precious lives would have been saved," she says. "Martyn's Law isn't going to stop terrorism, but common-sense security, and making sure venues are doing all they can to keep people safe, could mean fewer suffer what I and the families of Manchester have had to endure."
In December, the government announced that Martyn's Law will be introduced, with legislation to be published this spring.
Now a grandmother, Figen also visits schools, colleges and universities to talk about radicalisation, her own experiences and the power of forgiveness.
To date, she has spoken to more than 22,000 young people across England, showing how they can positively influence and shape their own world and encouraging acts of kindness.
Read more – Turning grief into a defiant fight for peace
Special Recognition – Deborah Dixon
Grieving mum raised £500,000 to fund potentially life-saving heart screening for young people after losing her only son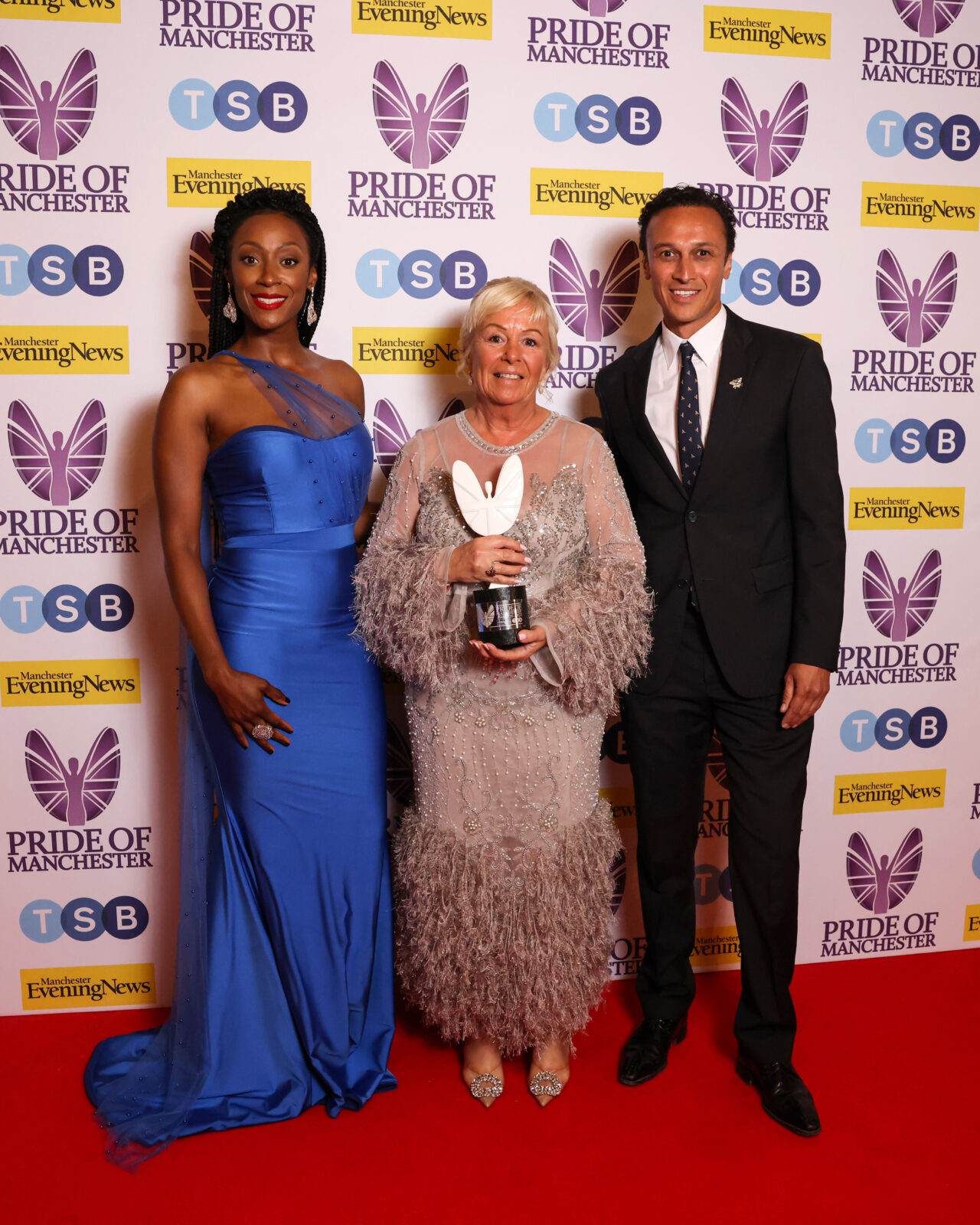 Deborah's son Aaron was only 23 when he passed away in his sleep at home, one of the 12 young people in the UK who die every week from an undetected heart defect.
Following the 2011 tragedy, Deborah was determined to help prevent the same thing happening to other young people, so she set up a memorial fund to raise money for a comprehensive screening programme.
Since 2014, she has raised £500,000, paying for 5,371 people to be screened – of those, 168 had potentially fatal abnormalities.
Working with The English Institute of Sport, the fund has also paid for 810 elite athletes to be screened – something which isn't available on the NHS, and Deborah is now campaigning for the introduction of a national screening programme too.
Aaron's dad, Gary, says: "We lost Aaron when he was 23 to an undetected heart defect, which totally devastated our family. Deborah does not want another family to have to go through the heartache we face every day.
"So many young lives have been saved in Aaron's memory and we are all so proud of the work she continues to do."
Debbie says: "As parents we bring children into this world and our job is to love and protect them. I couldn't protect Aaron from something I knew nothing about and that is why I am driven to try and save as many young people as I possibly can."
Special Recognition – Peter Garsden
Pioneering lawyer has devoted his life and career to winning justice for victims of child sexual abuse for nearly 30 years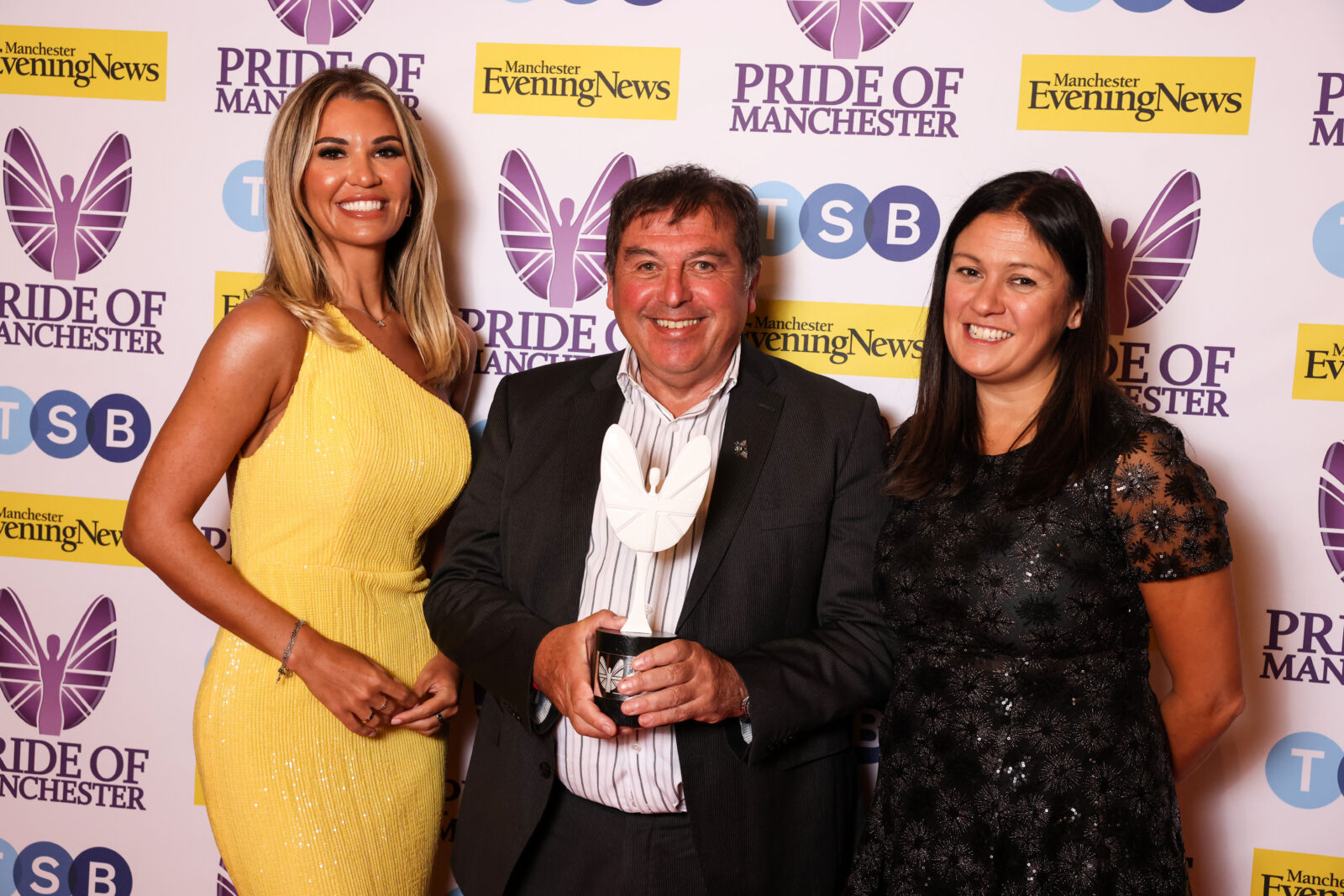 Peter was a young solicitor working in the criminal justice system when one of his clients, a man with a long criminal record, broke down in tears in his office. He told Peter the appalling story of how he had been abused growing up in children's homes.
Peter recalls: "It was very harrowing. I had a hard-as-nails grown man with a string of convictions against his name sitting in my office and sobbing uncontrollably.
"In those early days, I didn't know how to deal with it. And I was shocked. I hadn't appreciated that child abuse was rife in children's homes."
Peter took up the man's case, and it took over his life. Over the years, more and more victims came forward, until there were 800 claimants. Finally, 15 years after the first victim sat in his office, Peter won £5 million in damages for the victims.
Since then, Peter, 65, has become a national leader in fighting for justice for victims and founded the Association of Child Abuse Lawyers; representing more than 1,000 victims in 25 cases, and establishing guidelines for helping victims through the legal process.
Peter, who has also fostered 18 children with his wife, says: "This line of work is more of a calling than a profession. It is what idealistic law students dream of qualifying to become.
Children's Champion – Greg Davis
Community campaigner who founded United Estates of Wythenshawe to tackle anti-social behaviour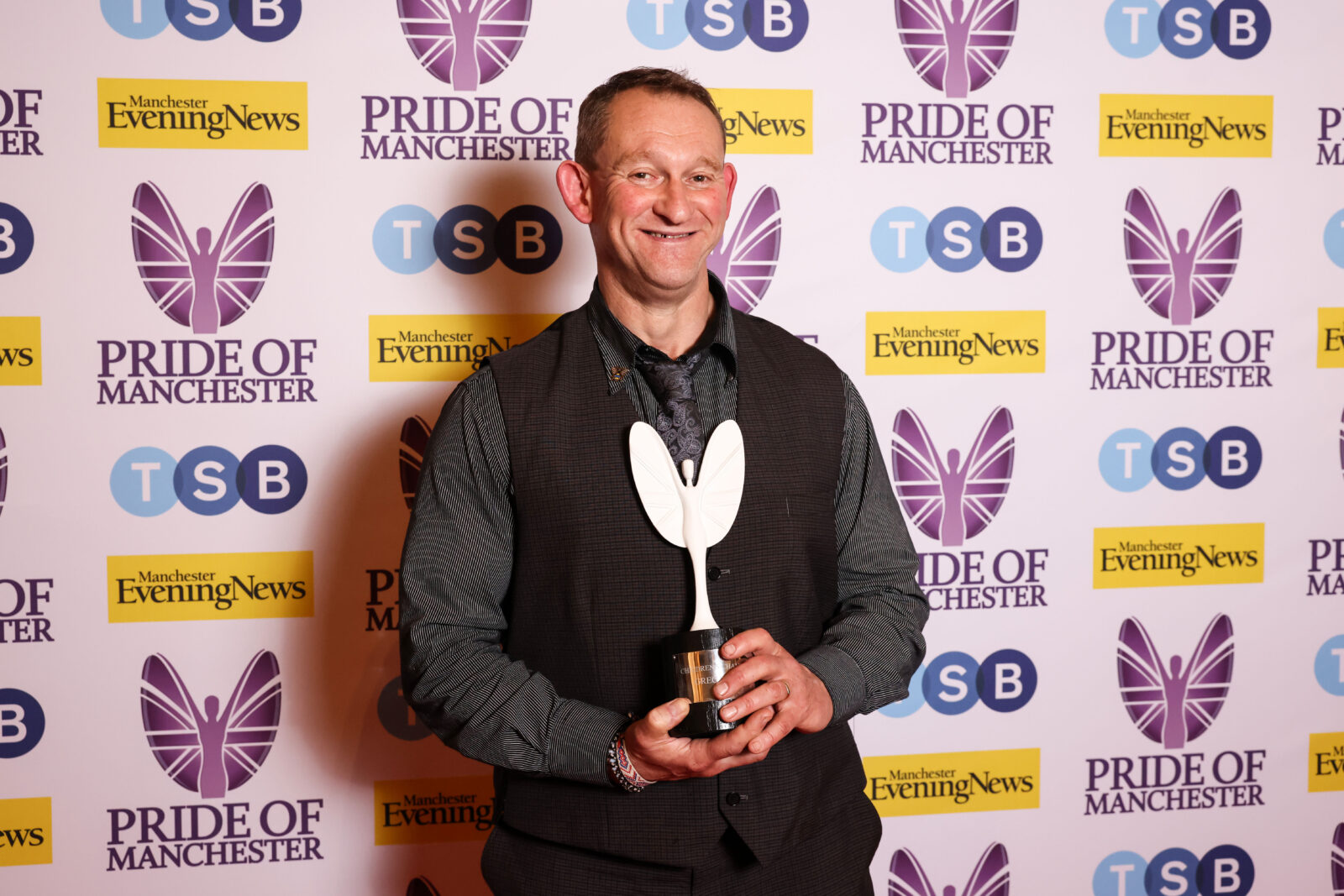 Greg has spent almost 30 years improving the lives of young people in his community. He founded United Estates of Wythenshawe in 1996 to tackle gang culture and anti-social behaviour in one of Manchester's most deprived areas, providing residents with better resources and opportunities.
United Estates was founded in the spirit of "creative vandalism". He says: "We use the potentially negative energy of street gang culture and create pockets of positive community enterprise, owned, led and managed by local people."
After he was given access to a run-down building by the Methodist Church, he enlisted the help of locals to repair and revitalise it. Greg says: "It had been vandalised and there was drug dealing on the corner. We all came in here and said 'this is our building, what shall we do with it?' There were holes in the roof, all the windows were broken but we worked on it all together to repair it and it has grown from there."
Today, it is home to a gym, a dance and performing arts space and recording studio, as well as a drop-in centre, café and a Mums Mart community food facility, including a no questions asked food bank.
Greg says: "Decisions are made about working class estates from Westminster – they have no grasp of the fears, the dreams and aspirations of local people. I won't say it was easy all the way, but it has worked."
TSB Community Hero – Florence Coke
Local legend who has devoted herself to helping the most vulnerable in the community when times are hard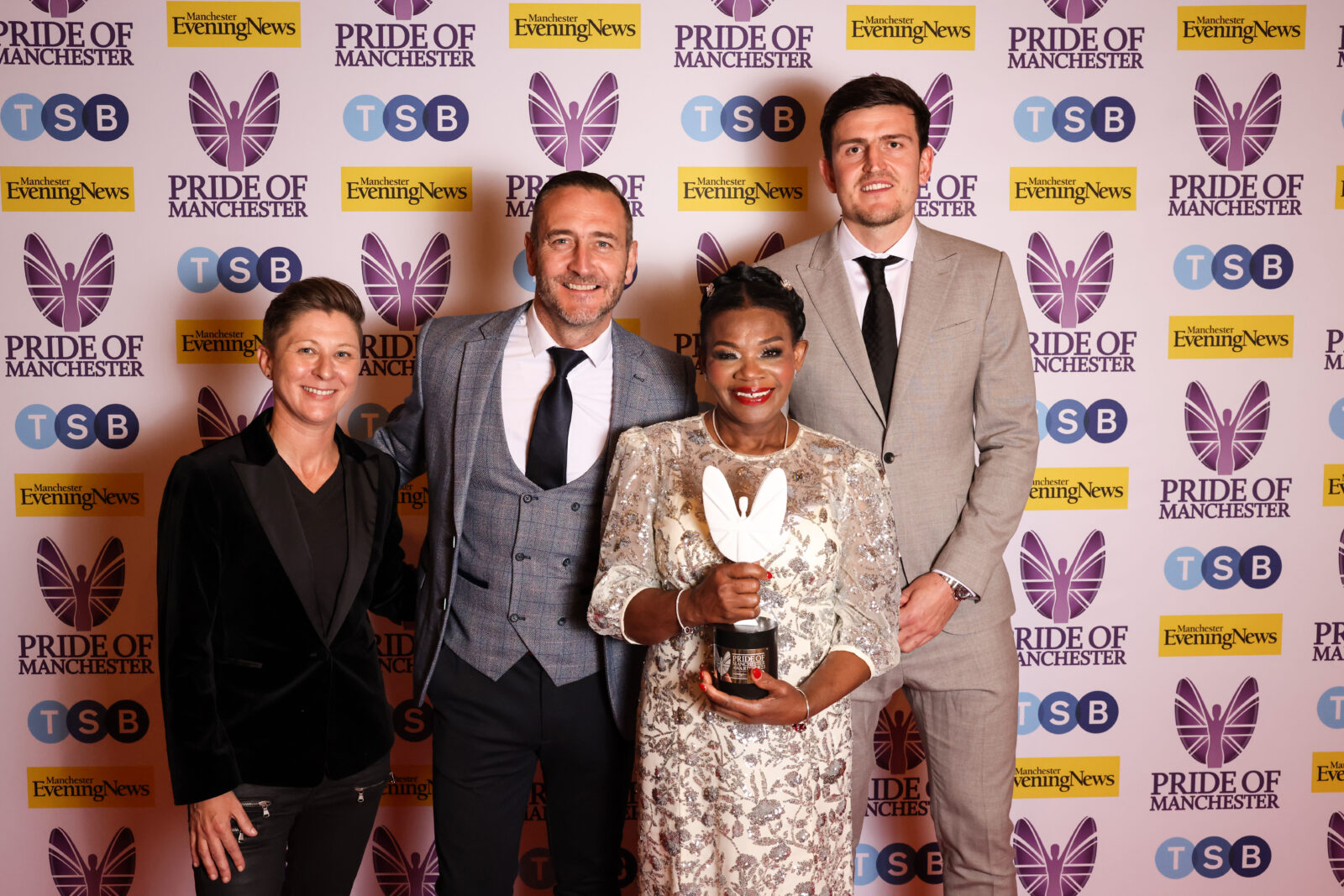 To her community in Stockport, Florence Coke is simply their Mama Flo.⁠ The grandmother of seven, who was born in Jamaica, has spent decades raising funds for schools and local hospitals but she is best known for her Caribbean takeaway shop where as well as her regulars, she makes sure the most vulnerable are fed.
For Mama Flo, food is love. During the pandemic, the 68-year-old came to the community's aid, providing hundreds of free meals to hospitals, care homes, and schools, as well as NHS staff and key workers.
As the cost of living crisis kicked in, she moved on to providing free meals to scores of hungry school children during holiday time. Her generosity didn't end there, as she spent the festive period cooking for local pensioners. Her alarm is set at 4am every day so she can get everything ready.
She says: "It's hard but I have to help them. I know people are struggling. I have seen it and heard it. I talk to people secretly. Customers come in and say 'Mama Flo, I'm struggling. That's all I have'. I don't even count it because I know it's not enough but I give them the meal."
Her Buxton Road restaurant, Mama Flo's, with its signature curry goat and brown stew chicken, has been given the thumbs up by famous faces including footballers Kyle Walker and Harry Maguire.
But for Florence, everyone in the community counts. She says: "When I was a little girl, my dad would make food abundantly. We'd feed all the people in the village."
Outstanding Contribution – Mines Advisory Group
Disaster and conflict response charity founded in Manchester is the world's leading awareness and clearance organisation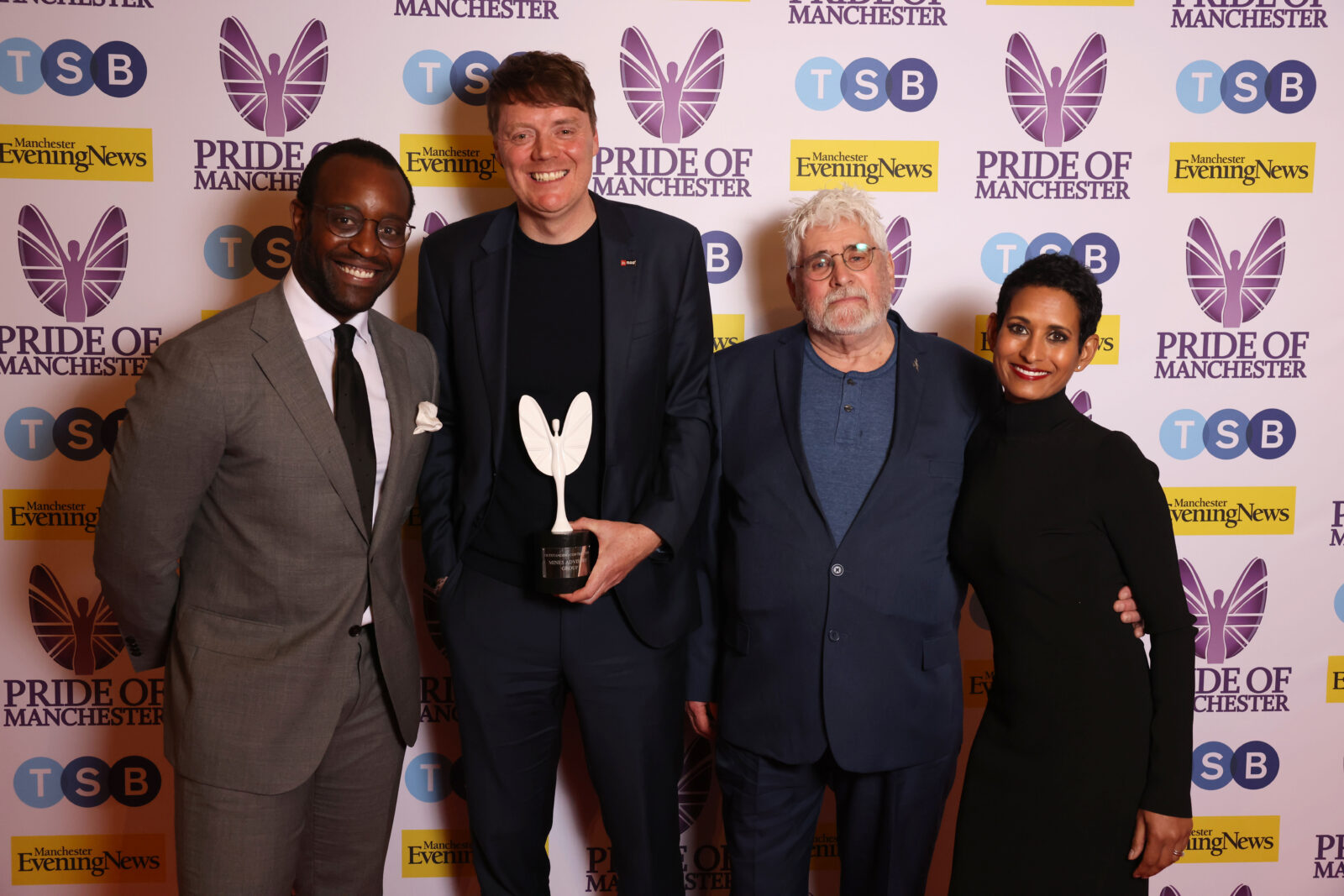 Its work stretches back more than 30 years, clearing deadly landmines and saving lives everywhere from Myanmar and South Sudan to Zimbabwe, Cambodia and Niger. Now Manchester-based charity MAG – Mines Advisory Group – is one of the world's leading landmine awareness and clearance bodies, and its work is more important than ever.
Founded in 1989 by former British Army engineer Rae McGrath and his brother Lou, the team is currently working in Ukraine, where landmines and cluster munitions are devastating communities, as well as Syria, Iraq and other conflict zones around the world.
In 1992, the organisation joined forces with Human Rights Watch, Medico International, Handicap International (now Humanity and Inclusion), Physicians for Human Rights and the Vietnam Veterans of America Foundation to form the coalition International Campaign to Ban Landmines (ICBL).
They campaign and lobby against the arms trade, helping to bring about the 1997 Ottawa Treaty, known as the Anti-Personnel Mine Ban Treaty, banning the production and use of anti-personnel mines, signed by 122 countries. ICBL jointly received the 1997 Nobel Peace Prize for this work.
To date, MAG has helped protect 20 million people by clearing mines in more than 70 countries.
Featured image: Supplied