Manchester
The best food and drink stalls at Manchester Christmas Markets 2021
Think Biscoff cookie pies, giant carvery roast boxes from the Yorkshire wrap legends at Porky Pig, giant truffles disguised as Christmas puddings and more.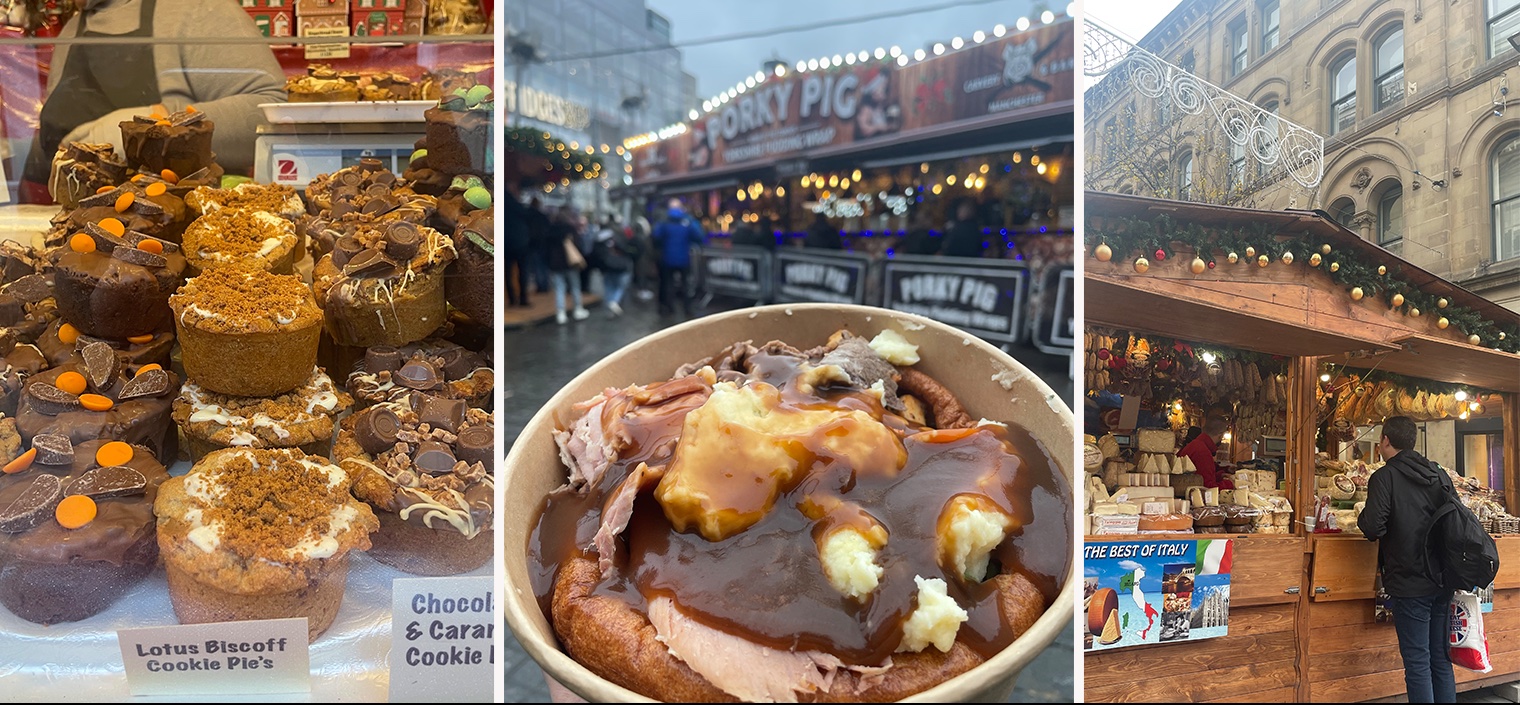 Gluhwein, Bavarian beer, and bratwursts of all flavours have returned to Manchester today as the city's Christmas markets reopened, following a year's hiatus.
Cheese-filled, spicy, classic, and white German sausages can be seen (and smelt) grilling over hot coals in all corners of the city, and you can't move for innumerable wooden huts selling all the classic wintry drinks you might expect – from mulled wine and hot, boozy cider, to steaming mugs of Italian Vin Boule, Nordic Glocc and French Vin Chaud.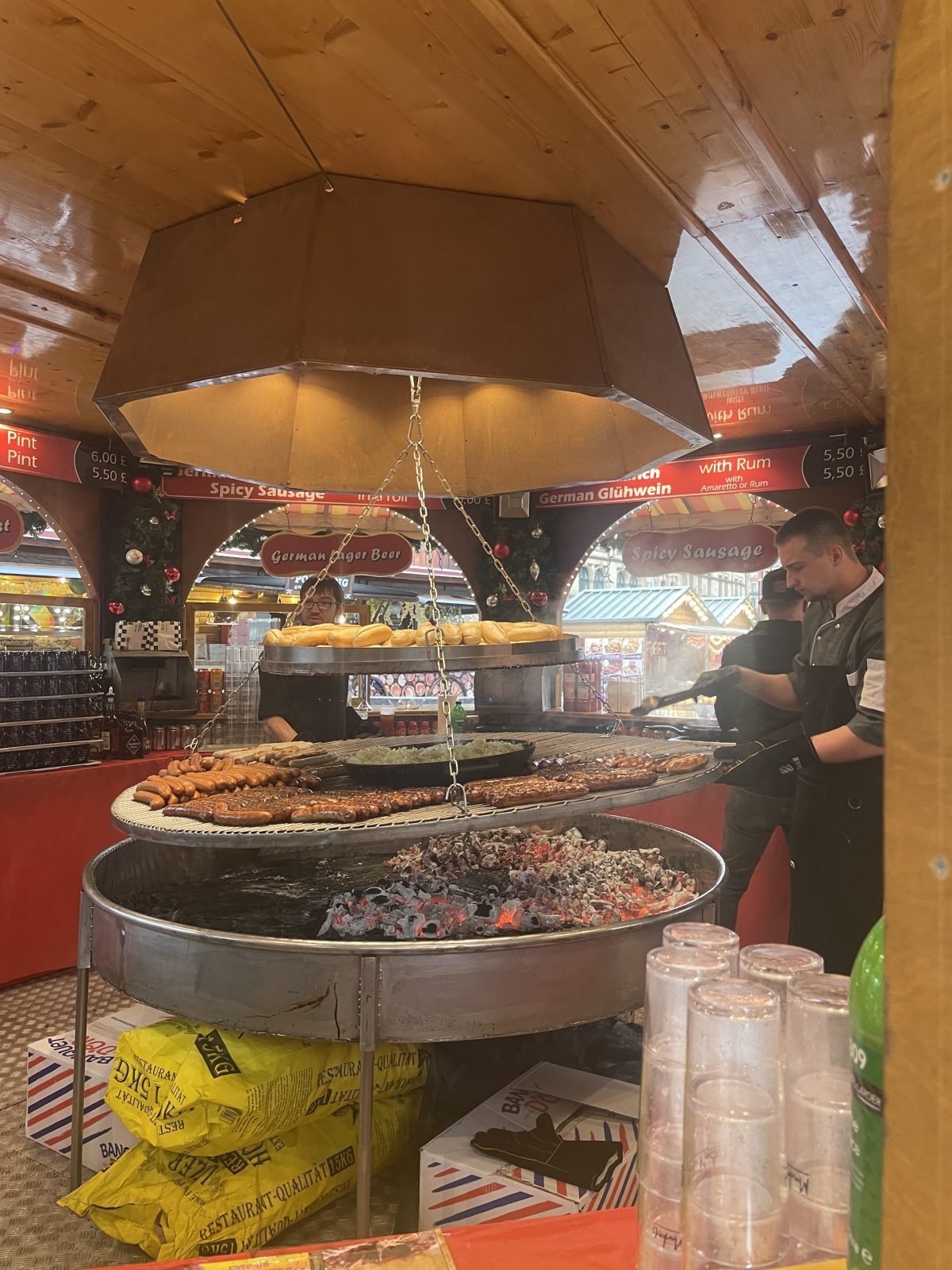 But alongside the classics, there are also some new and intriguing additions this year we haven't seen before – like Biscoff cookie pies, giant carvery roast boxes from the Yorkshire wrap legends at Porky Pig, and 'Manchester's legendary Hot Blobs', which we're told are a mix of sweet white wine, sugar, lemon, and hot water.
Keep reading to discover all of the best food and drink stalls at Manchester's Christmas markets this year.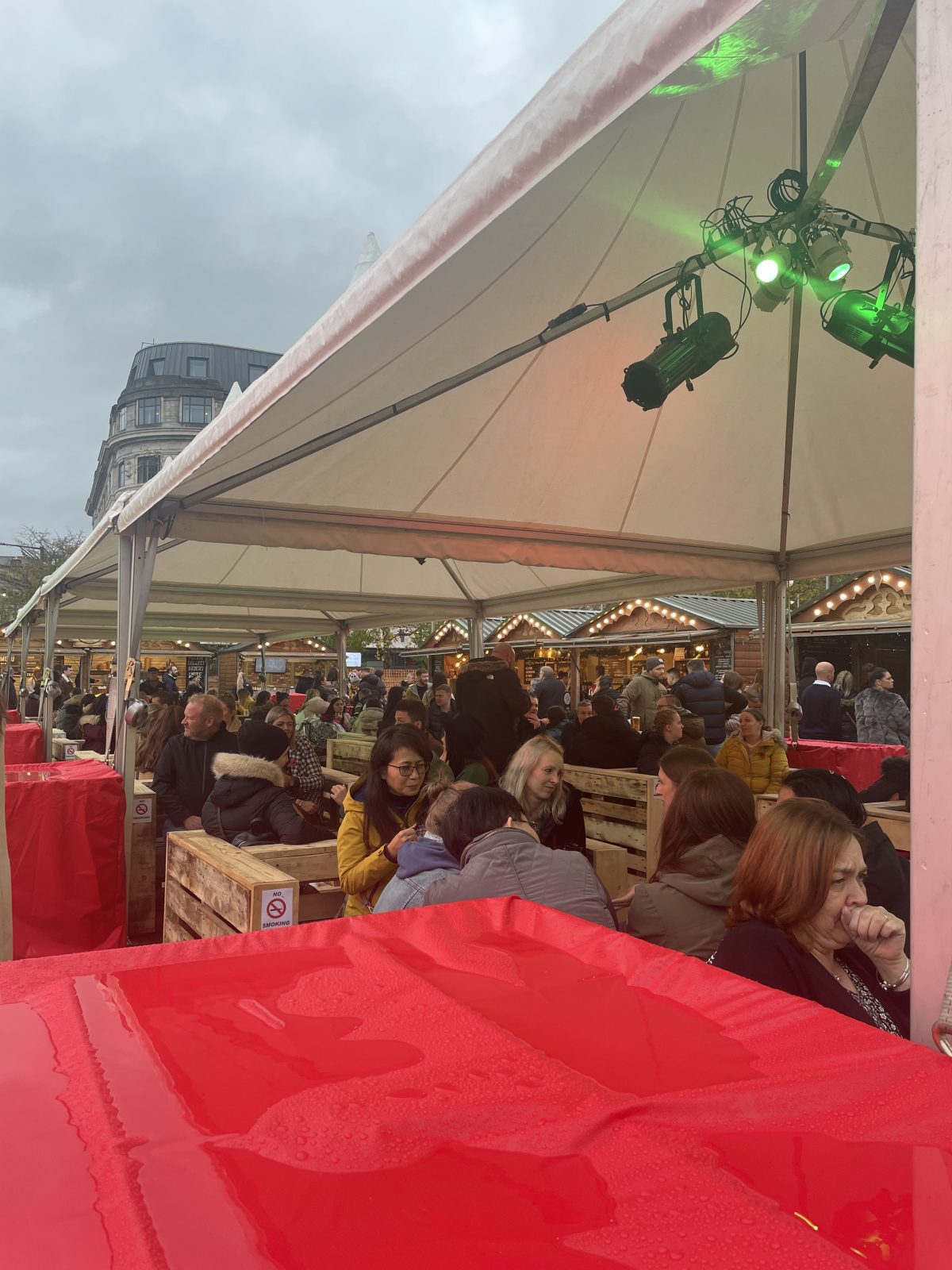 Piccadilly Gardens
This year, it's finally Piccadilly Gardens' time to shine. The forever-controversial public space has become the home of the Manchester Christmas Markets for 2021 – and council bosses have gone all out, installing two huge, covered bars alongside a live music stage and numerous street food huts.
Alongside the usual food and drink suspects, you'll find not one but two vegan bratwurst stalls – Manchester's vegan restaurant Vertigo, and newcomer Panc – battling it out for the plant-based crown, plus Korean potato hot dogs rolled in sugar, glasses of shimmering prosecco and steaming mugs of hot Vimto.
Elsewhere, you'll find a mouthwatering Chrimbo chicken brioche burger loaded with gravy, bacon, and cranberry from The Dirty Chicken Co (£8), S'mores churros sandwiches (£6.50) from Loop Churros, and hot roast pork rolls loaded with stuffing and apple sauce (£6.50).
Cathedral Gardens
The first Christmas markets to open this year, the offering here is pretty simple with a collection of bars selling mulled wine and cider, and wooden huts selling dutch mini pancakes, sugar waffles and more.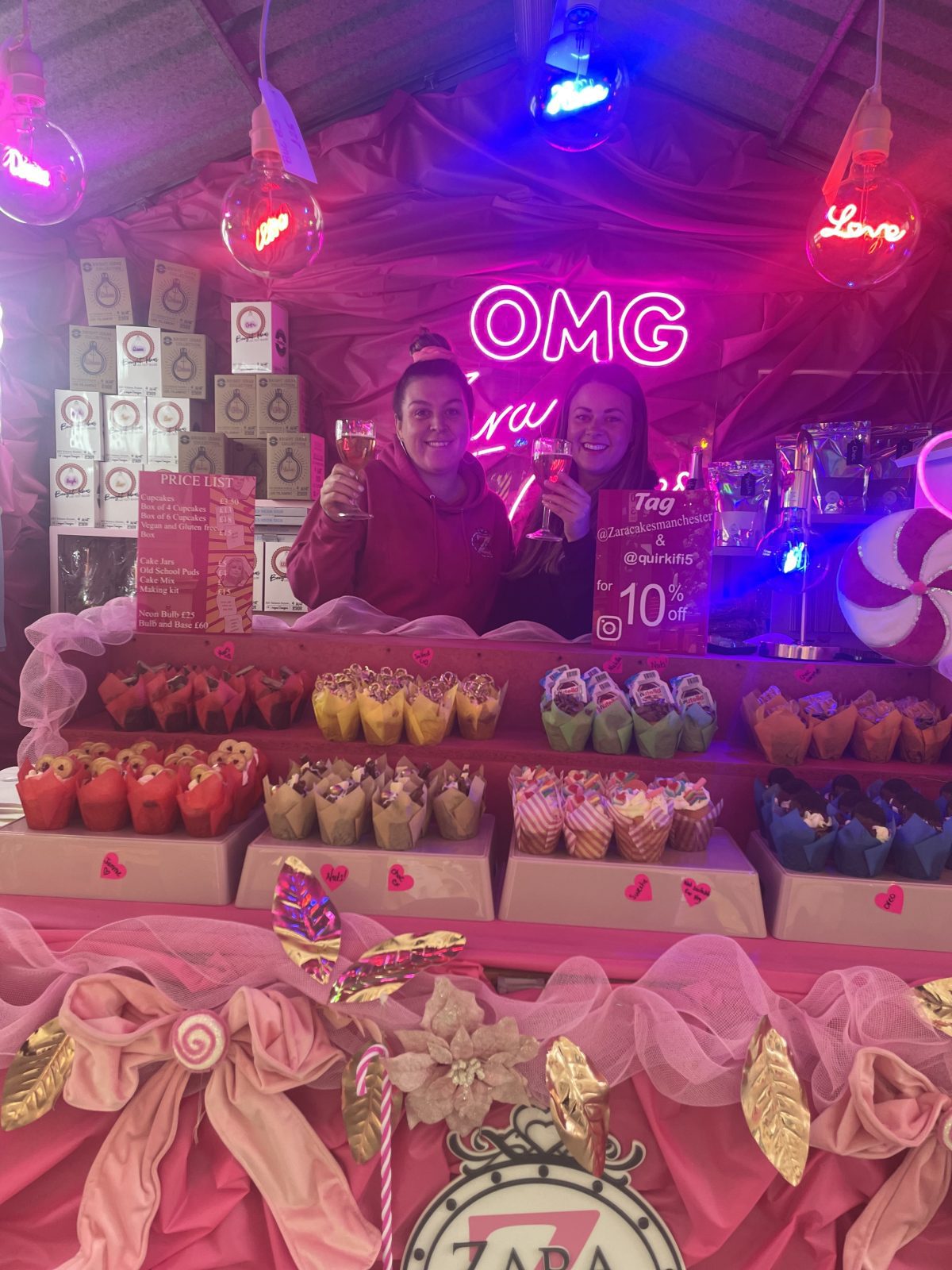 The Corn Exchange
Jammy Dodger-loaded cupcakes, Nutella-topped confections, and more covered with pick and mix sweeties, chocolate Oreos, and golden pretzels can be found at Zara's Cupcakes market stall, priced at £3.50 each or £13 for four. There are also cake jars, old-school puds, and cake mix-making kits to be found here.
At the Corn Exchange, there's also a pie stall from The Crusty Pie Company selling every filling variation you can think of – from pork and black pudding to Hunstmans pies, chicken and leek, wild boar and mushroom, turkey and cranberry, and chicken and chestnut stuffing pies.
You can find some great gourmet sausage rolls here, too, as well as bags of traditional pork scratchings from £2.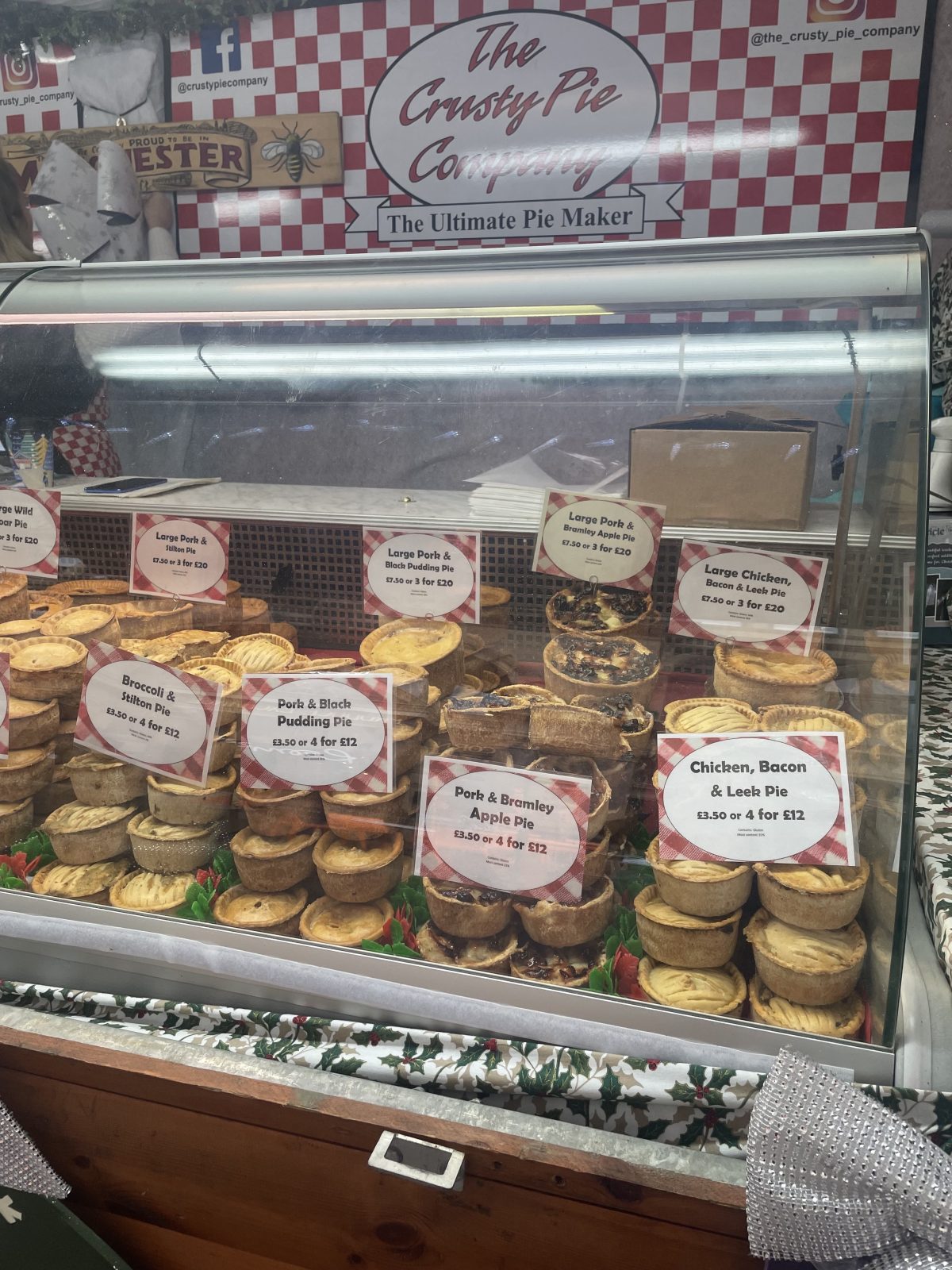 Exchange Square
The go-to stall here at Exchange Square has to be Porky Pig, the home of the Yorkshire pudding wrap and battered pigs in blankets. Wraps are served carvery-style, so you can pick your meat from choices like chicken, beef, gammon and pork, then opt for stuffing, gravy, and veg separately.
This year, the Porky Pig team has also introduced some new options too – bringing across its popular giant roast dinner carvery boxes and bangers and mash. Look out for the 'Yorkshire Rose', a giant swirly Cumberland sausage-loaded Yorkshire pudding topped with gravy.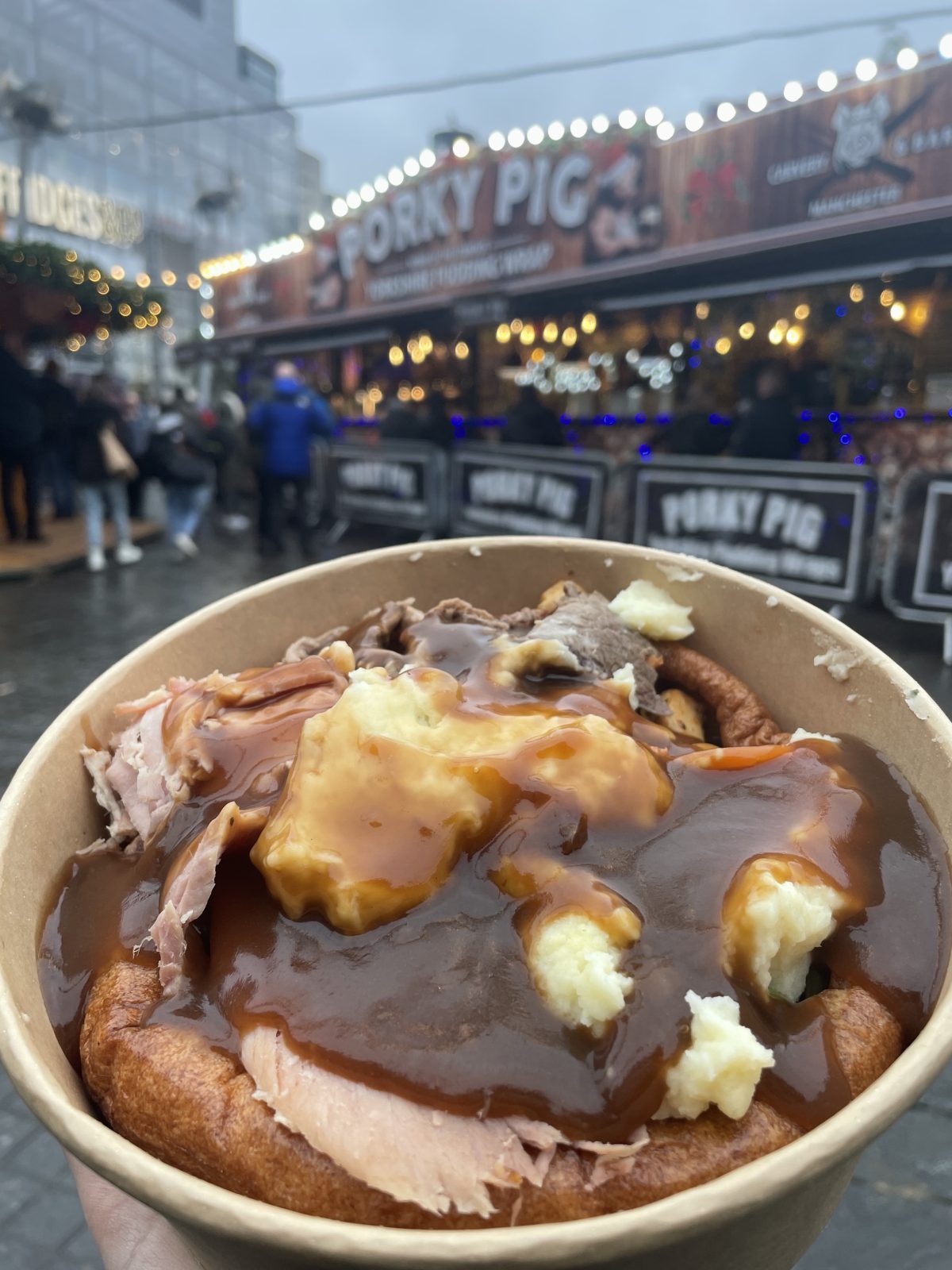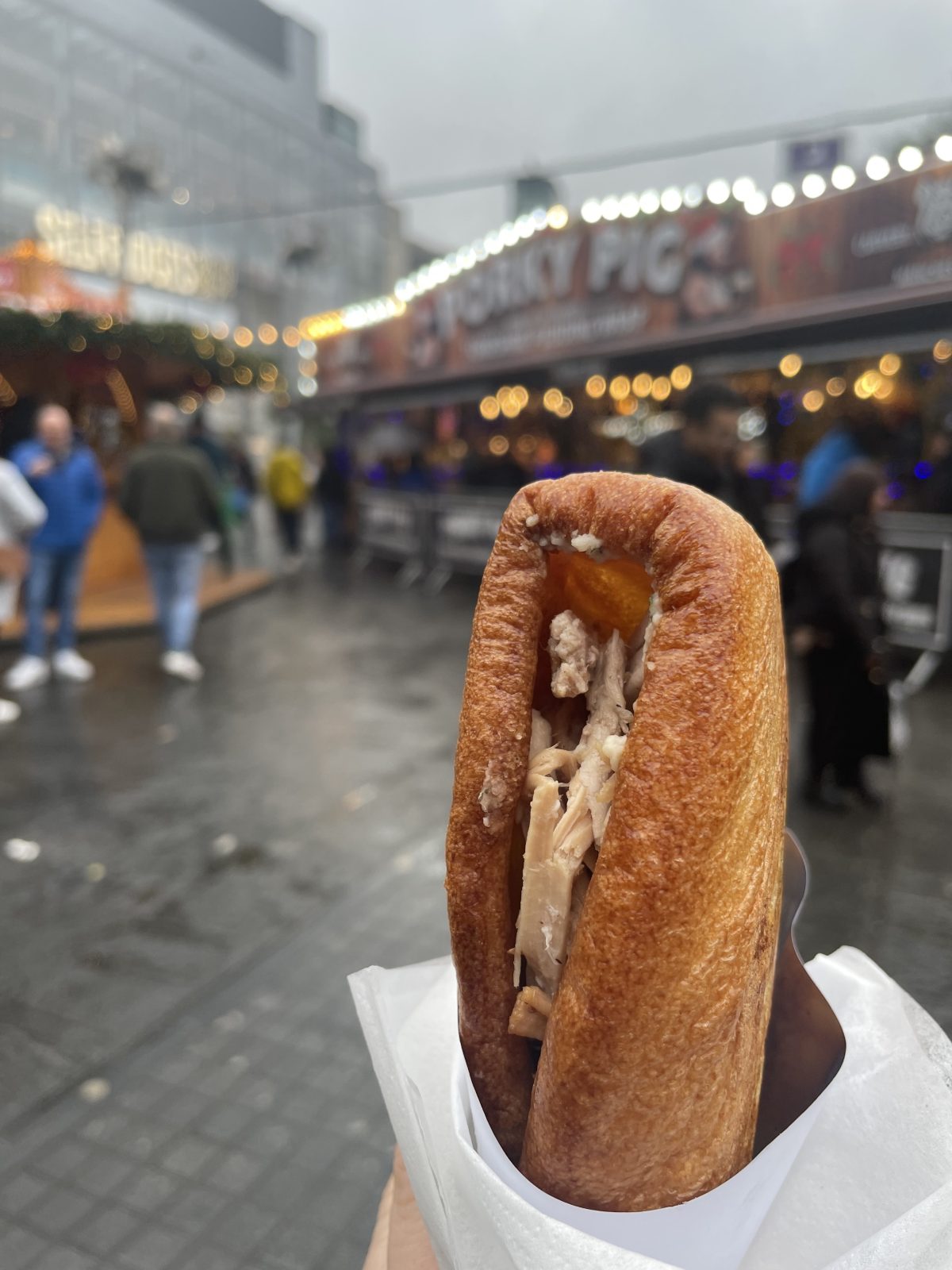 Elsewhere, you'll find chargrilled grill wraps, curries, and Indian street food at TKK Food Experience; parmesan and truffle fries at the Dutch Fries Company; Dutch mini pancakes and sugar waffles; and German bratwurst, Christmas punch, and Bavarian cherry beer at the German Windmill Bar.
There are also piles of flavoured Turkish delight, plus caramel cider (£5), classic English mulled wine (£5), and non-alcoholic ginger and honey with orange juice and cranberry (£5) to be discovered here.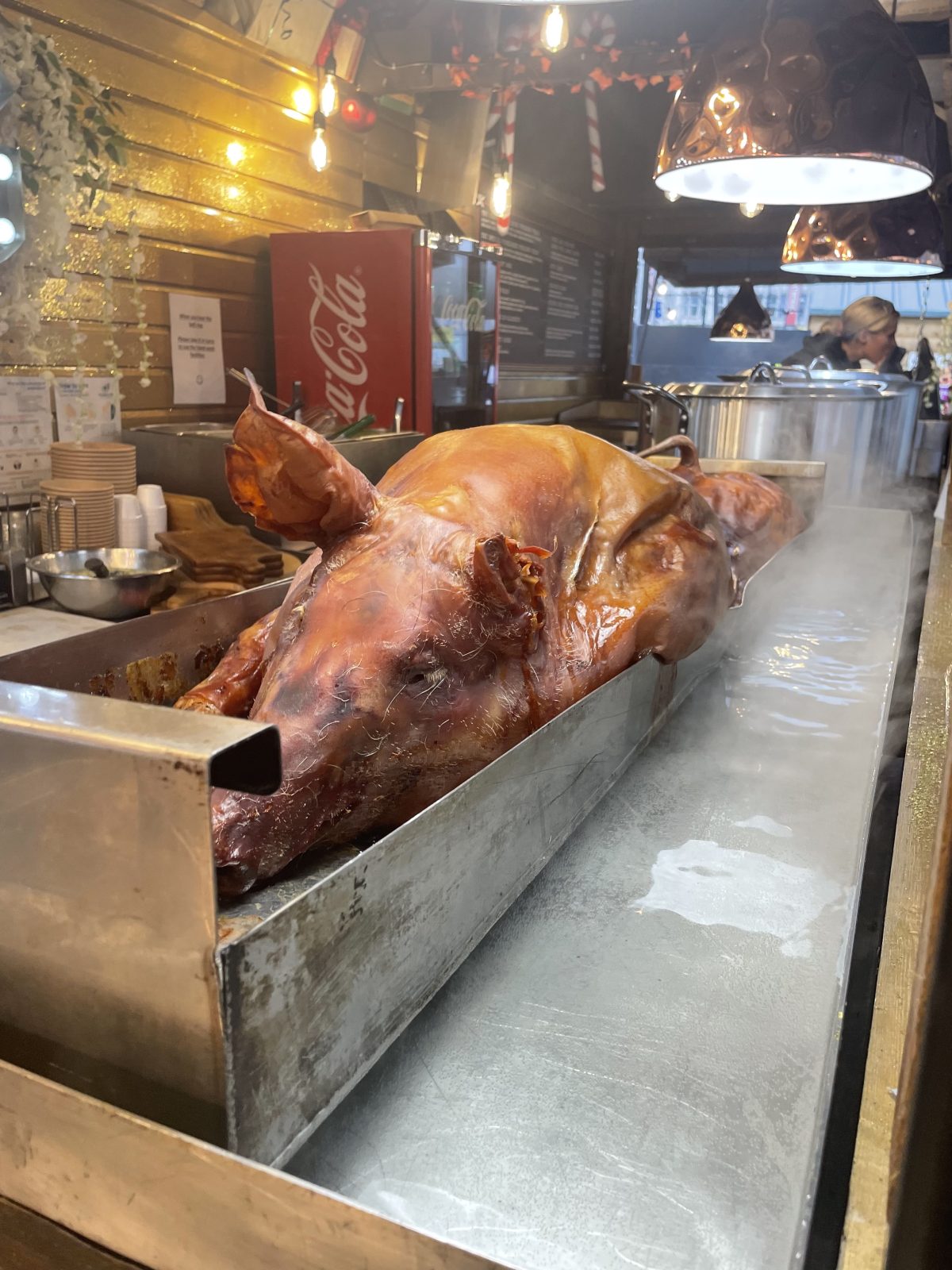 Market Street
There's not much to report food-wise, with the majority of stalls focusing on selling gifts and other trinkets. We did spy a massive stall selling pick and mix, though, for those who haven't yet got over the closure of Woolworth's.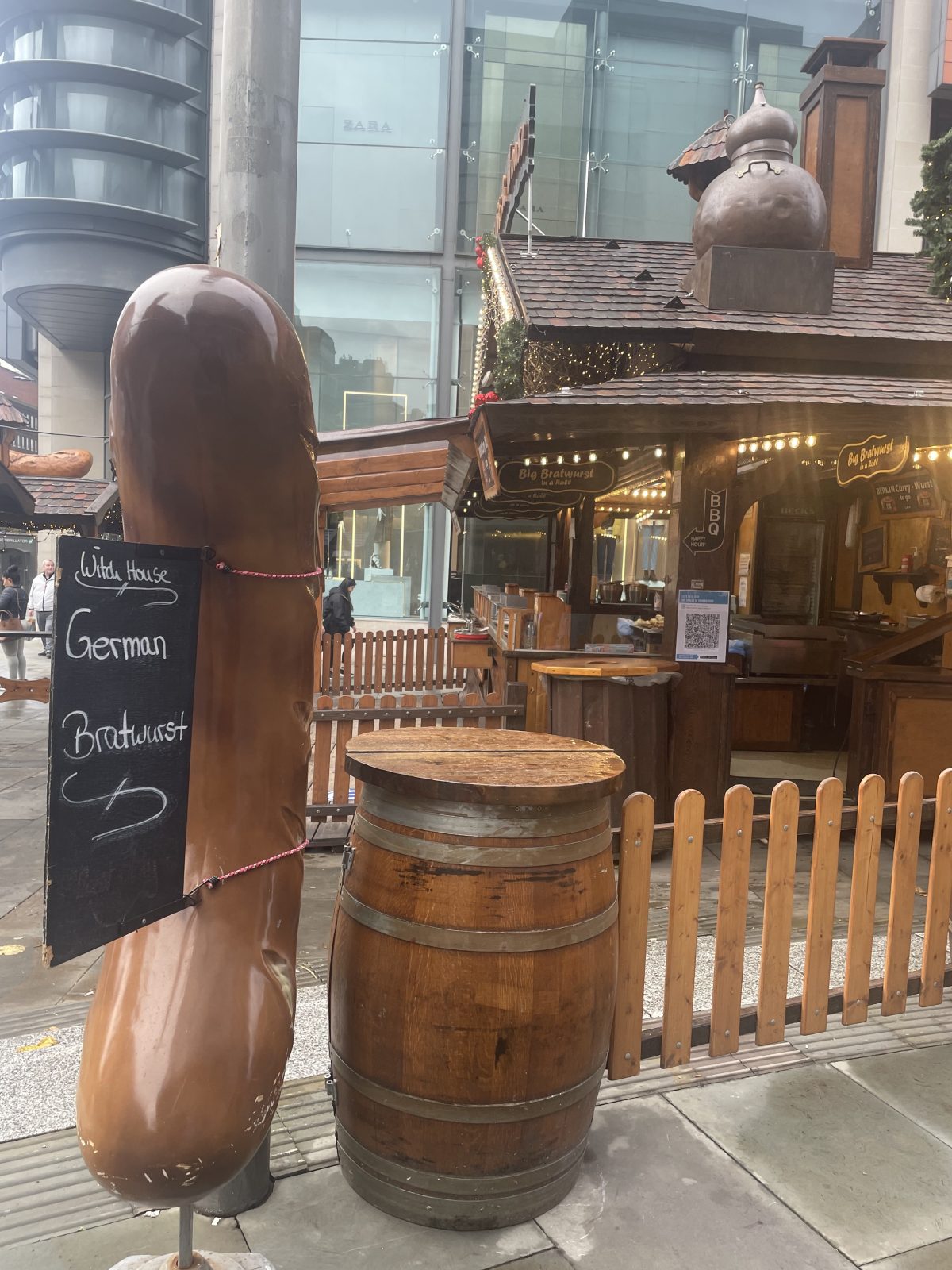 Exchange Street
With a big focus on beer and wine, Exchange street is dominated by bars selling all the usual suspects – plus Baileys, boozy coffees, gin and tonics, and other spirit mixers.
Prestwich restaurant Triple B also has a stall down here selling bagels stuffed with fried camembert or hot salt beef, plus turkey Reuben bagels and French dip sandwiches – a must if you've never tried them before.
You'll also find some cute little preserves from the Cherry Tree, The Cocktail Co. selling bottled hot and cold cocktail gift sets (bottles from £5, gift sets from £15), a burrito stall called Wrap Up, flavoured rums made in Bath by Beckford's, and German bratwursts down by Zara
.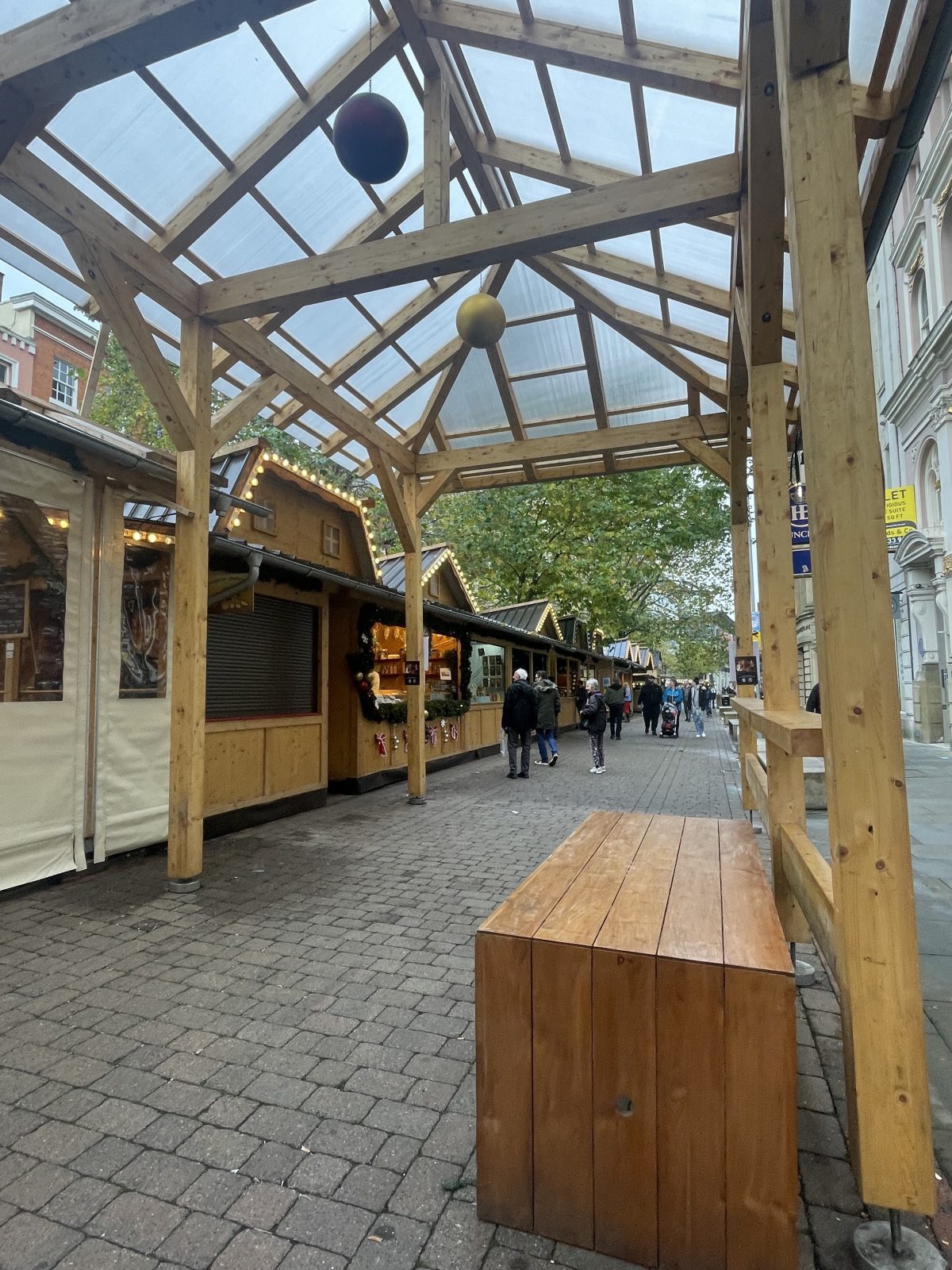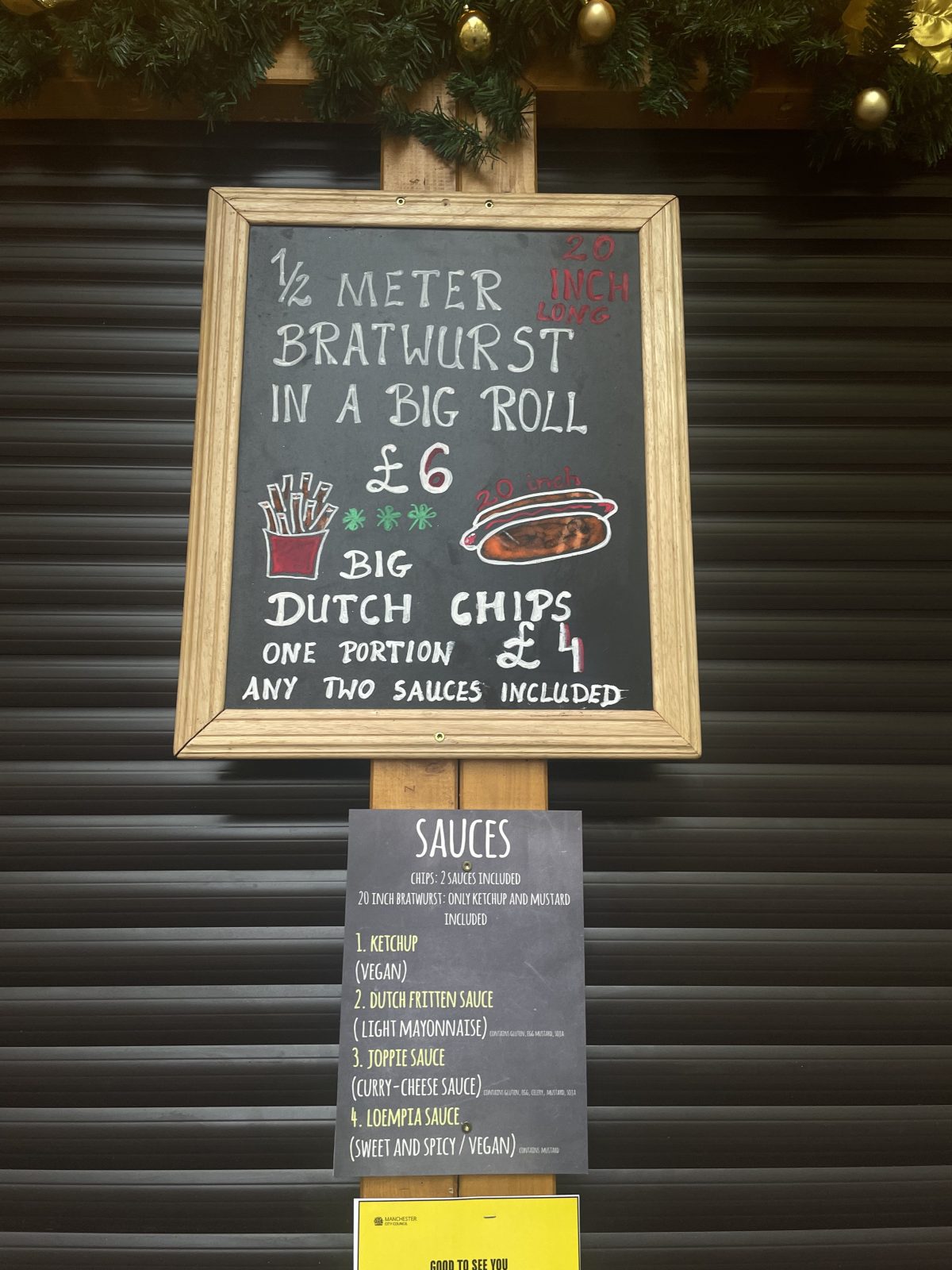 St Ann's Square
Head to St Ann's Square for square pizzas, 1/2 meter long bratwurst rolls (£6), and a stall from Manchester fried chicken legends Yard and Coop selling festive trays of fried chicken and chips (£10) alongside some brand new chicken tender and buffalo sauce po boys (£7).
Think Christmas dinner in a tray, combining buttermilk fried chicken tenders, fries, cranberry ketchup, and chicken gravy (£10), or. there's a salt and pepper twist that comes garnished with seaweed (£10).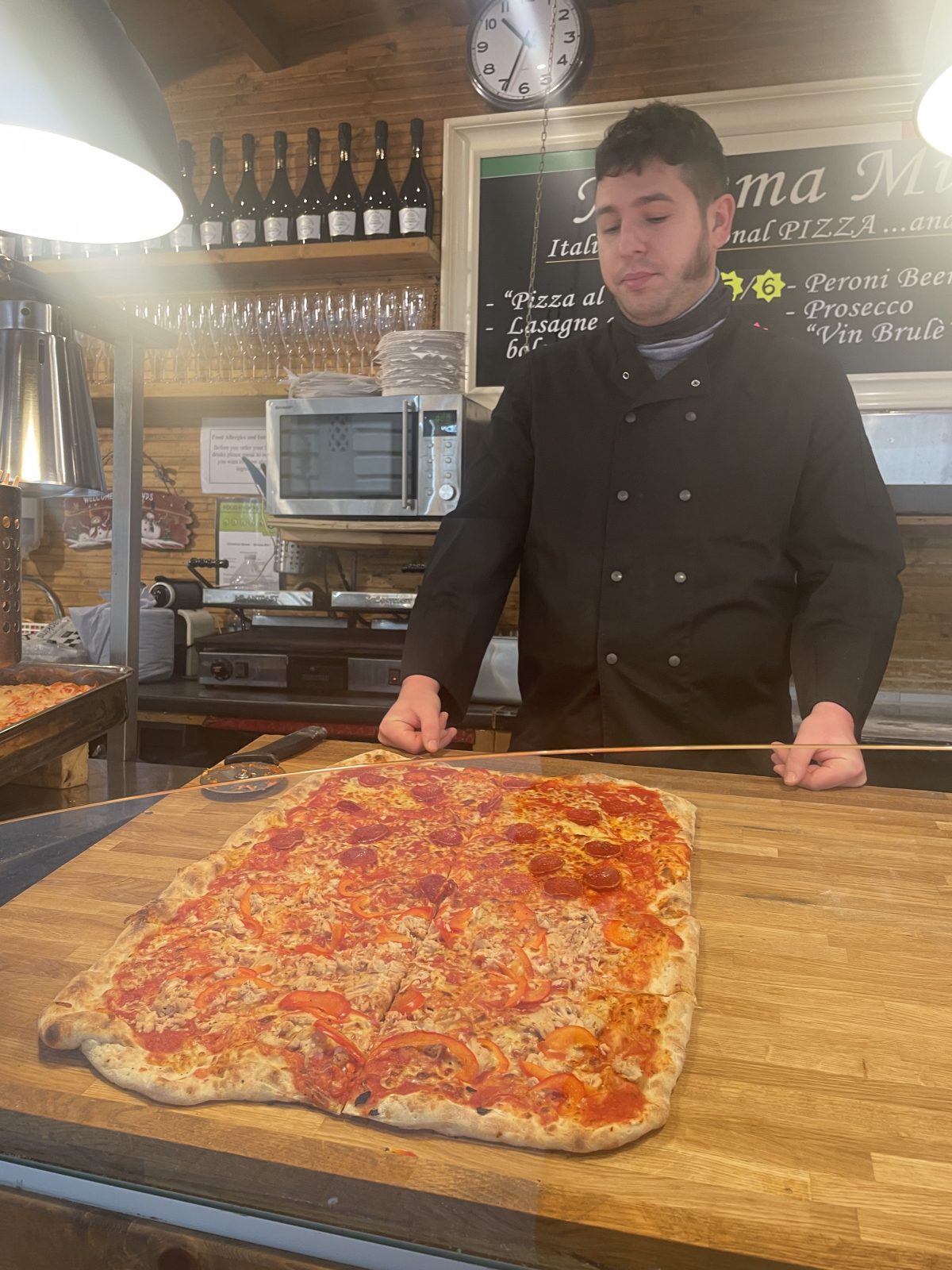 Elsewhere, you'll find square pizza, reams of German bratwurst and salami pre-packaged to take home; a Spanish kitchen selling tapas and nibbles like serrano ham, manchego, Catalan fuet, and Spanish chorizo; and sweet treats like apple strudel and kaiserschmarrn (scrambled pancakes) down by the church.
Oh, and don't forget the Lotus Biscoff cookie pies and giant truffles disguised as Christmas puddings over at Gingerbread House Confections – they look incredible and can easily be heated up at home in the microwave.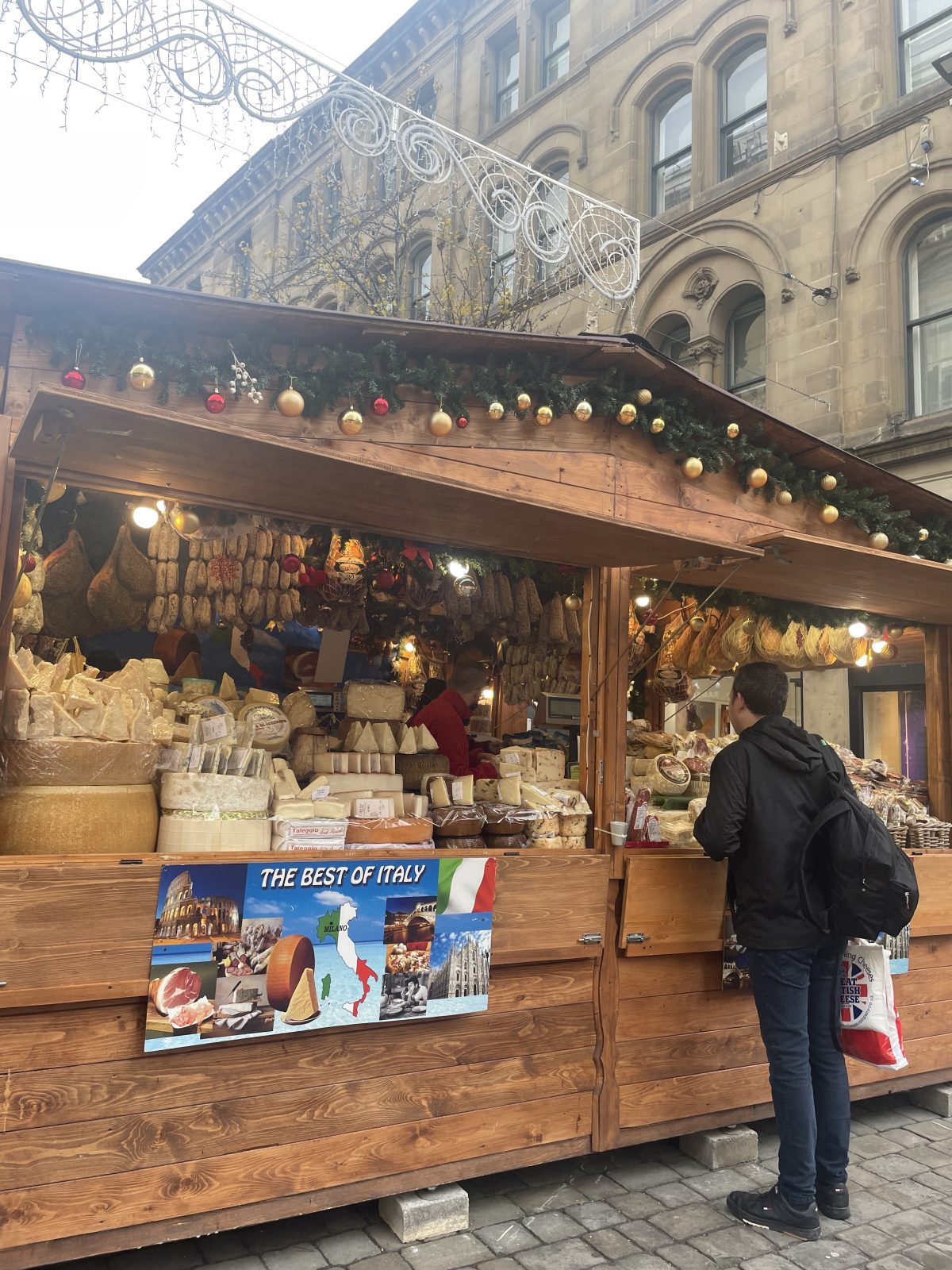 King Street
The wonderful Italian cheese and meat stall that sits on the border of King street and Deansgate has returned for 2021, we're happy to confirm, selling everything from taleggio and coor da Sardegna, to salame chighiale, casereccia piccante, and more.
You can also get your go-to bratwurst here, with a choice of cheese sausage (£5) or white sausage (£5) available.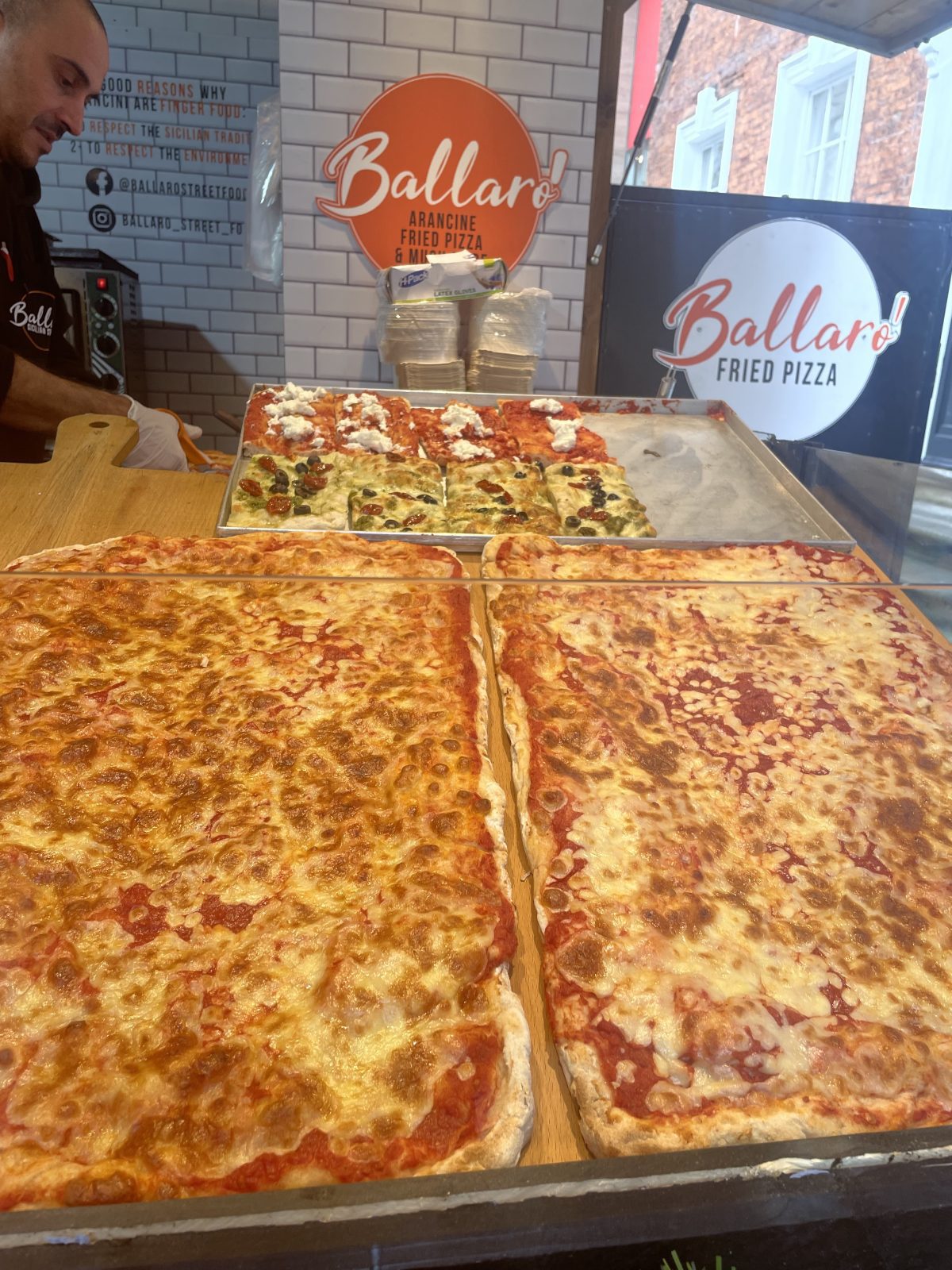 The Grumpy Mule gin bar is on hand selling a selection of juniper-laced spirits from the likes of Malfy, Thomas Dakin, Tanqueray, and Gin Mare, as well as boozy hot chocolates, mulled wines, and everything else you might expect.
There's also a provencal stall selling French favourites like garlic mushrooms (£6), garlic chicken(£6.50), and mustard chicken (£6.50) alongside garlic potatoes or rice; and a Sicilian street food stall flogging sourdough pizza slices, various stuffed balls of arancini, and a coppo misto (a selection of fried specialities like arancine, panzerotto, panelle and crostini).
Featured Image – The Manc Group