News
Andy Burnham brings out surprise guest MC during DJ set at Manchester bar
No one was prepared for the Member of Parliament for Wigan to be filling in on MC duties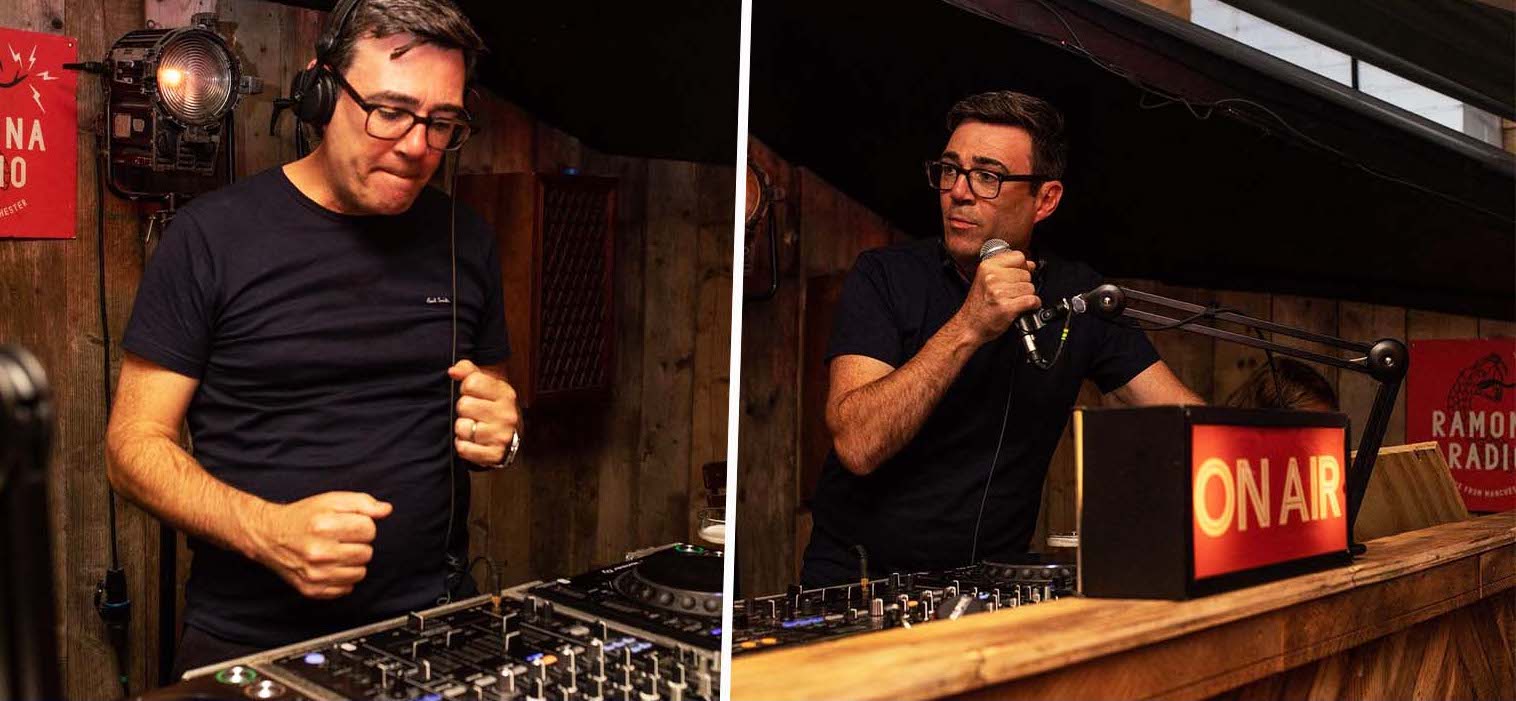 Greater Manchester Mayor Andy Burnham gave partygoers in Ancoats a bit of a surprise last night when he brought out a surprise guest to jump on the mic.
Manchester's own 'King of the North' and former MP for Leigh was booked to play a set of Manchester classics at renovated MOT garage Ramona as part of the bar's five-week 'Ramona Radio' series.
The show was also live-streamed on Mixcloud via Mixmag last night, but no one in the audience was prepared for the Member of Parliament for Wigan to be filling in on MC duties.
As he opened his set with Badly Drawn Boy's 'Tony Wilson Said', little did the audience know that he'd soon be pulling up Lisa Nandy to join him – handing her a mic and a pair of headphones as he blasted out hits like 'Ever Fallen IN Love' by The Buzzcocks, 'Transmission' by Hot Chip and '1989' by rapper Aitch.
Pictures shared online from last night's gig show the Shadow Secretary of State for Levelling Up, Housing and Communities laughing as she speaks into the mic with a pair of headphones around her neck, standing next to Mr Burnham in the Ramona DJ booth.
Read more: Manchester Airport lashes out at 'inaccurate' documentary that featured undercover footage of baggage handling chaos
It's not the kind of sight we'd typically expect from our politicians, but it definitely makes a refreshing change – no matter which side of the cringe debate you find yourself on.
Well-known Manchester DJ Dave Haslam was quick to chime in, joking that the 'DJ trade union [was] not impressed' with Andy Burnham and Lisa Nandy 'taking jobs from our hard(ish) working colleagues'.
Another person jibed: "Nandy standing next to a trade union? Good job Starmer's on holiday."
A third joked "Who next? May and Iain Duncan Smith?"
Whilst a fourth rhymed: "Know your place – don't come the big 'un; Or you're gonna have to deal with the Member for Wigan!'
During the course of the night, Burnham also played 'Tart Tart' by The Happy Mondays as a tribute to the late Paul Ryder who sadly passed away last week.
Read more: Frankie's has opened a Breville toastie stall inside the Arndale Market
Speaking on his decision to pay tribute to Ryder during his set, Burnham said that he was "someone who played a big part in the building of the Manchester scene" before adding, "we're all in his debt."
He also told the crowd to huge cheers on the night: "This is a global capital of music, this is EXACTLY what the Mayor should be doing. Absolutely!"
The Mayor has since shared his full setlist online, you can see the track list from last night here and listen to the full set on Mixcloud here.
Feature image – Ramona