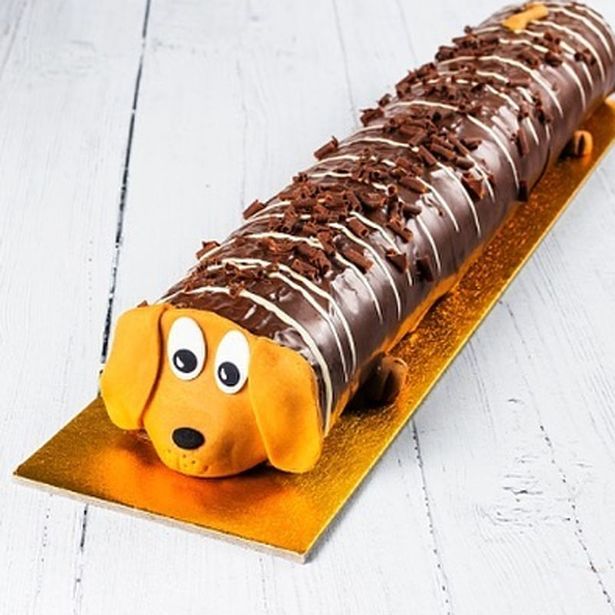 ASDA has launched a new 'Sid the Sausage Dog' celebration cake and it's available at stores nationwide and online from today.
This new chocolate celebration cake, which is already looking set to give regular favourite caterpillar cake 'Colossal Clyde' a run for his money, is a foot-long and can feed up to 20 people.
Sharing many a similarity to 'Colossal Clyde', this new Dachshund-shaped cake is bound to be a staple centrepiece at parties and get-togethers up and down the country.
Announcing the arrival of 'Sid the Sausage Dog' to its ever-expanding celebration cake collection on Instagram, ASDA said: "We'd like to introduce Sid the Sausage Dog. Guaranteed to create the woof-factor for any special celebration, Sid is a whole foot long feeding up to 20 people."
"Sid consists of a soft chocolate sponge, rolled with chocolate buttercream."
"For the final flourish, he is coated with milk chocolate and edible decorations, creating a novelty centrepiece for only £12"
Speaking on the shelf's newest addition, Becky Price, ASDA's Product Development Manager, said: "We know our customers love a novelty cake that injects plenty of fun into special celebrations at an affordable price".
"We've seen a rising demand from our customers for sausage dog-themed products, so Sid is a great addition to our celebration cake range and is sure to become one popular pooch".
Sid the Sausage Dog is retailing at £12 and is available at ASDA stores nationwide and online from today.
You can find out more information via the ASDA website here.
If you are keen to snap up your very own Sid the Sausage Dog, then it's advised you check the opening times of your local ASDA branch before making any trips in store and you can do so via the store locator here.