News
Aviva Studios, the home of Factory International and the biggest cultural centre in the UK, officially opens in Manchester
A huge day for the arts not just in Manchester but the UK as a whole.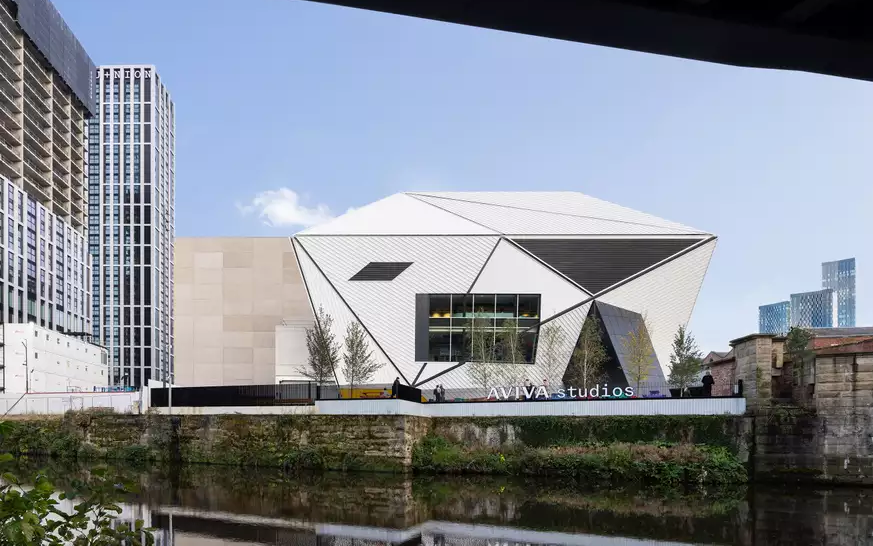 The brand-new Aviva Studios, a.k.a. the official home of Factory International, has officially opened in Manchester and we got a first look at the impressive new cultural centre which first began construction back in 2017.
Marking the single biggest cultural investment project since the opening of the Tate Modern back in 2000, Aviva Studios is a state-of-the-art facility that sits as a striking new addition to the Mancunian skyline with its unique geometric exterior designed by OMA (Office for Metropolitan Architecture).
The launch, which gets off to an exciting start with its opening production of Free Your Mind — a Danny Boyle-directed dance-driven recreation of The Matrix — is a historic day for the arts not only in the city but the nation in general, as Aviva Studios is now the biggest cultural institution anywhere in the UK.
Assembled using nearly £1 billion in funds from the government, National Lottery and Arts Council England, Factory International's new central hub for MIF (Manchester International Festival) and all other projects will promise to deliver original productions and special events across all art forms.
The coolest part about the 13,350-square-metre building is its multiple large, open and crucially flexible spaces that can be constantly reconfigured to allow multiple artists to create large-scale ambitious works of a kind not seen anywhere else in the world.
For example, the 21-metre-high Warehouse is the ultimate flexible performance space with capacity for up to 5,000 people standing. It's taller than four double-decker buses stacked on top of each other, just under the length of a Boeing 747 aeroplane and can be divided by a movable wall.
Meanwhile, the Hall features a flexible stage that can house an audience of up to 1,603 seated or 2,000 standing and both rooms can be opened up and combined to create one large stage. Ingenious stuff.
This means that as many as three different full-scale artistic productions can be held simultaneously without any visual or noise interference bleeding into the other, thanks to the movable acoustic walls and sound-cancelling curtains which can block noises of up to 100 decibels. So, in theory, you could have a metal gig playing in one room and this mind-bending interactive show in the other.
Read more:
From major exhibitions and concerts to intimate performances and immersive live experiences, there will be all kinds of shows and displays for Mancs to enjoy and will no doubt attract countless tourists from all over the world.
The programme for 2024 is already shaping up to be an extremely exciting project, with everything from a surreal retelling of Jungle Book, performances from the likes of Maxine Peake; the Olivier award-winning TRAPLORD, an interactive symphony with BBC Philharmonic (June 2024), a Johnny Marr double-header with a full orchestra and so much more.
In fact, there is even an AR (augmented reality) installation already on display which is completely free for people to experience visiting during the day and, of course, plenty of food and bar spaces to enjoy when you're not soaking in the culture.
There is so much going on here that it's kind of hard to know where to start, but a good place might be checking out the programme HERE to see what's on in the coming months and into next year.
For all the latest news, events and goings on in Greater Manchester, subscribe to The Manc newsletter HERE.
Featured Image — Marco Cappelletti, courtesy of OMA and Factory International.