News
Commuters warned heatwave will cause 'rail delays' across the North West
Network Rail says journeys are expected to take "significantly longer".
Rail commuters across Greater Manchester and the North West are being warned that the UK heatwave will most likely cause train delays.
Network Rail has issued a statement all those who travel by trail to only make journeys that are "absolutely necessary" during the potentially record-breaking hot temperatures that are forecast to hit large parts of the UK from Monday 18 July.
The warning comes after the Met Office has today issued a Red weather warning for extreme heat in the east of England, the Midlands and parts of the North West on Monday and Tuesday for the first time in UK history – with temperatures forecast to reach as high as 40°C in some areas.
An amber warning for heat is also in place across the rest of England, Wales, and some parts of southern Scotland.
The currently0forecasted temperatures will see the introduction of speed restrictions on railway lines across the country to ensure the safe running of trains, Network Rail has confirmed, and although the impact on train services will vary by region, journeys are expected to take "significantly longer".
There is also said to be a "high likelihood" of cancellations, delays, and last-minute alterations to services across the North West.
Read more: Met Office issues the UK's first ever Red warning for 'extreme heat'
Network Rail says that passengers who choose to travel despite the warning are being advised to check the status of their journey before travelling, and should make sure that they are well-prepared for the extreme conditions.
The rail provider is advising that people wear cool clothes, take handheld fans, and ensure they have plenty of water to drink.
Vulnerable passengers and those with health conditions should avoid train travel.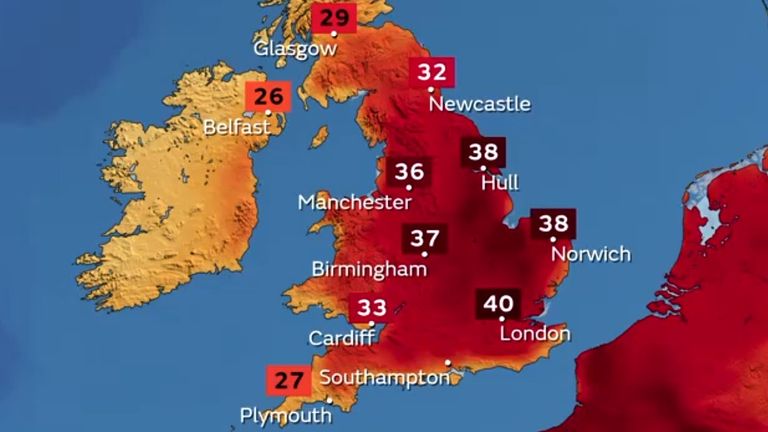 "There will be delays and cancellations to train services due to the unprecedented heat we're expecting," said Jake Kelly – Group Director at Network Rail's System Operator.
"The wellbeing of our passengers is our first priority so we're asking all passengers who decide to travel to take time to prepare before leaving the house.
"Journeys will take significantly longer and delays are likely as speed restrictions are introduced to keep passengers and railway staff safe, so make sure to allow considerably more time to complete your journey and be prepared for very hot conditions [but] we're working closely to monitor forecasts and adapt our plans, and with our train operator colleagues to make sure we can get passengers who need to travel to their destinations safely."
Passengers are advised to check before they travel next week at www.nationalrail.co.uk or with their direct train operators.
Featured Image – Network Rail