News
How much are sausages, beer, and gluhwein at Manchester Christmas Markets 2022?
We've done the hard work so you don't have to.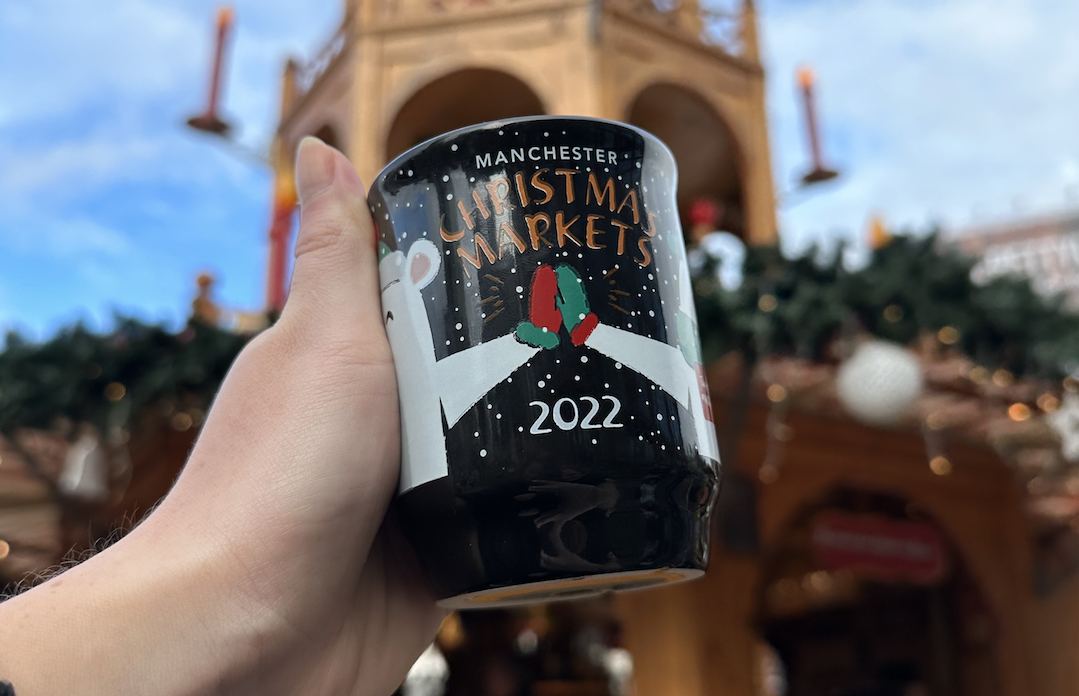 The Manchester Christmas Markets officially return today, bringing with them an array of festive bars and food stalls selling sausages, beer, and gluhwein amongst other tasty treats.
Running from Thursday 10 November until Thursday 22 December, the markets will be open every day serving up all of our festive favourites – from big fat bratwursts, to steaming cups of classic and special gluhwein, pints of German beer, and so much more.
As ever, with the markets comes a lot local of excitement as it marks the start of official the build-up to Christmas here in Manchester.
However, with prices everywhere rising amid the cost of living crisis, those who like to complain about the cost of a bite to eat or something to drink at the markets each year are likely to be larger in number than ever.
So we expect the question on everyone's lips this year is going to be, how much are you going to pay?
Fortunately for you, we've already done the work for you, so keep on reading to find out how much to budget for your German sausages, gluhwein and beer at the Manchester Christmas Markets 2022.
Piccadilly Gardens – Winter Gardens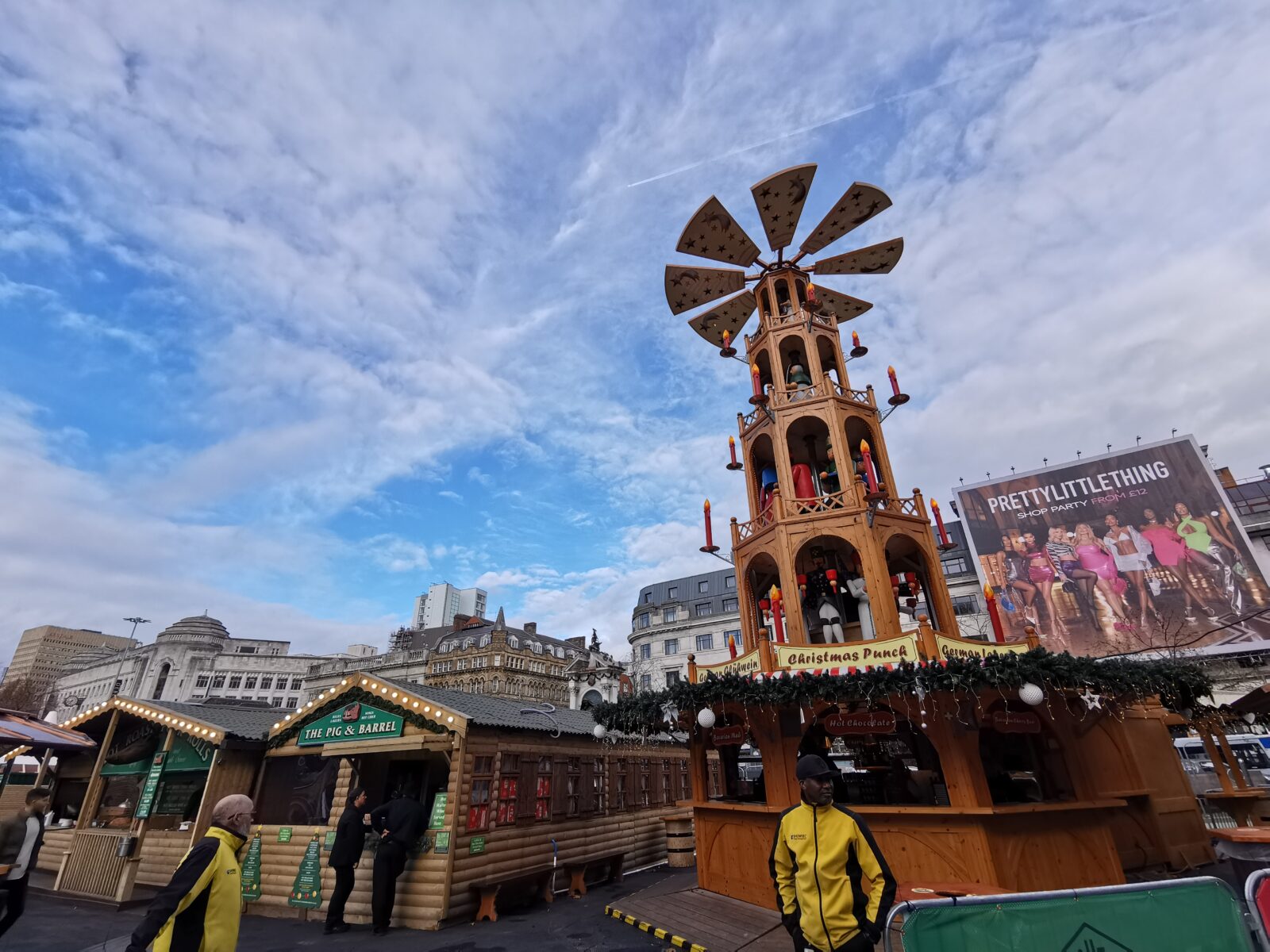 Main bar
Lager – £6
Mulled wine – £5
Sausage – £6.50
Panc Foods
Vegan bratwurst – £8 – £10
Hot Roast Pork Rolls
Hot pork roll with sage and onion stuffing and apple sauce – £8
Mulled wine or cider – £5
Off Piste Bar
Off Piste Lager, Alpine Ale and weisse beer – £5.50
Mulled wine and mulled plum cider – £5 to £5.50
Italian Vin Brule and Nordic Glogg – £7
Canadian Mulled Wine and French vin chaud – £7.50
Hot spiced rum punch – £8
Manchester Winter Ale House
Dock 53
Mulled wine – £5
Mulled Morgans – £6.50
Hot buttered rum – £7
Carlsberg – £4.50
Pilsner – £5
Somersby cider – £4.50
St Ann's Square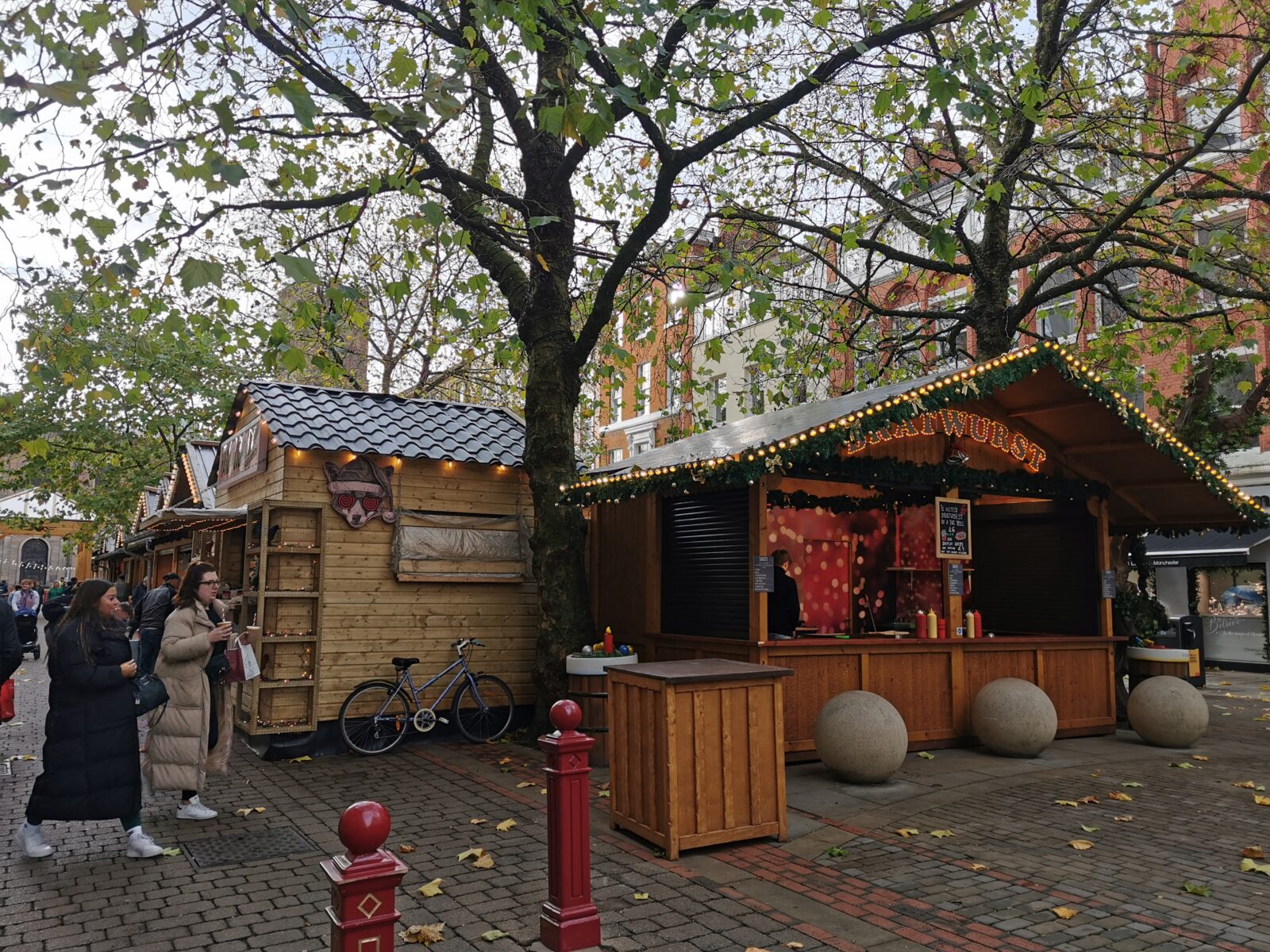 North Star Bar
Beers and Wine – From £5.50
Rum and Gin – £6
Cocktails – From £7
Prosecco – £5.50
Gluhwein – £5
Special Gluhwein – £7
Bavarian Hofbrau – Half pint £3, a pint £6
Mamma Mia!
Prosecco and Rose wine – £6.50
Aperol, Bellini, Rossini – £8
Glass of white or red wine – £5
Vin Brule – £5 + a shot of rum or amaretto for £7
Peroni – Half pint £3.50, a pint £6
Bratwurst
1/2 meter bratwurst in a big roll – £6
Big Dutch Chips – £4
King Street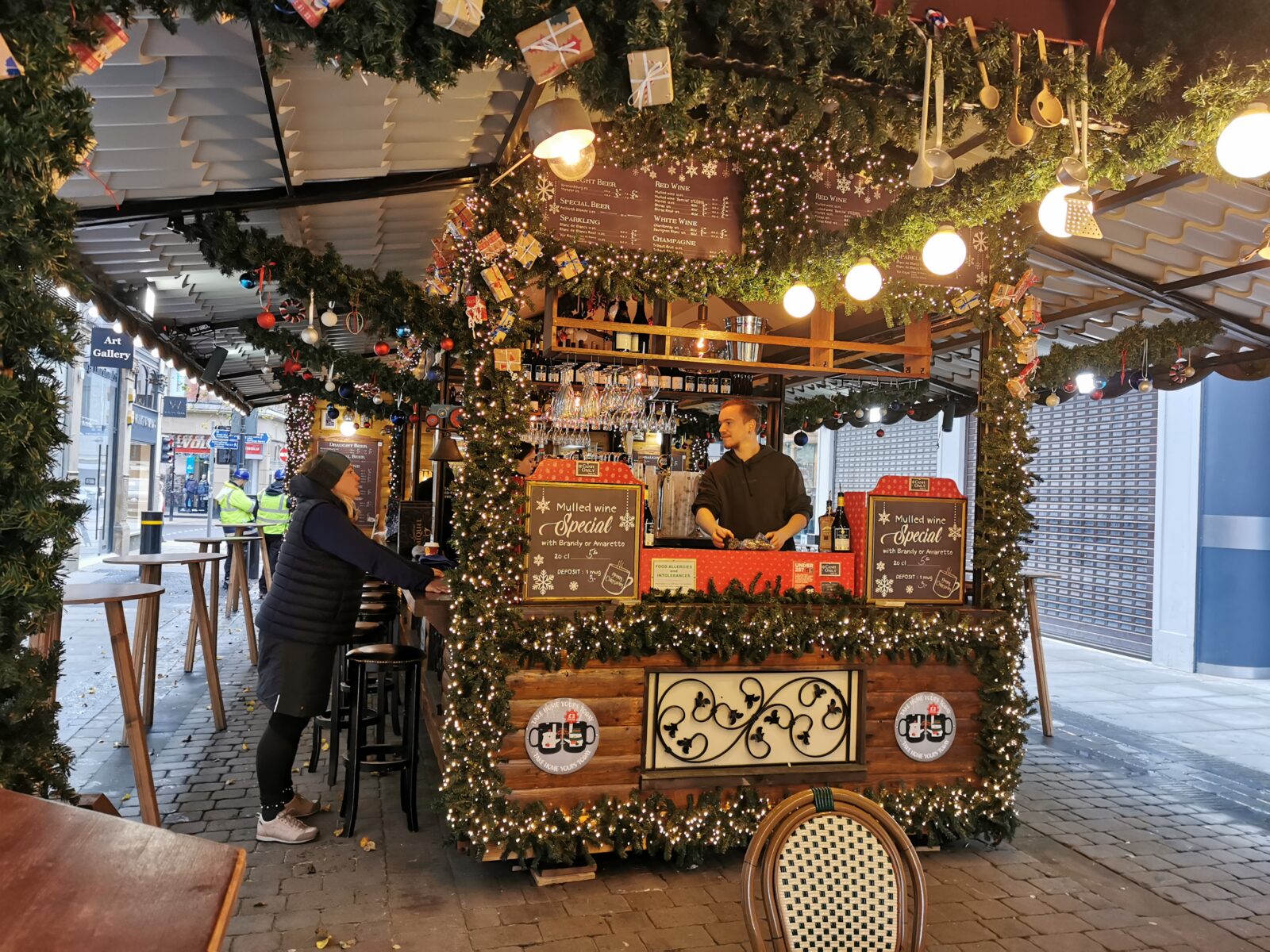 Bistrot Le Petit Paris
A pint of Kronenbourg – £5
Mulled Wine – £4.50
Special Mulled Wine (with brandy or amaretto) – £5.50
You'll also find Kir Royals, wines, and prosecco and champagne.
Swinging Sausage Stand
Cheese Sausage or White Sausage – £6
The Grumpy Moose
Liqueur Chocs – £5
Mulled wine and cider – £5
Gin & Tonic – £6.50
Habas
Spiced mulled wine £5.50
Victoria Malaga – Half pint £3, and a pint £6
Prosecco – £6.50
Wine – £7
Soft drinks – From £2
Exchange Square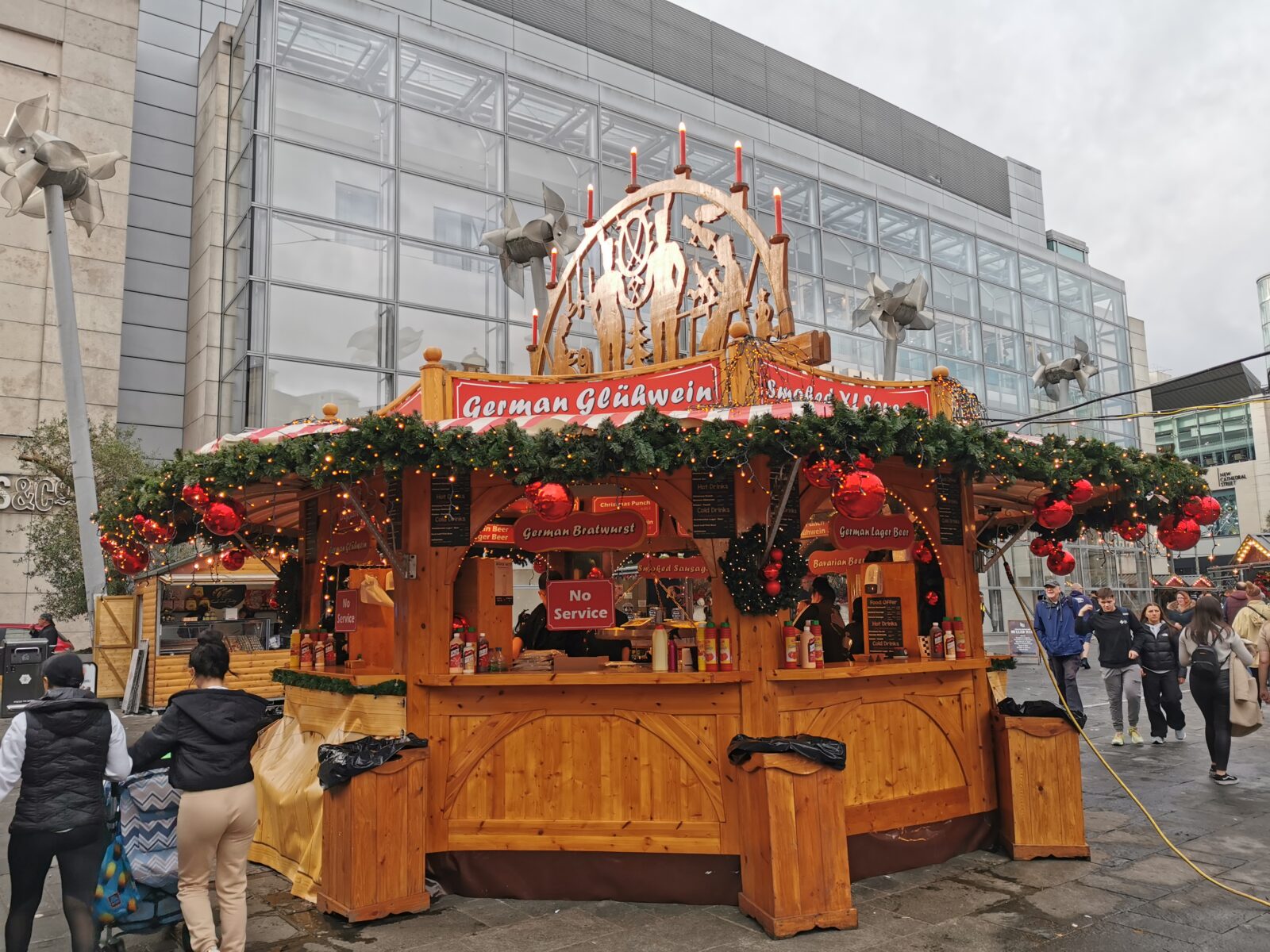 The Mill Exchange
Prosecco cocktails – £6 to £8
Christmas cocktails – £9
Homemade flavoured mulled wine – £5 small or £7 large
Porky Pig
Peroni – £6.50
Carling, John Smiths and Strongbow – £5.50
Strongbow Dark Fruits and Guinness – £6
Mulled wine and cider – £5
Main Bar
Punch and gluhwein – £6
Krombacher – £6
Bratwurst, smoked sausage or cheese sausage – £6.50
Market Street
Melting Pot
Hot drinks, including hot chocolate, coffees, teas and hot Vimto – £3
Cathedral Gardens
Well Spruce
Seasonal coffees at hot chocolates – £3.50
Gingerbread hot chocolate with Bailey's – £5.50
Coffee, hot chocolate, or tea + a shot – £5.50
Mulled wine, mulled cider, mulled whiskey, hot toffee cider, and hot ginger gin – £5 / £6
Gin & Tonic – Single £6.50 and Double £8.50
Glass of flavoured Prosecco – £6.50
Cocktails – £6.50
New Cathedral Street
The Witch House
Traditional Curry Wurst – £7
Bar 3
Flavoured Prosecco Gin Cocktails – £6.50
A pint of beer or cider – £5
All hot drinks + a shot – £5
Read more:
Featured Image – The Manc Group