Christmas
Manchester Christmas Markets 2022 – everything you need to know
A giant Nordic tipi with fire pits, Manc-made mulled wine and the return of Korean hotdogs are just a few things to look forward to.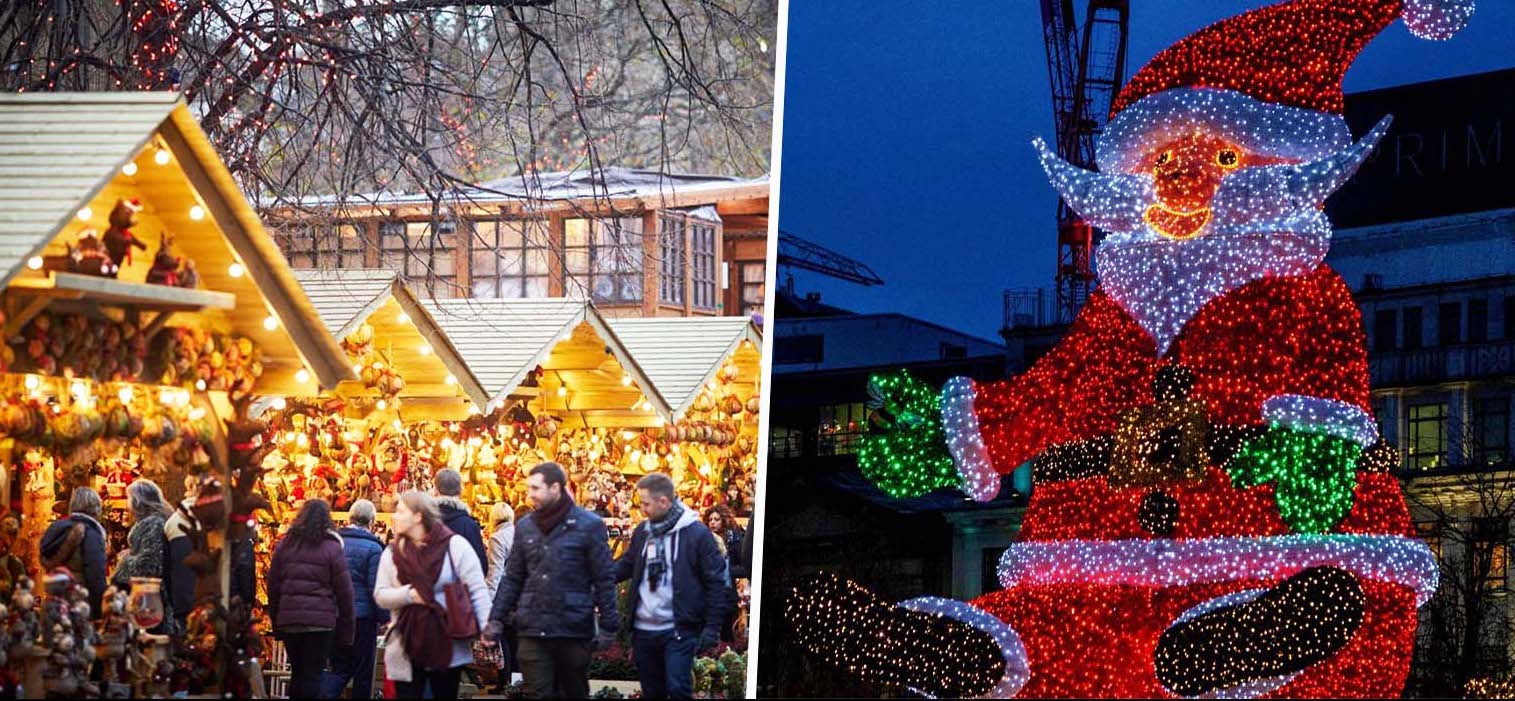 It's starting to feel very wintery in Manchester now and Christmas is hurtling toward us. Where oh where has the year gone?
Before you know it you'll be knee-deep in mince pies and wrapping paper, getting your most ridiculous festive jumpers out of the wardrobe and feigning interest in that one uncle's story you've already heard a hundred times over. Oh yeah, we're getting in the mood now.
With that in mind, this year's Christmas light switch-on might be cancelled but you'll be pleased to know that the Manchester Christmas Markets are back for their 24th year.
When do Manchester's Christmas markets start?
This year's Manchester Christmas Market dates seem to have arrived earlier than ever this year, so there's no excuse for you not to get swept up in the festive spirit in time for the holidays.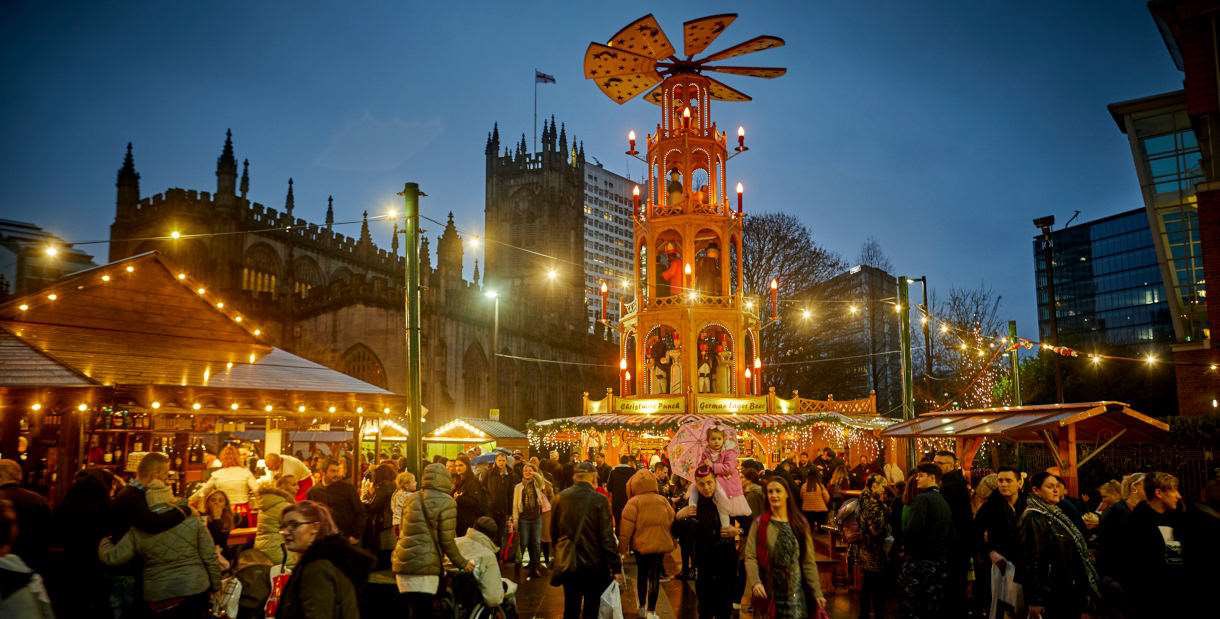 As confirmed earlier this month, the 2022 markets will start Thursday, 10 November (oh hell yes, with the majority of its 220 stalls, food vendors and bars opening every day from 10am to 9pm.
And if you're wondering 'when do the Manchester Christmas Markets finish?', you'll be pleased to know that this year's stalls won't shut up shop until 22 December, meaning you can soak up the city centre celebrations pretty much right up until the day itself.
Manchester Christmas Markets Location
With Albert Square and the Town Hall still under renovation, the heart of the Manchester Christmas Markets will once again be Piccadilly Gardens as the Winter Gardens hub makes its return, bigger than ever, for 2022.
Serving up Korean hotdogs, Parmos, pancakes, churros, and an array of winter tipples, it will be at the very center of Manchester's festive action this Christmas – boasting a brand new, heated giant Nordic-themed double tipi bar for over-18s.
This year Winter Gardens will also be home to the iconic Manchester Windmill, coming in at a whopping 4 metres high, as well as hosting entertainment throughout the week – including live music and DJs.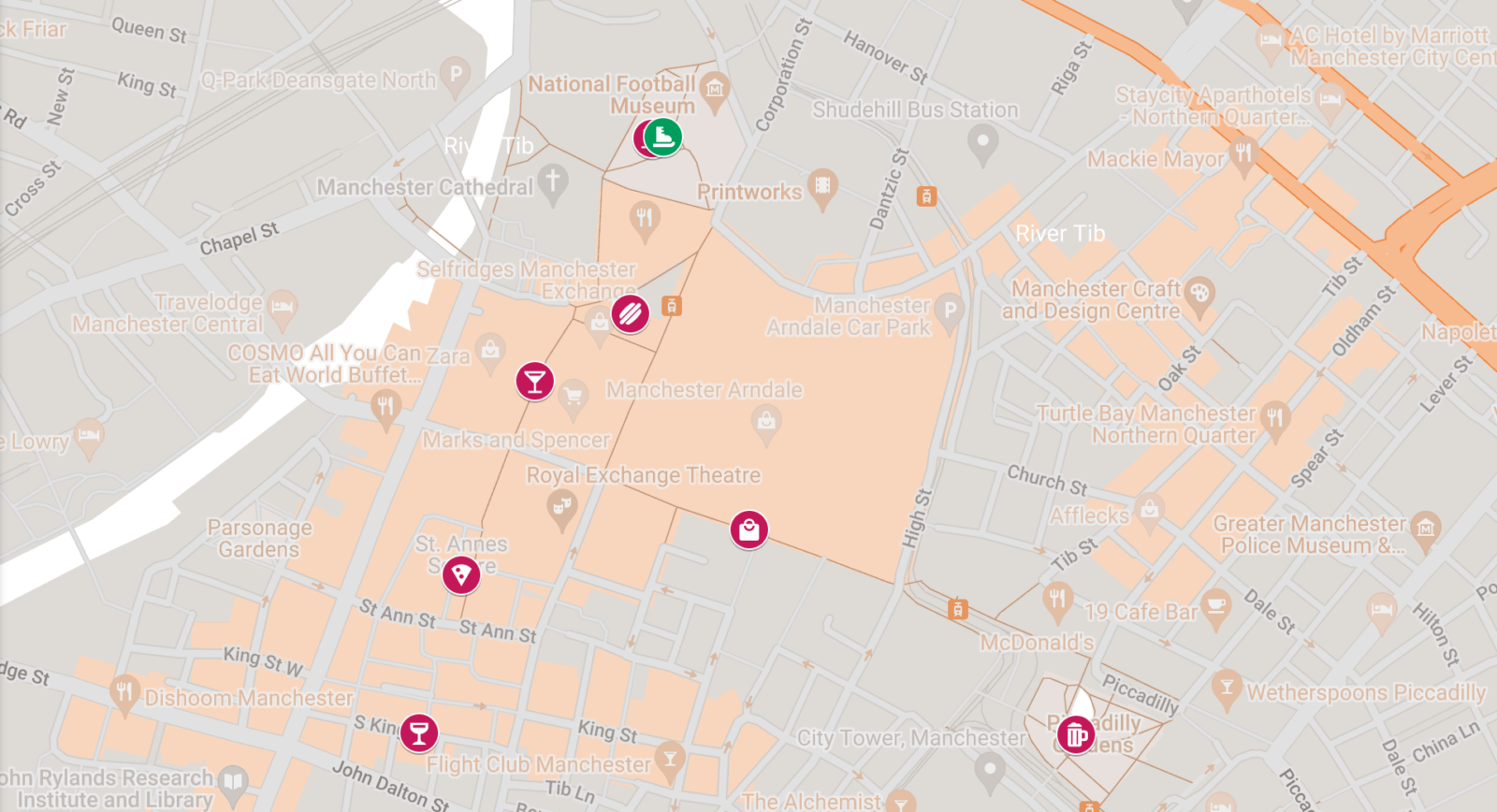 Elsewhere, there will be a variety of festive markets spread around the city, from busy hubs at Exchange Square, The Corn Exchange, St Ann's Square and Cathedral Gardens, to trails of stalls leading down King Street, Exchange Street, New Cathedral Street and Market Street.
What food is there this year?
If you're anything like us, Manchester Christmas Market food is the main event – a treat you look forward to all year and pretty much the main reason people go (besides the Bavarian beer, cosy cups of mulled wine and general festive vibes). Basically, we're all about the stuff we can consume.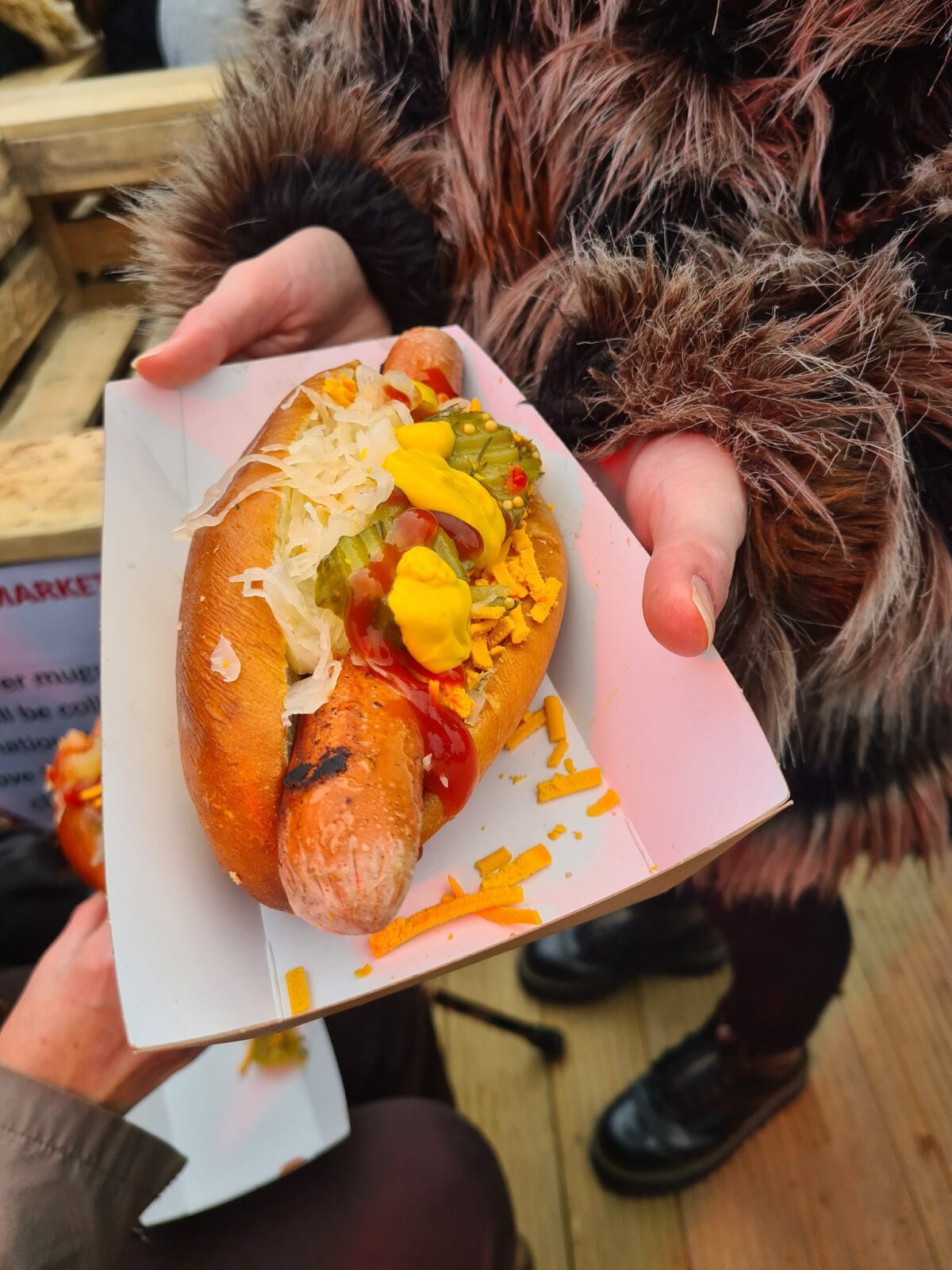 Expect all the classics from the Bavarian Bratwurst, beer and Glühwein stalls, to the crepes and mini-pancake stalls to be there as usual.
Old favourites the Pig and Barrel will be making a welcome return to the Winter Gardens offering up their delicious pork barms and cosy seating area with entertainment on most nights, whilst on King Street Habas, part of the El Gato Negro group, will bring its Middle eastern-inspired menu out into the streets.
Market newcomers Parmageddon will join a mouth-watering line-up of food and drink that also includes vegan bratwursts from Panc, plus cookie dough, Amsterdam Frites, and two bars serving a selection of international ales.
There'll also be appearances from the likes of Northern Soul Grilled Cheese, Great North Pie Co., and Porky Pig — a.k.a. the home of the famous Yorkshire pudding wrap.
Winter Gardens will welcome a brand new, giant Nordic-themed double tipi bar, equipped with a roaring fire pit and cosy fake furs to snuggle up in, and Exchange Square's iconic Mill Bar will be serving up its Mancunian mulled wine, made especially on-site
This year, the markets will also be hosting dedicated weekly trial spots for new local traders to step into winter trading and try out their wares on the Christmas market crowds – so keep your eye out for newcomers popping up across the city.
How about other independent Manc traders?
There are only so many hot dogs and mugs of mulled wine a person can drink, and you might want to have something to show for your hard-earned pennies besides a full belly – especially when it comes down to exchanging presents.
The Christmas Markets have long been home to some of the best independent traders in Greater Manchester and you'll find some of the coolest local prints, handcrafted homewares and outdoor furniture; hand soap, sculptures, personalised trinkets and more.
From various luxury leather accessory stalls and the highly unique Metal Art Productions, who created incredible metal sculptures from recycled materials, to the Forever Manchester foundation charity shop, you're sure to find a hidden gem at one of the countless craft stalls.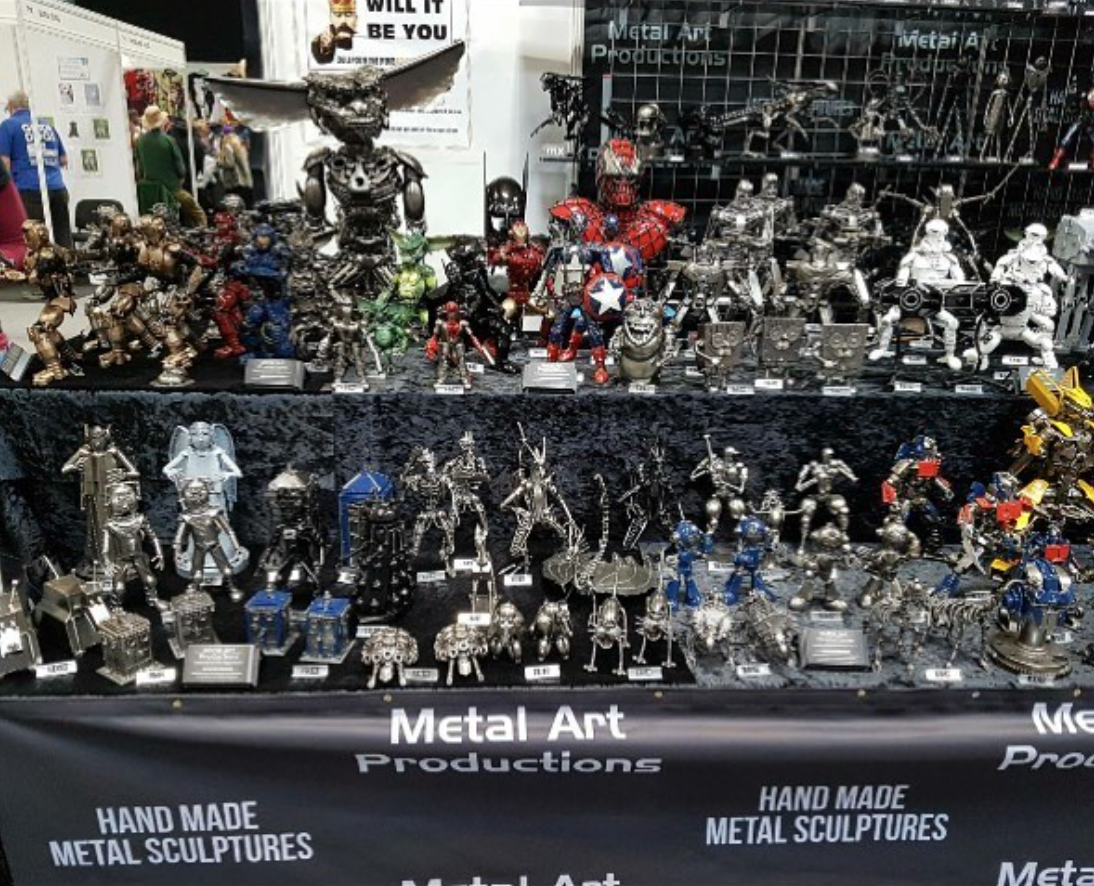 Oh, and of course, what trip to the world's greatest Christmas markets would be complete without an official Manchester Christmas Markets mug? This year's design is delightful as ever and will cost you just cost you a £3 deposit but you can always take it home if you want to add it to your collection.
Deposits for beer and wine glasses also start from £1.50.
Winter Gardens
With entertainment throughout the week including live music and DJs, some amazing food vendors will make their temporary Christmas home next to the new Winter Garden Nordic Tipi, including vegan foodies Panc, and last year's smash-hit Korean hotdogs.
Old favourites the Pig and Barrel will make a welcome return, offering up their delicious pork barms and cosy seating area with entertainment on most nights.
Winter Gardens will also be home this year to the iconic Manchester Windmill which comes in a whopping 4metres high!
Accessible changing facilities, which include an adult weighted change bed, a shower, toilets, and an adult weighted track hoist will also be available in Winter Gardens as well as, priority seating for disabled visitors.

St Ann's Square and Exchange Street

St Ann's Square, the original site for Manchester's Christmas markets, will return with its large undercover bar providing German beers and warm cherry Gluhwein to keep Christmas revellers warm and merry throughout the winter season.
St Ann's Square and Exchange Street will also be home to local traders, and Manchester foodie favourites such as Yard and Coop with their salt and pepper chicken fries, plus fresh authentic paella and tapas, as well as Manc and Proud serving up Mancunian-themed everything, plus continental chocolates, English cheeses, and art emporiums.
Market Street

Market Street will be home to stalls selling a wide range of gifts from some amazing crafters and producers selling everything from tweed hats, spiced rum and Christmas decorations, to candles, jewellery and gift sets of cheese truckles.
King Street
Home to some of the best food in Manchester, the Christmas deli stalls on King Street will take foodies on a world tour of some of the best-loved dishes on the planet. From Italian cannelloni and arancini, Greek gyros and halloumi fries, to French garlic mushrooms and Salford Rum, there's something for everyone's tastes.
New for 2022, middle eastern restaurant Habas, part of the El Gato Negro group will bring their middle eastern menu and seating area to King Street- great for those wanting to eat their way around the world.

New Cathedral Street
New Cathedral Street starts with high-end gift stalls and stretches down into foodie heaven. Stalls selling fine cast ornaments, old-fashioned liquorice, handmade cocktails for home, and light-up Christmas decorations, lead to food stalls offering everything from vegan five bean chilli, to New York Bagels – swallowed down perhaps by one of cosmopolitan Bar 3's famous smoking cocktails.
The Witchouse also returns to New Cathedral Street for 2022 with its traditional steins and mouth-watering currywurst.
Exchange Square
Here you can warm up at the instantly recognisable Mill Exchange bar, with their special Mancunian mulled wine made on-site and its legends of Manchester artwork adorning its walls.
2022 also sees the return of the famous Porky Pig's Yorkshire Pudding Wrap, alongside stalls selling hot curries, mini pancakes, fresh fudge, hand-carved olivewood decorations, German kebabs, and gourmet Italian pizza.

The Corn Exchange
Set between Manchester's historic Corn Exchange building and Shambles Square, visitors can expect to find unique fairtrade hats and jackets, character-themed hats and belts, as well as handmade pies, cupcakes and soaps.

Cathedral Gardens

Opening Saturday 22 October in time for half term and Halloween, the much-loved undercover ice rink Skate MCR is back with entertainment each Thursday to Sunday all the way through to New Year's Eve.
Next to the ice rink, hot food, warm drinks, pancakes and tipples will be on offer from market stalls to help warm up cold hands and feet after a skate on the ice.
How much does food and drink cost?
With prices everywhere rising amid the cost of living crisis, those who like to complain about the cost of a bite to eat or something to drink at the markets each year are likely to be larger in number than ever.
So we've gone and done a lap of the markets to check out the prices so you can budget for your German sausages, gluhwein and beer at the Manchester Christmas Markets 2022.
You can see the full list of prices here.
What else is there to do at the markets?
In terms of activities, the star of the show is undoubtedly the Skate MCR ice rink, which has already rocked up to its usual spot in Cathedral Gardens for its special Scare Skate Halloween event. Halloween students and key workers can receive up to 30% off from 15 December onwards.
As well as the ice rink staying open until 3 January, there will also be an illuminated trail of light sculptures around the city for you to trace with the family, not to mention a variety of live entertainment across the various zones of the markets, including regular kids shows to keep the little ones busy.
Last but not least, don't forget to pay Santa a visit — it's a Manchester Christmas Markets tradition. It is rumoured that he will be setting up on St Peter's Square for 2022, and we can already picture him sitting proudly atop the library.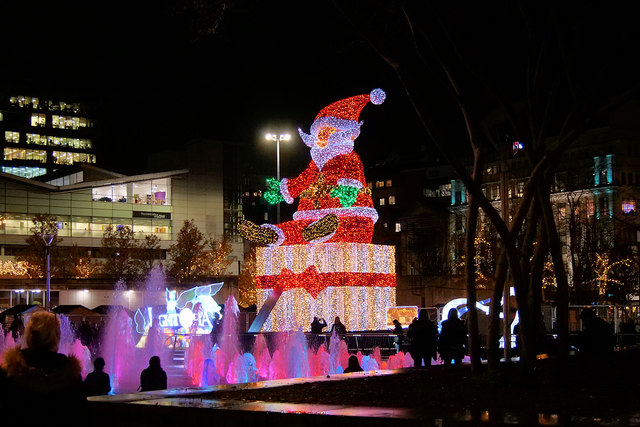 Read more:
Once again, the 2022 Manchester Christmas Markets will be here in just over three weeks' time and we are absolutely buzzing for the city to get back into the swing of Christmas. Last year was a soft re-launch – this year we're getting back to our fighting best.
Lastly, make sure to follow the markets on Twitter to keep up to date with all the upcoming announcements as launch day arrives and throughout its six-week run.
We'll see you there for a bratty and a beer!
For all the latest news, events and goings on in Greater Manchester, subscribe to The Manc newsletter HERE.
Featured Image — Flickr/Manchester City Council