News
Images show Tesco staff pulling food from shelves as fridges fail in heatwave
Pictures show staff piling food into carts as aisles were blocked off to customers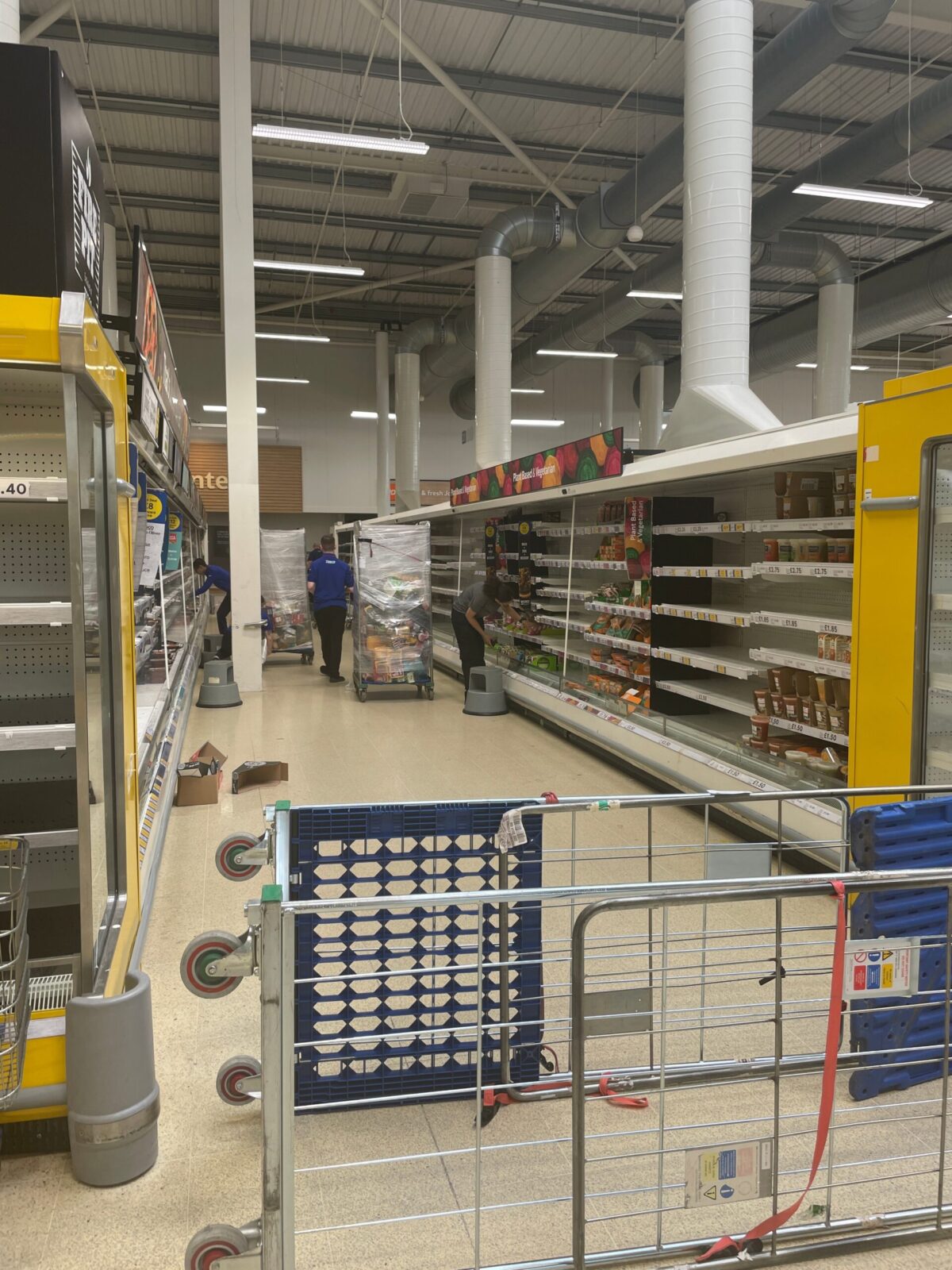 A supermarket in Manchester has left some locals agape after pictures emerged showing staff piling heaps of fresh produce into waste carts after fridges failed on Monday night.
It is understood that some refrigeration units at Tesco in Stretford failed on Monday after a day of soaring temperatures across the region brought highs of over 35C.
Images shared with The Manc show large amounts of food being emptied out of fridges and dumped into wire carts at Stretford Tesco as aisles were blocked off.
After speaking with customers who were there, The Manc understands that much of this produce was marked as waste and then thrown away.
This is in line with existing hygiene regulations, which mean that food that hasn't been able to be stored at the correct temperatures must be removed from sale – either to additional cool space or to be disposed of entirely .
Still, some who witnessed it were left in shock at the amount of food being wasted at a time when many are struggling to feed their families.
A customer who wished to remain anonymous told The Manc: "Stretford Tesco's fridges broke and they were piling the contents of every fridge into trolleys to bin it all.
"I felt sick. There wasn't a single fridge with stuff in and it's a giant Tesco."
They added: "We thought maybe the temperature was too warm in there and it brought the temperatures of the fridges up too much to be able to keep things at the right temperature."
Elsewhere, at another large Tesco store in Prestwich, produce was seen being taken out of freezers but staff told customers that it was not being thrown away but rather stored in the back to keep it cool.
Images shared on Twitter suggest that the problem is not unique to Manchester but is happening across the country, with some social media users speculating that thousands of pounds worth of produce has been binned as a result.
One user wrote: "All the fridges and freezers in the big Tesco have stopped working due to the heat #BigTroubleInBigTesco."
It is not the first time that such an issue has occurred at the supermarket, with similar reports often cropping up in previous years whenever there has been a surge in temperatures.
Read more: Manchester restaurants close their doors as temperatures soar above 30C
Legally here in the UK, supermarkets are well within their rights to destroy unsold food but some campaigners have argued that the law should be changed to make such food waste illegal.
According to food waste charity Fairbite, 250,000 tons of food is thrown away in the UK each year by supermarkets whilst at the same time some citizens find themselves facing hunger as they do not have the money to feed themselves.
In France, there are new laws on fighting food waste that mean French supermarkets are forbidden from destroying unsold food products and are instead compelled to donate it to charities.
Since this law was introduced in France in 2016, food poverty campaigners in the UK have argued that similar measures should be adopted here to prevent edible food being wasted when millions of people are going hungry.
According to the Food Foundation, a total of 7.3 million adults and 2.6 million children experienced food poverty in April 2022.
Read more: Legendary gig venue Gorilla is closing for 'unavoidable' work to its railway arch home
A Tesco spokesperson said: "Some refrigeration and freezer units at our Stretford Extra store are currently being worked on at by our maintenance teams who will get them back up and running as soon as possible.
"We apologise for any inconvenience caused."
Feature image – The Manc Group