News
Group behind Manchester's 'worst hotels' with 'prison cell' rooms reports record profits
After ten years as the worst in the UK, it suddenly appears that Britannia Hotels have become a popular choice.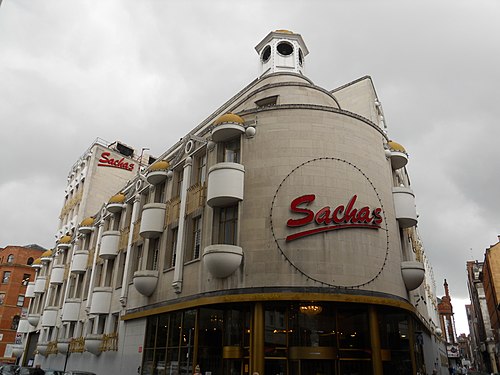 The group behind some of Manchester's worst hotels has reported record profits, despite its less-than-stellar reputation in the city and across the UK more generally.
Britannia Hotels, which is behind the infamous Northern Quarter hotel Sacha's and the Britannia Hotel on Portland Street amongst others, suddenly appears to have become a popular place to stay – if its takings are anything to go by.
The company reported a loss of £9.5m in 2021, but in the following year revealed its pre-tax profits to be £33.3m.
The chain is also behind the Britannia Airport Hotel, as well as having further sites in Wigan, Stockport and Bolton, and has been consistently rated the worst in the UK for ten years consistently.
Its most recognisable city centre hotel Sacha's has been referred to as the city's very own Cecil Hotel, with reviewers on TripAdvisor regularly calling it the 'worst hotel in Manchester' and comparing its rooms to a 'prison cell.'
One reviewer, posting under the username Vincent B, confessed he couldn't even make it through the night and checked out seven hours into his stay.
He wrote: "I did not even stay the night the hotel was that bad. It's basically next door to 3 night clubs. Checked in at 16.00 and left at 23.15. Windows were so dirty and the bed was nowhere near sleepable. Will definitely not be going anywhere near me."
Read more: Stockport school for children with learning difficulties has equipment vandalised
Another person compared the rooms to a 'prison cell', writing: "The most vile place I've ever stayed. Location good and staff are nice but wow I can't believe they can charge £225 a night for this hell hole.
"The rooms are like a prison cell. No proper windows and aircon doesn't work. Have a tiny fan that doesn't even make a difference. Huge window on the ceiling with no blind. Light from 4am so we were wide awake!! Told the reception staff whilst checking out and I honestly think they've heard it all before. Just said sorry for the inconvenience!! It's grotty and it stinks."
A statement from the chain's board said: "The result represents a return to performance levels comparable to pre-Covid-19 achieved during a period of difficult trading conditions which continues to limit opportunities for growth.
"Our priorities continue to be maintaining occupancy levels and to manage operating costs whilst ensuring that the business is well placed to exploit the opportunities of the future."
Read more: Father of murdered GMP officer PC Nicola Hughes collects MBE for charity work
"The directors remain confident that the company is in a good position to meet the challenges and opportunities of the future. The hotels have managed to maintain their competitive edge through the economic downturn and continue to take steps designed to attract new business and improve market share going forward.
"The directors have carefully considered the availability of working capital and likely levels of trading over the next 12 months. They are confident that the business is well placed to meet the challenges including the current geopolitical uncertainty, cost of living crisis and the continuing impact of the Covid-19 pandemic."
Featured image – Wikipedia