News
Stockport school for children with learning difficulties has equipment vandalised
An outdoor part of the facility was set alight over the half-term.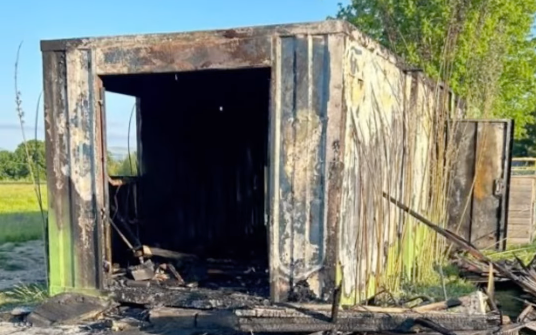 A school for children with learning difficulties and complex needs in Stockport has sadly been vandalised, leaving the students without a beloved learning facility.
Castle Hill High School in Offerton — formerly known as Offerton School — was reopened as a community specialist education school back in 2014 after moving from its original site in the Brinnington area of the borough, and currently teaches and looks after around 325 students.
Taking in kids from ages 11-18, Castle Hill has remained an important educational facility for those living in Stockport and has regularly held an 'outstanding' Ofsted rating, providing its pupils with access to everything from science labs, food technology rooms and design workshops to computer suites, art rooms, multi-use sports and games area and much more.
One of the aspects the school and its students were most proud of was the 'Forest School': an outdoor-focused learning approach which sees children interact with their environment and others in it. In the case of Castle Hill, these lessons originated in a specially-designed container located at the back of the school but, sadly, during the recent half-term break, the facility was destroyed.
Gemma Minshull, whose 12-year-old daughter Maddie attends the school, says that she and countless other kids were "left so upset" by the arson and has since issued a plea online, asking Stockport locals and surrounding communities to "please help us to restore our beloved forest school".
As she explained, "During the half-term break an intruder broke into the school grounds, deliberately setting fire to the forest school container, destroying everything."
"The Forest School is an amazing educational approach to outdoor learning, designed to inspire all pupils. The real power of Forest School is its multi-sensory environment. This child-centred learning is integral in meeting the needs of the diverse range of children who attend Castle Hill High School."
Setting up a GoFundMe to try and raise enough money to replace everything lost, Gemma went on to reiterate the importance of the forest school, emphasising that it can be key in helping children "work closely with others… gaining more independence, develop confidence, self-esteem" and more.
Read more:
On a brighter note, in less than a week more than £6,340 has been raised to help replace everything that was lost in the blaze, including replacing the cargo container hub itself, wellies and other items. Local taxi company Lynx Taxis even donated £2,000 outright upon hearing the news.
Offerton locals have even been donating wellies and coats of their own for when it gets back up and running. Speaking to the MEN, teacher John Hadley, who has worked at the school for over six years says, says the staff have been overwhelmed by the support.
"It's been amazing, we have been bowled over. There's been a real outpour and a huge coming-together", he said, once again reinforcing how much these students get from "being in a multi-sensory environment".
You can do your bit to help by donating to the fundraiser HERE.
For all the latest news, events and goings on in Greater Manchester, subscribe to The Manc newsletter HERE.
Featured Image — Castle Hill School/Wikimedia Commons/Gemma Minshull