News
Over 37,000 people sign petition to axe Phillip Schofield and Holly Willoughby from This Morning
The pair have issued a statement.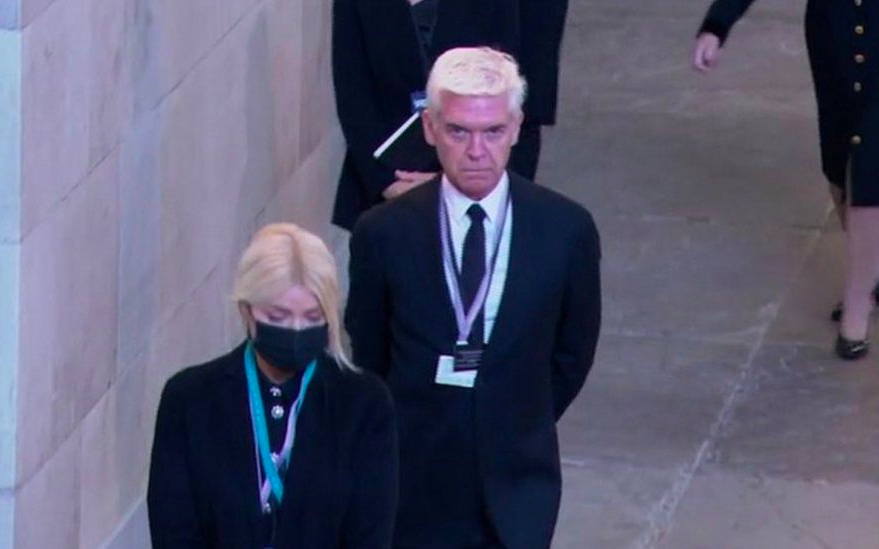 In a moment of controversy no one could have predicted, more than 35,000 people have signed a petition to have Phillip Schofield and Holly Willoughby removed from This Morning.
The two otherwise beloved daytime TV presenters were seemingly spotted jumping the queue to see Queen Elizabeth II's coffin during her state funeral on Monday, 19 September and people have been left outraged.
It didn't help their case that footage circulating on social media showed the ITV duo being escorted around the gates lining the 13-hour-long queue and straight into Westminster Hall.
The Change.org petition has now surpassed 37,000 signatures, with the description stating that 'ITV should be ashamed of exploiting the situation' and allowing the pair to 'push pass thousands' that had been waiting overnight.
Phil and Holly had been airing special episodes of This Morning throughout the official period of mourning and issued a special message of clarification denying the accusations, insisting they would 'never jump a queue' and that they were obviously given access specifically for press coverage.
Those online are even unhappy with their so-called 'apology', arguing that they could have delivered a more sincere piece to camera.
Phil and Holly's official statement
Speaking on Tuesday morning's episode, Phil and Holly stated: "Like hundreds of accredited broadcasters and journalists, we were given official permission to access the hall.
"It was strictly for the purpose of reporting on the event for millions of people in the UK who have not been able to visit Westminster in person."
They went on to explain that hey had to be quickly escorted around the edges of the platform where the Queen's casket was displayed rather than being given time to pause and reflect like others, adding that 'none of the broadcasters and journalists there took anyone's place in the queue'.
That being said, the two acknowledged that the footage didn't look great, whether they had special journalistic dispensation or not.
Read more:
An estimated 37 million people watched the funeral in the UK alone and it is thought to have been one of the most watched events in history, with an estimated 4.1 billion tuning in around the world.
More specifically, around 250,000 people queued up to see the Queen lying in state, with some reports suggesting people waited as long as 17 hours to say goodbye to the late monarch.
Laura Harrison, who created the petition, concluded that people's 'feelings on the monarchy' shouldn't matter and that the anger is more about 'the TV show being toxic' going so far as to suggest it 'humiliated' others 'in the same way Jeremy Kyle's show did.'
Featured Image – BBC