News
Street food operator Grub issues furious statement as Kampus cancels month-long event series
Grub bosses claim £34,000 has been lost after the venue made the decision to pull out last minute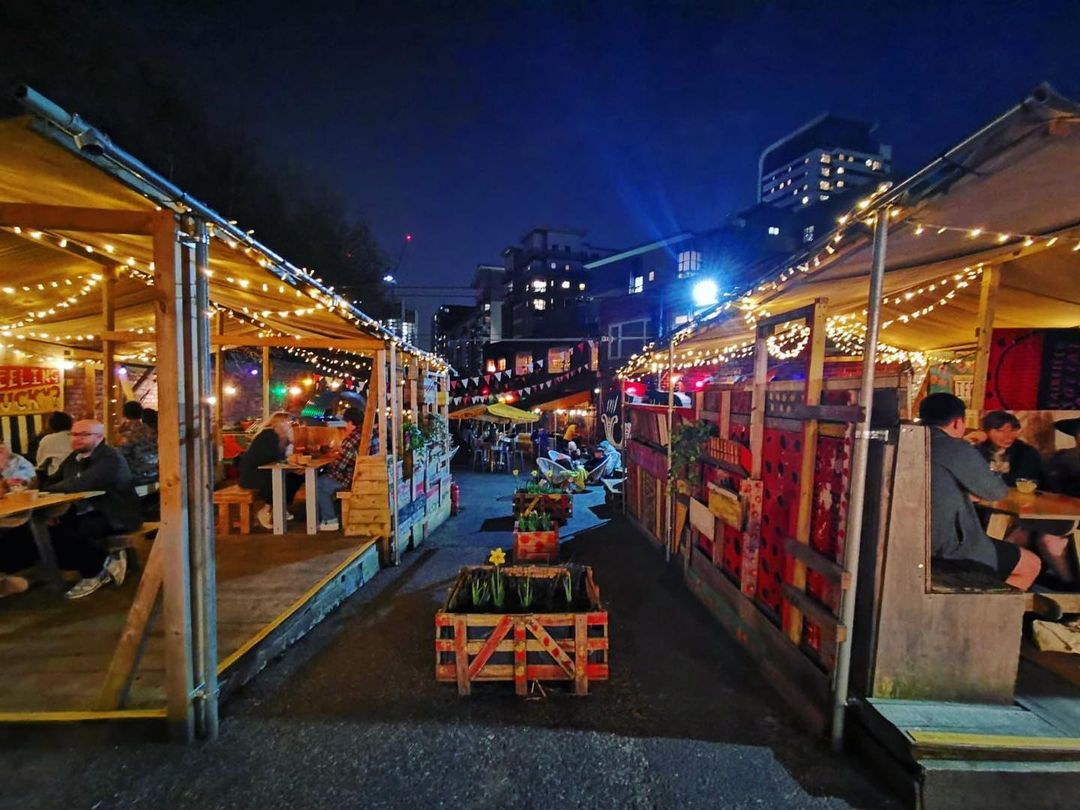 A month of parties, kitchen takeovers, workshops and a special bar hosted by North Brewing Co. was set to come to Kampus throughout April as part of a special 'Grub & Friends' takeover, but now the whole thing has been cancelled leaving organisers fuming.
In a heated statement posted to social media this afternoon, Grub bosses shared a three-page diatribe that said they were 'heartbroken' by the venue's decision to cancel the month-long event series after it had already been made public.
Claiming the decision to pull out of the plans has cost them and their traders around £34,000 in total, the Grub team called the move 'a gut punch we don't need'.
Grub also claimed that the news of the cancellation was broken just hours after they had signed their contract with Kampus.
In a statement posted to Instagram, Grub said: "The reason has been confirmed that they have an intended tenant for the space from April to September.
"They offered us future partnerships and they offered us space in their workspace area which wasn't suitable for any of the events but they didn't offer any compensation, support or an apology."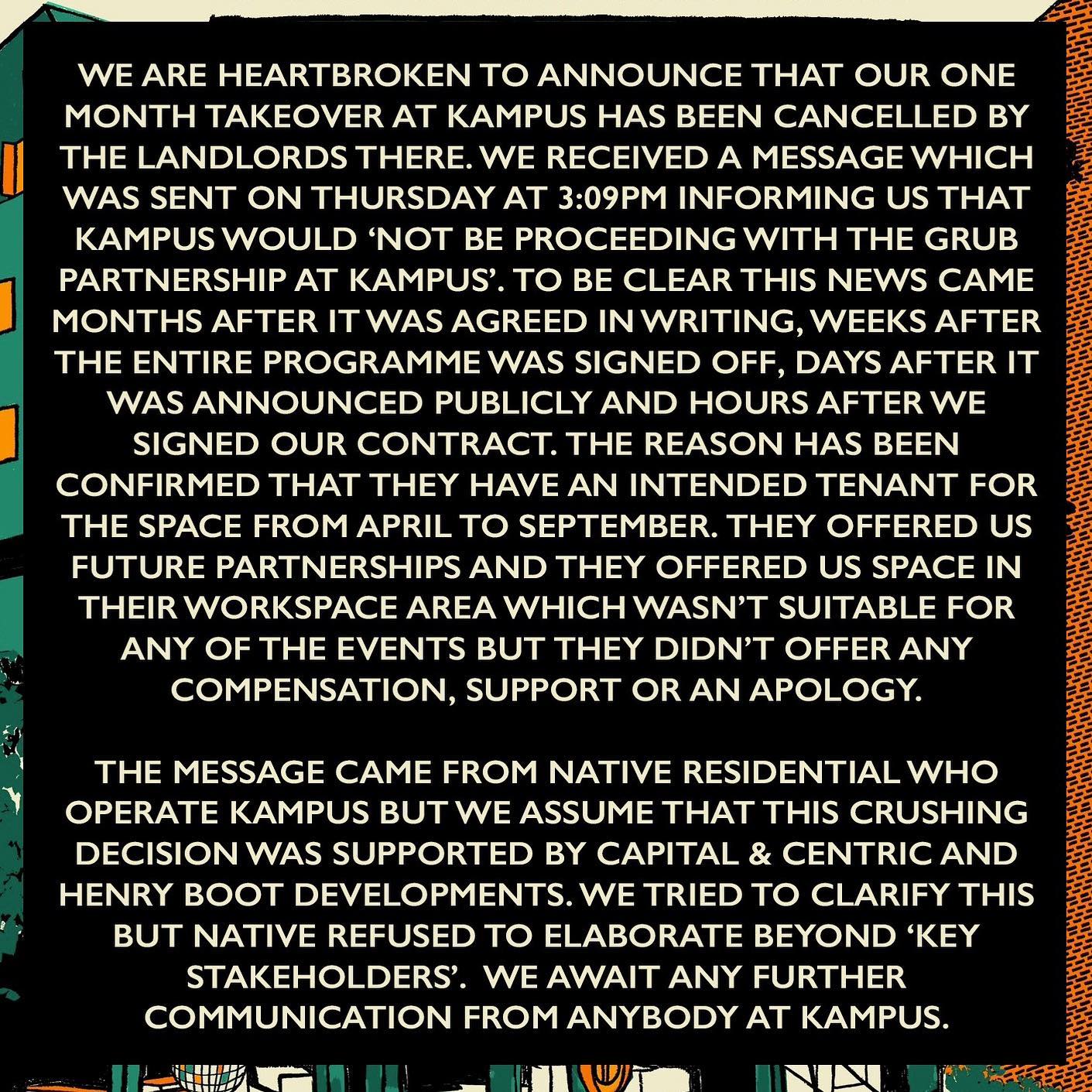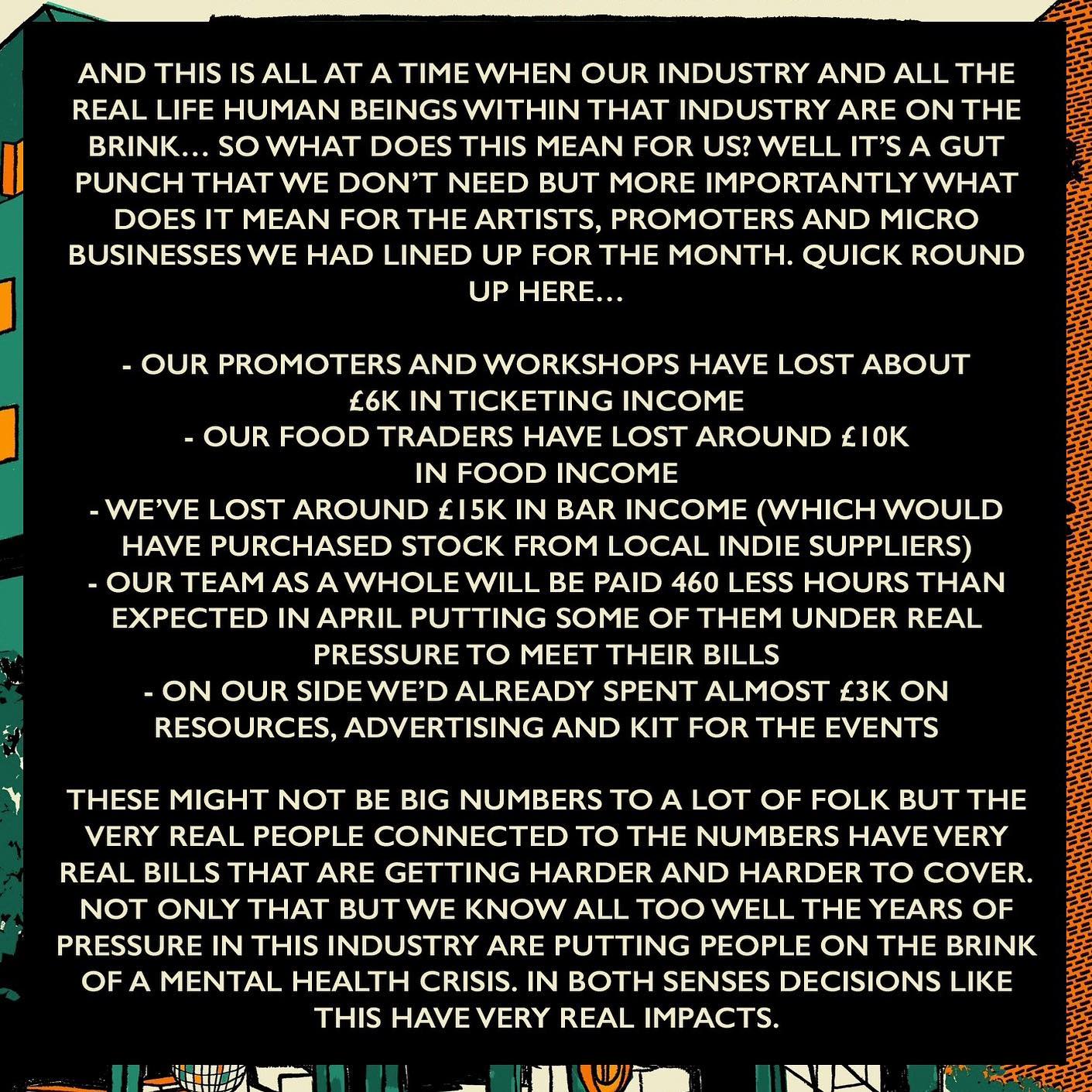 The post continued: "The message came from Native Residential who operate Kampus but we assume that this crushing decision was supported by Capital & Centric and Henry Boot Developments.
"We tried to clarify this but Native refused to elaborate beyond 'key stakeholders'. We await any further communication from anybody at Kampus."
Grub's post has also emphasised the knock-on effect on traders and other businesses down to take part, breaking down how the last-minute change would lead to a £34,000 loss of revenue.
Read more: Tommy Fury defeats Jake Paul in long-awaited fight – and dedicates win to baby Bambi
According to bosses, around £6,000 has been lost by promoters and workshops in ticketing revenue, food traders have lost around £10,000 in food income, Grub itself has lost around £15,000 in bar income (money that would have gone to support local breweries), and its staff will be paid 460 hours less than expected leaving some struggling to pay their bills in April.
Bosses also added they had already spent around £3,000 on advertising and resources for the event, money which they could not get back.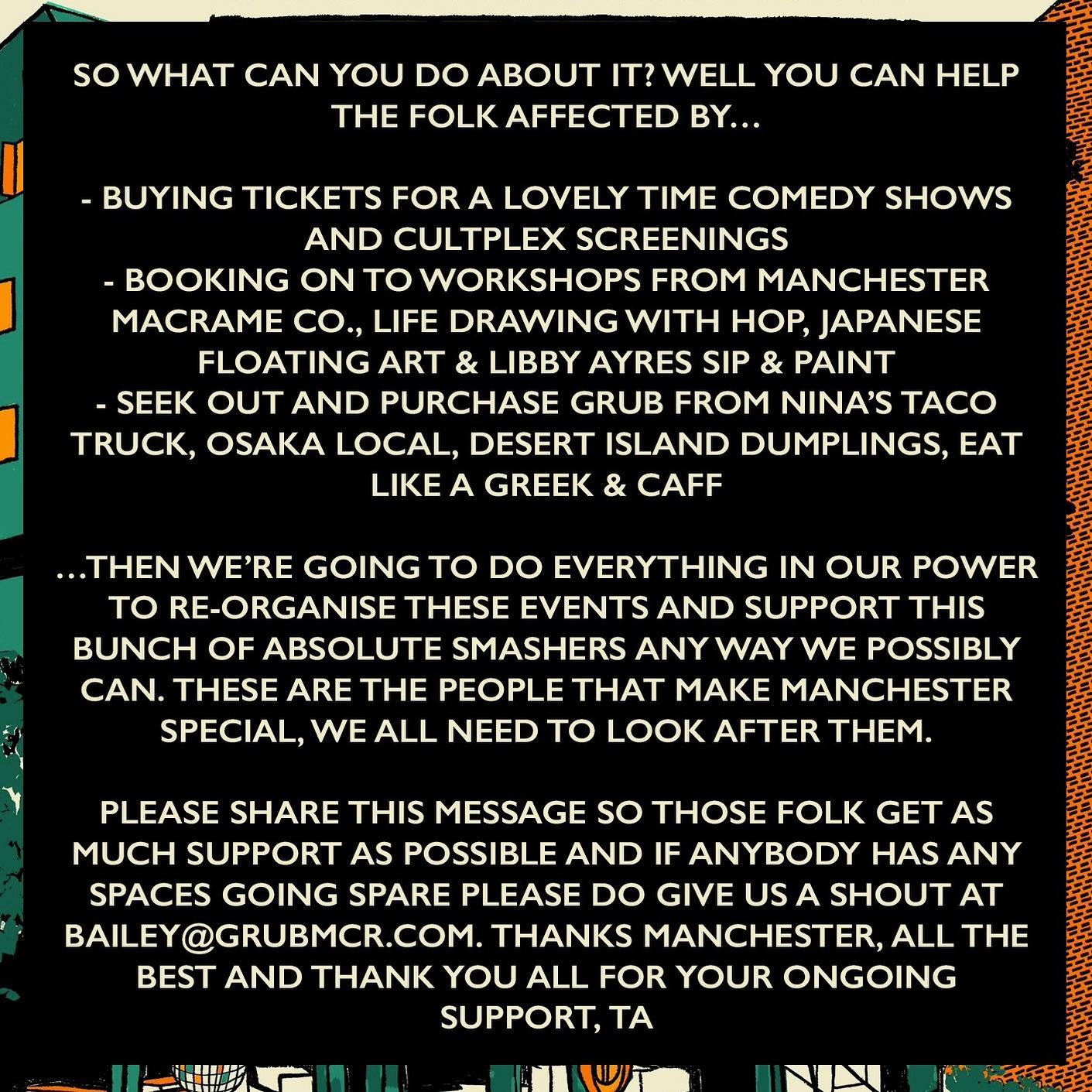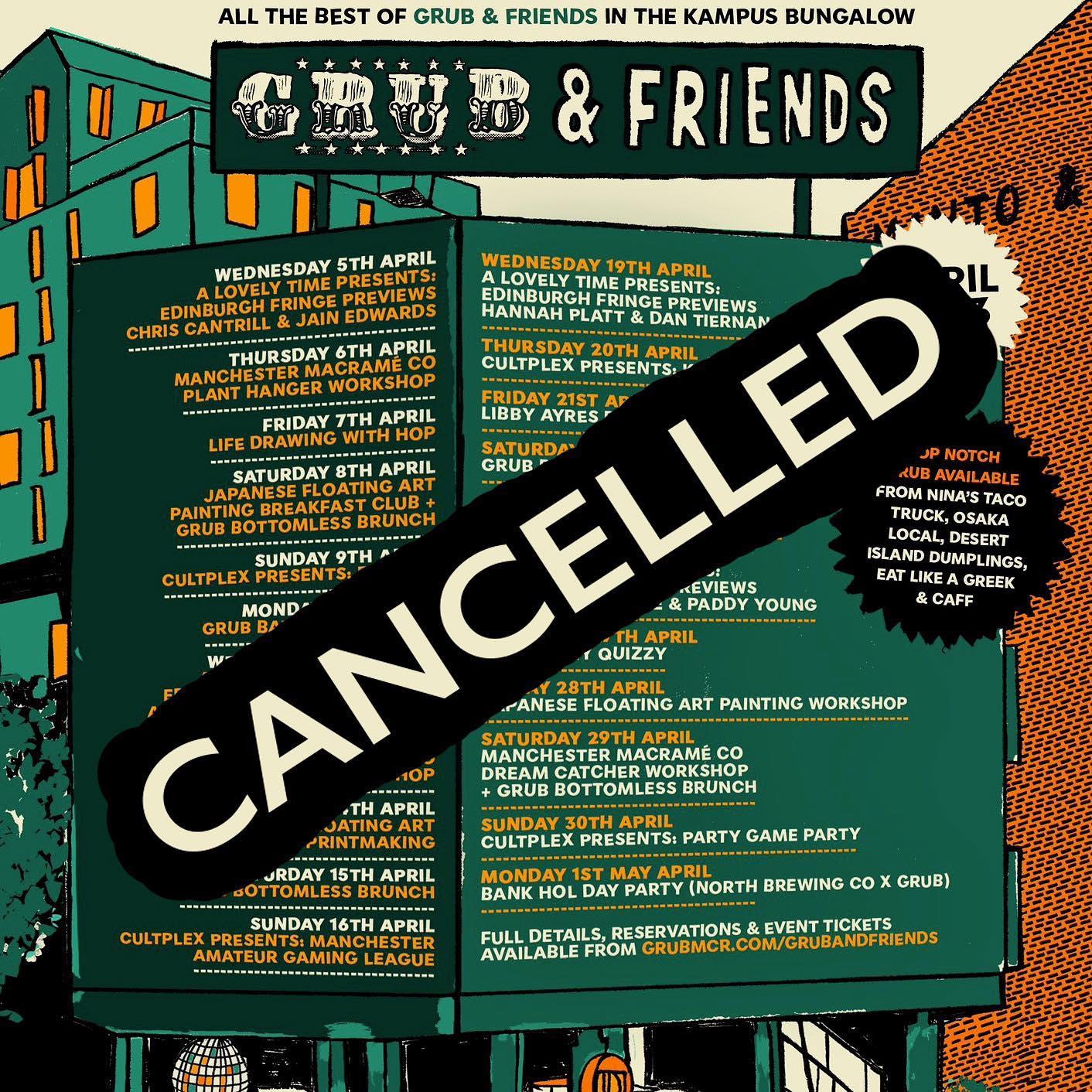 Ending on a positive note, the post then went on to outline how their followers could help those affected – encouraging them to buy tickets for Cultureplex shows and comedy screenings, book on to workshops from affected traders and seek out the food traders at other sites.
They added: "We're going to do everything in our power to re-organise these events and suppport this bunch of absolute smashers any way we can. These are the people that make Manchester special, we all need to look after them."
The Manc approached Kampus for a comment and was told by a representative that the venue felt that the event had been announced prematurely and had not yet signed any contracts from its side prior to cancelling.
Read more: Mancs wanted for BBC reboot of iconic 90s game show Gladiators
The spokesperson added that the use of the space had been offered to Grub for free and that the team was looking for ways to offer another event space up free of charge so that the event can be hosted at another date.
Adam Higgins, co-founder of Capital&Centric, said: "We've hosted loads of pop-ups and one-off events. For the last three years, as owners of Kampus, we've sought out creatives, small businesses, artists and community groups … giving our time and space for free to help them showcase what they do. It's been amazing but what Kampus needs in 2023 is something slightly different.
"Unfortunately, Grub's plans were announced prematurely when decisions were still being made about the spring and summer season inside the Bungalow. We understand the disappointment but, in fairness, we reached out and offered alternative spaces to Grub free-of-charge at Kampus.
"A community of independent businesses have now made the neighbourhood their permanent home, with Barkside and Great North Pie having just opened and Madre and Red Light arriving soon. Reflecting this, we need the Bungalow and garden to have sustained attractions throughout the spring and summer to cement Kampus as a place that's always on … where you're guaranteed something's happening no matter when you head down."
Feature image – Grub