News
Where to find the best Easter foodie specials in Manchester 2022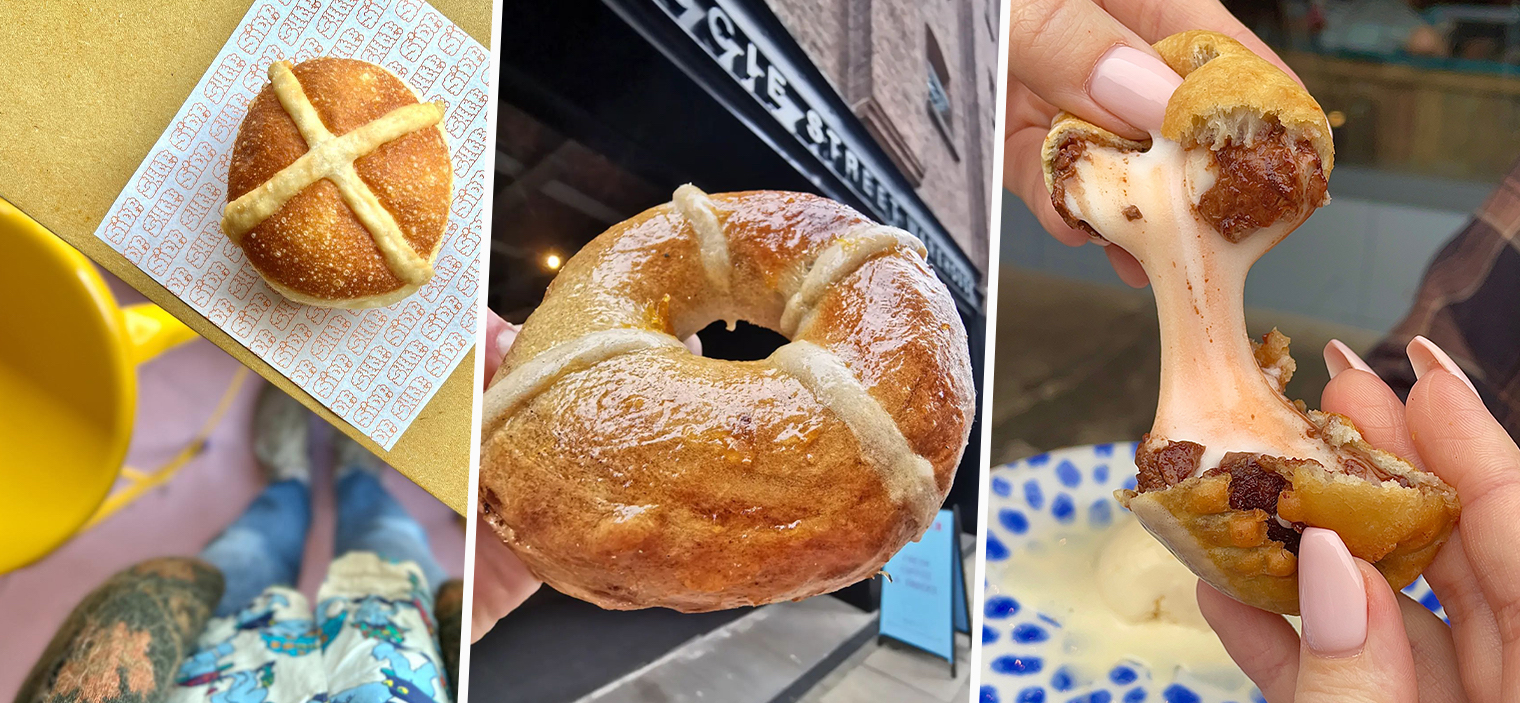 Easter is almost upon us and Manchester's restaurants and bars have very much risen to the occasion with some brilliant-looking Easter foodie specials.
From sweet Scotch Eggs that take the pub classic to a whole other level, to deep-fried Creme Eggs, hot cross bun fried chicken French toast, a hot cross bagel and even a hot cross cocktail, there are some banging Easter treats kicking around Manchester this weekend.
Keep reading to discover where to get your sweet fix.
Black Milk, Biscoff Scotch Egg
Manchester dessert cafe Black Milk Cereal has created these amazing sweet scotch eggs for Easter.
Swapping out sausage meat for Lotus Biscoff, these genius little treats give the seasonal Cadbury mainstay quite the glow up – in the most Northern fashion possible.
Comprised of Lotus Biscoff cake mix, white chocolate, and a Cadbury's Creme Egg with its glossy signature runny 'yolk' intact, the ultra-indulgent delight is topped off with a Biscoff crumb to give it that out-of-the-pub-fridge look we all secretly crave.
Available from Black Milk's Northern Quarter site from now right up to Easter, the sweet Scotch Eggs can be enjoyed to eat in or takeaway from £5.95.
Read more: A Manchester dessert cafe has created these amazing Biscoff Scotch Eggs
Bread Flower, Hot Cross Bagels
Bread Flower is getting in on the Easter action with this hot cross bun-bagel hybrid.
Think a cardamom and cinnamon raisin bagel, topped with the classic cross and finished with an apricot glaze, and served with a marmalade schmear.
Find a limited number available on the Bread Flower counter at Ducie Street Warehouse this weekend.
Grandpa Greene's, Easter Egg Hot Chocolate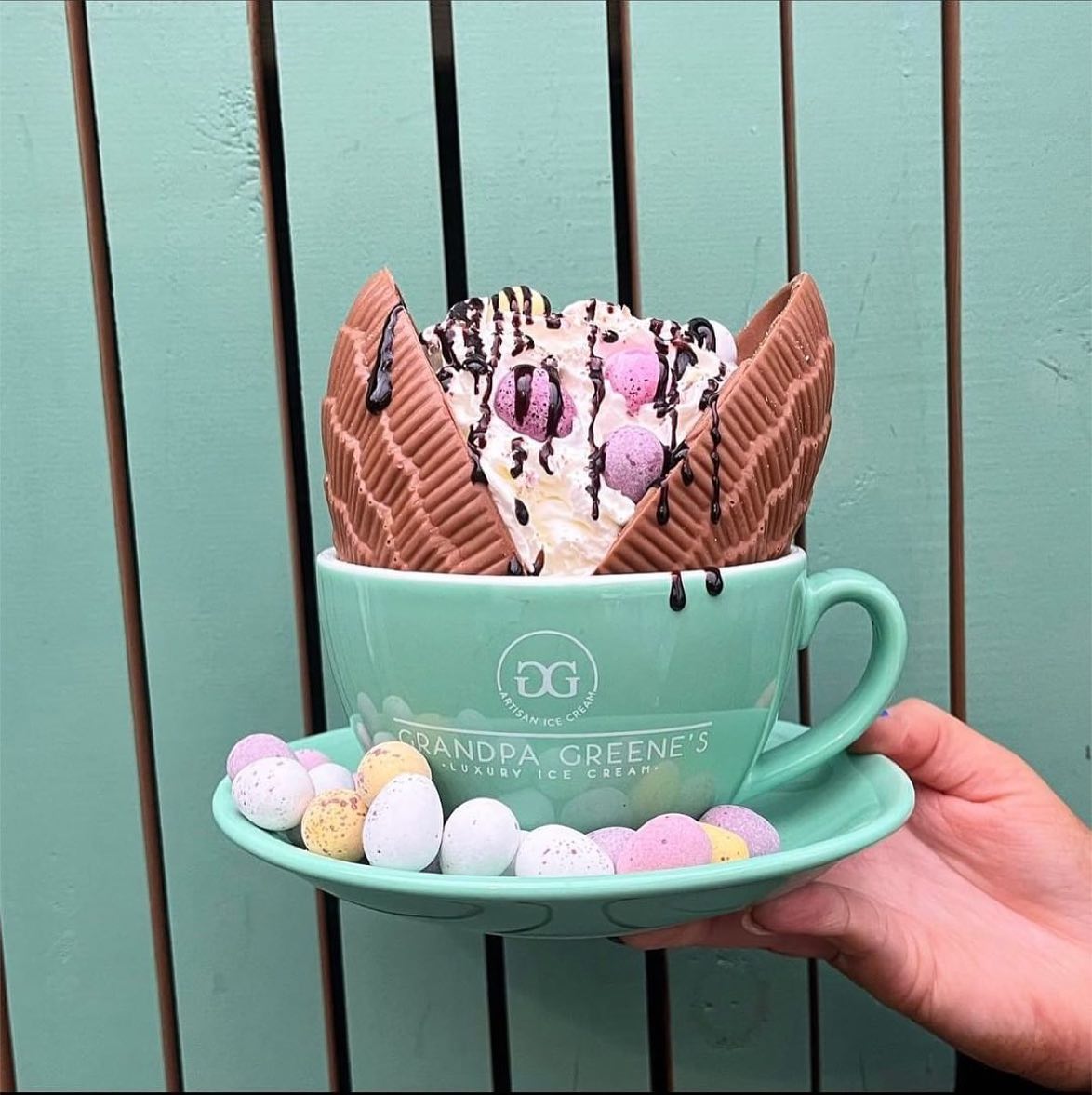 The popular canalside ice cream parlour and cafe in Diggle, Saddleworth, has teamed up with beloved local chocolatier Slattery's to give the people what they want.
This year, they've updated their original hot chocolate recipe and it now comes with a full Slattery Easter egg, marshmallows, whipped cream, chocolate sauce and mini eggs.
Find it at their Oldham site throughout the month.
Read more: Greater Manchester cafe brings back epic Easter egg hot chocolate
Siop Shop, Hot Cross Donuts
Manchester bakery Siop Shop is churning out these fried hot cross donuts in honour of the Easter weekend.
Available from now until Easter Sunday at the Tib Street cafe, in previous years they've simply iced the cross on but this year the team has gone the whole hog.
DGHNT, Hot Cross Donuts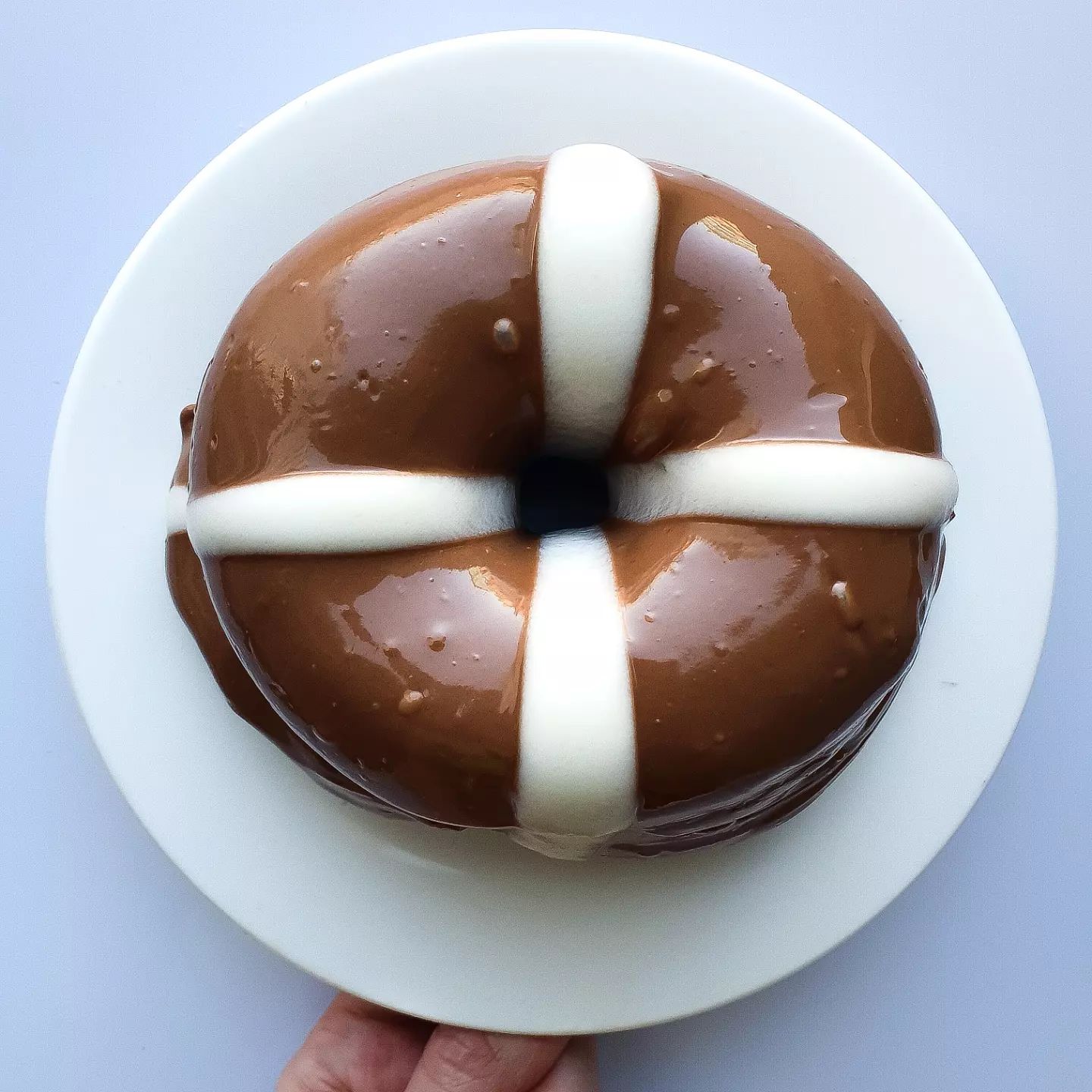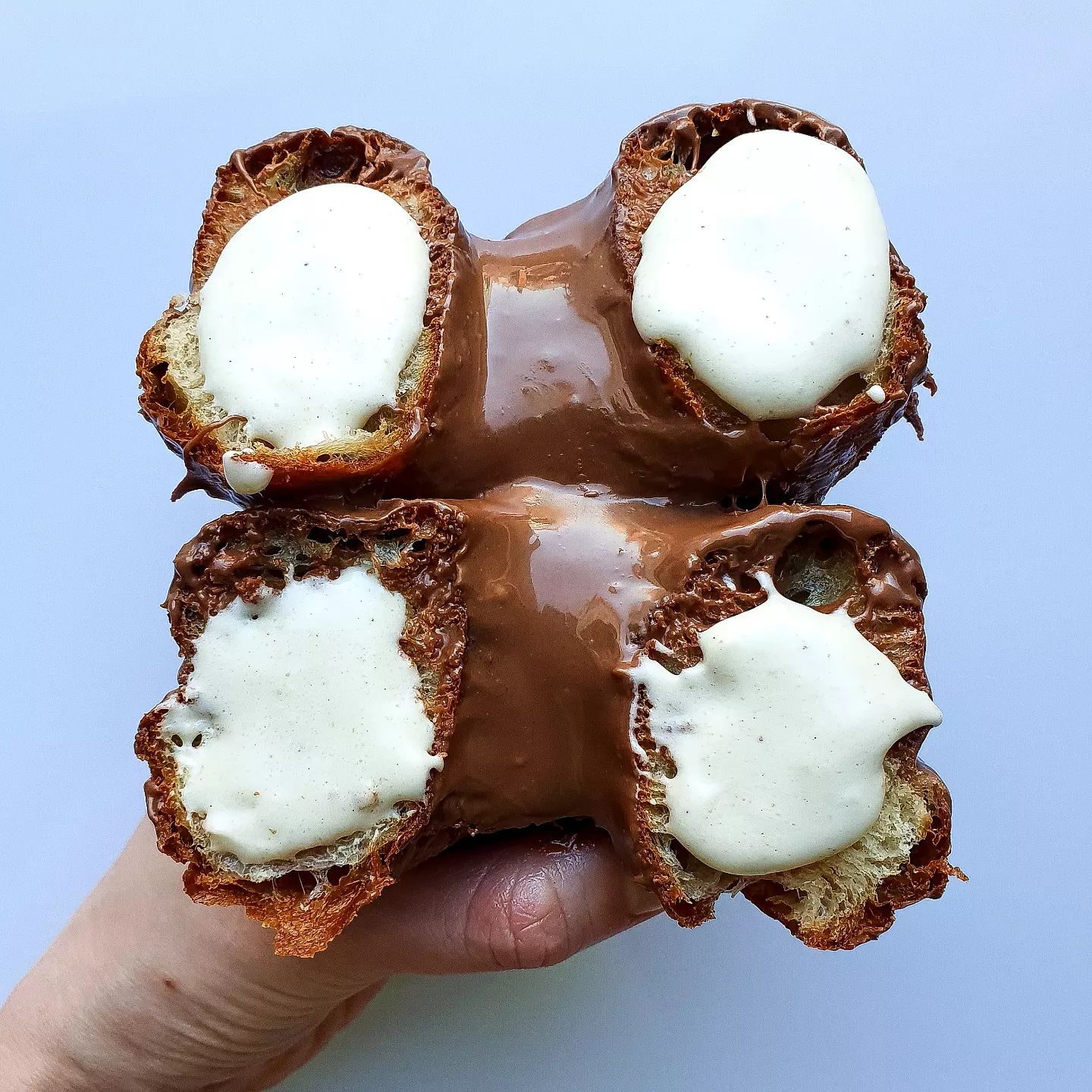 Artisan donut baker Sulin Baldwin has created these cardamoom creme-filled hot cross donuts for the Easter weekend.
Covered in a milk chocolate glaze and vanilla drizzle, inside they're simply bursting with pastry cream.
Available for delivery in Altrincham and Sale, or collection from the Northern Quarter, drop her a message on Instagram to place your order.
Gooey, Easter box
Gooey has created a special Easter box which will be available from its Ducie Street Warehouse kiosk over the long weekend.
Featuring a carrot cake cookie, chocolate-glazed Easter donut filled with white chocolate mousse and passion fruit jam, red velvet cookie cake and dulce de leche-glazed cruller, this looks like one of their best yet.
Orders can be placed ahead of time via the Gooey website.
Yard and Coop, Deep-fried Creme Egg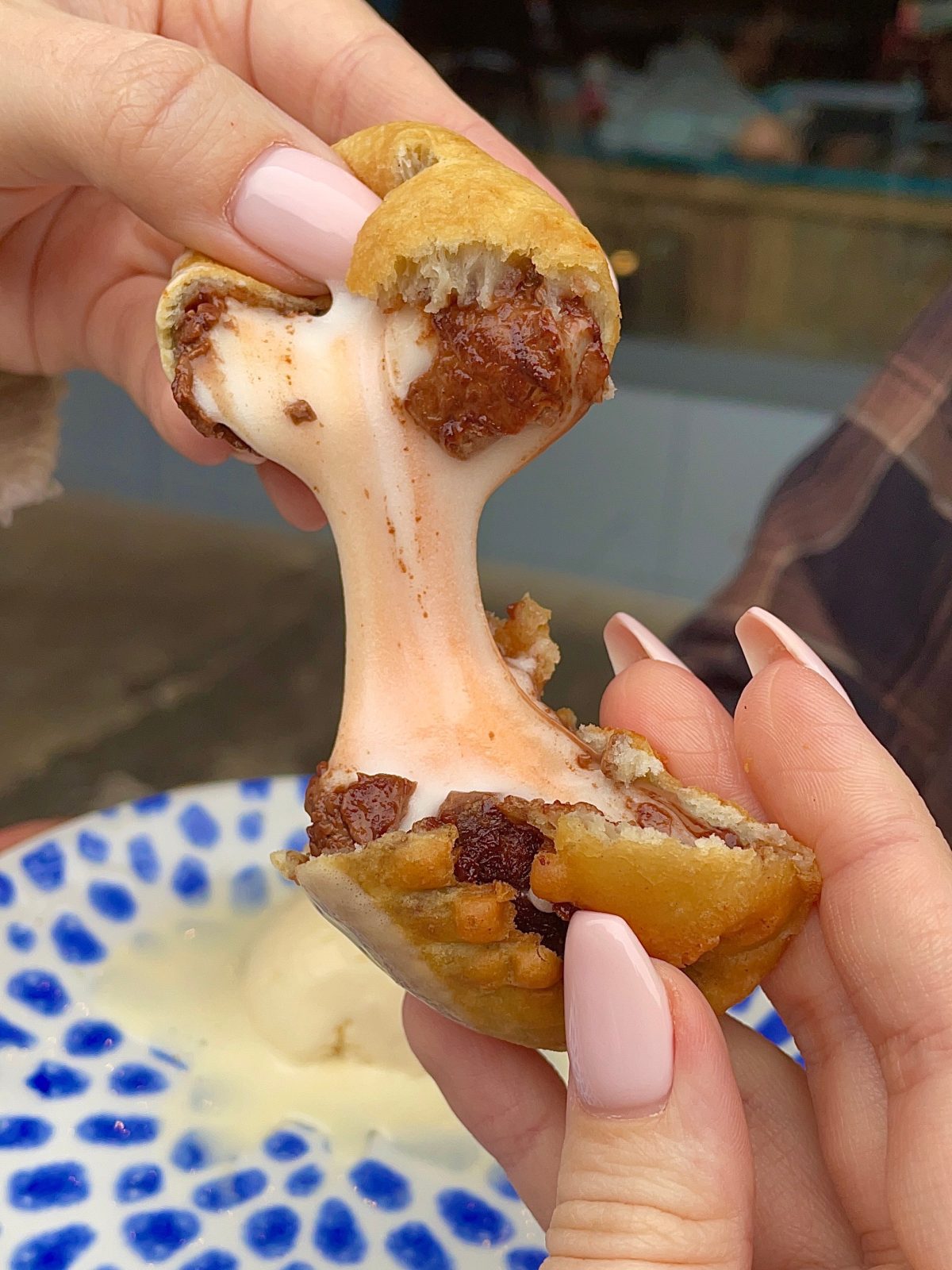 A Cadbury creme egg, battered and deep fried, served with vanilla ice cream and a dusting of sugar icing, these bad boys will be given away for free on Good Friday to the first 100 through the door.
The kitchen is also making its 'Hot Cross Fried Chicky', combining its tender buttermilk fried chicken with a crispy, streaky bacon cross, maple syrup glaze and sweet cinnamon buttered apples, piled into a vanilla custard french toast-fried hot cross bun.
Ciaooo x Black Milk, Easter chocolate pizza
Swan Street pizzeria Ciaoo has teamed up with its Oldham Street neighbours Black Milk Cereal to create this ultimate Easter dessert.
A chocolate pizza loaded with pieces of Kinder Bueno, Kinder Maxi, Nutella, Kinder Surprise and Black Milk's own homemade Kinderella sauce.
Alex's Bakery, Easter Egg Cake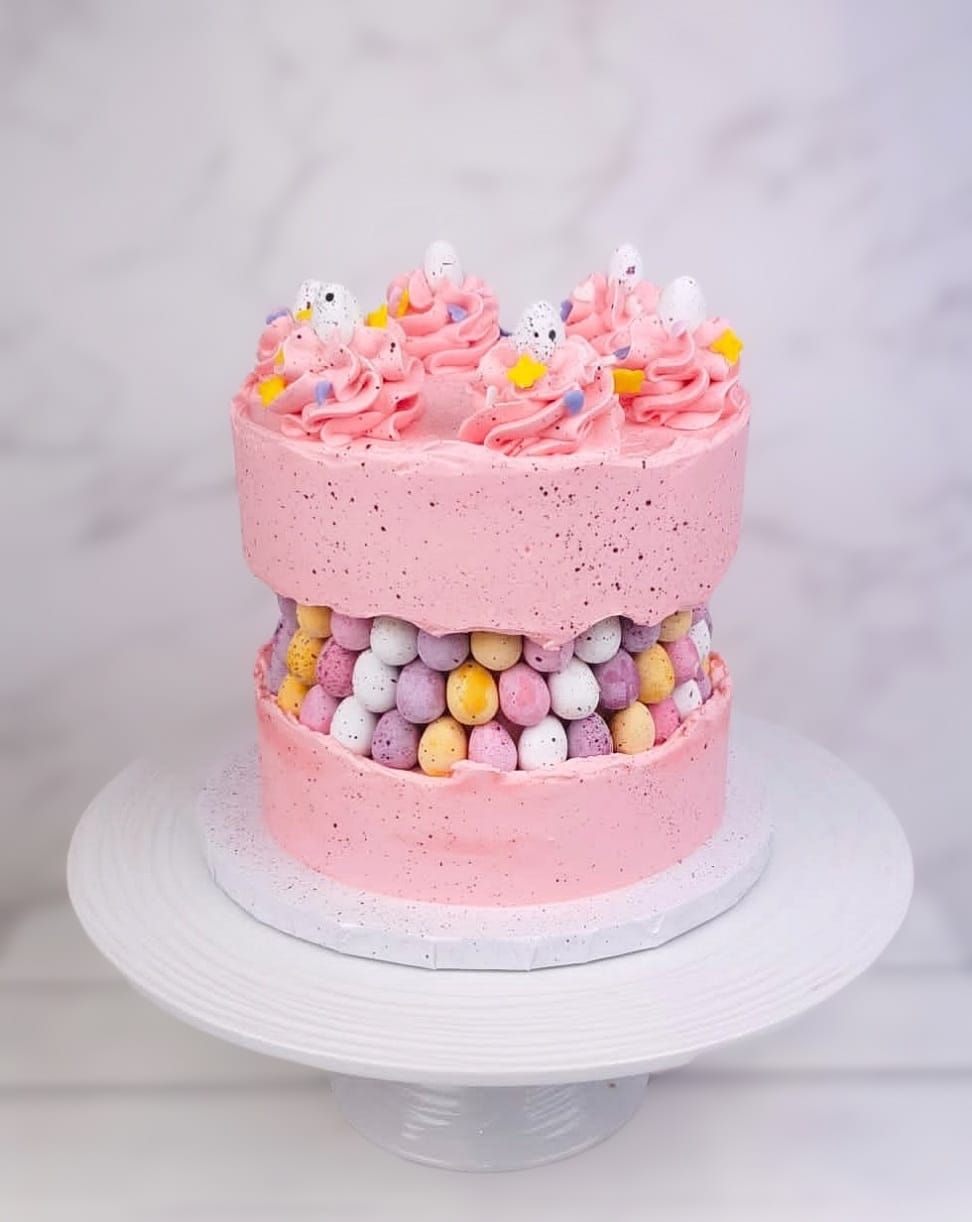 Famed for its buttercream cupcakes and loaded chocolate brownies, Alex's Bakery, has launched a Mini Egg Easter Cake for the weekend.
Lovingly created with vanilla sponge, strawberry jam, buttercream and packed with over 100 Mini Eggs, it's the perfect treat to share with family and friends over a coffee catch up this Easter.
You can order your cake here.
Mecanica, Hot Cross Cocktail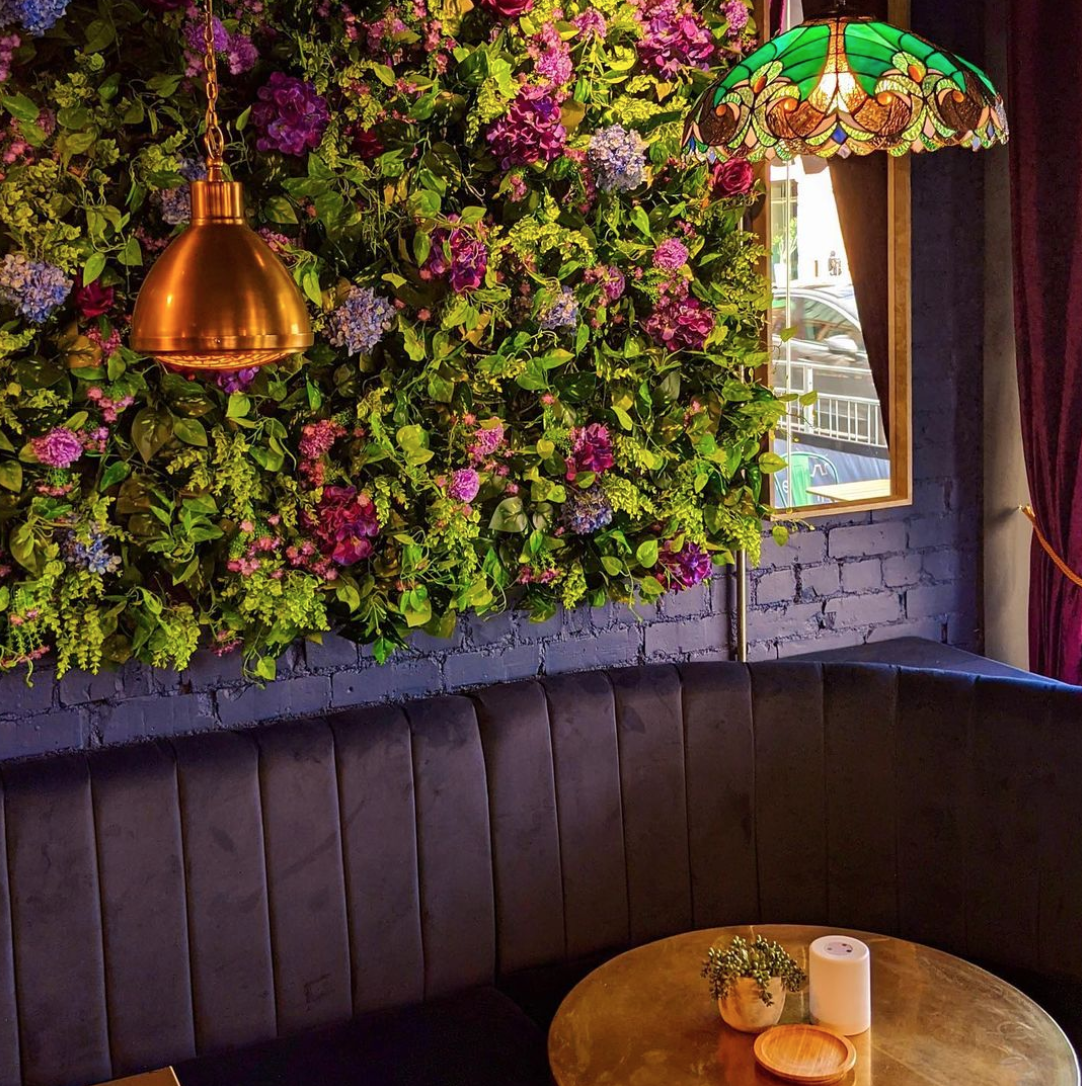 In honour of the Easter weekend, swanky Northern Quarter cocktail bar Mecanica has announced a limited edition 'Hot Cross Bun' cocktail.
Featuring Cinnamon Butter washed Bourbon, Pedro Ximénez and Orange Bitters, this is a drink not to be missed.
Fress, Creme Egg Freakshake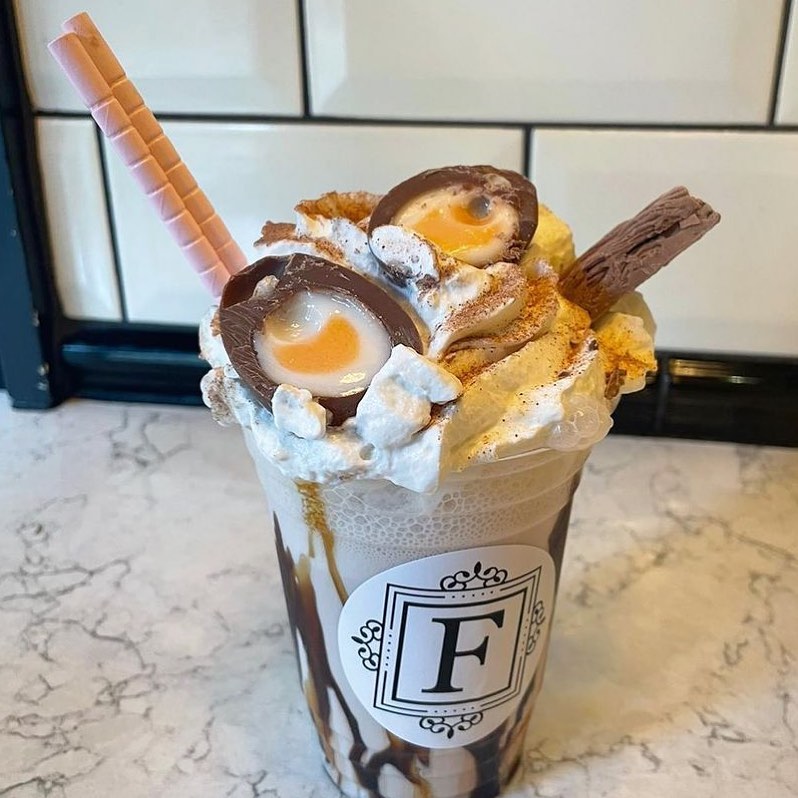 If you want to get your freak on this Easter, Fress has got you covered with a special Creme Egg Freakshake.
Loaded with the ever-popular Cadbury's favourite, it's available at the Northern Quarter site for a limited time only.
Dormouse Chocolates, Eggs on Toast Bar
Award-winning Manchester chocolatier Dormouse Chocolates has created an 'Eggs on Toast Bar' ready for the weekend.
Comprised of a bread and butter milk chocolate topped with a white chocolate fried "egg" – it offers a tasty take on a breakfast classic and the perfect alternative to a traditional Easter egg.
View the chocolatier's full Easter selection here.
Feature image – Siop Shop / Bread Flower / The Manc Eats