News
You can now get huge 4.5 litre tubs of Ben & Jerry's from B&M for only £3.50
This means you'll be getting almost 10 times as much ice cream for £1 less than normal.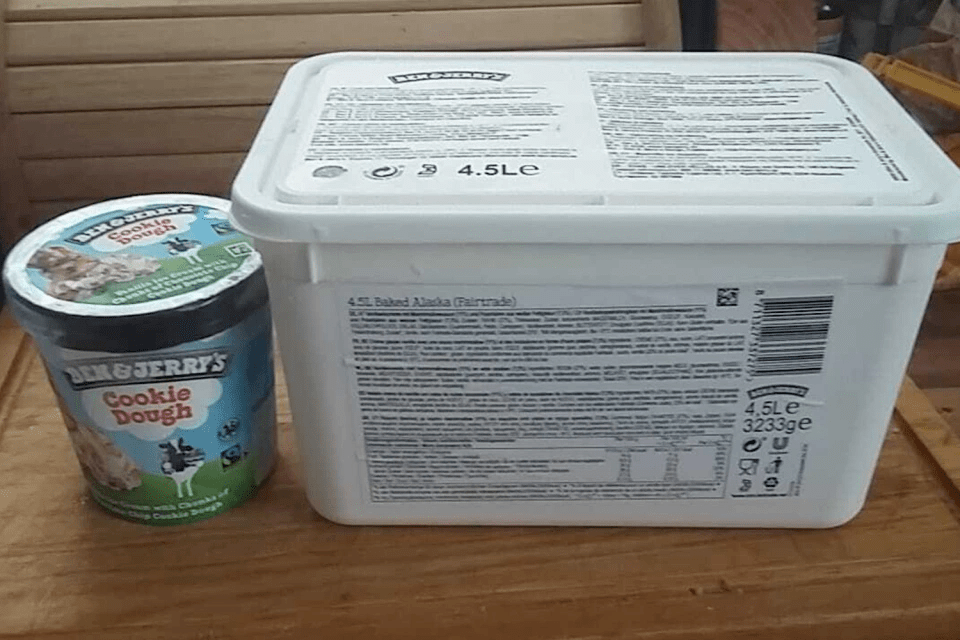 Ice cream might be the last thing on your mind today with it being chilly and chucking it down outside, but we're heading into July this week and sunnier days are bound to be on the horizon.
Who says you can't have ice cream when it's raining anyway? Especially when it's a bargain as good as this.
B&M is selling huge 4.5 litre tubs of Ben & Jerry's ice cream and amazingly, they're retailing at just £3.50. Considering you'd normally be forking out around £4.50 for just a 465ml pot of the ever-popular branded ice cream from most UK supermarkets, this is a pretty unmissable deal.
It essentially means you'll be getting almost 10 times as much ice cream for £1 less than normal.
They don't look the regular branded tubs of Ben & Jerry's that you're probably familiar with though and that's because these tubs are designed for and would usually be stocked at places such as cinemas and restaurants. The reasoning behind these tubs appearing on shelves at B&M is thought to be due to the fact that those aforementioned businesses and sectors haven't been open to the public over the last few months during lockdown amid the coronavirus (COVID-19) pandemic, and so they have been appearing in supermarkets.
Eagle-eyed shoppers spotted the tubs of Ben & Jerry's at B&M in the fan-favourite flavour Cookie Dough and also in Baked Alaska flavour too.
If you're unfamiliar with these flavourings, Cookie Dough is made from vanilla ice cream mixed with chunks of chocolate chip cookie dough, and Baked Alaska is vanilla ice cream loosely mixed with a marshmallow swirl and white polar bear shaped chocolate chunks.
It hasn't been confirmed which B&M stores the tubs have been spotted at, so you'll need to keep your fingers crossed and your eyes peeled.
B&M unfortunately doesn't have an online shopping service, so if you're looking to get your hands on these tubs of Ben & Jerry's, then you'll have to factor in a trip in-store next time you're shopping for essentials.
It's advised that you check the opening times for your local B&M branch before making any trips.
You can do so via the store locator here.