Sponsored
Manchester City to host Women's Super League Manchester derby at the Etihad Stadium – and you can grab tickets
Manchester City is set to host the Barclays Women's Super League Manchester derby at the Etihad Stadium later this season, and tickets are selling fast.
With the 2022/23 football season now well underway, and following what has been a summer to remember for the women's game, Manchester City's team of superstars have got a huge run of fixtures lined-up – but they're already looking forward to the upcoming Manchester derby this December, and are set to welcome thousands of cheering fans to the Etihad Stadium as they face their local red rivals.
And with family tickets from just £18 for a family of four*, and the match taking place in the run-up to Christmas, it's an ideal day out.
It will be the third time Manchester City's women's first team have played at the Etihad Stadium, and the second time the WSL Manchester derby has been held there too.
Although the Academy Stadium is the women's team's home stadium, City hosted Everton at the Etihad Stadium back in May 2014, before welcoming Manchester United in September 2019 and clinching a 1-0 win in front of a then WSL record crowd – and what still remains a club record – of 31,213 fans.
Derby matches are always known for having that extra competitive edge, especially in a city that's as football obsessed as Manchester.
And this upcoming game looks set to be no different.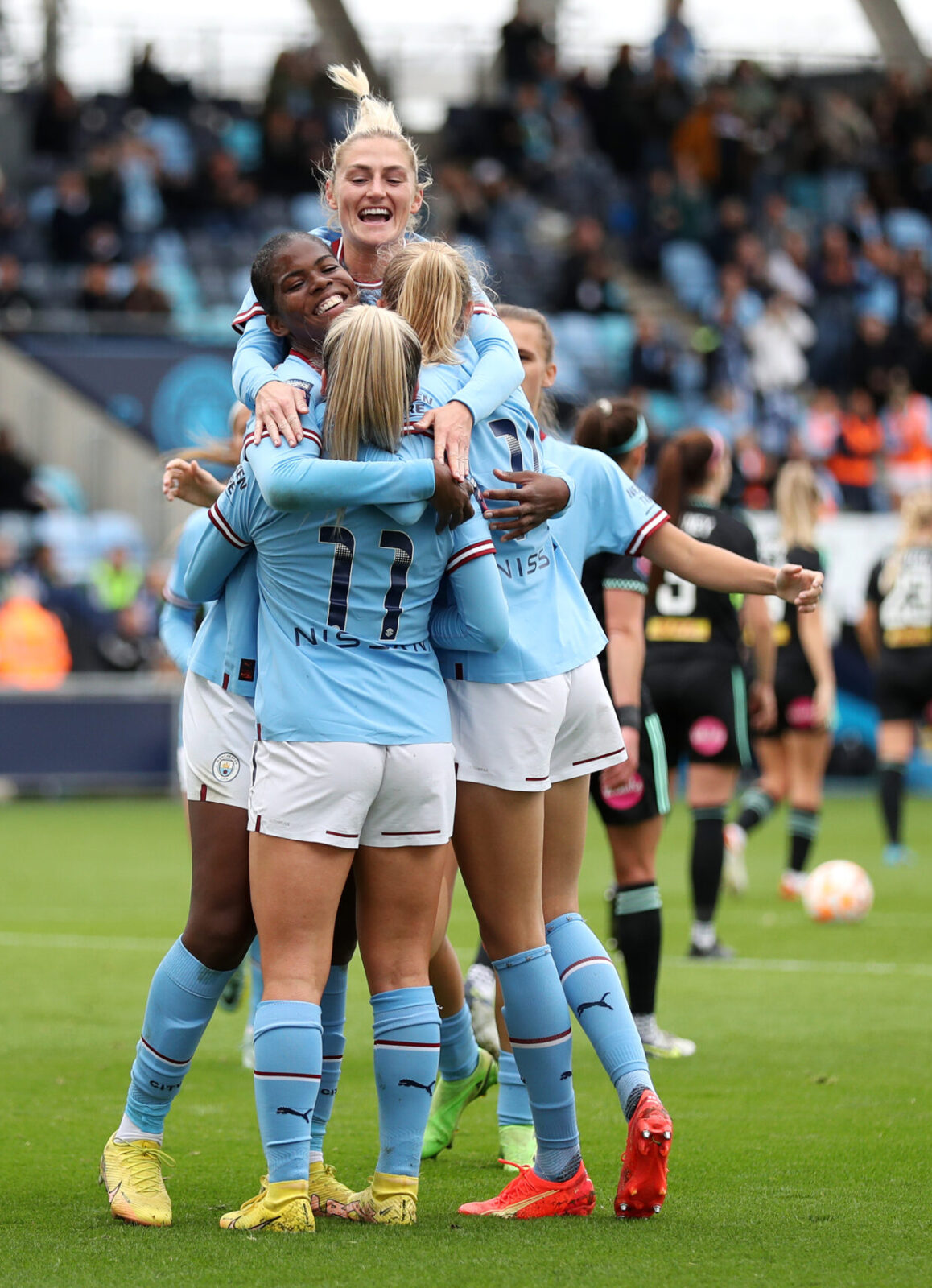 A derby win is the chance to claim some bragging rights, the chance to feel a sense of pride in the shirt you're wearing, and crucially, the chance to paint the city red or blue.
Manchester City Women's head coach Gareth Taylor said the upcoming WSL Manchester derby is "something to look forward to this season", and the fact that it's being held at the Etihad Stadium is "amazing news" for the team.
"For the derby at the Academy Stadium earlier this year, it was amazing to see a sell-out crowd there and the demand for tickets was unbelievable," he explained.
"A Manchester derby always has a little added spice, but to bring it back to the Etihad again – especially with the growth of the league over the last few seasons – will bring it to another level."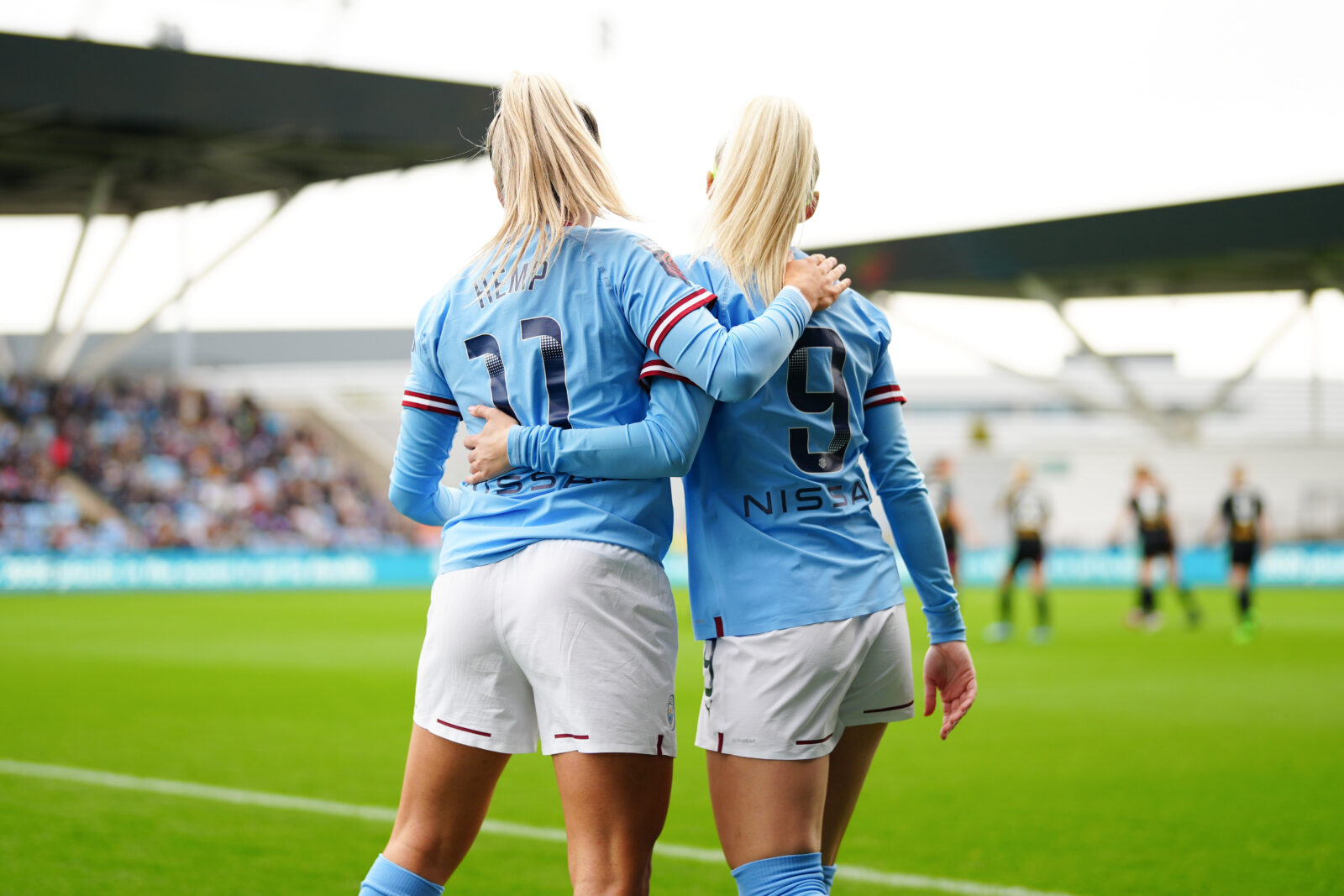 Manchester City's longtime captain Steph Houghton is also relishing the chance to face up to our cross-town rivals at the Etihad this season, and added that playing in the derby in front of over 31,000 people back in 2019 was one of her favourite moments in her City career "without a doubt".
"The atmosphere that the fans created was just amazing and it was a day to remember for all of us who were involved," Houghton recalled.
"As much as the Academy Stadium is our home and it was just incredible to see it sold out for the derby last season, having a bigger venue such as the Etihad Stadium will hopefully allow people who missed out last time to experience our Manchester derby in all its glory."
Manchester City will face Manchester United in the Barclays WSL Manchester derby on Sunday 11 December 2022 – with kick-off at 12:30pm.
Read more: Families can go on an award-winning tour of Manchester City's Stadium
Tickets to the highly-anticipated match are now available from £8 for adults and from £1 for under-18s, and you can get them on the Manchester City website here.
You can also grab tickets to any of the women's first team home games here.
Featured Image – Tom Flathers / Getty Images (via Manchester City)
*Dependent on ticket availability and stadium seat location.
Featured Image – Tom Flathers / Getty Images (via Manchester City)