Sport
Fans are loving this wholesome clip of Erik ten Hag stopping for a young United fan
Cute clips of kids meeting their heroes never get old.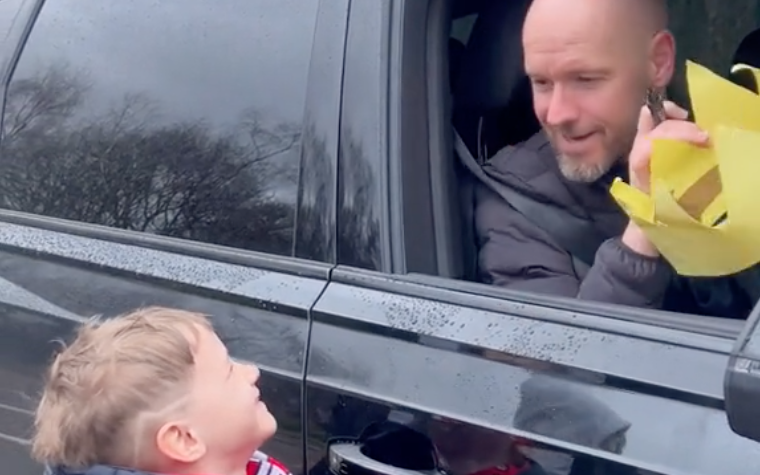 Manchester United supporters are loving this clip of Erik ten Hag stopping to speak to a young fan on his way out of training.
Ah, who are we kidding — we defy any footy fan not to feel heart-warmed watching this.
United super fan George Standley and his big brother Harry regularly post up outside the Red Devil training complex at Carrington to try and get a glimpse of their heroes, and even dropped off some treats for the players this Easter.
However, it was young George who was in for the treat this time when ten Hag saw waving and waiting for him on a rainy Manchester day last month.
We will never get tired of seeing players stopping and taking the time to greet fans, especially at such a formative age when interactions like these feel like the greatest day of your life.
As you can see, the smiley little lad brought the United manager a 'King Eric' crown (no offence, Cantona) and simply wanted nothing more than to speak with the Dutchman as he had been fortunate enough to do so with several of his squad.
Jokingly asking him who he thinks is his favourite player — knowing full well the face printed on his scarf — he even gives the 53-year-old coach a quick rendition of 'Viva Garnacho' as he signs the crown and he and his brother pose for a photo. We're sure there are plenty of you who have been that young, wide-eyed fan once upon a time and know how much these moments mean.
It's not the only clip of the Dutchman that has delighted fans on social media either, as the United manager humorously asking a group of supporters for some extra 'pennies' towards his transfer budget certainly seemed to tickle a few:
Read more:
Whether you're a Red or not, there seems to be a general consensus that there is a classiness about Erik ten Hag and this only serves as further proof of that.
Moreover, it looks as though that professional but passionate ethos is something that runs throughout the dressing room right now, as he isn't the only one that has had touching instances like these.
Defender Lisandro Martinez, who ten Hag brought with him from Ajax, is another individual who has immediately endeared himself to the fans — in part down to his clear connection with fans so early into his United career.
This is what it's all about:
For all the latest news, events and goings on in Greater Manchester, subscribe to The Manc newsletter HERE.
Featured Image — @standleyboys (via TikTok)