Sport
Ryan Reynolds' reaction after Ben Foster's crucial penalty save for Wrexham shows how much he genuinely loves football now
Great game but we loved watching the reactions even more. Rob and Ryan are well and truly 'hooked'.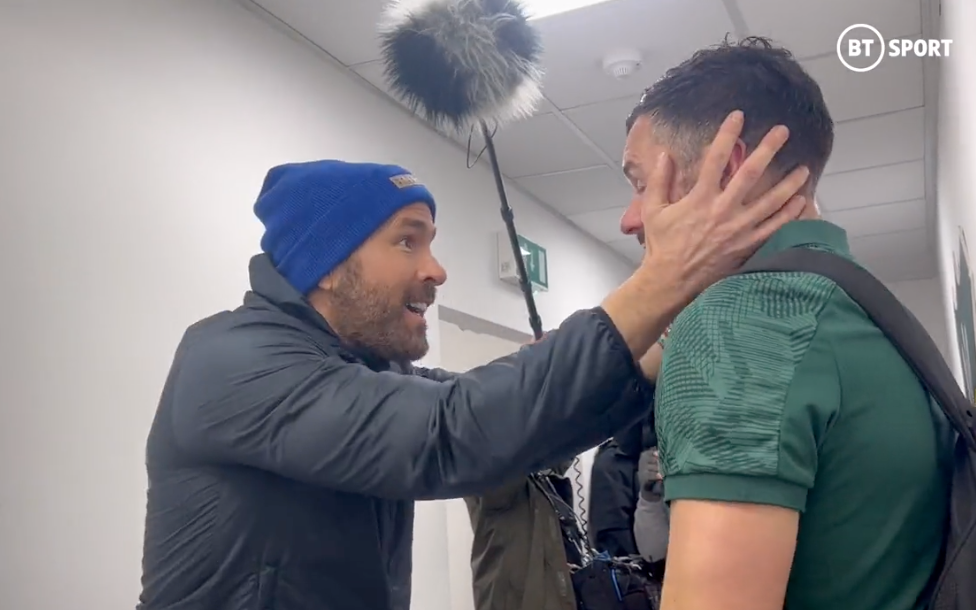 Wrexham AFC earned a massive three points to put themselves back at the top of the National League against title rivals Notts County, and they wouldn't have won were it not for Ben Foster's crucial penalty save in the final minute of the game.
Safe to say, fans inside the Racecourse Ground and celebrity owners Ryan Reynolds and Rob McElhenney were left breathless as they looked on helplessly at the late drama.
The home side found themselves a goal down right at the end of the first half through an impressive free-kick from John Bostock, but got back on top in the 69th minute and went on to make it three thanks to Elliot Lee just 10 minutes later.
However, after giving away a penalty in the dying embers of added time, it was all down to former Man United keeper Foster to keep the three points and their title hopes alive. 40 years old, only just back out of retirement and he does this.
I believe the word you're looking for is limbs.
Wrexham are now back at the top of the National League on 103 points and with a game in hand on Notts County sat just below them. Regardless, every remaining fixture is just as huge if their dreams of automatic promotion are to come true.
All that being said, it wasn't lost on Reynolds and McElhenney how big this match was and speaking to BT Sport's reporter Becky Ives after the full-time whistle, the former summed up the thoughts of those in the stadium in a way only he could.
"This beautiful, torturous game" — couldn't have put it any better ourselves.
Watching Ryan Reynolds react to Wrexham results will never not be funny to us; the same goes for McElhenney too, who simply shared a picture of him and his co-owner wide-eyed in disbelief and happiness, along with the tweet: "I can't believe there was a time when I thought football was boring."
The 46-year-old Canadian-American actor went on to say, "I'm actually grateful in this moment that I didn't actually care about this years ago because it would have just eaten me alive".
After showering his team and everyone involved with praise, including Notts County — adding that he believes two teams should be able to secure automatic promotion like in the EFL — he also joked that he was going to hug Ben Foster so hard that he was "going to break ribs".
And he wasn't lying, as was proved when they bumped into each other in the tunnel afterwards:
Read more:
In typical Deadpool fashion, despite previously insisting he was "lost for words" he couldn't help but rattle off a few more jokes, quipping that Foster was "too old for that [kind of save]".
There were obviously a lot of expletives thrown in there too but why wouldn't there be? We don't suppose he's ever sat through what could potentially be a title-deciding game packed with five goals and a last-minute penalty save at a club which he literally owns.
Football is mint and were glad these two owners are clearly well and truly aware of that fact.
You can watch the highlights from Wrexham vs Notts County down below:
For all the latest news, events and goings on in Greater Manchester, subscribe to The Manc newsletter HERE.
Featured Image — BT Sport