Sport
Manchester Storm are hosting EIHL fan-favourite Retro Night this weekend
They're going to play and party like it's 1996.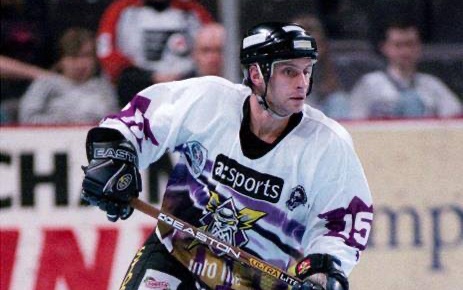 Our beloved sporting city's premier ice hockey team, Manchester Storm, are hosting their annual fan-favourite Retro Night this weekend and it's set to be a stormer. Pun absolutely intended.
The Storm and the Elite Ice Hockey League as a whole are no strangers to unique events and special occasions throughout the season but this one, in particular, is up there with the most popular of all on the calendar simply because of the unrivalled nostalgia factor.
Set to face off against the Guildford Flames on Saturday at 7pm, both teams will be rolling back the years and pulling on jerseys of the past. In the case of Manchester Storm, they'll be donning a revamped version of their 1996/97 shirt, commonly known as the 'Eye of the Storm'.
The league-wide initiative takes place every year for at least a week and on top of getting to look back on the club's wonderful history, the night is packed with plenty more action too.
For starters, Retro Night isn't just about the players wearing old kits: it's about everyone getting involved, having a laugh and a good time.
With that in mind, they're encouraging fans to turn up their finest 90's garms and there'll even be some fun and exclusive themed prizes awarded to the best dressed. No, we're not going to tell you what they are — the incentive alone should be enough for you to get involved.
Furthermore, there'll be plenty of 90's anthems being played before puck-drop as well as during the break, and considering Manchester pretty much smashed that decade (if we do say so ourselves), you can expect plenty of Oasis, Stone Roses and Happy Mondays, not to mention The Prodigy, Blur, Weezer and plenty more era-defining artist being played.
As if that wasn't enough, there's even going to be plenty of 90's nostalgia TV playing, including some old-school Manchester Storm footage from the 'Arena' days that the young'uns might have never seen.
It was always going to be a night of fun and excitement but as the Storm are currently on a roll of five consecutive victories and just as many league games remaining in the season, it's all set up to be a blockbuster as coach Matt Ginn and his squad look to continue their winning streak!
With forward Anthony DeLuca third in the race for top scorer with a total of 23 goals and Jeremy Brodeur fourth in the league for goaltending with a huge 91.88% save percentage, fans could be in for another blockbuster.
Knowing that nearly 15,000 have piled into the Storm Shelter at Planet Ice, Altrincham in 2023 so far, they're expecting another bumper crowd this weekend.
If it's anything like the turnout and the atmosphere produced for the 'Air the Bear' event at the end of last year, you really don't want to miss this one.
Read more:
If you fancy bagging yourself a ticket for Manchester Storm's Retro Night, doors open at 6pm and the face-off is set for 7pm. The best part is, tickets will cost as little as a tenner — you can grab yours HERE.
£10 is the standard price for adult admission but family tickets are also available not only is parking free after the doors open, but the travel links are right on the doorstep too.
Guess we'll see you there then!
For all the latest news, events and goings on in Greater Manchester, subscribe to The Manc newsletter HERE.
Featured Image — Manchester Storm (via Twitter)