Sport
Emotional Lisandro Martínez breaks down as he dedicates World Cup final spot to grandparents
After Argentina's semi-final victory, Licha's mind could help but turn to his family.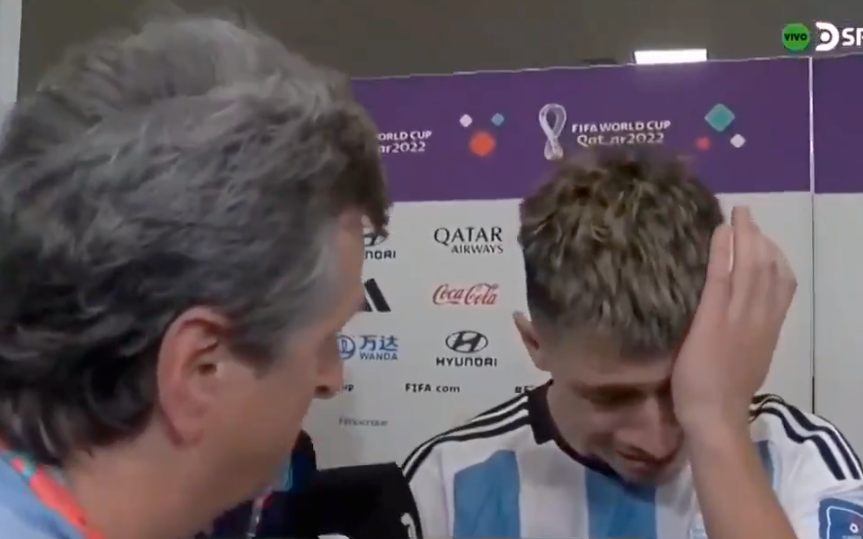 Manchester and Argentina defender Lisandro Martínez broke down in tears as he and his fellow countrymen made it to the 2022 World Cup final.
He may be known for his brutal 'Butcher' persona on the pitch but the Argentinian centre-back was moved to tears after he and his compatriots cruised into the final with a 3-0 win against Croatia.
The 24-year-old came off the bench to see out the victory and has played a key role in shoring up the South American side's defence.
Speaking to a reporter in the post-match interview, the emotions clearly got the better of him as he explained how much the achievement meant.
Oh great, now we're crying too.
As you can see, the recent and transformative United signing could barely get a word out before the waterworks started flowing and the reporter had to comfort him.
With what little Martínez could muster, he went on to say, "I have a million things in my head right now. I'm grateful for life".
He then went on to add, "I'm grateful for my grandparents who are no longer here" before he couldn't hold back the tears any longer and Argentinian journalist Diego Korol simply had to embrace him. The feels.
Martínez's grandparents are said to have played a huge role in his upbringing in the El Molino neighbourhood of Gualeguay, Entre Ríos and this isn't the only time he's welled up over his journey during this tournament.
Read more:
Argentina face the current world champions France in the final of Qatar 2022 at 3pm on Sunday, 18 December and are now within touching distance of their first World Cup in 36 years.
They've been also runners-up three times but you can already tell how much is will mean to the nation if they take home the beautiful game's biggest prize.
Here's how 'Licha' and his fellow teammates reacted to making it to the final:
For all the latest news, events and goings on in Greater Manchester, subscribe to The Manc newsletter HERE.
Featured Image — @utdreport/@DSportsRadio (via Twitter)