Sport
Messi fights back the emotions as an impassioned reporter explains exactly what he means to Argentina
The little genius' impact not only his country but on football world as a whole cannot be overstated.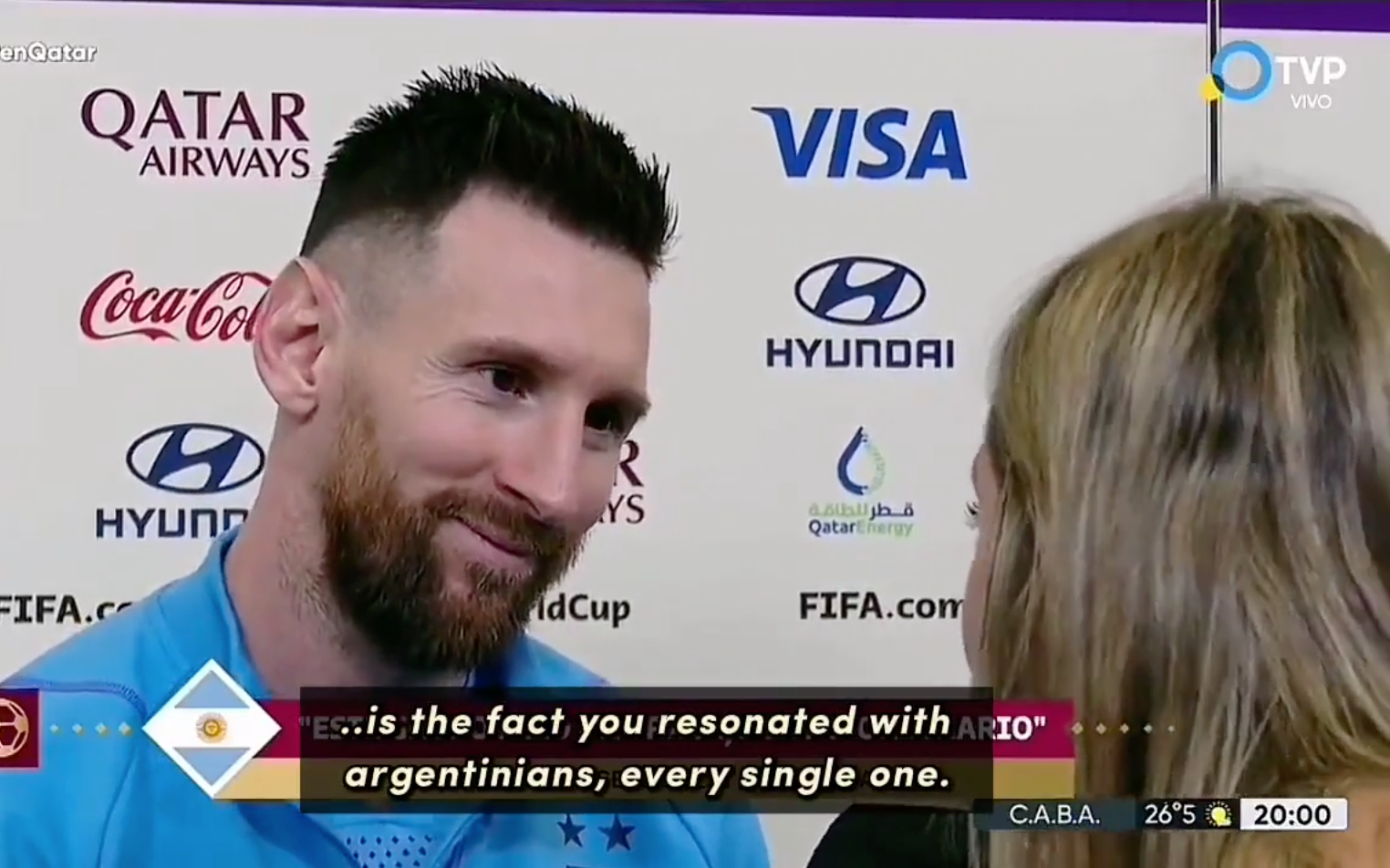 A TV reporter nearly left Lionel Messi in tears during a post-match interview in which she waxed lyrical about his incredible career and the impact it's had on Argentina and the footballing world.
Journalist and compatriot Sofia Martinez spent little time talking about yet another magical Messi performance as the sporting icon starred to send his country into the 2022 World Cup Final, almost as if we've now become so used to it that it's barely worth analysing anymore.
Instead, she chose to make the most of the opportunity and explain to the footballing genius exactly what he means to his country, to football and to the sporting world in general
This is a truly lovely watch.
You can see how much it means to the 35-year-old who has already admitted this is likely his last World Cup if not his last major international tournament altogether.
As you can see, Martinez assures him that regardless of whether they lift the trophy, "there's something that no one can take from you… it's the fact you resonated with Argentinians, every single one.
"There's no kid who doesn't have your [shirt], no matter if it's a fake, real or a made-up one. Truly, you made your mark in everyone's life. And that, to me, is beyond winning any World Cup."
She goes on to add, "No one can take that from you and this is my gratitude, for the amount of happiness you bring to a lot of people."
With Messi just smiling as he tries to keep it together, Martinez concludes by saying: "I seriously hope you take those words into your heart because I really believe that's more important than winning a World Cup and you already have it. So thank you, captain."
Read more:
It goes without saying that this deep affection for what many consider the GOAT goes far beyond national pride: the Argentina and Barcelona legend has inspired generations of kids to not only try and become footballers but play the beautiful game with more fluidity, creativity and freedom than ever.
The Messi vs Ronaldo debate aside, he is an icon whose contribution to modern football, ability to create unforgettable moments and overall influence on the sport cannot be accurately measured.
'La Pulga' ('The Flea') has seemingly his last chance to lift the greatest trophy in sport on 18 December and no matter who Argentina face in the final, you know Messi will play more than his part in making it a memorable game.
He's finally going to win it, isn't he?
For all the latest news, events and goings on in Greater Manchester, subscribe to The Manc newsletter HERE.
Featured Image — TVP Argentina/@ksoolina (via Twitter)