Sport
Pocket of rugby fans labelled 'shameful thugs' after fight breaks out during England's quarter-final win over Fiji
The scrapping, which went viral on social media, somewhat tarnished an otherwise huge win for England.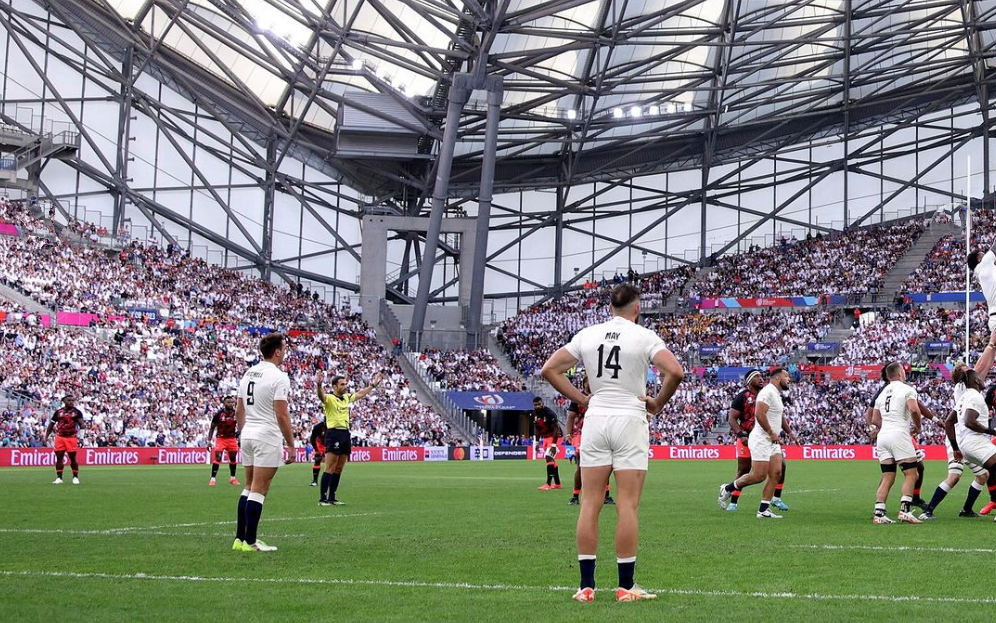 Although a large chunk of the nation spent last night celebrating England's massive win against Fiji in the quarter-finals of the 2023 Rugby World Cup, the primarily jubilant scenes were left somewhat marred after clips of a large group of fans fighting began surfacing online.
Steve Borthwick's side managed to overcome Fiji despite a seriously threatening and impressive late charge from their opponents, ultimately going on to win 30-24 after having nearly let a 24-10 lead slip through their fingers.
However, it would seem the tension was already high long before the Flying Fijians' comeback as a video from the stands inside the Stade Vélodrome captured a fight which broke out between what appeared to be England fans and several French-speaking rugby supporters.
With two fans seemingly dressed as Lord Nelson — which one commenter said angered the home nation's fans both inside the ground and on France's metro public transport after deeming it a form of "hate speak" — a skirmish broke out and resulted in one man being launched over several rows of seats.
World Rugby has since confirmed that these fans were ejected from the stadium following the altercation and have apologised to other fans distressed by the scenes.
Although it is not yet clear how the fight began or who instigated it beyond people taking offence to the fancy dress, it has been confirmed that none of those involved have been arrested over the incident.
The footage has upset many who condemned the supporters, with one person labelling it "disgraceful" behaviour "never [usually] seen in rugby", as well as some adding, "Imposters. Rugby fans don't behave this way" and that they were acting more "like soccer hooligans".
Despite an insistence that this isn't representative of most rugby fans — traditionally referred to as 'the gentleman's sport' — one commenter summed things up perfectly and with arguably the best pun we've heard in a long time.
Read more:
Arguing the other side of things, many of those reacting on social media suggested that fighting and incidents like this are becoming more common amongst England's fan base, with one person remarking, "Always always England fan. The disgrace of international sport support."
Beyond the fighting, it was a brilliant day for the Rose who booked their place in the final four thanks to a match-saving penalty from captain Owen Farrell, who made sure they had a chance at taking on South Africa in the penultimate round of the competition.
England face off against Springboks in the semi-final on Saturday, 21 October at 8pm, where a win would put them that one step closer to their first Rugby World Cup in two decades since Jonny Wilkinson's drop-goal brought it home with just 26 seconds left on the clock back in 2003.
You can watch the highlights from England's defiant display against Fiji down below:
For all the latest news, events and goings on in Greater Manchester, subscribe to The Manc newsletter HERE.
Featured Image — England Rugby (via IG)/The Good, The Bad & The Rugby (via Twitter)