UK News
Local firefighters raise thousands for The Christie after completing the Manchester half marathon in full gear
Simply incredible human beings.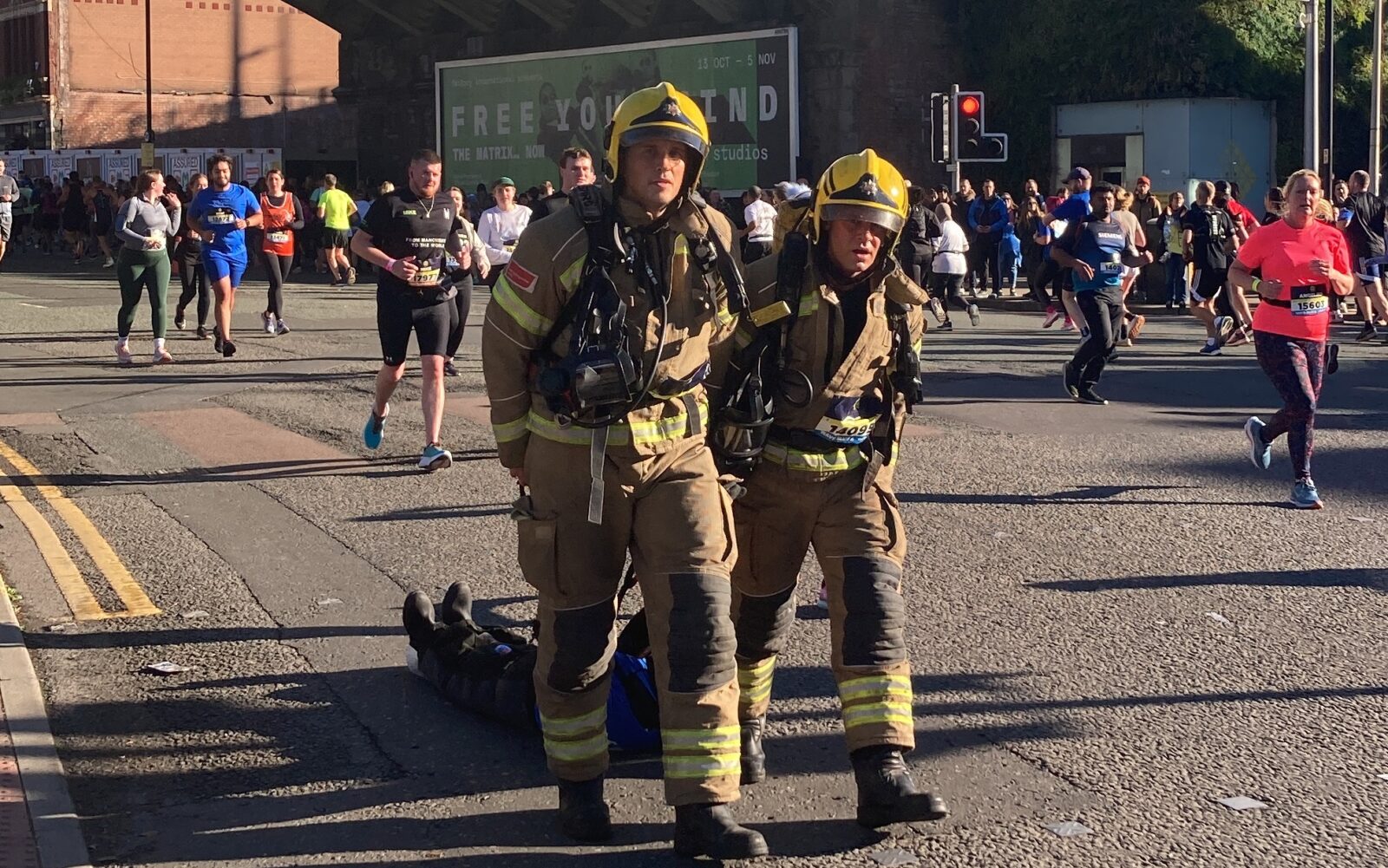 Two local firefighters blew bystanders away at the Manchester Half Marathon this weekend after turning up to run the annual race not only in full gear but by dragging a dummy with them all the way around the 13.1 miles of the route.
A truly ridiculous achievement.
Firemen Daniel Jackson and Chris Prodromis, who serve at the New Mills and Chapel-en-le-Frith fire stations, respectively, set themselves the frankly ridiculous challenge of running the city's second half marathon of the year in full firefighter gear and breathing apparatus.
But, in typically heroic fashion for our emergency responders, the pair didn't just settle for wearing the already heavy and no doubt sweaty kit for the 21-km course, they also decided to carry a 50kg dummy in tow, leaving people standing roadside — ourselves included — utterly speechless.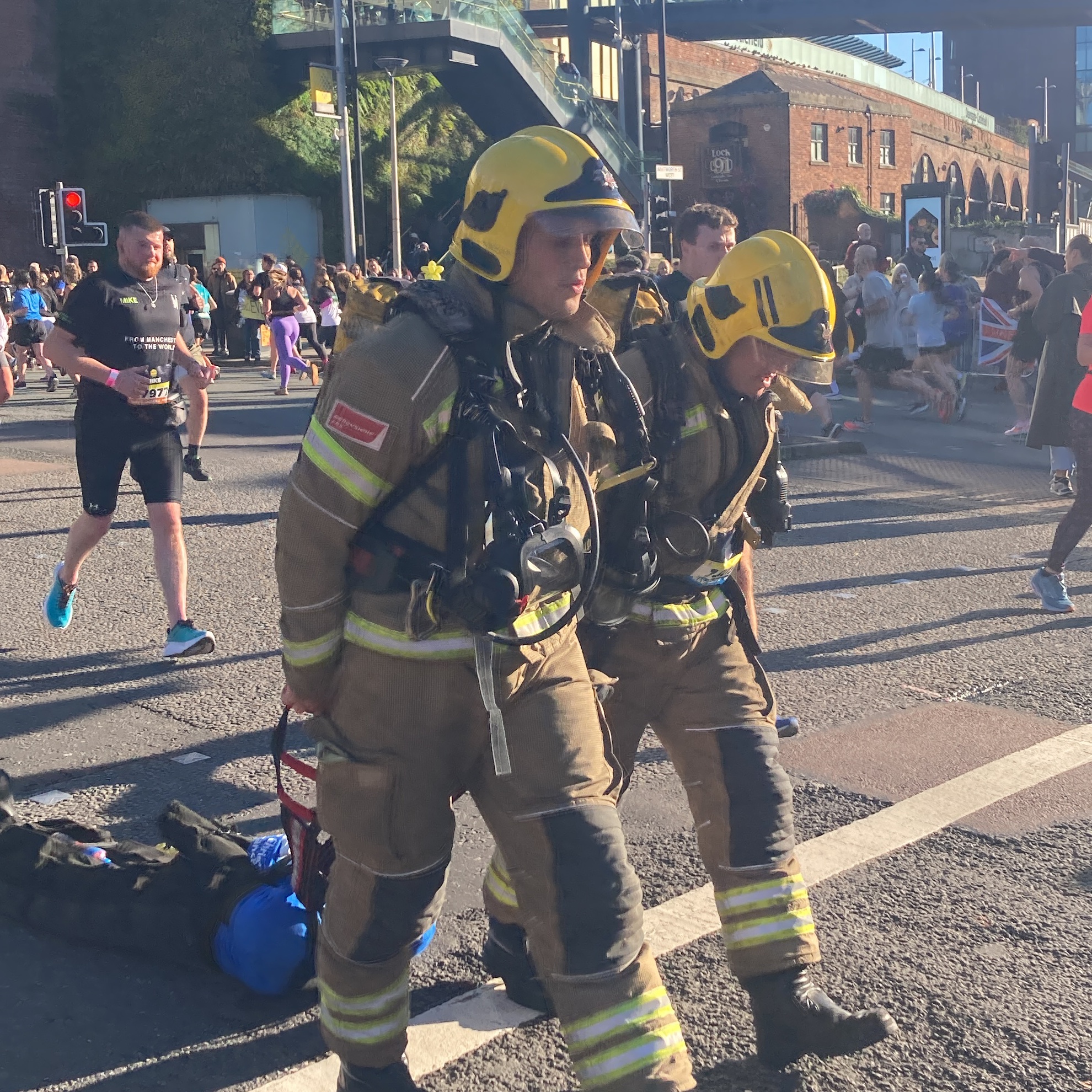 This heartfelt endeavour was carried out as a tribute to their dear friend, Charlotte Jones, who was diagnosed in February this year with stage four bowel cancer, which ultimately spread to her lungs and liver.
Charlotte lived nearby in Glossop with her lifelong partner Colin and their baby son Maximus, who is only a year old. Charlotte married Colin in June but sadly passed away the following week aged just 32.
Charlotte grew up in New Mills with her best friend Stella Bennett; Stella's partner is firefighter Dan, 38, who asked his good friend and colleague Chris (37), who lives not far in Dove Holes, to take part in their latest charitable effort.
The impressive pair have been completing all manner of inspirational fundraising feats over the last few years, taking on both the New York and Paris marathons, as well as climbing Everest and completing the Three Peaks challenge. Thankfully, they weren't alone this time either.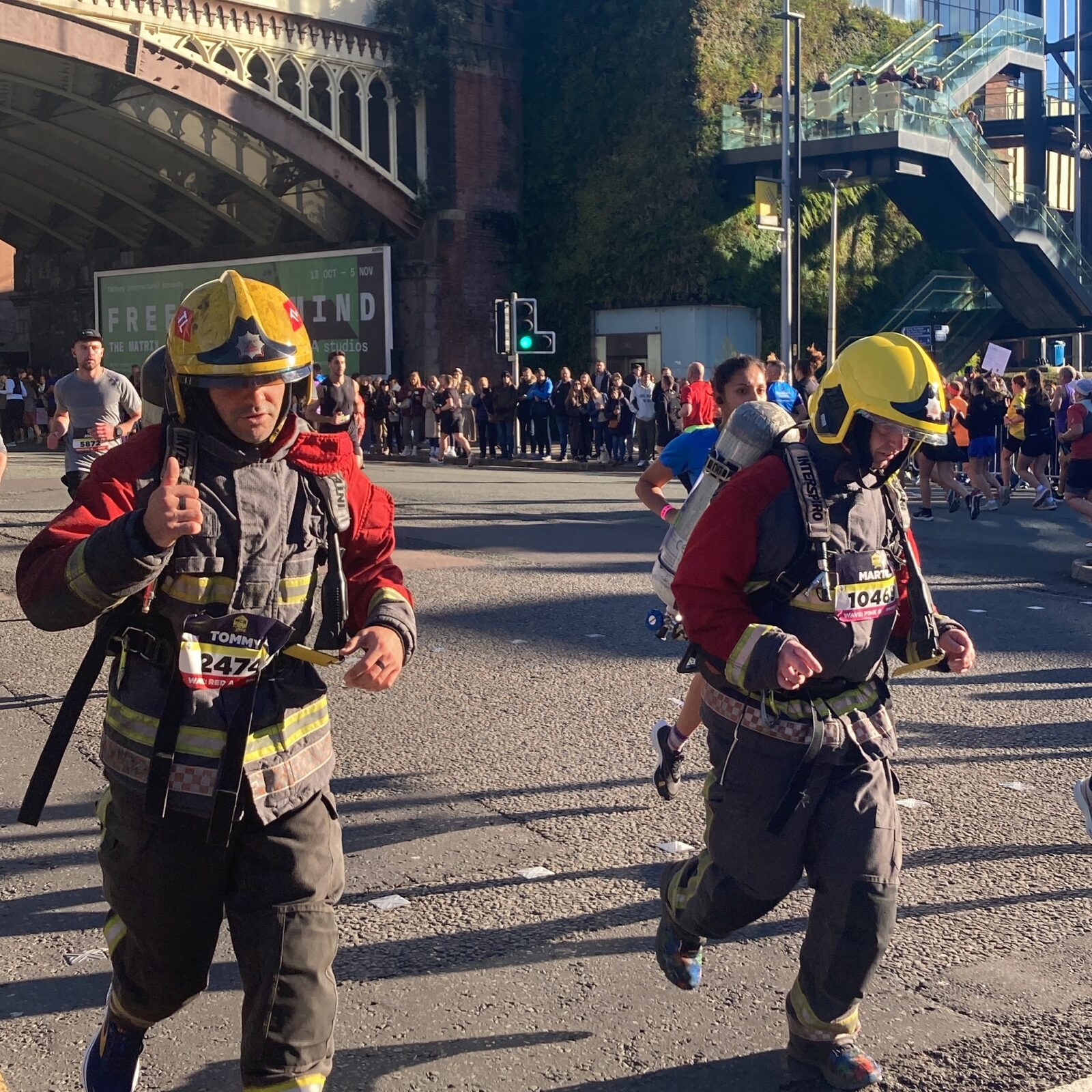 After Charlotte passed away, Dan and Chris decided to start fundraising for Manchester-based charity, The Christie, where they'd witnessed the incredible support given to Charlotte and her family during her treatment.
Speaking in a statement on behalf of The Christie, Chris' partner Ella said that despite being the shortest distance they've run together, it was going to be "the most emotional fundraiser that they have ever done."
"Charlotte was the best mummy to Max", said Stella, "all she ever dreamed about was being a mum. We all miss her so much and have been left with such a huge void that will never be filled. A massive thank you to Christie's for all the love and support that we and Charlotte received during this terrible time."
Despite setting themselves an initial goal of just £500, Dan and Chris managed to raise more than five times that amount, with more and more people learning of their cause and plenty of those spectating on the day adding their donations via the QR codes printed on the back of their oxygen tanks.
Read more:
Totalling out at £2,540 as of Monday morning, 16 October, the two incredible fundraisers should be immensely proud of themselves.
Josh from The Christie said, "We're so grateful to them both for their fundraising for the Charity… Dan and Chris sincerely appreciate every donation, no matter how big or small, as it goes a long way in helping those in need and honouring the memory of their dear friend Charlotte."
We are in awe of you, lads, not only for your charity work and this unreal effort on its own, but for the life-saving work you do day in and day out.
You can still donate to their ever-important cause and a beloved Manchester charity HERE.
For all the latest news, events and goings on in Greater Manchester, subscribe to The Manc newsletter HERE.
Featured Image — The Manc Group/JustGiving