Sport
Ex-soldier diagnosed with Motor Neurone Disease meets his Man United heroes and receives a special message from Kevin Sinfield
You'll need tissues for this one.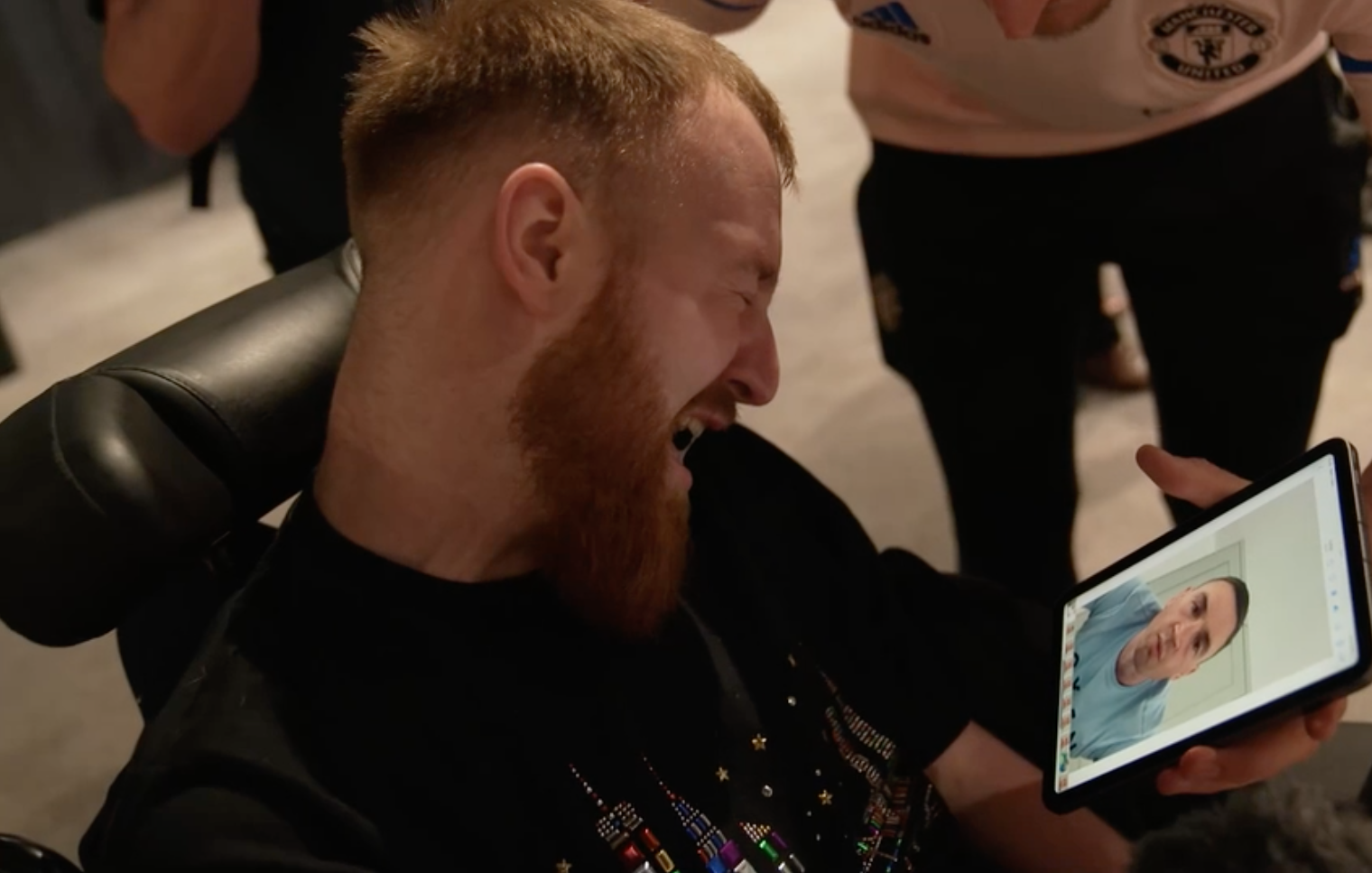 Jordan Pilkington, a former soldier and lifelong Manchester United fan, was recently surprised by the club with a visit by some of his favourite Red Devils, as well as a special message from motor neurone disease champion, Kevin Sinfield.
Diagnosed with MND himself while serving in the British army back in 2020, age just 22 at the time, Jordan Pilkington has had his life turned upside down by the disease, having to withdraw from his post as a Royal Engineer and renovate his home to make his remaining time as comfortable as possible.
Naturally, he was over the moon when Man United's Disabled Supporters Association gave him the amazing opportunity to meet some of his footballing heroes.
However, he was not prepared for what came next and neither were we:
As you can see, after meeting the likes of Bruno Fernandes, Marcus Rashford, Harry Maguire and more, the United captain was given the honour of delivering another surprise to Jordan, as he hit play on a deeply moving message from another one of his idols in Leeds Rhinos and Manc legend, Kevin Sinfield.
Speaking to the 26-year-old via a tablet, the ex-rugby player turned coach and remarkable MND fundraiser told Jordan: "I've heard your story, I've heard all about you and you are an amazing guy. Just like my mate Rob, you've inspired everyone who knows you with your fight courage and bravery.
"You are a true champion. I'm going to send you my t-shirt that I ran the Rob Burrow Leeds Marathon in on Sunday, but don't worry, it's been washed."
The Oldham-born sporting hero went viral along with best mate Burrow again this past weekend after lifting his former teammate out of his wheelchair and carrying him across the finish — one of the most moving moments you'll ever see in sport.
Read more:
He closed his message by stating, "Let's keep banging the drum for MND. As the great Doddie Weir [a fellow former rugby union star who sadly passed away from the condition in November 2022] always said, 'MND isn't incurable, it's just underfunded'. Keep fighting, keep smiling my friend".
If you weren't crying already then we defy you to not be after watching that all the way through.
Now three years on from his diagnosis and still fighting, Jordan is making the most of however long he has left, with a fundraiser set up by one of his fellow troops back in 2020 to help pay for adjustments around his home. Though limited to a wheelchair, he has been raising money for MND ever since.
Both of these men are absolute icons, as is the wonderful Rob Burrow. You can still do your bit to help them by donating to the Motor Neurone Disease Association (MNDA) HERE.
For all the latest news, events and goings on in Greater Manchester, subscribe to The Manc newsletter HERE.
Featured Image — BBC Sport/JustGiving