Sport
FC United issue urgent fundraising appeal to help Callum Gribbin get 'career-saving' surgery
The ex-United man suffered a severe ACL injury back in January.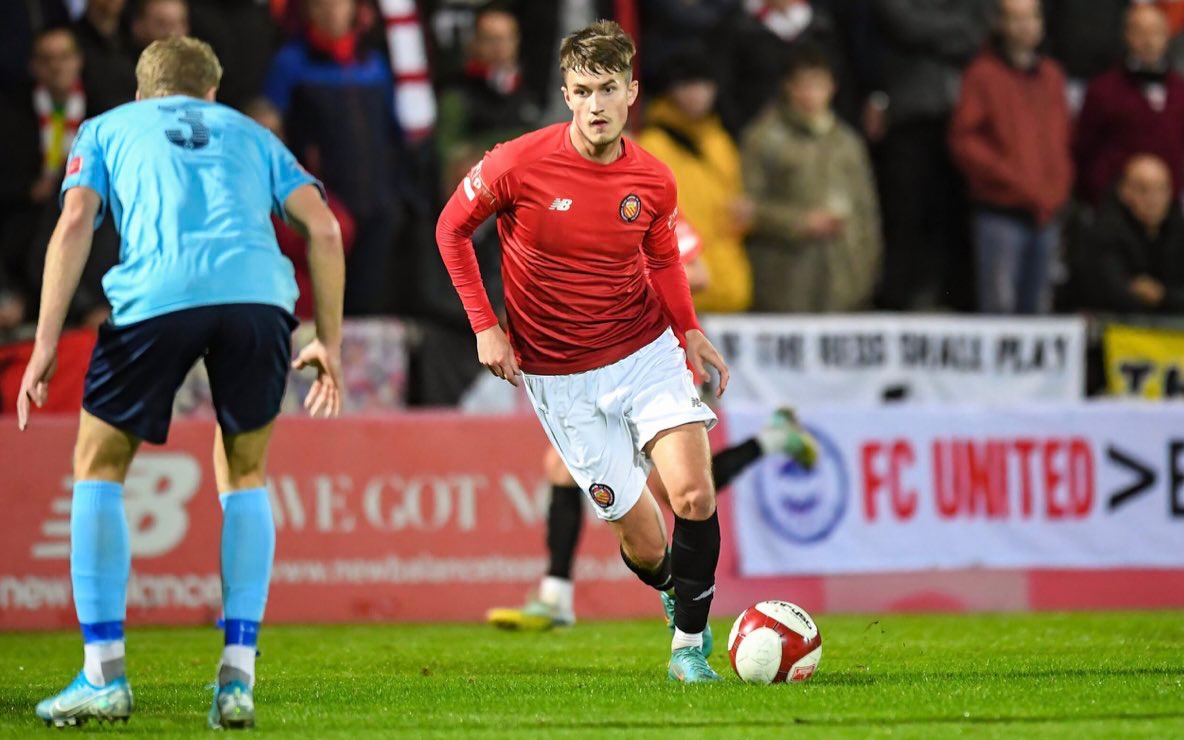 FC United of Manchester have put out an urgent appeal to try and help raise funds for attacking midfielder Callum Gribbin's potentially "career-saving" surgery.
The former Manchester United youth player was on the receiving end of a heavy collision along the touchline barely 90 seconds into a 1-1 draw against Warrington Town at Broadhurst Park on 28 January, and after being knocked down was left unable to get back up.
Following a scan, it was discovered that the challenge ruptured not only his anterior cruciate ligament, as well as his medial and posterior ligaments — all three of which are crucial in providing stability to the knee and are "devastating for anyone in terms of mobility", not least an athlete.
While a crowdfunder was originally set up to help give Gribbin and his family some financial support to "get through a year out of football", the surgery is now more crucial than ever and his club are trying to make sure he gets back on the pitch.
As manager Neil Reynolds goes on to explain in the video message, the former United prospect — once dubbed the 'next Ryan Giggs' — Gribbin is not only a player with "brilliant quality on and off the ball", but a "beautiful lad inside and out".
With that in mind, the idea of the 24-year-old, who has already had numerous setbacks in his career, having previosuly suffered with injuries and being released from his boyhood club after 11 years, being forced to give up the game he loves still so early in his career would be a real shame.
As a result, the PFA (Professional Footballers' Association) have kindly funding 50% of the costs but the Salford-born lad still needs to find the other 50% of the cost by Friday, 17 March or the operation will sadly have to be delayed.
Even after the operation, Gribbin still faces 9-12 months of rehabilitation before he can get to playing and as a non-league player trying to make a living, every bit of playing time counts.
Read more:
Speaking in the statement on their website, the club said: "Everytime a player pulls on the shirt and crosses the white line, like any player in any team, they are doing so to get the best result possible for their club… they are also doing is putting their physical well-being on the line…
"Anything you can afford, no matter how small, it would help Callum through an incredibly tough period in his life – he wouldn't ask for this support himself – but he needs it more than ever."
Set up by FC Westhoughton fan Tim Browning, his fundraising page has already accrued nearly £9,000 of its intended £10k goal but still needs that extra push to get him over the line. Moroever, as alluded to earlier, anything extra will go towards helping support him and his family over the next year or so.
You can donate to Callum Gribbin's GoFundMe and help him secure his career-saving surgery HERE. All the best, Callum, we wish you a speedy recovery.
For all the latest news, events and goings on in Greater Manchester, subscribe to The Manc newsletter HERE.
Featured Image — FC United of Manchester/Callum Gribbin/Ben Roberts Photography (via Twitter)