Sport
The pitch invader who gave Erling Haaland a flying hug is a former world-champion boxer
The bold, airborne Blue is actually a well-known ex-boxer.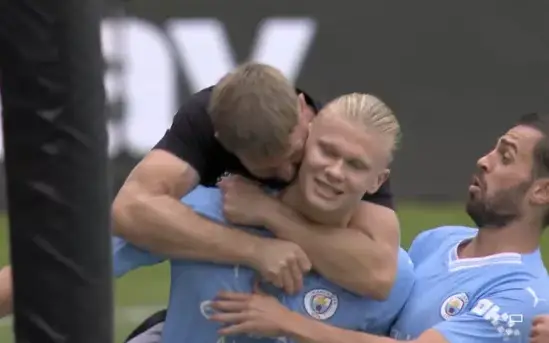 People watching back home as Man City beat Sheffield United in a hard-fought win on Sunday were tickled to see an away fan come flying out from the stands to hug Erling Haaland and, as it turns out, this wasn't any old supporter — he actually happens to be an ex-world champion boxer.
We thought he looked familiar.
For those of you who missed it, after Haaland opened the scoring following a difficult afternoon over at Bramall Lane, hitting the post with his penalty and scrapping with the home side's defence for a good 60 minutes, his exasperated celebration was made much more amusing when a fan jumped on his back.
While his teammates initially looked concerned to see the pitch invader come flying over the advertising hoardings, they needn't have worried as it soon became clear the City supporter just wanted to give their star striker a big kiss and a cuddle. Sure he's not the only one.
Leaping from his seat, he ended up clinging to the big Norwegian number nine's back like some kind of Manc monkey, planting a big wet one on the 23-year-old's cheek as the centre-forward reciprocated with a friendly hug of his own.
The random moment turned out to be not just a humorous but a wholesome one too, as Haaland's exhausted expression suddenly turned to a wry smile and even as the stewards came to haul off the mystery man, it wasn't anywhere near as tense a situation as most of these fan interactions tend to be.
All that being said, after the fan was escorted away and City went on to win the game 2-1 without Pep Guardiola on the touchline (still recovering from back surgery), eagle-eyed viewers clocked his face, did some digging and found out that this unknown supporter wasn't a total stranger after all.
In fact, not only is he a well-known City fan who has regularly attended matchdays home and away down the years, he's a famous former boxer and two-time world champion from Crumpsall called Terry Flanagan. Good job it was a happy pitch invasion, eh?…
Read more:
The 34-year-old fighter from north Manchester won the WBO lightweight title in 2015, becoming the first Englishman to ever do so in that class, and then again in 2017 before ultimately retiring in 2022.
Flanagan fought professionally 36 times, winning 14 by knockout and losing just twice. So yeah, you could say he was pretty good at that boxing lark.
What's more is that the local lad has always worn his club on his sleeve — or his shorts, to be more accurate, regularly donning blue trunks embroidered with the City badge when in the ring.
Once a blue, always a blue.
For all the latest news, events and goings on in Greater Manchester, subscribe to The Manc newsletter HERE.
Featured Image — Sky Sports/Terry Flanagan (via Instagram)