Sport
AI has created the 'best Premier League XI of all time'
Imagine what this squad would be worth in today's market...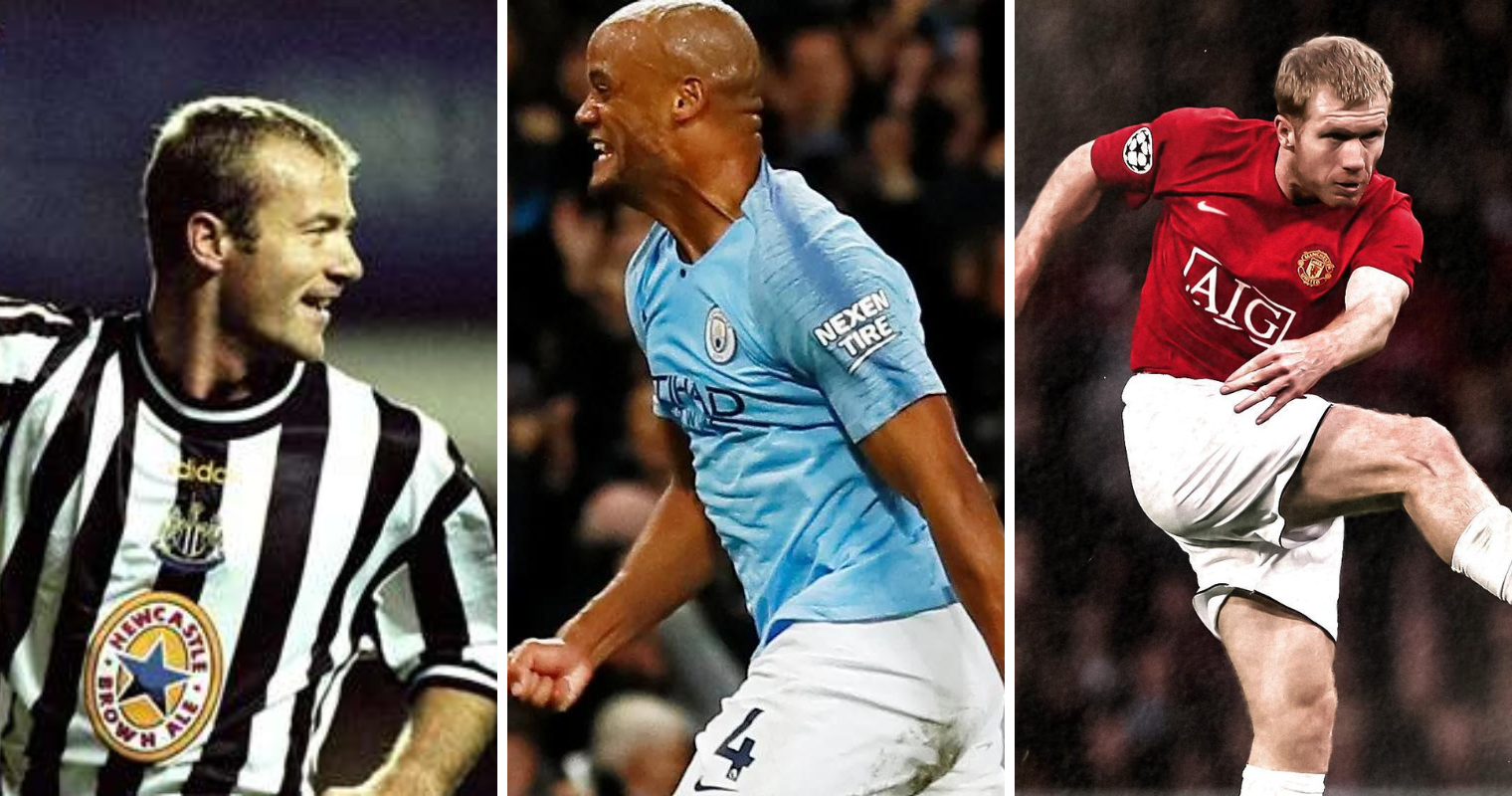 The best Premier League XI of all time is one of those things that'll be debated by pundits and drunken armchair experts (ourselves included) sat around pub tables forever but, nevertheless, it's something we always love to toy with every season.
However, when you take out opinion and the blatant fan bias we all wear proudly on our sleeves week in and week out, it can be tough to sit back and objectively sift through all the countless superstars the English top flight has seen down the years.
That's why when we heard someone had decided to ask the question not of themselves but the super smart artificial intelligence (AI) system known as ChatGPT, we were obviously very curious.
While it seems to be everywhere now, we're still pretty new to AI and when Bettingapps.org tasked ChatGPT with coming up with the greatest Premier League starting 11 of all time, it didn't disappoint. Here's what it came up with.
ChatGPT's best Premier League XI of all time
Basing its decision on players that "demonstrated exceptional skill, impact, and longevity in the Premier League", the AI sifted through numerous top talents that ever graced the English game.
Setting up in a 4-3-3 formation, the team is as follows:
Goalkeeper: Peter Schmeichel – Man United
Defenders: Gary Neville – Man United, John Terry – Chelsea, Vincent Kompany – Man City, Ashley Cole – Arsenal/Chelsea
Midfielders: Steven Gerrard – Liverpool, Paul Scholes – Man United, Frank Lampard – Chelsea
Forwards: Cristiano Ronaldo – Man United, Thierry Henry – Arsenal, Alan Shearer – Blackburn Rovers / Newcastle
In case you need to better visualise it, here's an idea of how it might look: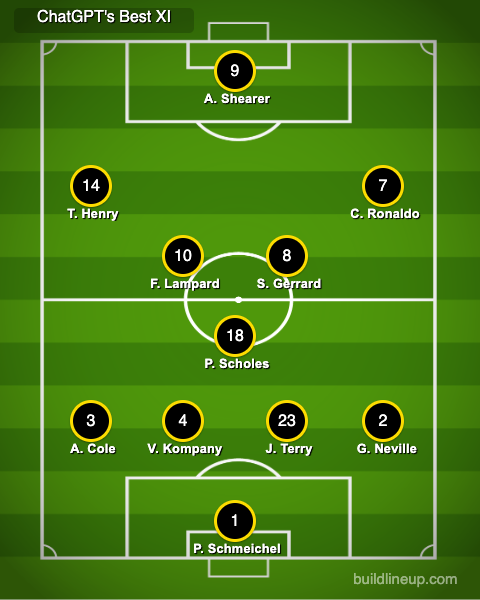 You've got to admit, that's not just up there with the likes of Barcelona's 2008/09 squad, City or United's treble-winning seasons or any of the other great teams football's ever seen, it would most likely wipe the floor with pretty much anyone.
That being said, when it initially pumped out the results, the AI-generated dream team manager did concede that there were a lot of other players who didn't quite make the cut but would more than happily sit on the subs bench.
These players included Petr Čech, Rio Ferdinand, Patrick Viera, Erling Haaland and so, so, SO many others absolute world-beaters.
Even just a handful of them would probably make the greatest second team ever conceived.
Read more:
What do you make of ChatGPT's assembly of the greatest-ever Premier League players? Would it work as a team or would that midfield literally just be a repeat of England's 'Golden Generation' where Lampard, Gerrard and Scholes simply never worked in the same squad?
More importantly, are there glaring errors and players you think simply have to be in that team?
Either way, you can't pretend the world of AI isn't fascinating and it's quite incredible to see how much information it can pull together with just the click of a button. We even asked it to write an article on how to spend the perfect day out in Manchester.
Here's what it came up with…
For all the latest news, events and goings on in Greater Manchester, subscribe to The Manc newsletter HERE.
Featured Image — Newcastle United/Premier League/Manchester United