Sport
Some fans want Johnny Evans back on a one-year deal as he joins Manchester United for pre-season
No, you haven't got back in time, Johnny Evans is back at United. Kind of...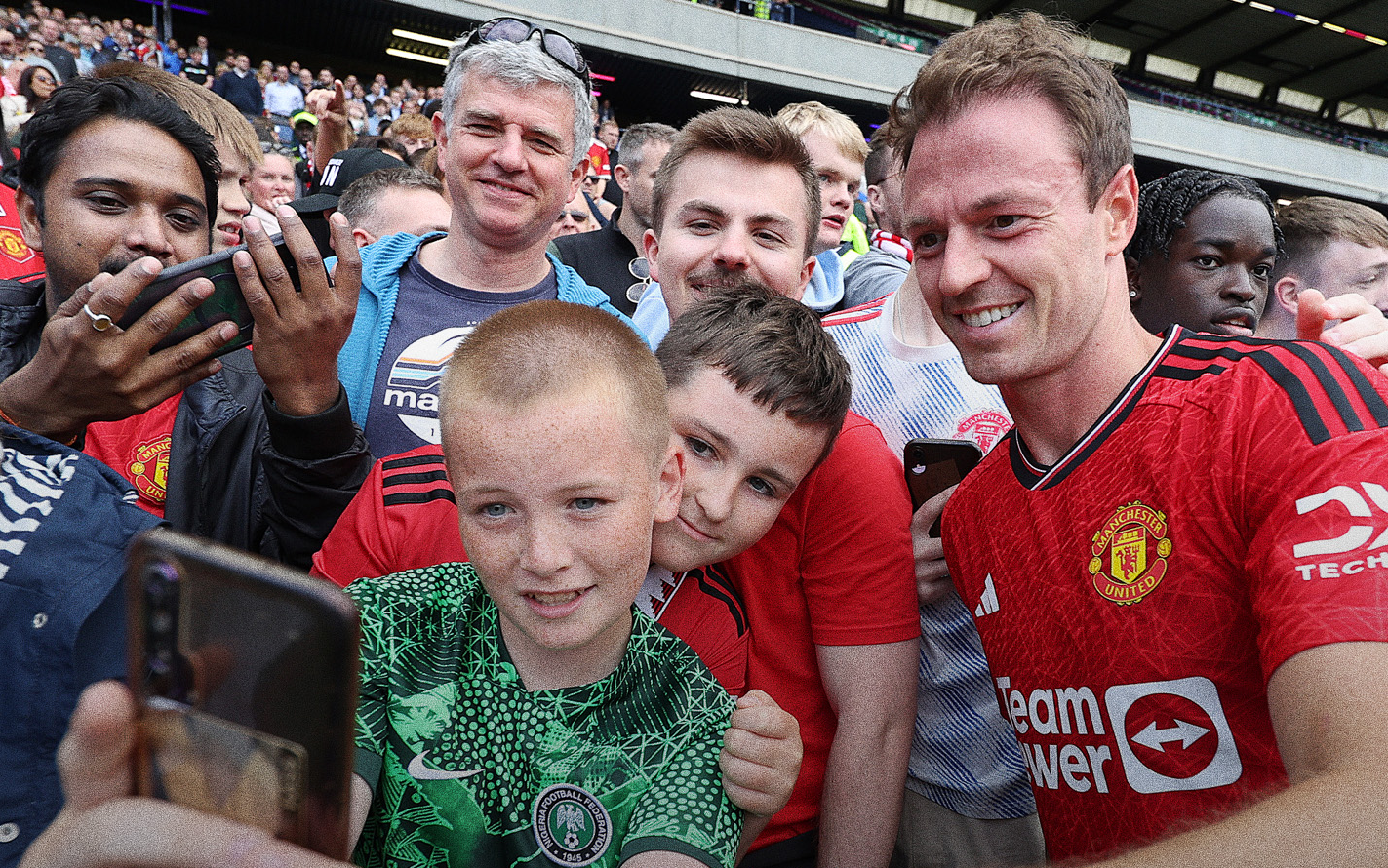 Many Manchester United fans might have thought they scrolled too far back when they saw former defender Johnny Evans' name on the team sheet against Lyon on Wednesday, but after joining Erik ten Hag's team for pre-season on a short-term contract, a fair few Reds want him to stick around.
Johnny Evans left Man United way back in 2015 after being sold by then manager Louis van Gaal and despite not having played in Red for the best of a decade, the manager and the club welcomed back the former cult favourite back to Carrington earlier this month.
With Evans now without a club after his contract at Leicester expired, bringing his five-year stay at the King Power to an end, he needed a place to work on his fitness as he prepares for the next move of his career and so ten Hag saw no problem with signing him on a short-term deal for pre-season.
In fact, it seems he is a pretty big fan of Evans and jumped at the chance to temporarily re-sign him, describing the defender as a "really experienced player but also a very good person, a big personality, and I think he has big authority as well." It seems he's not the only one thinking it either.
Another person tweeted: "I mean if I'm honest as long as the wages aren't ridiculously high then I actually don't see the harm in it. I'm not saying it's what we need but I don't think he'd be playing too much more a player-coach role perhaps. I'm not too fussed but whatever EtH wants I'll back.
The Northern Irishman might be 35 now, but he has still managed to captain a decent top-flight side for several seasons, has won the Premier League three times and has a Champions League medal. You don't find many players with that kind of experience just hanging around.
Many supporters were gutted to see Evans be let go by van Gaal to begin with and even Sir Alex Ferguson is reported as having said he "could not believe" the ex-United sold him in the first place.
Naturally, there are still plenty that are much more sceptical about the proposition and aren't all that pleased to see him coming along for pre-season either, with many seeing it as "a lack of ambition" from the club in stark contrast to the likes of City who are bolstering their already solid backline.
Read more:
Whether or not Evans genuinely "impressed" ten Hag enough as reported to be considered as a potential backup remains to be seen, but with Harry Maguire supposedly on his way out, United could certainly do with another squad player in defence.
The England international was applauded for how he handled losing his captaincy earlier this month and looks like he still wants to fight for his place, but has already been linked with the likes of West Ham, Everton and even a return to Leicester himself.
Speaking of the Toffees, a recently deleted video on their social media might put any rumours of Johnny Evans extending his Man United return beyond pre-season to bed as a coach can seemingly be heard suggesting that he's Merseyside-bound.
For all the latest news, events and goings on in Greater Manchester, subscribe to The Manc newsletter HERE.
Featured Image — Manchester United (via Twitter)