Sport
Stepper-Ton: the viral TikTok dance-based workout right here in Manchester
The person who wrote goes to the same gym this thing takes place. He can attest to it looking like the most fun on Earth.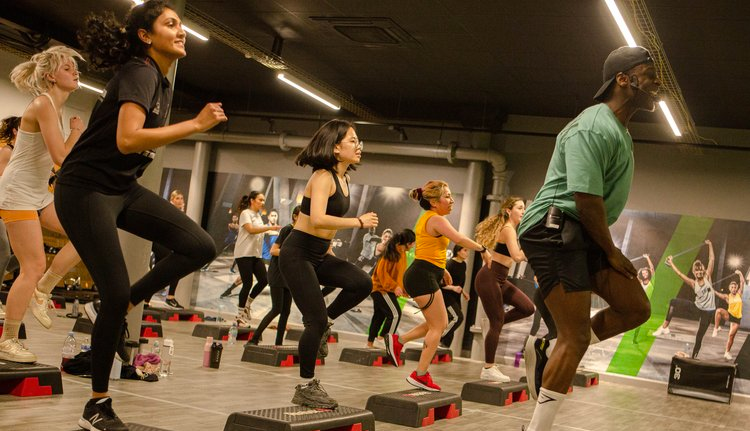 Pilates, Zumba, BodyPump — you've probably heard of all these dozens of times before but we'd dare say most people have never come across the world of 'Stepper-Ton': the fast-paced and exciting new dance-based exercise that's quickly becoming one of the biggest crazes.
And it's all happening right here in Manchester. Trendsetters, as usual.
To tell the truth, we've already lied to you; plenty of people will have come across Stepper-Ton already, they just might not have known the name. But if you've been on TikTok in the past few months, you've likely stumbled across videos of this bloke and his gym classes.
So energetic are his workout classes, several people assumed it was based in the USA and his followers were stunned to discover he teaches out of Manchester city centre.
The man we're referring to is Julius Burphy, a personal trainer and online coach who specialises in his unique brand of fitness: a hip-hop and Afro-step class which combines fitness with irresistible classics and up-tempo tracks of the moment in what is undoubtedly one of the most fun workouts on the planet.
Building workouts based around using a single aerobic step and dance routines matched to the BPM of various dance-friendly tracks, Stepper-Ton isn't just an enjoyable music-based way to exercise, it's a real boot camp in both cardio and coordination.
Though we're sure you've figured out plenty already, the unique class is described as an energetic 'step aerobic' workout like no other, with passion, fun and accessibility at its heart.
Burphy insists his goal has always been to "break out of the box of classes every other gym has to offer and introduce you to a fun way to train", assuring that "whether you're a seasoned athlete or just starting out, our classes are designed to make you get up and take your steps towards your fitness goals."
His workout style and overall demeanour are so upbeat and high-energy, as promised, that the positivity his videos spread online has become infectious, gaining hundreds of millions of views. It hasn't just turned into a fitness craze, his channel is now at the point where it even has its own beloved cast of fan favourite characters. Big up Maria and 'pink shirt girl'.
Speaking to The Manc, the master himself told us a little bit about how the whole thing got started and the ethos behind Stepper-Ton.
"I've been a personal trainer and fitness Instructor for six years now. Working in the fitness industry for that long, I got bored of teaching the same types of classes you get in every other gym. None of them were a representation of me or how I'd want to teach my classes and that's why I started Stepper-Ton two years ago during lockdown.
"After doing some research on classes that would best suit me, I was inspired by watching step aerobics videos that kept coming up on my feed from all over the world, and I noticed that it's something we've lacked in Britain ever since the 80s and 90s.
"That's when I realised that this was something I would love to bring back to the UK but with my own personal touch, so during lockdown I ordered a stepper and practised various routines at home. I then moved to JD Gyms where things really started taking off."
Burphy's increasingly popular workout movement is getting bigger and bigger by the day, with thousands following along with his routines online in their home workouts. The Stepper-Ton team has also collaborated with big brands like Gymshark and even appeared on This Morning back in August.
Clearly in love with what he does, Burphy went on to tell us, "One of the things I am most proud of is creating a beautiful community of people who love to step", adding, "I really look forward to every class every week because we have the most fun together."
As for what sets it apart from other workouts and forms of exercise, he says: "What makes Stepper-Ton different to other classes is my love for creating fun routines, high energy, but also gets you sweating because I incorporate workouts making sure everyone gets the most out of the classes.
"Having fun whilst burning calories. My great music taste plays a huge factor too [he's not wrong]. For newcomers, I teach basic step routines as these are easier to follow, but also ensure to keep my regular members engaged by coming up with more challenging 'End of Month' routines which are slightly more challenging but also lots of fun."
As he puts it, "Everyone gets to take part" — and they really do. Countless people are now queuing up to take part in a Stepper-Ton class right here in the city centre and not only has Burphy's brand gained a cult following on social media but this man is genuinely adored by colleagues and class members.
Read more:
If you reckon you've got a bit of rhythm and fancy your chances at keeping up with these lot, or even if you don't and just fancy trying your hand at some beginner routines, you can find out more on the website and get booked in for a class HERE.
Taking place over at JD Gym over in Bridgewater House on Whitworth Street — just on the corner of Oxford Road opposite the Kimpton Hotel — just head downstairs and to the studio at the back of the gym and you'll find the Stepper-Ton faithful having a blast.
Who knows, maybe you'll even see us there one of these days…
For all the latest news, events and goings on in Greater Manchester, subscribe to The Manc newsletter HERE.
Featured Image — Julius Burphy (via Instagram)/Stepper-Ton