Sport
Kyle Walker reveals he was 'close' to joining Bayern Munich as he prepares to sign new Manchester City contract
'Would I have enjoyed the experience? Of course I would...'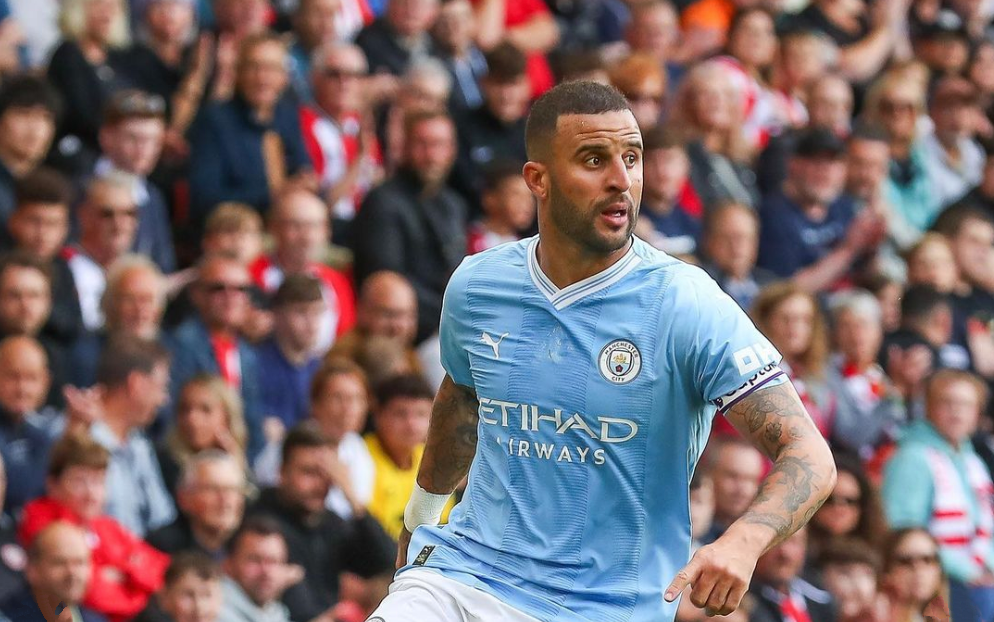 Manchester City defender Kyle Walker has revealed he was "close" to joining Bayern Munich this summer after speculation over his future throughout the window but is now set to sign a new contract extension after all.
The long-serving Cityzen and England fullback is now one of the more senior players in Pep Guardiola's squad, having been there for six years and won everything there is to win with the club, but has now confirmed that talk of him going to the German giants wasn't just concrete, it was nearly a done deal.
Speaking to BBC Sport after Man City's emphatic 5-1 win over Fulham (yes, yet another hattrick from Erling Haaland), Walker said: "Decisions can be made, things can turn. It was close but in football, things can happen — it wasn't meant to be."
The 33-year-old is now set to sign his new deal in the coming days, one which will see him extend his stay at the Etihad until at least 2026.
The fan favourite Blue and England international told reporters, "Would I have enjoyed the experience? Of course I would, but this is a great club and you can't underestimate what this club has done in the last six or seven years."
On the other hand, Walker admitted, "Why should I walk away if I am going to get enough game time that's right for me? That is all I want: I want to play football. I love the game and want to play, whether that's here, Germany, Italy, Spain or in the Championship."
"I wanted to play football so if I don't feel that I am getting enough game time whether that is on X amount of pounds or no pounds… The money, I don't care about it. You might say that's a cliché, but I don't care about it. I am just worried about my happiness and playing football."
"It wasn't like I was going to a worse club because Bayern Munich is a massive club and seeing what Harry [Kane] is doing there and will do, it wasn't a step down."
The former Spurs and Sheffield United right-back went on to say: "In the back of my head I always wanted to play for Manchester City but I had to do what was right for me and my future. It was just about which club gave me the years in my contract to play football at the highest level."
Read more:
After moving past the Bayern discussion, Walker reaffirmed the love for his time spent in Manchester thus far, assuring that the contract extension "is coming" whilst adding, "It's my seventh season here and I feel like one of the old ones."
"I love the place. I've experienced things I only dreamt of here – especially the last season – so why would you want to leave a club like this?" Midfielder Bernardo Silva found himself in a similar situation at the start of the season with interest from all over Europe but has also decided to stay for a while longer.
He also assured that he would never try and force a move to another club, insisting: "I am a Manchester City player. I am contracted to them so what do you want me to do? Turn around and say 'I am not playing because I want to force a move to Bayern Munich'? That is not me as a person.
"I have a contract with the club and I will play for the club until the contract [ends] or they sell me – and I wasn't sold." Walker has also been pulling on the captain's armband after Ilkay Gündogan bid goodbye after seven years and replacement Kevin de Bruyne is out injured.
For all the latest news, events and goings on in Greater Manchester, subscribe to The Manc newsletter HERE.
Featured Image — Kyle Walker (via Instagram)/Bayern Munich