Sport
'Agent Luke Shaw' hints at which England players he's been trying to convince to join Man United
He admitted it's all a bit of fun for the moment but he also made clear there's a couple of names he'd love to bring back to Old Trafford.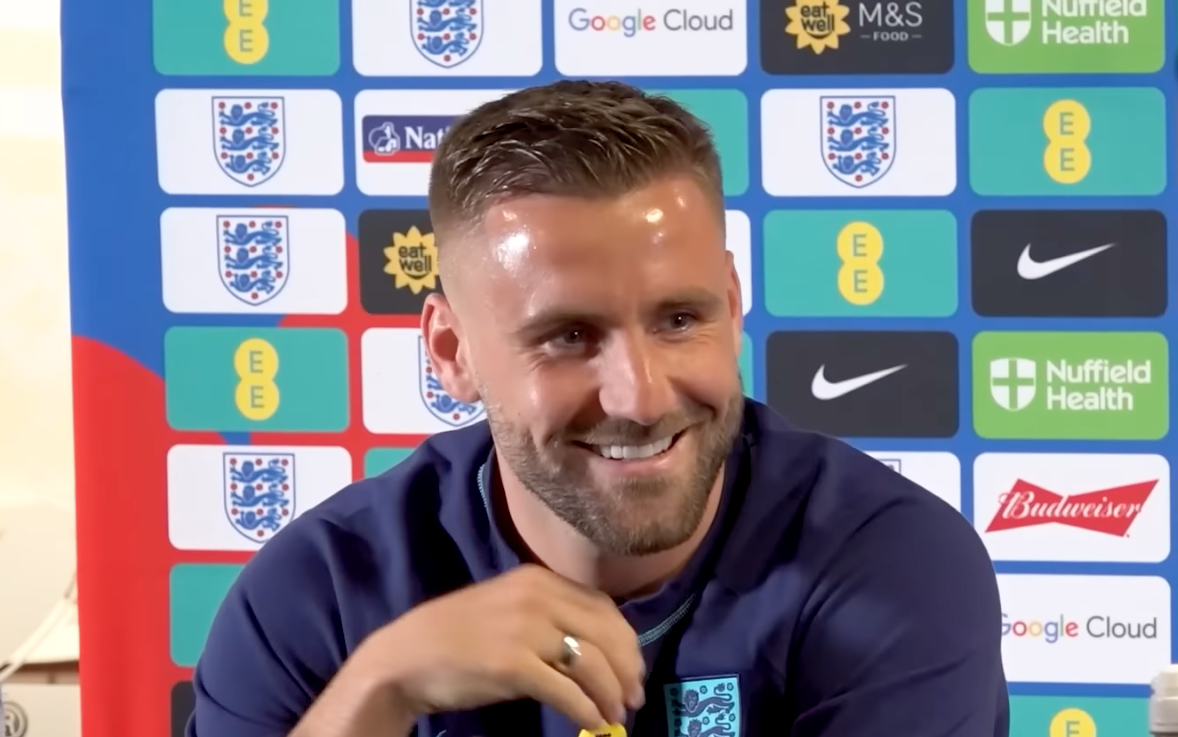 Luke Shaw is having plenty fun while away with England and now the transfer window is open, spending the last couple of days toying with Man United fans and the media over who he's been speaking to about potentially joining the club next season.
The Three Lions face off against North Macedonia at Old Trafford on Monday night and have been training down the road at United's Carrington Training Complex for the past few days, during which time Luke Shaw looks to have had plenty of opportunity to show some of his national teammates around.
Shaw posted a suggestive little pair of pictures to his Instagram story on Saturday, posing for photos with Harry Kane and Declan Rice, along with an equally loaded emoji that has got fans hoping.
Understandably, a lot of Reds have now dubbed his 'Agent Shaw' and are keeping everything crossed.
Now, obviously, this is all a bit of tongue-in-cheek from the full-back, however, it's no secret that both Kane and Rice are not only two of the most in-demand players in the Premier League and both expected to leave this summer, but they have been high up on United's shortlist for some time now.
Speaking to The Guardian, the 27-year-old confessed, 'I can't lie, I'd love a few of them to come to United', adding that he, his teammates and manager Erik ten Hag would snap up the likes of Harry and Declan Rice "in a heartbeat".
He did joke that "there's a few" he's been tapping up for a move — the reporter asking rumoured target Mason Mount was among them — but confessed it's mainly just "a bit of banter" and the majority obviously have very little knowledge of what's going on behind the scenes.
On the other hand, he didn't plead complete ignorance, going on to admit, "I can't lie, I'd love a few of them to come to United… I am speaking to them and telling them how good Manchester is because I know their qualities. They're world-class players and they'd add massive strength to us."
Read more:
As for Shaw himself, having used the competition in his position to motivate and recement his place as the first-choice left-back, he told BBC Sport that he believes head coach ten Hag has "taken [him] to a new level… pushing [him] every day" and that he aims to improve even more next season.
For now though, Shaw and the players whose club future might be up in the air have to focus on international duty and making sure they qualify for Euro 2024 in Germany.
England face off against North Macedonia at 7:45pm tonight and United fans will be hoping it isn't the last time they see a few more of these players walk out at Old Trafford as part of the home side.
You can watch Luke Shaw and manager Gareth Southgate's press conference in full down below:
For all the latest news, events and goings on in Greater Manchester, subscribe to The Manc newsletter HERE.
Featured Image — Beanyman Sports (via YouTube)/Luke Shaw (via Instagram)